No Indoor Voices Returns with All-Female Comedy Show
"What they want to do with this place is the same vision I have, which is make it a community space!" That's Kimmie Dee "talking," which has never been an accurate description of her communication style. Kimmie is Santa Barbara's longtime standup comedy impresario, a casually foul-mouthed tornado of benevolent energy. Should you suddenly hear a Jersey-inflected blue streak of mile-a-minute commentary and have trouble locating the source, aim down. You'll find Kimmie Dee standing right in front of you and a couple feet below your sight line. She will be gesticulating wildly, smiling beatifically, and flinging the F-bomb with a casual cheeriness you may find disorienting.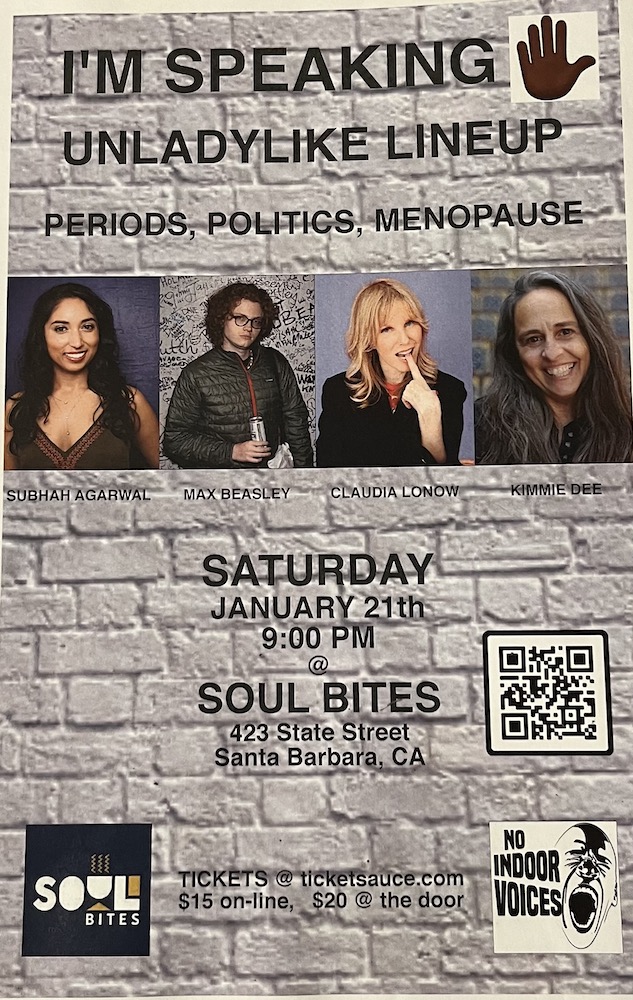 Until February 27 of last year, Dee was emcee and proprietress of the riotous comedy shows mounted by her aptly titled No Indoor Voices Productions. These were hosted in the cavernous "back room" of the Brasil Arts Cafe on upper State Street in Santa Barbara. On show night, one could reliably find Kimmie's 7' hubby (and local architect) Glenn minding Brasil Arts' hidden door like a bruiser outside a speakeasy, but with a warm smirk you won't have seen anywhere else.
Brasil Arts closed its doors early in 2022, and Dee had been on the lookout for a downtown room, someplace with a come-as-you-are-for-a-night-out-with-pals vibe. She envisioned a possible new locus for No Indoor Voices, and a heart-driven safe space/village grotto for Santa Barbarans hungry for community, music, and breathless guffawing.
Enter Stirling and Rose Nix-Bradley, up from Burbank to stir the pot. They have planted in Santa Barbara's old Velvet Jones space (423 State Street) an embraceable eatery called Soul Bites. As its name suggests, the place is a gastronomic seventh heaven where full frontal fried chicken, collard greens, and unbuttoned comfort may be had without a ponytailed server leaning in to hiss in your ear "Not that fork, you moron!"
Soul Bites' menu features such fare as Shrimp and Grits with Crab Gravy, Johnny Sticks, Black-Eyed Peas and – yes – Fried Green Tomatoes; an inadvertent nod to our beloved Montecitan and Alabama native, Fannie Flagg. Stirling and Rose's place is that culinary sigh of relief Santa Barbara has been waiting for, and its open-hearted proprietors the willing recipients of Kimmie Dee's pitch when she burst in happily hollering, as she does. Once they'd quickly established a common chemistry, Stirling, Rose, and Kimmie hatched an event. It all unfolded quickly.
"It was an immediate love fest," Dee says of their inaugural meeting. "These are my people! My vision aligns with theirs – a community artistic safe space for everybody to come and play, and with delicious eats! So I said to Stirling, '…what's happening here on the 21st?'"
No Indoor Voices had been AWOL on State Street for some time, Kimmie doing her level best to keep the flame alive. "We did a soft opening show in November, just to let everybody know that we're kind of coming back," Kimmie says. Soul Bites was packed. "This will be our Grand Opening on the 21st. And Soul Bites is just – the absolute perfect spot!"
On January 21, the place will be hopping with overlapping technicolor fun. Music by gospel/blues/jazz combo band Xangie will warm up the room from 6-8 pm, while from 7-9 pm there will be a reception and show with local artist Matt Rodriguez, whose variously playful and penetrating art festoons Soul Bites' walls. From 8-9 pm, DJ Leah will help the gathered to trip the light fantastic.
At 9 pm all heck breaks loose as Subhah Agarwal, Max Beasley ("She is young, but such an old soul, oh my g*d," Dee exults), Claudia Lonow, and comedy grenade Kimmie herself take the stage in Unladylike Lineup. Periods, Politics, Menopause. One can fairly suppose little will be left to the imagination.
Kimmie is smitten with Stirling and Rose Nix-Bradley and their State Street rollout of cuisine they describe as "Down Home Healthy." Yelp reviews are rhapsodic. Kimmie Dee sees in Stirling and Rose the beginning of a beautiful friendship, and a new downtown epoch.
"We're all very much in line with appreciating all walks of life and all aspects of art. They are just very supportive and kind and fair and decent! It's the return of No Indoor Voices!"
For more info, contact Kimmie Dee: (805) 722-5856.
WHEN: Saturday,January 21, 9 pm
WHERE: Soul Bites, 423 State Street 
COST: $15 online, $20 at the door 
INFO: https://nightout.com/events/a/i-m-speaking-an-unladylike-night-of-comedy
You might also be interested in...