A Rug That Really Ties the Room Together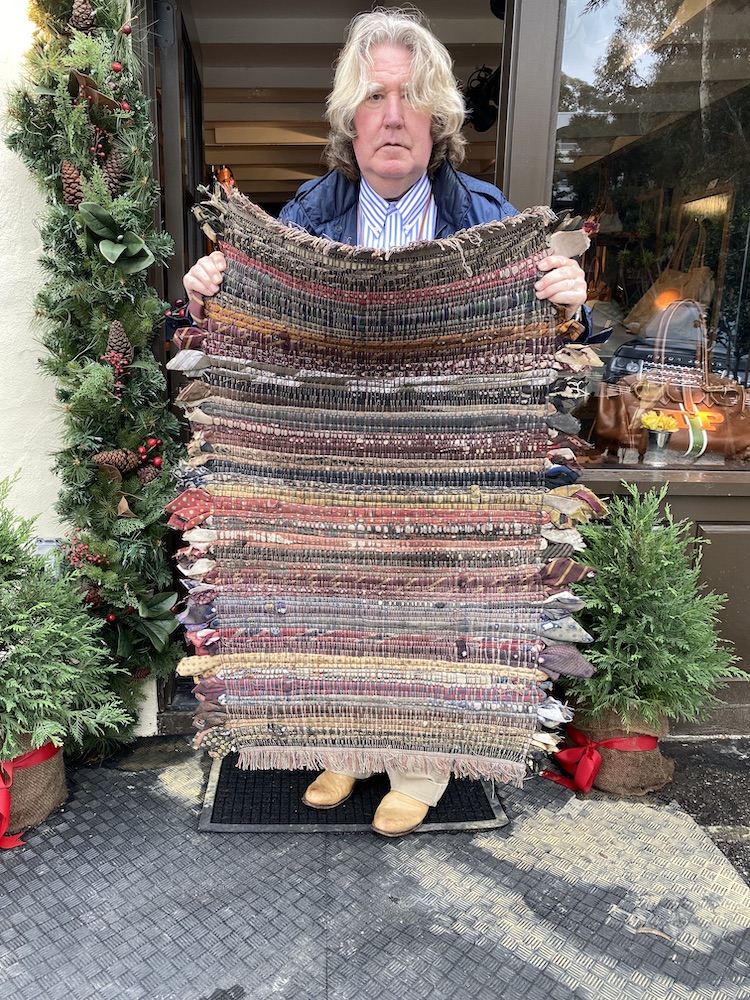 Former Montecito fashion magnate Terry Pillow is fit to be tied!
Terry, a former head honcho with Ralph Lauren, Giorgio Armani, Coach, and Tommy Bahama, who opened his new bijou bridle leather boutique on Coast Village Road, a tiara's toss from Tre Lune last month, has a most unusual rug at the entrance to his new Homer Montecito store.
"The story begins 40 years ago when I was a buyer for Neiman Marcus," explains Terry. "I had a good friend Leon Morrison who was the dress furnishings buyer.
"He left to open a retail store called Tie Coon. Many years later Leon contacted me to see if I had any ties that I didn't want, of which I had several. I sent approximately 50 ties.
"Leon contributed another 50 and found a weaver that would take each tie apart, remove the lining, then hand roll the silk into two-feet strips, keeping some labels intact. Then, using an antique shuttle loom, wove a beautiful silk throw rug and in 2004 upon the completion of our townhouse in New York's Greenwich Village, Leon gifted us the stunning rug. It was not only beautiful, but quite practical. Silk is such a durable yarn."
The rug graces the portal to his new emporium.
"Every time I step on that rug I stop and find a tie that I remember wearing and what occasion I attended. Most of the ties are Polo Ralph Lauren, Hermès, and Armani. Almost every time I step on that rug I recall great memories of my dear friend Leon."
Ties that bind, indeed…
You might also be interested in...