An Anniversary to Remember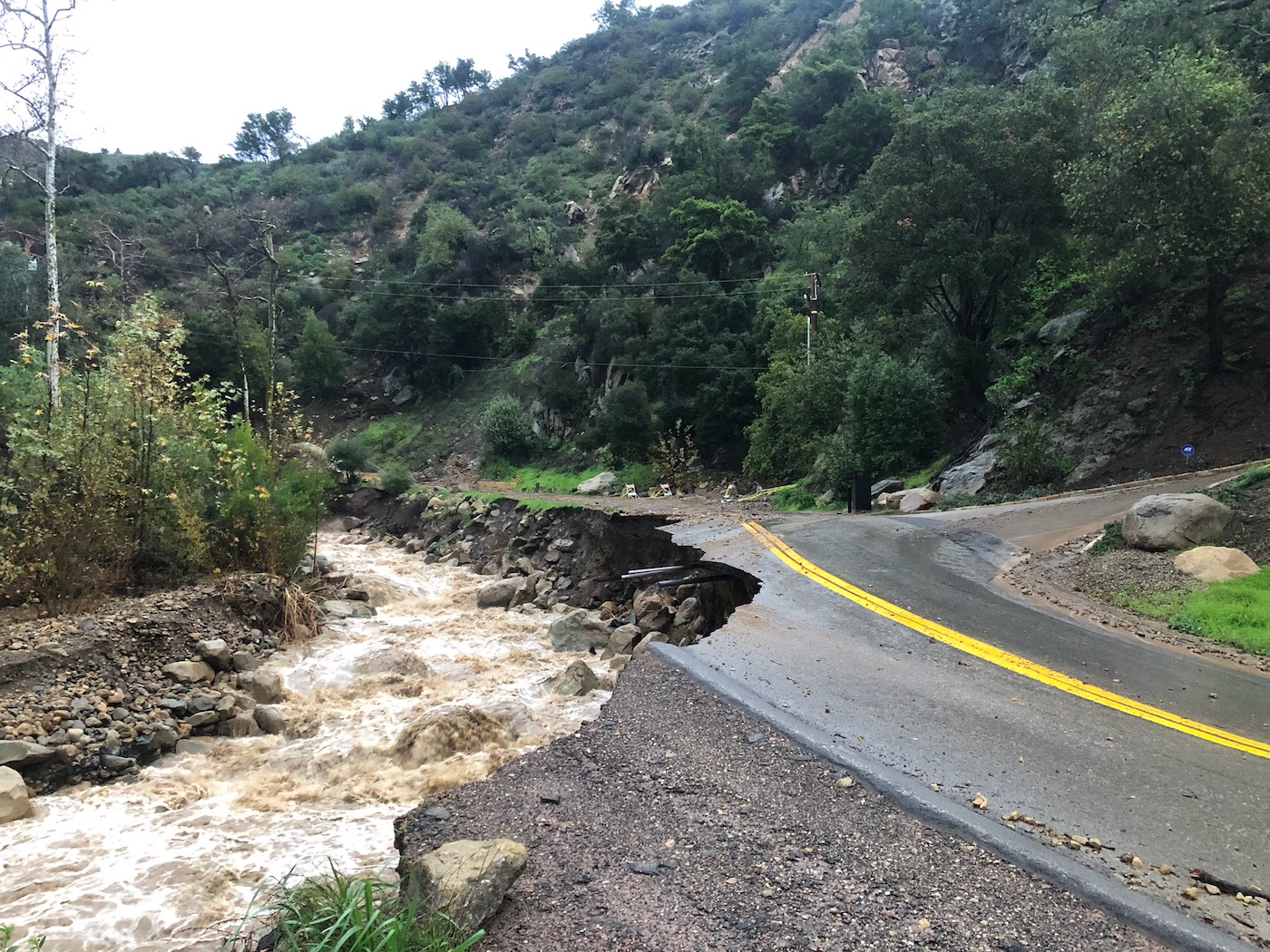 It's been a wet and wild week in Montecito and much of Santa Barbara County, as unrelenting rainstorms came through the region, prompting two mandatory evacuations since January 4. The storm earlier this week, coming on the heels of over 20 inches of rain in the last 30 days, caused significant flooding and mudflow, but perhaps more palpable, triggered memories of the 1/9 Debris Flow, which occurred exactly five years to the day of the most recent flooding events.
Over the last five years, County officials, the Montecito Fire Protection District, and nonprofit groups such as the Bucket Brigade have been preparing for an exceptional rain event; the fruits of their labor came to fruition on Monday, January 9, when the decision was made to evacuate the entire community of Montecito. Just four days earlier, 355 homes identified as at-risk for flooding in Montecito were evacuated for a less significant storm, which didn't pack the punch that was expected. The mass evacuation on Monday was an unprecedented move related to potential flood waters; the community was similarly evacuated multiple times in 2017 during the Thomas Fire.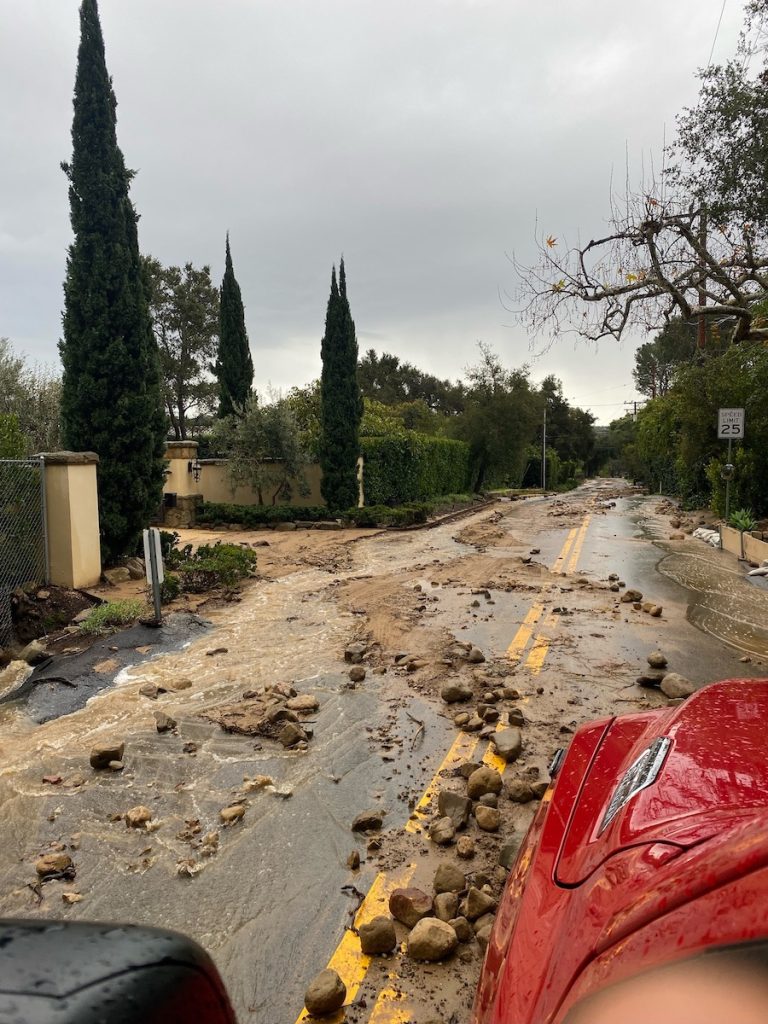 Montecito Fire Chief Kevin Taylor did not mince words when reporting the evacuation orders to the community. The following is what Chief Taylor said during a media press conference on the morning of January 9, 2023:
"In September 1964, the Coyote Fire burned just under 80,000 acres behind Montecito. On November 9 of that same year, a high-intensity, short-duration rainfall event triggered a debris flow. That debris flow occurred in every drainage in Montecito. Community eyewitnesses described a 20-foot tall layer of mud traveling at 15 miles an hour. In 2017, the Thomas Fire burned nearly 250,000 acres, including almost the entire watershed behind Montecito. On January 9, 2018, a short-duration high-intensity rainfall event triggered the catastrophic 1/9 Debris Flow. We lost 23 community members that day and more than 500 structures were damaged or destroyed. In January 1969, the Coyote Fire produced a second debris flow, this one caused by saturation. Between January 1 and January 25, more than 20 inches had fallen, and on the 26th, 6.6 inches of rain fell in just 24 hours. That second debris flow claimed five lives and damaged or destroyed more than 100 properties in our community.
"Today… is January 9, 2023. We are exactly five years removed from the 1/9 Debris Flow, and our watershed is saturated. In the last 30 days we've received more than 20 inches of rain, and five inches of rain since 3 am this morning. The community is at risk for a second debris flow from the Thomas Fire burn scar. We're taking this risk so seriously that we have more than 200 responders and rescuers prepositioned in our community, ready for that event," Chief Taylor warned.
The evacuation orders did not go off without a few glitches: minutes before the community-wide evacuation was announced, residents received a Flash Flood Warning directing residents to shelter in place and not drive. Shortly after, Santa Barbara County Sheriff Bill Brown announced the impending evacuation of only the properties identified in the Storm Impact Consideration Map. About an hour later it was decided that ALL of Montecito would be evacuated given the instability of the waterways and the relentless rain. By 2 pm, an order was issued to also include residents of Toro Canyon, Padaro Lane, Santa Claus Lane, Serena Park in Carpinteria, all residents of Sycamore Canyon in the City of Santa Barbara, and all campgrounds from Rincon to Gaviota. "It was a rapidly changing, disastrous event," Sheriff Brown said on Tuesday. "We did not make the decision to evacuate lightly."
A briefing on Tuesday reported that there were 265 firefighters assigned to the storm event, and there were 400 storm related calls, hundreds of vehicles damaged in flood waters, "countless" rescues, and six helicopter rescues with a hoist (in Northern Santa Barbara County).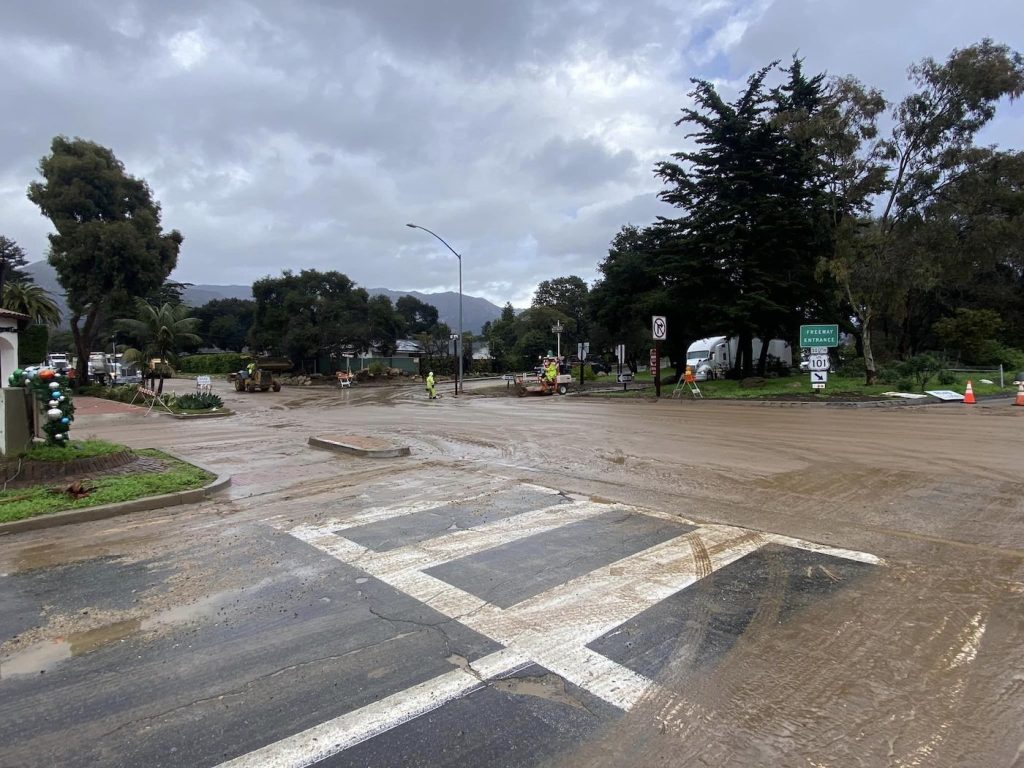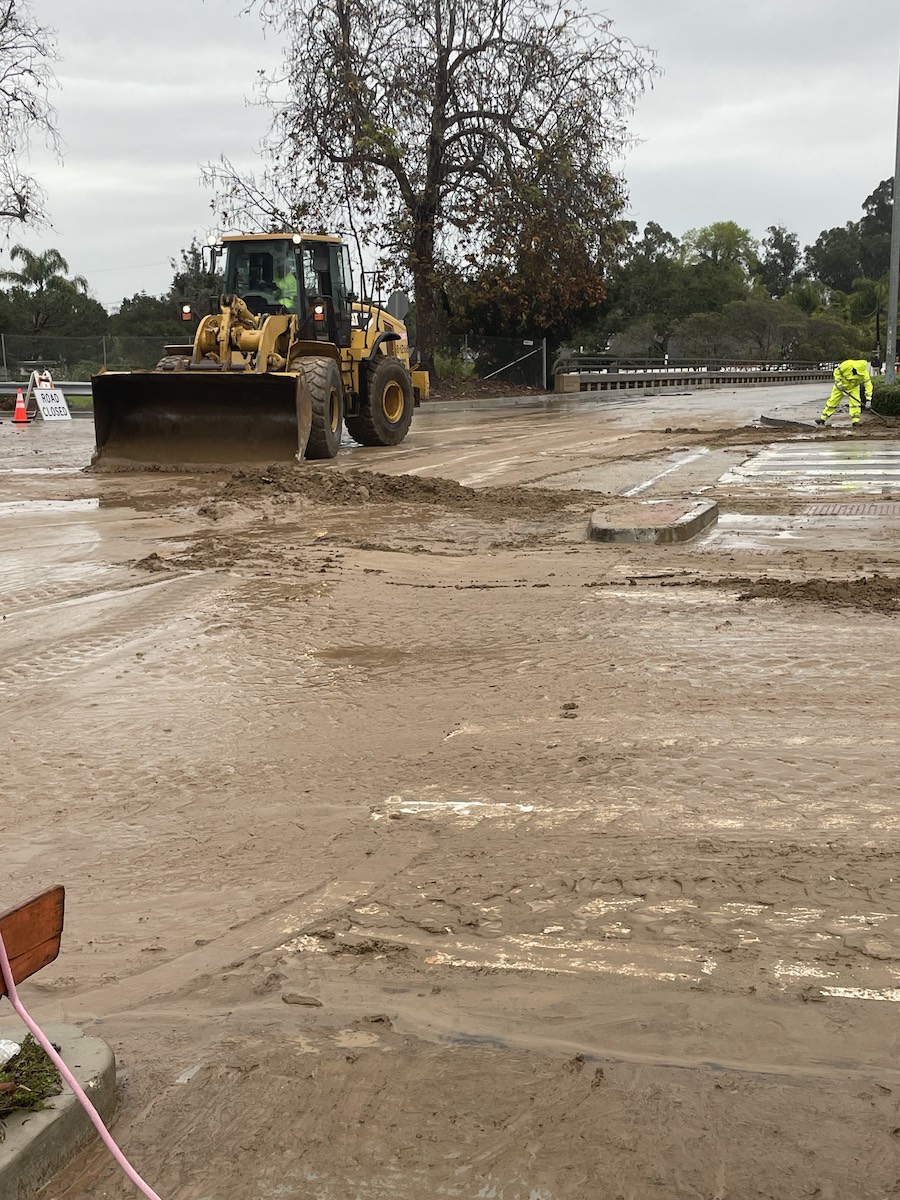 In Montecito, we saw debris-laden flooding on multiple roads, creek swells on most creeks, trees and powerlines down, rocks and debris-laden flooding of varying degrees, and road closures including on Highway 101. There were also reports of minor flooding in homes. Highway 154 was closed in both directions due to rock slides, and the Santa Barbara Airport was closed due to flooding on the runways. All debris basins in Montecito were reported as full or partially full, with Santa Barbara County Public Works mobilizing mid-week to begin clearing the basins, in anticipation of more rain this weekend. Public Works Director Julie Hagan said Tuesday that crews are working to clear 500,000 cubic yards of material from the debris basins in a matter of weeks, in anticipation of future storms. Material caught in the basins will be transported to local beaches. Steel nets installed above the creeks following the 1/9 Debris Flow were reported empty as of Tuesday.
First District Supervisor Das Williams thanked the community for their cooperation and resiliency, and thanked first responders. "With the unimaginable amount of water coming down, the fact that we came through it without major injury, is impressive," he said. He also reported that in preliminary talks with the Insurance Commissioner, it's possible that any flooding damage or claims could be considered related to the Thomas Fire.
"The bottom line is that our storm drain system did what it was supposed to do," said Santa Barbara Mayor Randy Rowse. "I'm so impressed with both the community and our interagency cooperation. We were prepared, and we did our jobs well."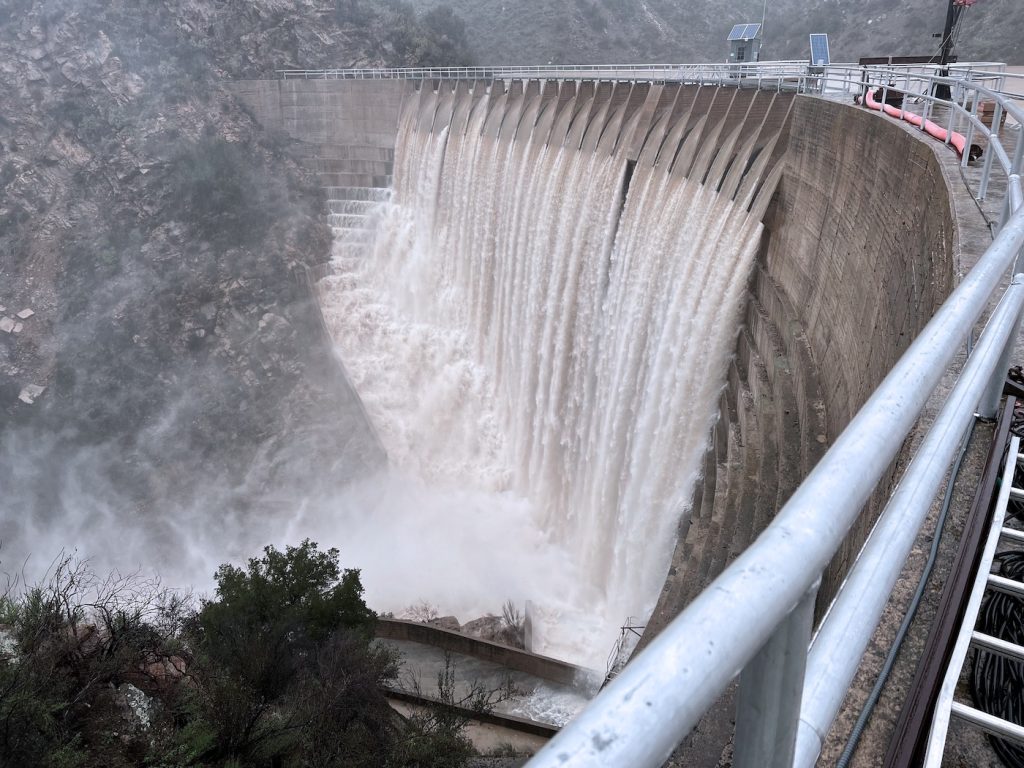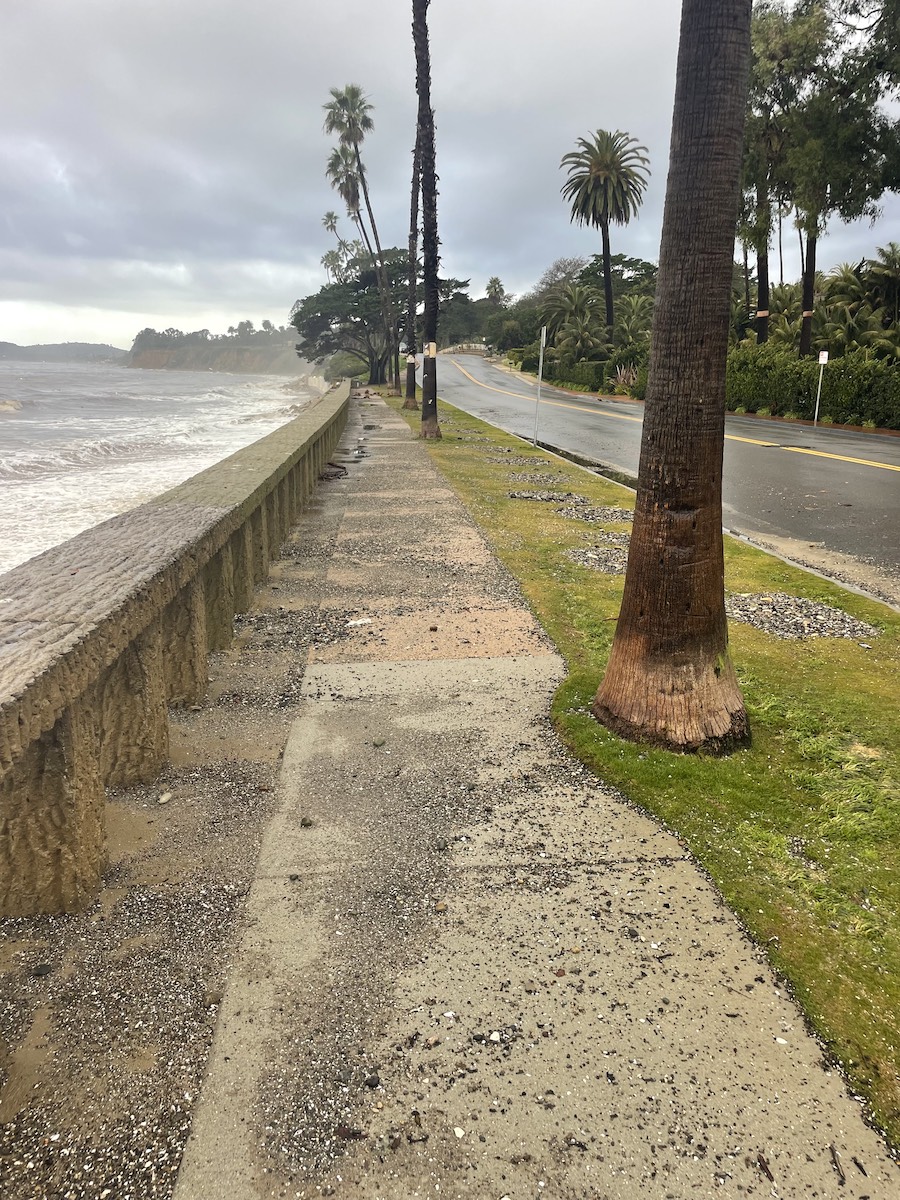 Reps from Montecito Water District report that Jameson Lake spilled over Juncal Dam at approximately noon on Monday, January 9. With this top reservoir filled, rainfall flowing down the watershed is reaching Cachuma, which rose more than 30 feet in the recent storms. Since January 3, Cachuma's storage capacity has increased from 30% to above 70% and is still rising. Jameson Lake's receipt of more than 20 inches of rain in the last seven days is a welcome development in the midst of a multi-year drought, however this is still shy of the lake's 28-inch "historical average annual rainfall."
"While the ground may seem soggy today, cyclical drought in California is here to stay," said MWD public information officer Laura Camp.
"Recent rain certainly provides some relief with regards to water supply," said General Manager Nick Turner, "although it doesn't change the District's main message to customers: 'reduce irrigation.'" With soils saturated, all residents should refrain from exterior watering. It will be weeks, perhaps months, before irrigation is needed and updates will be provided by the District's Water Conservation Coordinator.
Rainfall conditions can change quickly, but it takes years to recover from prolonged drought that seriously depletes water supplies and groundwater levels. This is an ongoing challenge. Turner says customer usage has been too high for the last two years in the face of extreme drought conditions, while in just the past two months rains combined with customer efforts have steered water use back on budget. "Now is the perfect time to keep use at a minimum," he said.
The District's facilities weathered the recent storms well with no reported water outages. Water main breaks and water outages can be reported anytime by calling (805) 969-2271.
For up-to-date info about evacuations and storm events, visit www.readysbc.org.
You might also be interested in...