Santa Barbara Rescue Mission Annual Christmas Tea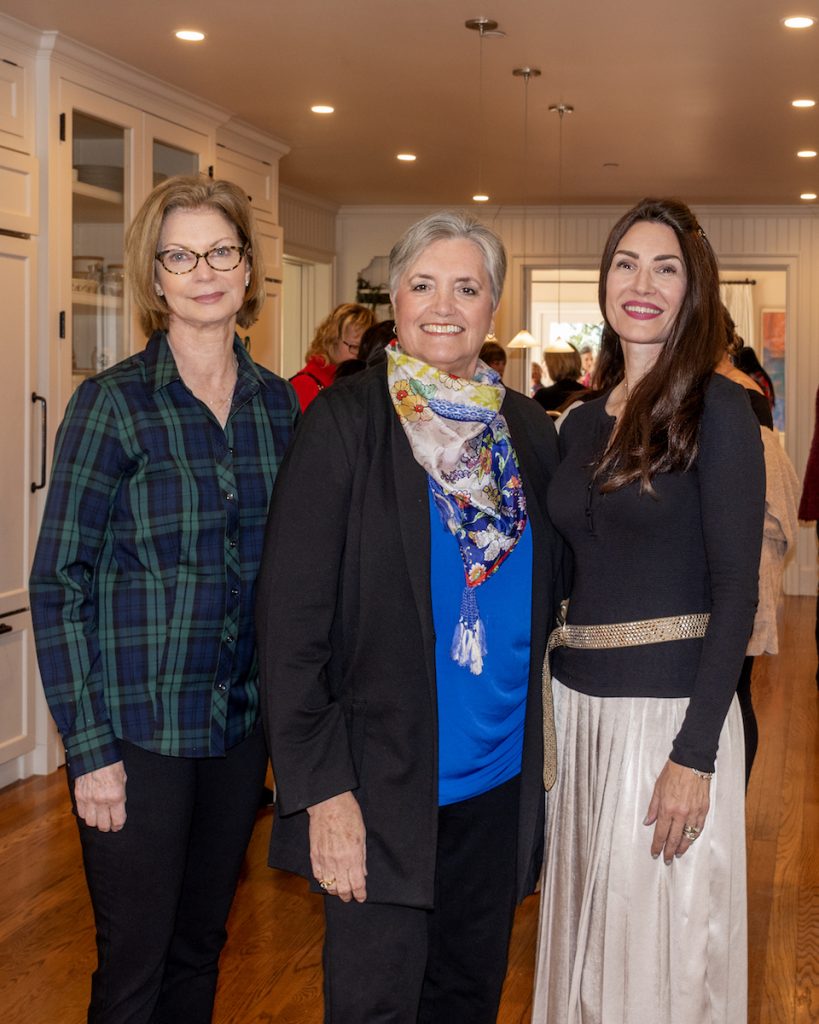 The Santa Barbara Rescue Mission (SBRM) Women's Auxiliary (WA) held its annual Christmas Tea for its Bethel House women in recovery on Wednesday, December 14 at the home of Susan Hughes. The Women's Auxiliary, led by President Pamela Dillman Haskell, supports the SBRM through prayer, fundraising for its programs, and community outreach. One such program is the Bethel House Women's Residential Treatment Program. Haskell shared with me at the event that for the first time in the history of the WA she will be serving a three-year term as president, which is usually a two-year term, and is in the process of cultivating a person who will become a WA co-president. She has been a volunteer for five years, along with her husband who serves on the board.
"I love what we do because we serve the community in so many important aspects, more than people may know, of course, serving our homeless population, our rehabilitation programs, and our Bethel House, whom this tea is for, which is a great holiday event for us to get to know each other. As president, I would like the community to know everything we do in addition to serving the homeless and our traditional Thanksgiving meal, so that they can be part of our fundraising and know that all the dollars we raise go directly to the Rescue Mission," says Haskell.
Attendees were board members and officers of the Women's Auxiliary including Joyce McCullough, Chair of the SBRM Board of Directors; Diane Davis,an over 17- year volunteer and Chair of the Christmas Tea; Kirsten Walters,New Membership Chair; its more than 60 women members; and the residents of Bethel House.
McCullough adds, "For over twenty years, the Women's Auxiliary of the SB Rescue Mission has generously supported this work in many ways. In addition to the more public events like the annual Bayou fundraiser, behind the scenes, this group of dedicated women provides for the men and women who come to the Rescue Mission for addiction recovery or even just a hot meal, shower, and bed. Caring for the physical needs of our guests by giving away jackets, shoes, and other items of clothing, celebrating major holidays together, and gathering household items to give as people find housing, all add up to the significant contribution the Women's Auxiliary makes to the ministry of the Rescue Mission. We are proud of and grateful for their labor of love."
The tea was filled with tasty hors d'oeuvres, teas, and punch brought by the WA members. Following the tea social, WA members met one-on-one with the Bethel House women and then everyone gathered into the living room for Christmas scripture readings and songs, accompanied on piano by Sarah Coleman. There were lots of hugs and holiday well-wishes as well.
411: sbrm.org
The Santa Barbara Rescue Mission's Bethel House Women's Residential Treatment Program is a 12-month, faith-centered, 12-step social model program. Residents are provided with a living and learning environment that addresses the issues of addiction in a holistic way. The program's core tenet is that recovery occurs in relationships with God, others, and self. It provides a safe environment that promotes healthy relationships and a staff of professionals who understand the needs and challenges of women seeking recovery.
You might also be interested in...