Food from the Heart:  Delivering Warm Meals and Human Connection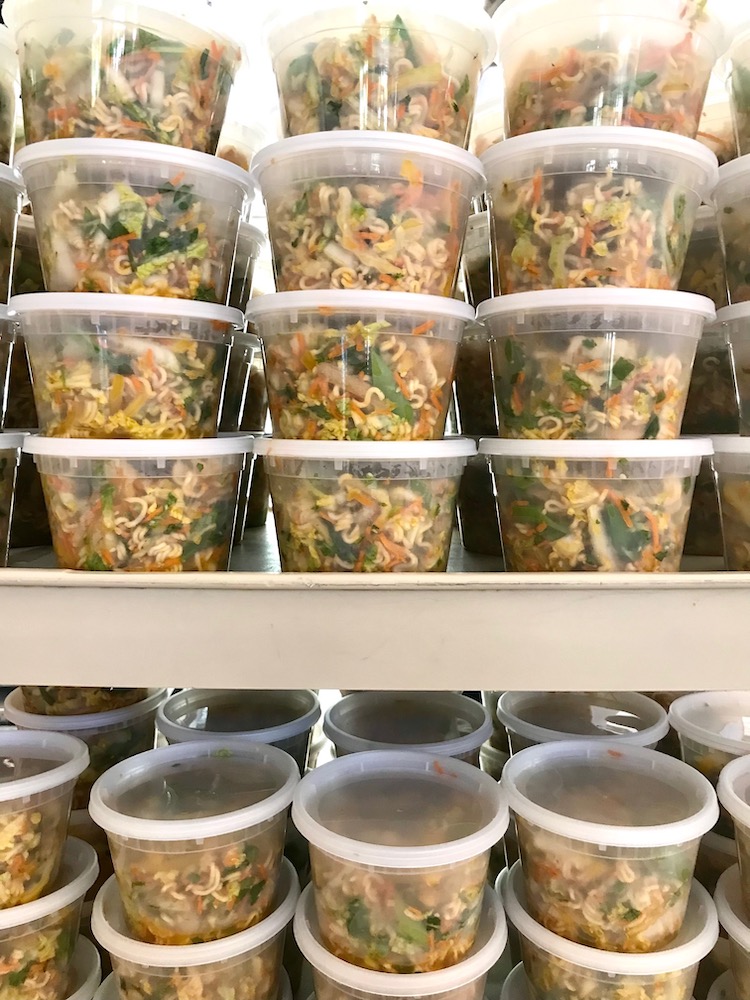 It's a process that stretches from the kitchen to the bagging stations to the doorstep of a client in need of food and comfort. And each time it happens, it brings Food from the Heart one step closer to completing its mission of serving every needy resident in the Santa Barbara region. 
Food from the Heart utilizes donations from local farmers and grocery stores to prepare meals for Santa Barbara residents who are no longer able to cook on their own. Each week, the group delivers bags of fully prepared meals to some 160 people at no cost. The nonprofit serves those who are managing a major illness, recovering from surgery, living alone, or don't have the financial support to hire a caregiver.
"About 120 volunteers donate their time and compassion to every step of the process," said Executive Director Steven Sharpe, who joined the group in 2019, a year before the start of the COVID-19 pandemic, and oversees meal preparation.
"Having access to food during the pandemic was critical to people who were homebound," he recalled. "In many cases they didn't have family or didn't have access to them.
"We needed volunteers who could help us get food out to people who needed it. Access to food wasn't easy especially being in a situation of not feeling safe to go to a grocery store, especially with physical limitations. It was, and still is, crucial to make sure those with limited access to food are being nourished."
Since 2011, chef Aaron Casale has prepared a weekly rotating menu for clients. Meals are packed in a customized bag that contains a main entrée, a baked casserole, a large salad with dressing, a deli salad, a small dessert, a bag of fresh fruit, and a bag of freshly baked local bread. It's enough food to feed one person for up to a week, Sharpe said.
Food from the Heart partners with local farmers and even property owners. The nonprofit has an in-house harvesting team that goes out to residents' homes and harvests their unpicked fruits and vegetables and then incorporates them into their menus. Breads and baked goods are donated by Ethnic Breads and Vons.
The winter menu features items such as a pork pozole and potato and sausage soup, bacon and asparagus frittata, parsley chicken stroganoff, penne pasta and meatballs, black bean and corn salad, brown rice and kale salad, peanut butter and oatmeal cake, and whole orange cake.
Volunteers staff the kitchen and deliver the food, including Santa Barbara resident Gayle Golden, who dedicates a few hours each week to driving. "I think people who volunteer get as much out of it as the people they're serving," she said, adding that she uses volunteering as a bridge to keep her connected to the community.
There's no shortage of opportunities to volunteer in Santa Barbara, whether it's fundraising for a certain charity, working in food banks, or participating in local park clean ups. For many, service is a way to look beyond themselves and discover the ways they can make a difference in their community, and sometimes inspire others to do the same.
Golden said she's always been civic-minded. But when she lost her husband three years ago, she decided to look for an opportunity to volunteer for a local nonprofit. "It took me a few years to get my head up above water again," she said. "The opportunity to volunteer at Food from the Heart came along at just the right time for me."
Golden said each week's delivery gives her an opportunity to check in with their clients and spend a few minutes to see how they're doing and see if they need help finding resources. On a recent Wednesday, I traveled along with Golden on her delivery route. From the doorway, she introduced me to her clients and then asked how their week was going.
One client mentioned he recently went to the hospital. "I don't think he has any family close by," Golden later told me. "If he needs to get to the hospital he gets there. He tells me if his medication is working. Sometimes he says he has to call the doctor because his medication isn't working."
Sometimes clients just need a sounding board to speak about their illnesses or their physical challenges of the week, Golden said. "Some days you visit someone that is having a rough week and then the next delivery you see someone who is thriving," she added. "When clients come to the door and they're feeling good it makes me feel good. Sometimes I'm the only contact they've had that week with the outside world. It makes me feel good when I connect with them."
Golden ends her route near Oak Park, where she takes a walk after her last delivery. "Working as a volunteer gives me gratitude for what I have," she observed. "I am grateful for my life and the beauty around me. I am grateful for the opportunity to help others, but I am also grateful for my blessings."
You might also be interested in...