The Montecito Holiday Magic Parade Rolls Saturday!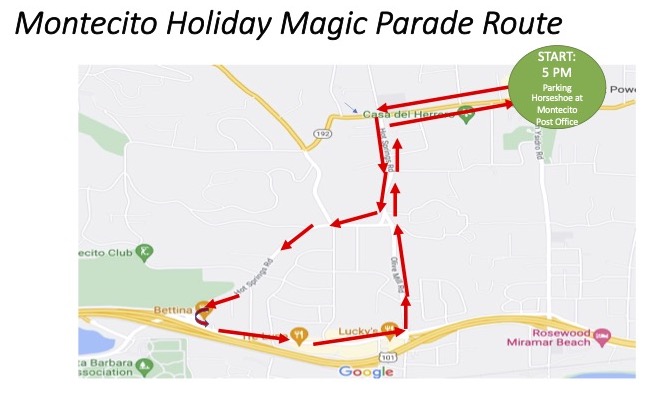 We hope you're thinking about where to find a hot chocolate, pick up some last-minute gifts, and the best spot on the route to watch the Second Annual Montecito Holiday Magic Parade! It's this Saturday, December 17, and there's a lovely confluence of things happening. From 3-5 pm, some of our Montecito Village and Coast Village merchants are putting out welcome mats, and offering specials, hoping to entice you in for a visit. Call it a bit of a Shop-Local-Social, and a chance to visit some of your favorite Montecito haunts. Our merchants would love to see you!
As the sun starts descending, it's time to bundle up, grab a hot bevy, and find your best spot on the parade route. We promise it's going to be a really Big Show. There's a magical 1937 Fire Engine, driven by benevolent Montecito Godfather Dana Newquist. The sheriffs will be showing off their capture of the Grinch in the lead car. Adam's Angels is in the Magic Bus, and some hot rods will be showing you their stuff, courtesy of the Community Hot Rod Project and Montecito Customs. Our Montecito special districts will be turning out too, from Montecito Water, Montecito Sanitary, Cold Spring School Foundation, and the closer is a Montecito Fire Engine with flashing lights and possibly a siren to get you waving and cheering.
Best watching spots on the parade route: Coast Village medians and parking areas, the Montecito Country Mart parking area next to Hot Springs, Villa Fontana, all of the restaurants, the Montecito Inn, and the Olive Mill corner. In the Montecito Village, the parade start is Tecolote / El Montecito / Montecito Community Hall, and the finish line is the corner of San Ysidro and East Valley roads. Anywhere along East Valley from Mt. Carmel to the gas station, the Old Firehouse, and Lucca should also be a great viewing spot, as are along Hot Springs below East Valley, and Olive Mill, particularly at the Casa Dorinda Triangle, where the parade will cross twice.
Get your family and friends together, grab coffee or hot chocolate, and get ready to be entertained with some major Montecito Magical Holiday
spirit! We roll at 5 pm. The timing is great, as the first Night of Hanukkah is the following day, Sunday, and we're heading into Christmas week. Let's be merry and enjoy a bright holiday together as a community!
After the parade passes, we encourage you to dine at one of our amazing Montecito restaurants. They're all excellent! Make an afternoon or evening of it, and have a great time enjoying the holidays in Montecito.
We want to say a huge thank you to our incredibly generous sponsors, without whom none of this would be possible. It takes a Montecito Village to throw a great parade, and here are the Montecito Magic Elves that made this parade happen for 2022:
Robert Pavloff
Jonathan O'Toole and Hillcrest Security
Montecito Journal
Nina Terzian
Megan Orloff, Montecito Association President
Montecito Bank & Trust
Aviation Maintenance Support, Inc., courtesy of Kat Wetzel
Via Vai
The Montecito Village Grocery
John and Sue Burk
Susan Petrovich
Sandra and Sam Tyler
And a very kind, anonymous donor that just wanted to support the community.

Our 2022 Montecito Holiday Magic Parade Team 
The working elves that make it happen, in alphabetical order:
Lt. Butch Arnoldi, Santa Barbara Sheriffs
Sharon Byrne
Jeffrey Clark
Mindy Denson
Mike Edwards
Christina Favuzzi, Montecito Fire
Captain Mike Logie, CHP
Andrea and Dana Newquist
Megan Orloff
Conner Rehage
Nina Terzian
The forecast is clear, but cold, so bundle up, be sure to load up on Montecito treats, and enjoy the Second Annual Montecito Holiday Magic Parade!
Sharon Byrne is the Executive Director of the Montecito Association
You might also be interested in...