New Wildfire Cameras Will Spot Fires on the Santa Barbara Front Country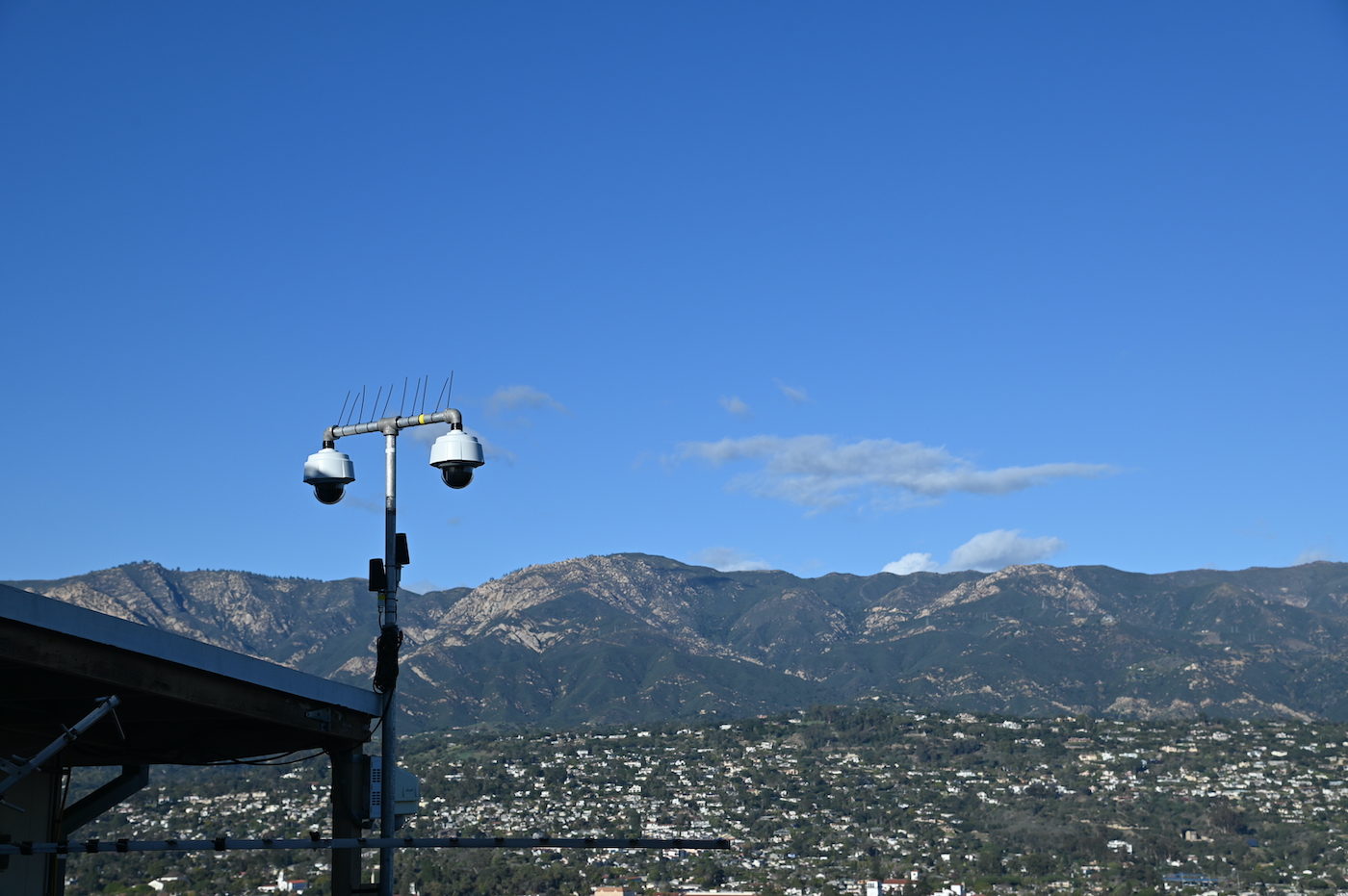 If you are looking for an unobstructed, panoramic view of the Santa Barbara South Coast, there are few better vantage points than from TV Hill. The back patio of KEYT News Channel's newsroom has been the setting of annual Unity Telethons and countless news reporter live shots.
Flames also licked up the TV Hill hillside in May 2021, while fire engines parked on that patio protected the TV studio from the Loma Fire.
When Wildland Fire Specialists from Santa Barbara City Fire Department and Montecito Fire Department started talking about where to place a camera that would detect smoke and flames in the initial moments of a wildfire, there was a clear answer.
In addition to providing that stellar backdrop for John Palminteri's live shots, TV Hill is also now home to an ALERTCalifornia camera. This camera will provide 24/7 "eyes" on the Santa Barbara Front Country and eventually, alert firefighters to new fire starts using artificial intelligence technology. 
The network of ALERTCalifornia cameras is rapidly expanding across the West. The camera on TV Hill and plans for another on Ortega Ridge will join a network of hundreds of cameras that provide coverage of wildland areas. Currently, there are two cameras on Gibraltar Peak.
"Thanks to these cameras, it's now rare that we respond to a fire that we don't have eyes on before going to it," Montecito Wildland Fire Specialist Nic Elmquist said. "But until now, we have had limited coverage of the South Coast's wildland areas. It's a huge advantage to be able to watch an incident emerge from the first puff of smoke."
ALERTCalifornia is a consortium of three universities – The University of Nevada Reno (UNR), University of California San Diego, (UCSD) and the University of Oregon (UO) – providing access to state-of-the-art Pan-Tilt-Zoom (PTZ) fire cameras and associated tools to help firefighters and first responders:
1. Discover, locate, and confirm fire ignition;
2. Quickly scale fire resources up or down appropriately;
3. Monitor fire behavior;
4. Help guide evacuation processes through enhanced situational awareness, and;
5. Monitor contained fires for flare-ups.
ALERTCalifornia cameras are the digital age's version of fire lookouts. 
"When I first started as a firefighter 20 years ago, there were lookout towers that were staffed during high fire season," said Montecito Wildland Fire Specialist Maeve Juarez. "You would hear a lookout get on the radio and call in a smoke with their best attempt at giving us the location so we could hike in and extinguish the fire."
With fire lookout towers no longer staffed in Santa Barbara County and across much of California, the cameras are a 21st century solution, providing real-time information about emerging incidents.
"Now, there are enough cameras across the network that even when a fire starts in a remote area like Yosemite or in the Sierra Nevada Range, you can most likely find one, if not more cameras that provide 24-hour access to watch the fire," Juarez said. "These cameras have changed the way we do business."
Elmquist says within the first few minutes of a wildfire, the cameras' AI technology can detect smoke and send an alert to firefighters.
That alert includes a weather report from the nearest weather station, a precise location of the fire, map of the area, as well as a computer-modeled, three-hour prediction of the fire's potential spread.
"We can pull up that camera and based on the location, topography, access, time of year, available firefighting resources, weather, and other factors, we can immediately get a good idea of whether the fire can be stopped quickly or will likely turn into a major incident," Elmquist said.
The camera views are also publicly available so that community members can gain a better understanding of where a fire is burning.
While Juarez was assigned to the 2021 Dixie Fire, she says the cameras played a crucial role in evacuation planning.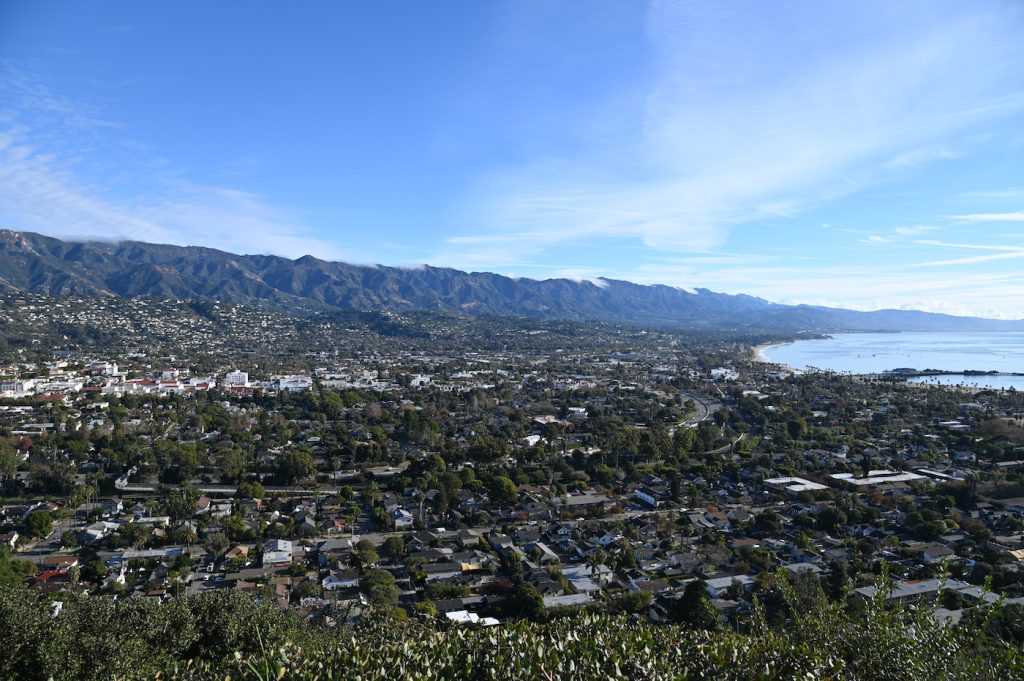 "We were about three weeks into that fire and were still pulling up the cameras to detect spot fires and assist us with figuring out evacuation routes," she said. "The Sheriff's deputies looked at the cameras alongside us. With the data from the cameras, we gave our input on fire severity and timing so the deputies could then determine how to get people out quickly and safely."
The conversation around implementing more wildfire detection cameras on the South Coast has been ongoing for years, spearheaded by Montecito resident Wayne Siemens.
"Generations of Montecitans will benefit from this exciting new plan," Siemens said.
Siemens came to Montecito Fire Chief Kevin Taylor in 2021 with the idea for the cameras. Chief Taylor brought the suggestion to the Montecito Fire Board of Directors who allocated funding this year for the program. Montecito Fire's Prevention Bureau staff then brought the idea to fruition.
"Montecito Fire stayed the course from the idea stage through budgeting, design, and now, installation," Siemens said.
Twenty thousand dollars have been allocated from the Fire District's general fund for the cameras. Chief Taylor says it is a worthwhile, long-term investment in fire safety and prevention.
"Community collaboration has been at the core of this project since our first conversation with Wayne," Chief Taylor said. "None of it would be possible without the teamwork and support from Wayne, Santa Barbara City Fire, and KEYT."
Chief Taylor hopes the TV Hill camera and Ortega Ridge camera, planned for installation in early 2023, will be the start of many more cameras to come across the South Coast.
"A network of ALERTCalifornia cameras on the Santa Barbara front country will provide real-time monitoring of fires at their inception and reduce risk to our community members in the first 24 hours of a large-scale, wind-driven wildfire with evacuations," Taylor said. "This is just the beginning."  
Click this link to see what the camera sees! Or visit ALERTCalifornia.org for more information.
You might also be interested in...