Winter's Garden and Sea Inspirations
From area farms to the sea, celebrate the season with simple, homemade dishes that make the most of its best and brightest produce and pair them with fresh selections from our local fish markets. 
Let's start with a vegan/paleo butternut squash soup with roasted poblano chiles, which are mild in flavor but occasionally and unpredictably have significant heat, and, when roasted, are famous for their smokey flavor. For a true taste of winter, a lightly seasoned and roasted pumpkin and beetroot salad with baby spinach, and topped with goat cheese and pumpkin seeds. The salmon burger recipe is simple and delicious for any occasion. Served on a bun or salad, it has the appeal for the entire season. Round out your meal with these simply delicious corn cookies – a warm and chewy reminder of how delicious winter can be.
Butternut Squash Soup with Roasted Poblano Chiles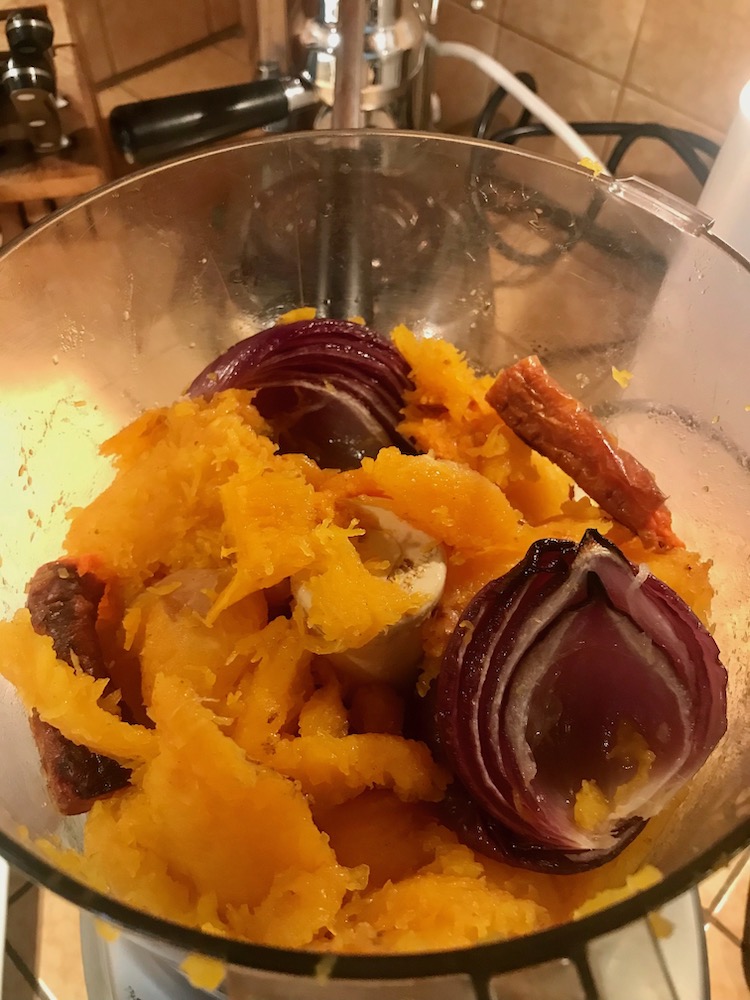 Serves 6
Ingredients: 
1 large butternut squash (4 cups of cooked squash)
2 large carrots
1 large red onion
4 tablespoons extra virgin olive oil
1 teaspoon ground coriander seed
1 teaspoon ground cardamom
4 large poblano chiles
1/2 cup pepitas (pumpkin seeds)
4 cups low sodium vegetable stock
1/2 teaspoon kosher salt
1 tablespoon fresh minced ginger
1 cup unsweetened coconut milk
4 tablespoons chopped fresh chives
Instructions:
Preheat oven to 350 deg F (177°C).
Cut the squash in half and scoop out the seeds. Coat the cut surfaces with a tablespoon of olive oil and sprinkle with the coriander and cardamom. Place on a rimmed baking sheet.
Cut the onion in half lengthwise. With another tablespoon of the olive oil, coat the onion and two carrots. Add them to the baking sheet and bake the vegetables until the squash is roasted and tender (about an hour).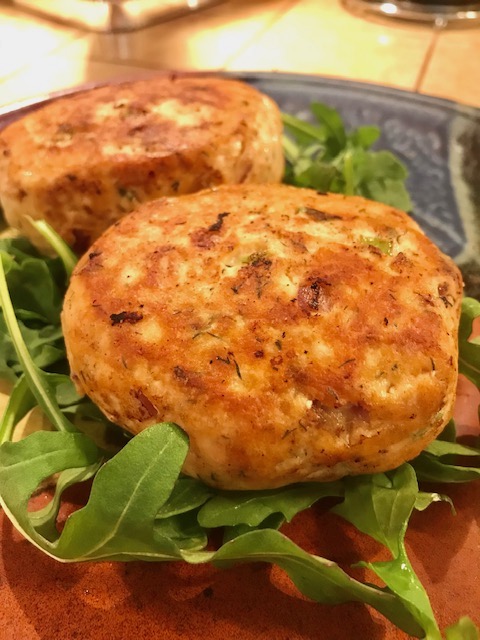 While the vegetables are roasting, char the outsides of the poblano chiles until the skin is blackened – either on a gas stove top or with a torch. Place in a paper bag and allow them to steam for 10 minutes. Then use a paper towel to rub the charred skins off of the peppers, remove the stems and the seeds, and chop them into 1/2-inch-wide diamonds. Set aside.
Coat the pepitas in a teaspoon of olive oil and toast them in a dry pan on the stove top until they are golden brown. Set aside.
Scoop the flesh out of the roasted squash and add to a blender. Also add the carrots and the onion (remove the outer skin). Purée until smooth, adding vegetable stock to thin as necessary.
In a stock pot or Dutch oven, sauté the ginger in the remaining olive oil until cooked and fragrant. Add the purée mixture, the coconut milk, the salt, and enough additional vegetable stock to thin to a smooth soup consistency.
Add the zest and the juice of the lime to the soup and cook until flavors meld, about 20 minutes.
Serve with a drizzle of additional coconut milk, a ¼-cup of roasted poblano chiles, and a tablespoon of toasted pepitas.
Recipe sourced from www.slowburningpassion.com.
Roasted Pumpkin and Beetroot Salad with Goat Cheese and Toasted Pumpkin Seeds
Serves 6
Ingredients:
3 large red or gold beets
Salt and freshly ground black pepper
3 cups of cheese pumpkin, peeled and seeded, and cut into 2-inch chunks
Olive oil 
1/2 cup of pumpkin seeds 
2 shallots, finely minced
1/4 cup sherry vinegar
1/4 cup extra virgin olive oil
2 teaspoons orange marmalade
3 cups mixed greens
One 6 oz log fresh goat cheese cut into 6 equal rounds
Instructions:
Preheat the oven to 400 deg F.
In a small saucepan, cover the beets with cold water. Season with salt and pepper to taste and bring the water to a boil over high heat. Reduce the heat and simmer for 25 minutes, or until the beets are tender when pierced with a tip of a small, sharp knife. Drain the beets and set aside to cool. Peel and slice the beets into 1/8-inch rounds.
While the beets are simmering, season the pumpkin with salt, pepper, and olive oil and wrap in foil. Roast for 20 to 30 minutes or until tender. Unwrap the pumpkin and cool. Cut the pumpkin into 1/2-inch pieces and set aside.
While the pumpkin cooks, rinse the pumpkin seeds and spread in a single layer on a baking sheet. Sprinkle with 1 teaspoon of salt. Bake for 5 minutes or until light brown. Set the toasted seeds aside.
In a small bowl, whisk together the shallots, vinegar, extra virgin olive oil, orange marmalade, and salt and pepper to taste. Place the salad greens in a large bowl and toss with a few tablespoons of dressing, just enough to coat the leaves.
Arrange the beet slices in a circular pattern on a large round platter. Place the roasted pumpkin in a circle on top of the beets. Place the salad greens in the center of the beet circle. Place the goat cheese disks around the outside of the salad between the bets and greens and sprinkle the toasted pumpkin seeds over the top of the salad. Spoons the remaining vinaigrette over the beets and pumpkin.
Recipe adapted from Scotto Sunday Suppers and Other Fabulous Feasts, Ecco Publishing 2005
Salmon Burgers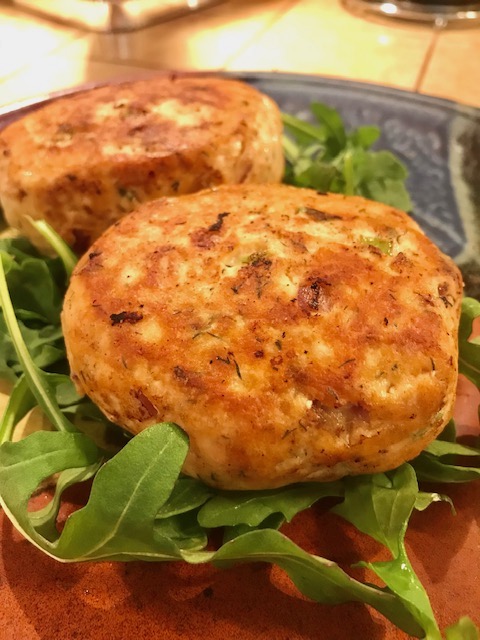 Serves 4
Ingredients:
1 1/2 pounds skinless, boneless salmon
2 teaspoons Dijon mustard
1 teaspoon apple cider vinegar
2 tablespoons of lemon juice
2 eggs (whisked)
1/2 red onion (chopped)
1/2 cup panko breadcrumbs
3 scallions (green onion) or roughly
1/2 cup (chopped)
1/2 cup fresh dill
Salt and black pepper
Olive oil cooking spray
Instructions:
Cut the salmon into large chunks and put about a quarter of it into the container of a food processor, along with the mustard and apple cider vinegar. Turn the machine on, and let it run – stopping to scrape down the sides if necessary – until the mixture becomes pasty.
Add the remaining salmon. Pulse the machine on and off until the fish is chopped and well combined with the purée. No piece should be larger than a 1/4-inch or so; be careful not make the mixture too fine.
Scrape the mixture into a bowl, and by hand, stir in the whisked eggs, panko breadcrumbs, red onion, scallions, dill, lemon juice, and salt and white pepper. Blend well and then shape into four burgers.
Heat 12-inch nonstick skillet to medium-high. then coat with olive oil cooking spray and cook the burgers for 3 to 4 minutes a side. Let them firm up on the first side before turning over and finishing for just another minute or two. Be careful not to overcook.
Serve on a bed of greens, with a bun, or just by themselves, alongside lemon wedges or any dressing you like.
Recipe adapted from New York Times Cooking, Mark Bittman.
Christina Tosi's Corn Cookies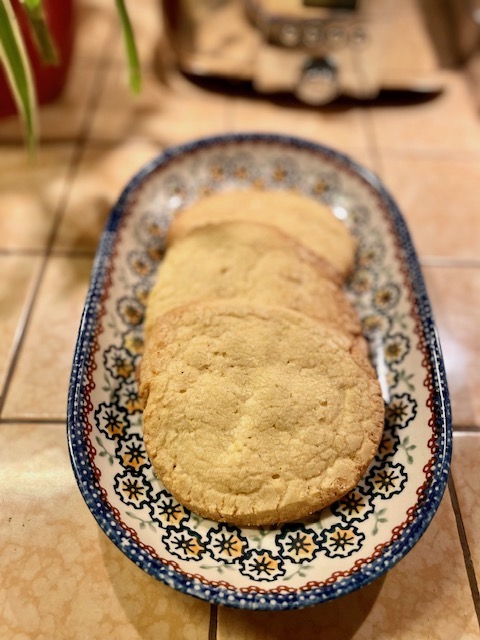 Makes 13 – 15 cookies
Ingredients:
2 sticks unsalted butter, at room temperature 
1 1/2 cups granulated sugar 
1 large egg
1 1/3 cups all-purpose flour 
1/4 cup Bob's Red Mill corn flour 
2/3 cup freeze-dried corn powder or Albers corn meal
3/4 teaspoon baking powder 
1/4 teaspoon baking soda
1 1/2 teaspoons kosher salt 
Instructions:
Combine the butter and sugar in the bowl of a stand mixer fitted with the paddle attachment and cream together on medium-high for 2 to 3 minutes. Scrape down the sides of the bowl, add the egg, and beat for 7 to 8 minutes.
Reduce the mixer speed to low and add the flour, corn flour, corn powder (or corn meal), baking powder, baking soda, and salt. Mix just until the dough comes together, no longer than 1 minute. Scrape down the sides of the bowl.
Using a 2 3/4-ounce ice cream scoop (or a 1/3-cup measure), portion out the dough onto a parchment-lined baking sheet. Pat the tops of the cookie dough domes flat. Wrap the sheet pan tightly in plastic wrap and refrigerate for at least 1 hour, or up to 1 week. Do not bake your cookies from room temperature – they will not bake properly.
Heat the oven to 350°F.
Arrange the chilled dough a minimum of 4 inches apart on parchment- or Silpat-lined sheet pans. Bake for 18 minutes. The cookies will puff, crackle, and spread. After 18 minutes, they should be faintly browned on the edges yet still bright yellow in the center; give them an extra minute if not.
Cool the cookies completely on the sheet pans before transferring to a plate or to an airtight container for storage.
Freeze-dried corn powder: The chefs at Milk Bar make freeze-dried corn powder by grinding freeze-dried corn. You can find freeze-dried corn at Whole Foods or Amazon.com. Store leftover powder in an airtight container so it won't absorb moisture. I substituted the freeze-dried corn powder with Albers cornmeal, purchased at Gelson's.
Recipe sourced from Momofuku Milk Bar: A Cookbook, Clarkson Potter, 2011.
You might also be interested in...