The Hands Helping Homelessness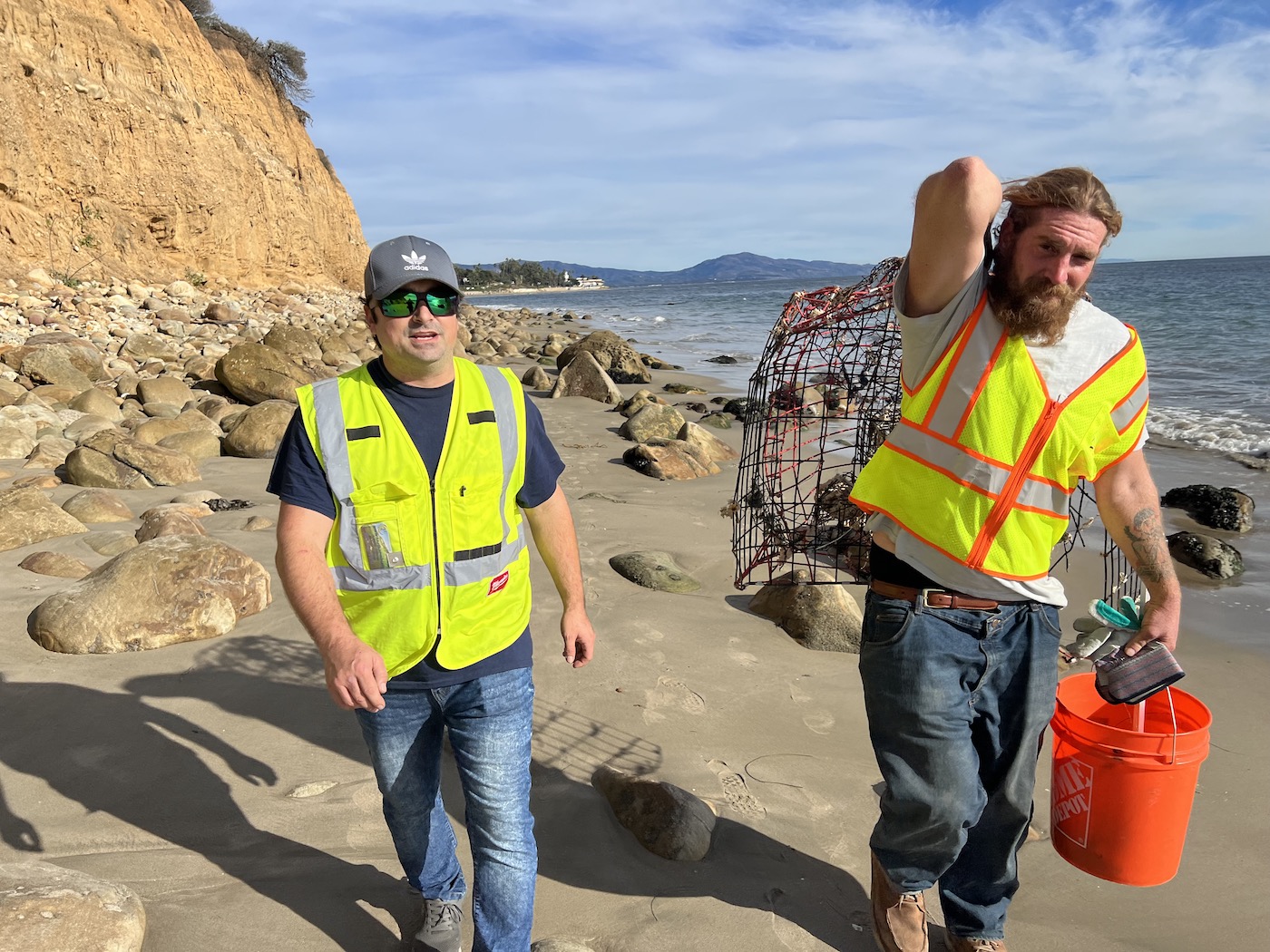 You've read in these pages about Hands Across Montecito, a very successful homeless outreach and placement team of the Montecito Association, made up of Montecitans, Sheriffs, Montecito Fire, Behavioral Wellness, and City Net. Our first client, Andrew Verlikanje, really hates litter, so he picks it up. Andrew impressed Heal the Ocean when he wanted to clear an old campsite out at Haskell's Beach. He then started Earthcomb and hired people experiencing homelessness to help him. For Montecito's Beautification Day, Andrew brought an energetic team to clear abandoned camps, and paid them a living wage. Montecito Association members enthusiastically supported this project.
Andrew is on the Hands team for outreach in Montecito and clears abandoned camps we encounter. When we moved one senior gentleman indoors, who was living near the Butterfly Lane tunnel on the railroad tracks, Andrew hired him to disassemble and clear his camp. Caltrans loves this project.
Last Friday, Harry Rabin of Heal the Ocean was determined to remove the recurring camps on the beach under the cemetery. King Tides are coming, creating a danger where the camps wash out into the ocean. Hands team member Tracey Wilfong alerted the County to these camps months ago, but the County process took a long time, though the inhabitants had police records, and one had an out-of-state warrant. They consistently refused services, so the sheriffs issued the vacate order, and Heal the Ocean and Earthcomb cleared the beach, only to watch it get re-occupied by these same individuals.
Harry was beyond frustrated, rightfully. On Friday, a crew of sheriffs, Earthcomb, and Harry convened to clear the beach yet again. I joined them and interviewed two of Andrew's hires. I want to share their story with you. Both gentlemen worked Montecito's Beautification Day and the beach clean-up a week later.
Kory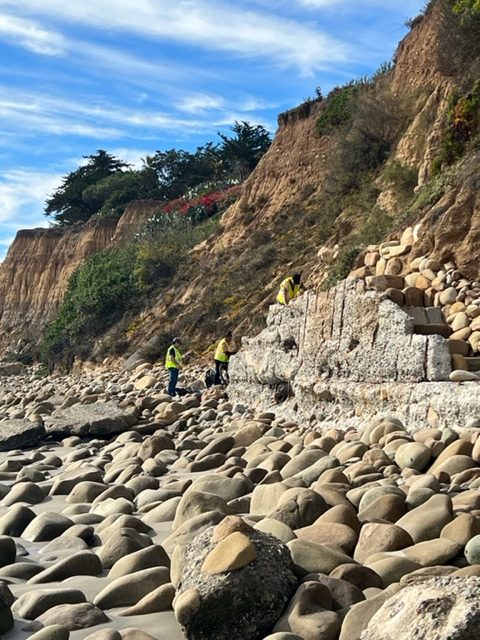 Now 42, Kory grew up in Oxnard, near Silver Strand Beach. He fell into meth addiction in his 20s, and it plagued him for a decade. His addiction made it very hard to hold down a job, so he spiraled down into living in the Santa Clarita River bottom. A friend of his was then murdered there. "That freaked me out," he said, shuddering.
He bounced to Santa Barbara, working temporary jobs while living on the railroad tracks behind Chase Palm Park. Heike Hyson, with AmeriCorps, engaged him. She referred him to New Beginnings, who housed him at El Carrillo leveraging an emergency housing voucher HUD issued in the pandemic. Thanks to terrific footwork by Emily Allen, our County was highly successful in placing people in housing using those vouchers. Los Angeles, in comparison, let thousands of housing vouchers expire, with 67,000 people experiencing homelessness.
Kory loves working with Earthcomb, though the work is part-time, and he wants full-time employment. I watched him clear trash, and then carry chairs for ladies setting up a wedding on Butterfly Beach. He hasn't seen his family since he was seven. He was raised by his grandmother. His mother likely couldn't afford to raise him, he thinks, but he's not able to connect with her.
He understands the camp scene he just cleared. "People want to be able to just go, on a moment's notice, somewhere they can use drugs – but then you get stuck in a rut and it becomes impossible to get out. I'm so glad I'm housed, after 15 years out here."
David
David is a cautiously friendly guy one month shy of his 40th birthday, and not in a good place. He was extradited from Oregon to Santa Barbara a week ago, as he's on parole here for assaulting a man. He has five months to go on his sentence. David had a job and a place to live in Oregon. Here, he just has the clothes on his back and nowhere to live, again. One wonders what the heck his parole officer was thinking.
He first experienced homelessness at age 15. "I was born and raised here. I don't want to be here. Most of the people on the street are not good people. They'll drag you down, strung out on drugs." His voice trembles, "You just can't trust anybody on the street."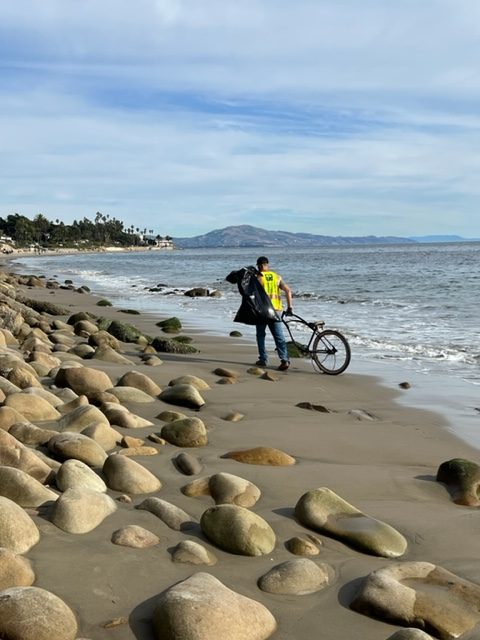 He doesn't want to go to the shelters in Santa Barbara. Fights are common among shelter residents who have previously had trouble with each other, now jammed together in a congregate setting. "I don't need any more trouble." He's sleeping in a park in Santa Barbara instead.
City Net consistently asks for non-congregate shelter because of experiences like David's. We had non-congregate shelter with Project Roomkey, when Governor Newsom funded placing people experiencing homelessness in vacant hotels during the pandemic. The community would need to sponsor a hotel room now, a costly and temporary solution.
We were able to solve one of David's problems on the beach. I called Adam McKaig, of Adam's Angels, a Montecitan who is truly an angel. I asked if he had any men's clothes available, and he did, but couldn't get to his storage unit until the weekend. About 30 minutes later, Adam texted me pictures of clothing he just bought at Costco for David. When I delivered them, David teared up, and hugged me.
I'll ask David's parole officer about letting him return to Oregon, where he has employment, and can afford his rent. The law may be the law, but the community would not welcome people being forcibly relocated here to be made homeless. The Hands Across Montecito team can help get David to a better place in his life.
In our outreach, we have observed a significant increase in individuals experiencing homelessness in the 25-to-45-year age range – young Gen X and Millennials. The issues they struggle with are harder for the Hands team to solve. There is no medically assisted detox treatment for meth addiction, very widespread here. Criminal justice involvement is tough to navigate in trying to get someone out of homelessness.
This is the start of a conversation we need to have as a community, and we hope to share more voices like David's and Kory's. It's easy to become unhoused in a too-tight, too-expensive housing market, like playing high-stakes musical chairs. Nextdoor hosts constant "in need of a place to rent" posts from people who apparently never make any noise, have no pets or kids, and work at professional occupations. It's not hard to see how someone less together in their life will fall completely out of that housing game.
If you'd like to support Hands Across Montecito, please contact us at info@montecitoassociation.org.
Sharon Byrne is Executive Director of the Montecito Association
You might also be interested in...