Silver Anniversary for the Annual Military Ball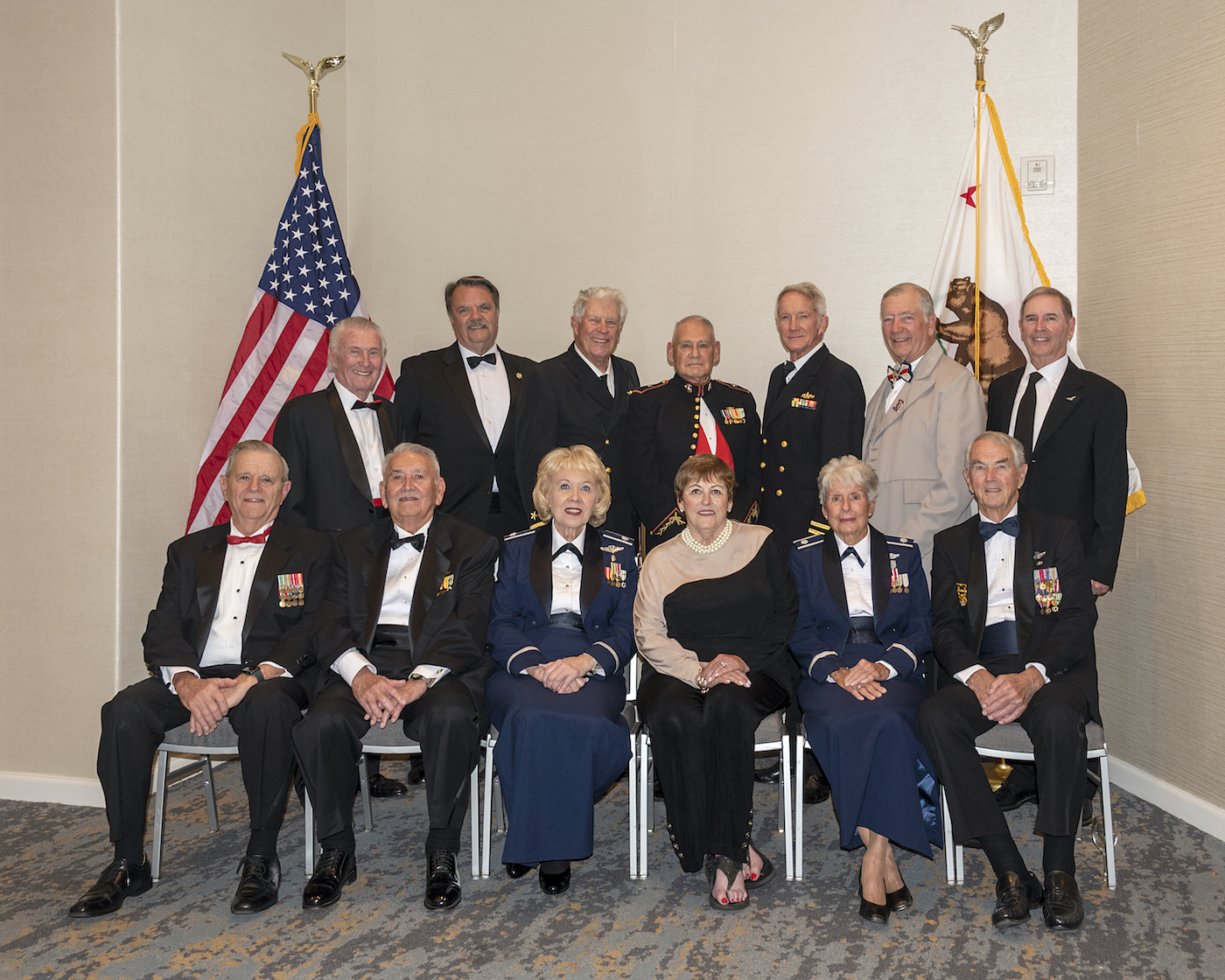 The Pierre Claeyssens Veterans Foundation held its 25th Annual Military Ball on Saturday, November 5, at the Hilton Santa Barbara Beachfront Resort ballroom. 
Guests were greeted by a bagpiper as they checked in and proceeded to the cocktail reception and photo op. There were displays of military hats, along with photographs and art of military personnel, military fighter craft, and medals in the ballrooms, with some items for sale to support the foundation.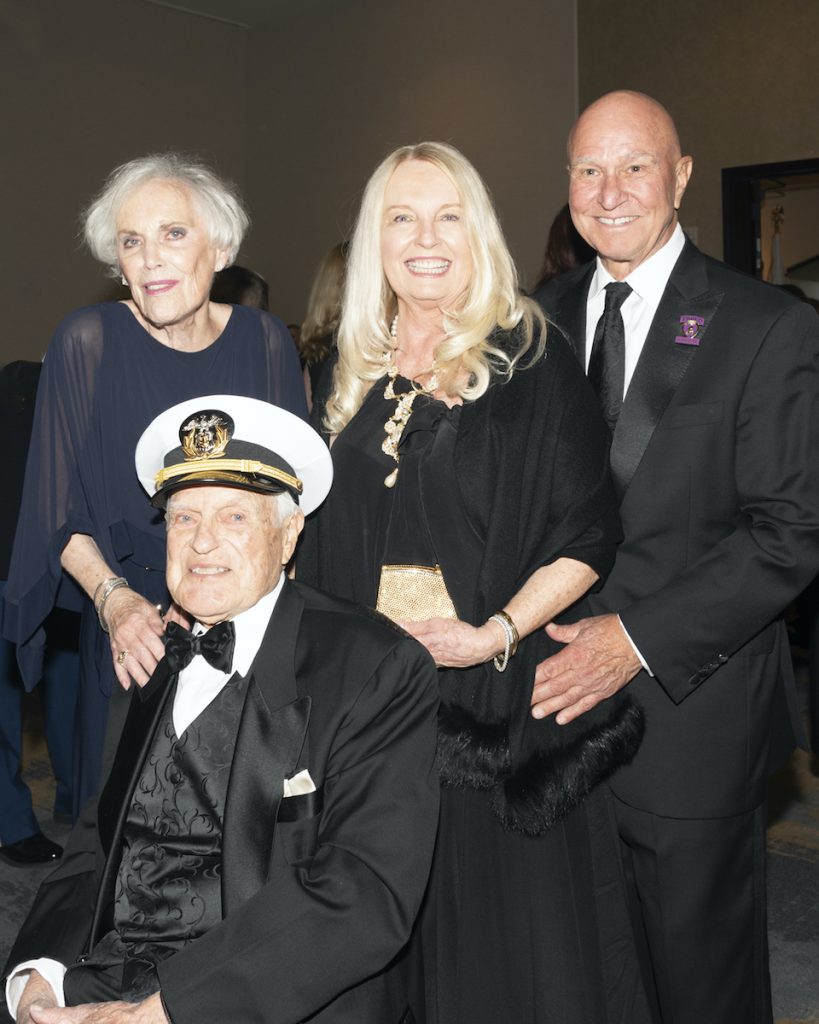 Every branch of the U.S. Military present day through WWII was represented and in uniform. Attendees included the PCVF Board of Directors headed by LT. John Blankenship USN (former)and his wife Hazel;Santa Barbara County Sheriff Bill Brown;Col. Phil Conran USAF (ret.); Mike Conroy USN (former); Capt. Joe Danely US Army (former); BGen. Fred Lopez USMCR (ret.) with wife Anne and grandson Ryan Marsh;CDR Charles Huff USN (ret.); Lt. Col. Maureen Masson USAF (ret.);Sgt. Dennis Merenbach US Army (former); Dana Newquist; LT. Steve Penner USN (former); Capt. Dennis Peterson USMC (former); Maj. Jose Ramirez USMC (ret.); andLt. Col. Patricia Rumpza
USAF (ret.).Also, Howard Hudson CPA; Stephen Anthony McMenamy Corps Sergeant Major and UK Ministry of Defence British Army; Brenda Blalock Realtor with Alan Porter; Jill Nida,Hospice of Santa Barbara, with Gary Simpson,owner of the Santa Barbara Home Improvement Center; Lynda Millner with WWII Veteran husband Don Seth; Victoria Hines; John Buster;and 2013 SB Yacht Club Commadore Francie Lufkin.
Following dinner and music by The Replicas Band, the formal program commenced with a welcome from Blankenship, the Posting of the Colors by the UCSB ROTC Surfrider Battalion Color Guard, the Pledge of Allegiance led by Rumpza, the "U.S. National Anthem" and "America the Beautiful" sung by Sgt David Gonzales, SB Police Dept (retired), and the Invocation by Chaplain Jerry Gray USAF. A special tribute to "The Missing Man" was presented by UCSB Cadet Daniel Keefe, which honored all military missing in action and prisoners of war, and "Taps" was played on bugle by Hudson.
Guest speakers were retired U.S. Navy Seals Marc Brakebill, Mike Charbonnet,and Steve Terlinden, who together formed a nonprofit organization in 2019 to raise funding for military outreach programs called Beyond the Teams, comprised of former U.S. Navy Seals and like-minded individuals.The program provides an annual athletic challenge with an action plan to unite, heal, and give back to communities, and has raised over $170,000. Their individual speeches emphasized the importance for support programming for military returning to civilian life, in all aspects – from physical and mental health needs to jobs. Each also shared about their service and current projects as civilians. Brakebill emphasized that the three pillars to transition from the military to civilian life are family, community, and a sense of purpose. Terlinden added, find your family, your cause, and support those that need it. They received a standing ovation from the guests. Following their speeches, Blankenship concluded the event with the recognition of each military division by its theme song and having those present stand to be acknowledged for their service. Guests were then invited to open dancing and more conversation sharing.
Pierre Claeyssens [b.1908 Belgium] founded the Military Ball in 1996 to pay tribute to the U.S. Armed Forces and acknowledge what they give in support of the freedoms of the US. He co-founded The Wood-Claeyssens Foundation with Ailene Wood, which supports nonprofits in Santa Barbara and Ventura counties via grants, now headed by his daughter Noelle Claeyssens Burkey.
The Pierre Claeyssens Veterans Foundation, founded in 2003 by John W. Blankenship with a personal gift from Pierre Claeyssens, honors and supports all local personnel currently on active duty or have honorably served in the United States military.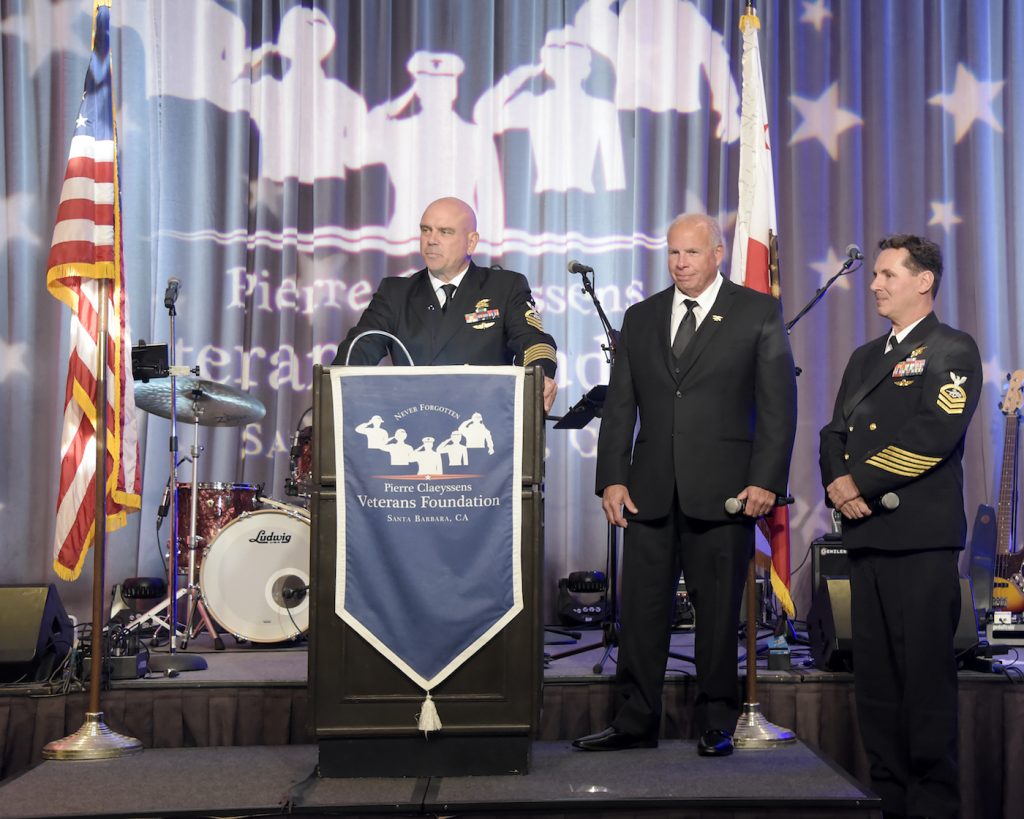 You might also be interested in...