Montecitans Host Suffolk University Alumni Reception
Christine Garvey, Juris Doctor and Trustee of Suffolk University, and Susan Cappiello J.D. co-hosted the Southern California Suffolk University Alumni Reception with its president Marisa Kelly at the Jonathan Club Los Angeles on September 29. The elegant event brought out over 30 alumni, mainly from its Law School and the Sawyer Business School undergrad and grad programs, including myself, an MPA graduate.
Margaret Arnold, PhD and Suffolk University Presidential Spouse, and Jonathan McTague, Director of Advanced Engagement, greeted the guests with name tags, Suffolk University school pins, and other school merch. Arnold left her position as Associate Provost of Academic Programs and Dean of Graduate Studies at Wentworth Institute of Technology to make a collective commitment to Suffolk University with Kelly. She currently works with the Office of Advancement and the Athletics Department.
Following cocktails and networking, we gathered for the program. Garvey welcomed everyone and introduced Kelly, who talked about the university's achievements and thanked the alumni for their support of the school and mentoring of students in the field. "Our 88,000-member alumni community continue to be committed to supporting Suffolk's mission of access and opportunity, particularly with their willingness to provide opportunities for students of all backgrounds and socioeconomic groups," Kelly added.
Some of her speech highlights:
– Suffolk University's Sawyer Business School has risen 25 places in the latest U.S. News & World Report rankings of Best Undergraduate Business Schools. Over the past four years, the Business School has climbed nearly 100 spots, from 312 to 219, making it one of the fastest-rising business schools in the nation.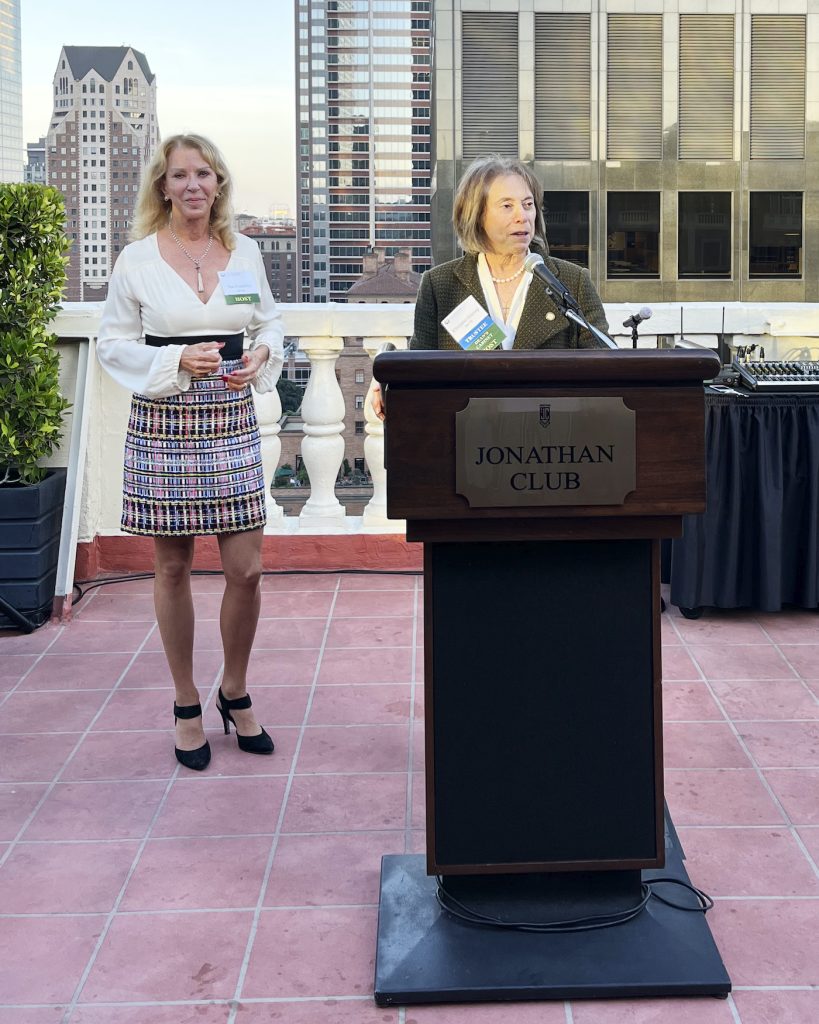 – Suffolk Law Dean Andrew Perlman recently shared the Law School's remarkable success, Suffolk Law's applications have increased 48% in three years, while applications nationally were up only 1% in the same period. Suffolk Law's two most recent entering classes had the strongest academic credentials in 11 years. The Law School's overall ranking leapt 45 spots in seven years, the fourth fastest rise of any law school in the country during that period.
– In its recently released 2023 Best Colleges edition, U.S. News ranked Suffolk University 95th among its Best National Universities for social mobility, defined as helping students climb the socioeconomic ladder.
– 98% of 2021 graduates are either employed or in grad school, based on surveys and other efforts to track their success.
In sum, Cappiello shared, "My Dad, Michael Cappiello, always attributed his success as an attorney to Suffolk's program(s) that prioritized minorities, immigrants, women, and others that were unable to attend Law School because of their necessary work schedules, and appreciation for Suffolk Law School's night program. In gratitude, he donated a classroom. Christine and I would like to say as co-hosts it is so wonderful to see the large turnout of Suffolk alums. Five percent of Suffolk students come from California and with new programs supported by President Kelly, the California contingency will continue to grow!"
Attendees included Matthew T. Howard, Managing Director Compliance JP Morgan Chase & Co, and Joy Milan, Assistant VP Merrill Lynch Wealth Management. The school holds alumni events in L.A., San Francisco, Boston, Washington, D.C., NYC, and Madrid.
Garvey specializes in corporate real estate and serves on the boards of Montecito Bank & Trust, Healthcare Properties, Toll Bros., and Sansum Clinic, prior to being the global head for corporate real estate for Deutsche Bank and Cisco Systems. Cappiello, living in the Santa Barara riviera area, practiced law for 40 years before retiring.
You might also be interested in...