In Conversation with ASL Advocate Leah Martin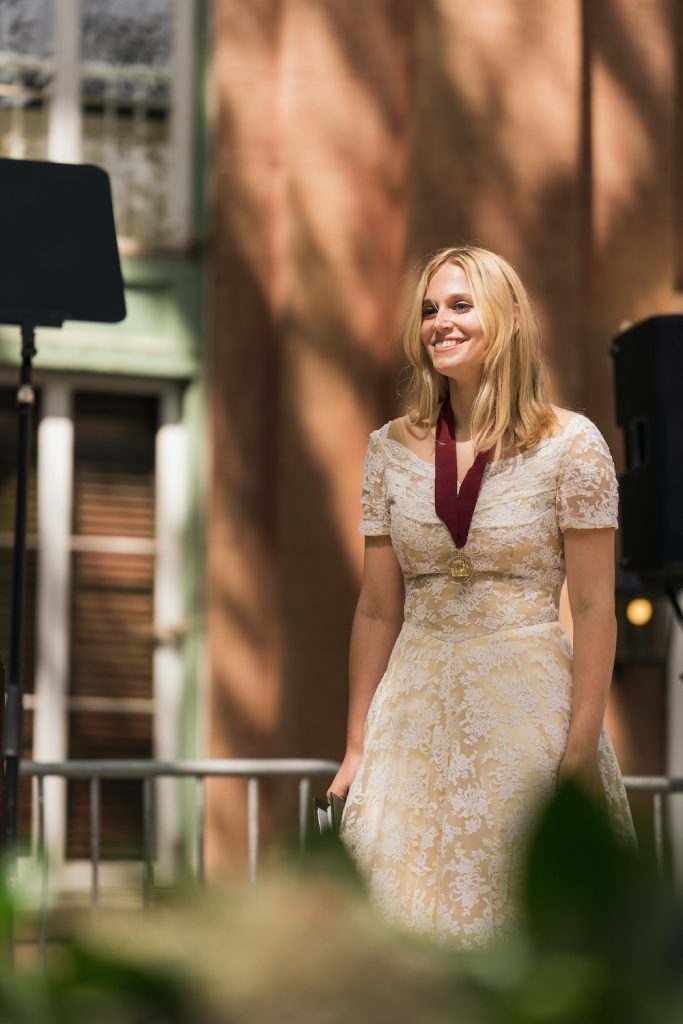 As a kid, Leah Martin was a strong student and good friend. She enjoyed theater and all things media. But her landscape began to shift when she was diagnosed with Reverse-Slope Hearing Loss.
Reverse-Slope Hearing Loss is a degenerative disorder that causes a person to progressively lose their hearing, starting with lower tones. By 15 years old, Leah was entering high school with hearing aids and the activities she had previously enjoyed began to slip away from her.
"Socially, things were just a little bit different," says Leah. "I did theater at Santa Barbara High School. I loved it. But I just slowly started to lose my sense of tune. I used to be so on pitch. And now the other kids were just not very nice."
As Leah's condition progressed, the school environment became challenging in more ways than one. Even when disability accommodations were available, they weren't always accessible.
"Teachers don't always know how to do things like turn on captions on videos. I am always having to remind people. Last semester, I had to remind my teacher almost every day, and it just made me feel so annoying. I don't want to disrupt everyone else's class."
While Reverse-Slope Hearing Loss is rare, a significant proportion of the American population is deaf or hard of hearing. According to the National Institutes of Health, two to three out of every 1,000 babies are born with hearing loss while 14% of the total USA population is hearing impaired. Yet students like Leah are still made to feel bad when they ask for necessary accommodations.
By the time she arrived at college, Leah knew she was being held back by traditional, hearing-centric education and decided it was time to tackle something that was long overdue: an introduction to American Sign Language (ASL). Although no ASL classes were offered at her university, the College of Charleston, Leah saw her graduate foreign language requirement as the perfect opportunity to start this new and increasingly needed skill.
"I was losing my hearing," Leah says. "I know a lot of basic signs, but at this point it's not even about wanting to learn ASL. I need to know ASL."
Leah did some research and signed up for a class at Santa Barbara City College. But when she returned to the College of Charleston to register her foreign language credits, Leah was told that ASL wasn't recognized. While the university was kind enough to waive her foreign language requirement in light of her disability, Leah knew this was an issue that deserved more attention. Why wouldn't an ASL class count towards learning a new language?
Ready to tackle the administration head on, Leah presented the issue to the Dean of Language. There she learned that there was a history of students at College of Charleston advocating for ASL classes; attempts that had ground to a halt. Now, even more determined to push the issue forward, Leah and the Dean of Language arranged their first presentation with the faculty.
"I definitely found myself in a teacher role," says Leah. "I needed to understand what myths I had to uncover and also show the faculty that this is a business opportunity. Students want to be taught ASL."
Between meetings with faculty, Leah was busy sending out surveys to the student body and acting as an ASL ambassador to the language department. To progress, she had to fight hard against the myths and misconceptions surrounding sign language.
"People think that ASL is just English with hand gestures. But it's not. The grammar is different. There are words in ASL that have no direct translations. Not all English-signing people even use ASL; they have an entirely different dialect in the U.K.," says Leah.
Gradually, Leah was able to show the faculty that ASL not only exists in its own right as a language but also as an American subculture. Illustrating this important truth was a big win for disability advocacy at College of Charleston, and Leah attributes her success to having a balanced attitude.
"I think that approaching this situation with kindness and patience while simultaneously staying headstrong, being assertive – but not coming off as aggressive or angry – is what it took for me. On the inside, I'm angry. So this was a skill I had to learn because no one is going to want to work with you if you're angry. You have to learn to be patient and educational."
Thanks to Leah's efforts, the initiative to introduce ASL classes to the College of Charleston is now a healthy campaign. Upon her graduation, she was recognized for her unselfish contributions to life at College of Charleston and awarded her degree in marketing with special honors.
With this victory and a bachelor's diploma in hand, Leah is starting a new chapter in Seattle, Washington, where she has been hired as an account manager for Amazon. Excited to be in this new position, Leah says that she looks forward to using what she learned while lobbying at the College of Charleston to improve the experience of hard of hearing customers and workers at Amazon.
You might also be interested in...