Back at the Haunted Pumpkin Patch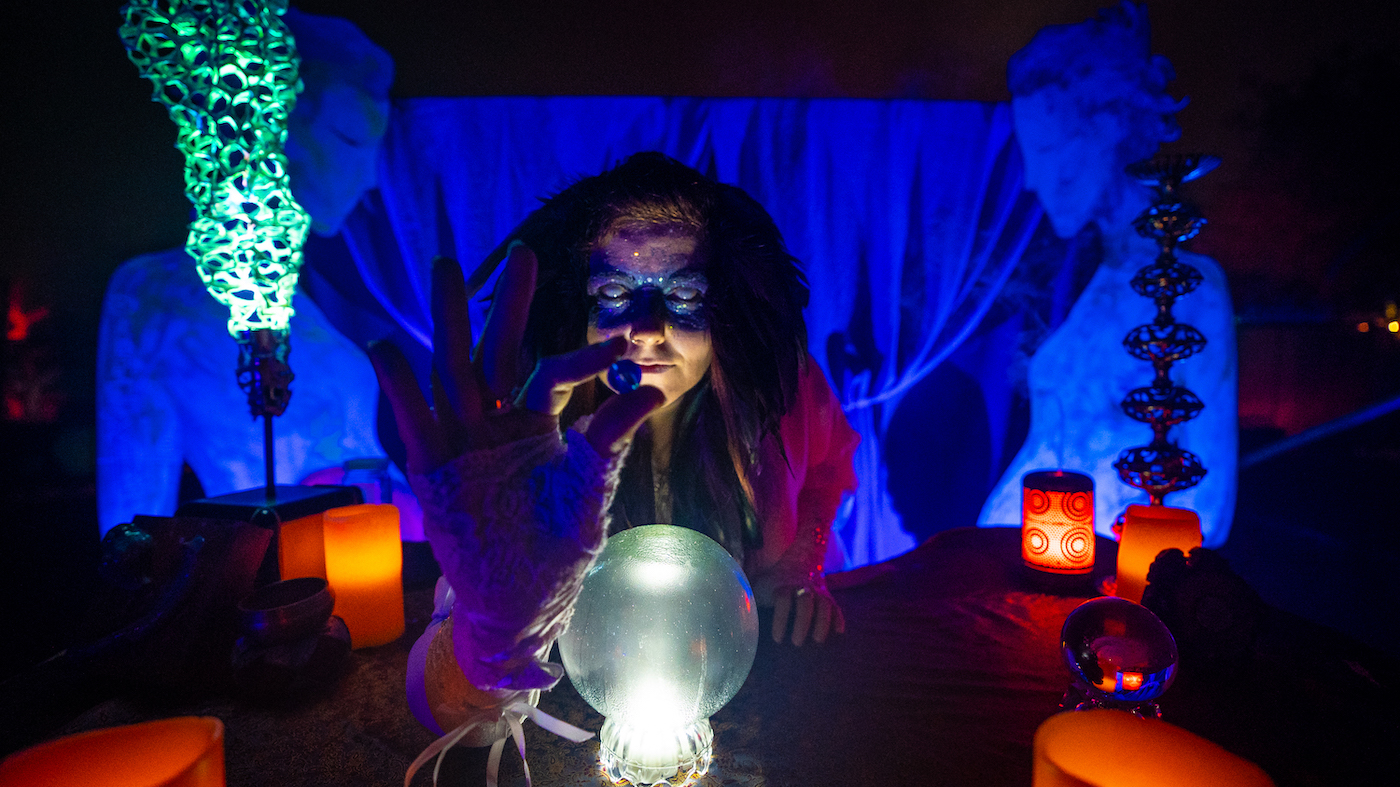 The Pumpkin Queen is in need of your assistance again. It seems that scoundrel Louie D'Ville is now scheming with the despicable Chuck Bunger to turn all of Isla Vista into parking lots, strip malls, and high rises.
Yes, with October coming to a close, IV Recreation & Park District and Lucidity Festival's Halloween Haunted Pumpkin Patch is back in action, resurrecting and upgrading the family-friendly installations full of Lucidity's signature light projection, costumed characters, aerial acrobatics, and bamboo sculptures that thrilled thousands in its debut in 2021. Only this year's immersive theatrical experience with a variety of unique environments that weave a homespun tale is moving to Anisq'Oyo' Park in the heart of IV, with the belief that elevating the arts with an expanded festival as an alternative Halloween event can compete head-on with the partying that still takes over Del Playa just a few blocks away. Including, this year, on Halloween night itself, because that day actually marks the 50th anniversary of IVRPD.
"We get a lot of stigma, but we have a beloved multi-generational community that should be able to safely celebrate Halloween together," said IVRPD General Manager Kimberly Kiefer, who grew up in Montecito, explaining the concept behind crafting the Haunted Pumpkin Patch experience with Lucidity and the Environment Makers.
The event has grown into a full festival, complete with film screenings, carnival games and activities, two silent disco nights, a Ferris Wheel, Día de Los Muertos altars, a costume contest, and a live Thriller flash mob performance by World Dance for Humanity. What's also changed is how the Pumpkin Queen's story unfolds.
While the tale is still a sequel, visitors will have a lot more choices, as rather than being led by a guide through a linear experience, they can enter the park through five different points, and visit the stations in any order, creating their own sequence by who they choose to interact with. 
"We still need them to step up into their superhero selves and support the Guardians of Green (aka IVRPD)," said Lucidity Co-founder Jonah Haas, who once again created the scripts for the characters, although this year's event will have more improvised interactions. "You get your passport stamped at each location, which is how we facilitate moving people through the space so they get all the different pieces of the story." 
Those who complete the circuit not only earn a free pumpkin, but also qualify for Monday night's costume contest with a $1,000 prize.
But just dropping in is fine, too, Haas said.
"We've really designed this event so that the people who want to do the gamified element of the immersive experience, and learn the story, get their passport, and participate in the costume contest have that opportunity. But if you just want to come out to the park and have a good time, ride the Ferris Wheel, that's great too. It's safe, it's fun, and, just like Lucidity, it's for everyone."
Halloween Haunted Pumpkin Patch runs 7-11 pm October 29-31 at Anisq'Oyo' Park. Visit facebook.com/events/1071817036815896 for more information.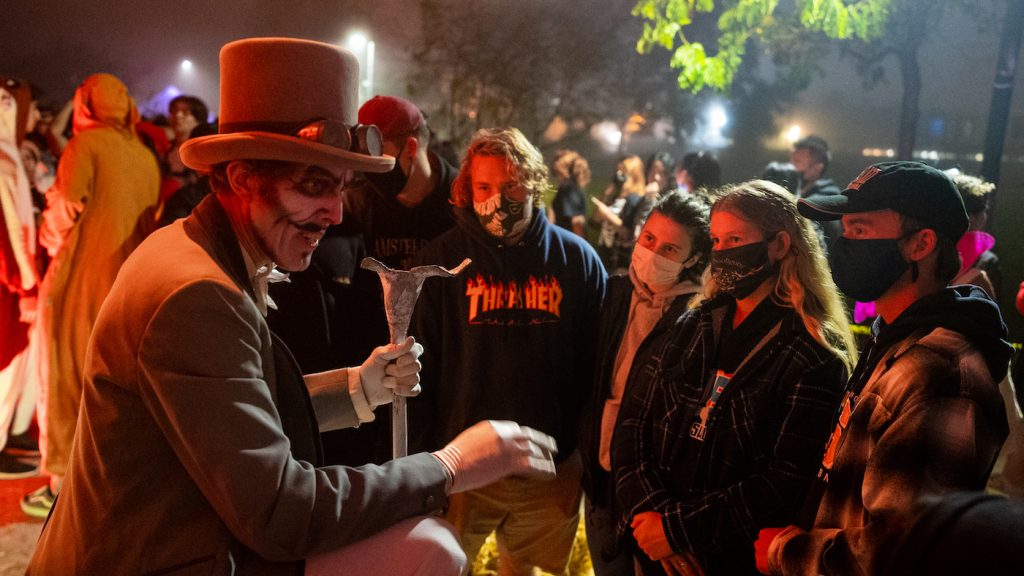 Halloween Happenings
Carpinteria's Alcazar Theatre hosts two screenings on October 29 at 7 pm and midnight of The Rocky Horror Picture Show, complete with costumes and all the popcorn-tossing antics… World Dance for Humanity winds up its performances of Thriller all over town with its annual "Thrill the World" show as part of the global dance phenomenon. The 1-3 pm event on October 29 also features a dance party, all in celebration of the 40th anniversary of the release of Michael Jackson's 1982 record that remains the best-selling album of all time… Saturday afternoon at 3 pm launches Paseo Nuevo's Monster Mash Dance Party with a DJ in center court for a costume dance party (prizes will be handed out randomly) and trick-or-treating throughout Paseo Nuevo stores and at downtown businesses, while SOhO's annual Halloween Bash with the Molly Ringwald Project takes place that night… The Santa Barbara Zoo winds up the second weekend of its annual Boo at the Zoo event, October 28-30.  
You might also be interested in...