Local Eateries Add Chef-Driven Small Plates to the Happiest of Hours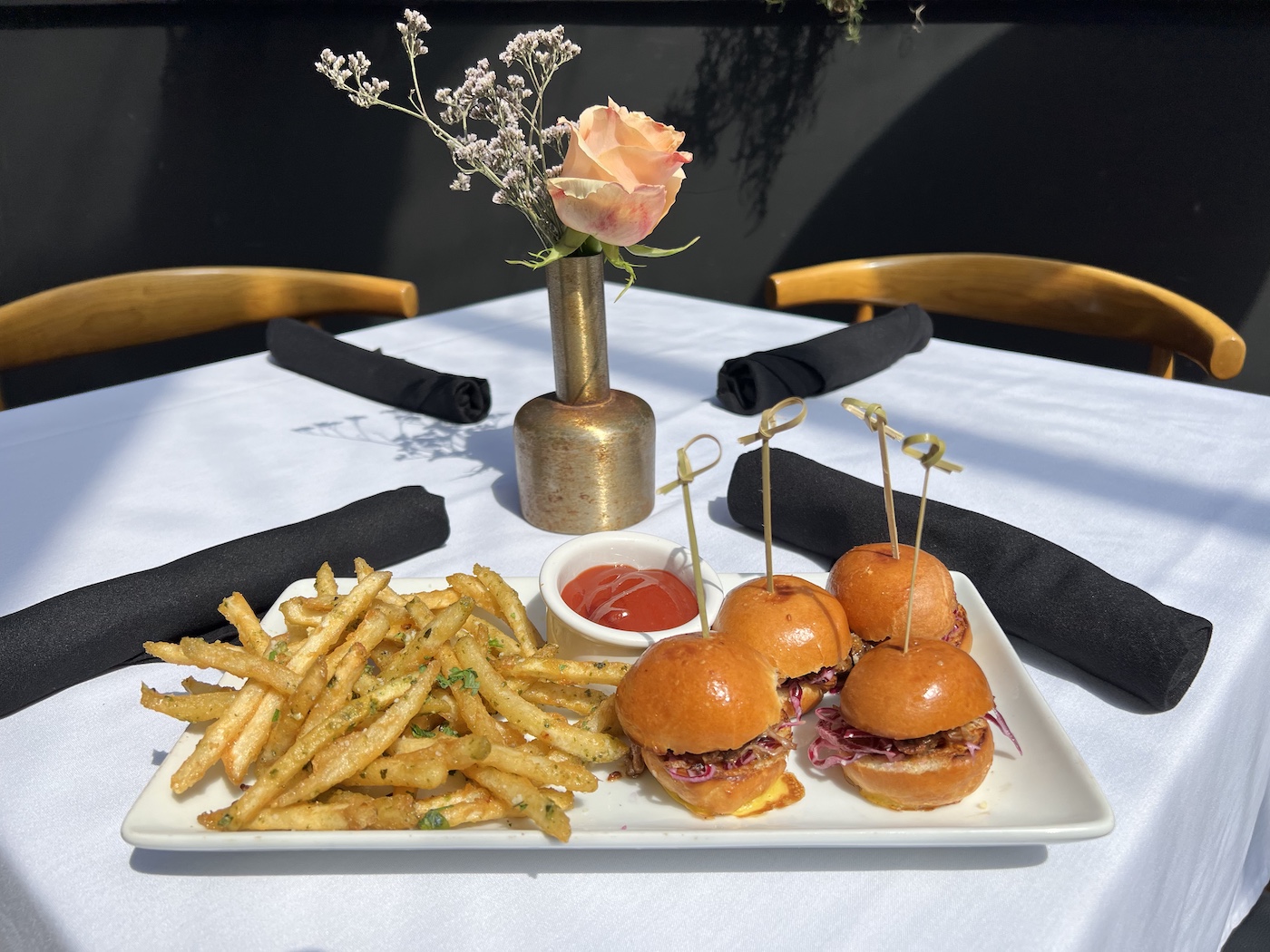 It's almost always happy hour somewhere in Santa Barbara. I love the tradition of getting together with friends, work colleagues, and neighbors to ponder a myriad of topics over food and drinks: "How's the marijuana odor control in Carpinteria coming along?" "Do you think Southern California Edison will move the utility lines underground in Santa Barbara's high-risk fire neighborhoods (at no cost to residents) like PG&E is doing in Northern California?" "Do we need another pitcher of Sangria, or do we need two?" 
There is nothing like conversing over food and drinks to knit a community together, but these tough economic times have been making it difficult to share a table as often as we ought. Restaurant owners are faced with the same rising costs as the rest of us, but several of them are taking new approaches to inflation-friendly dining.
At Coast & Olive, general manager and executive chef Chris Mottola creates small plates of the eatery's best-selling dinner items for happy hour. While the entire menu is available throughout the restaurant this season, guests at the bar often pair small plates – from ahi tuna tartare to oysters bathed in blood orange mignonette – with draft beer for $4 and wines by the glass for $10 at happy hour.
Happy hour is offered at the bar only from 3 to 5 pm daily.
The small plates on Coast & Olive's menu range in price from $10 to $12. Among them: tuna tartare with avocado, miso-ginger aioli, and chives with a baked crostini; a vegan salad is served with grapefruit, avocado, honey, and mixed greens; and short rib sliders topped with coleslaw, crispy shallots, and secret sauce on a brioche bun is a top seller.
Other small plates include tempura cauliflower with garlic aioli, grilled lemon and rosemary salt; white tiger shrimp with spicy cocktail sauce; and crispy brussels sprouts salsa verde, and toasted almonds.
Coast & Olive is not alone. Bettina, Joe's Cafe, Alcazar, Flor de Maiz, Shalhoob's Funk Zone Patio, and Chuck's Hawaiian are also offering a taste of their bestselling dishes at softer prices.
So, we've done a quick survey of notable eateries adapting menu items into their Happy Hour specials. Here are the best places to toast some tasty inflation fighters.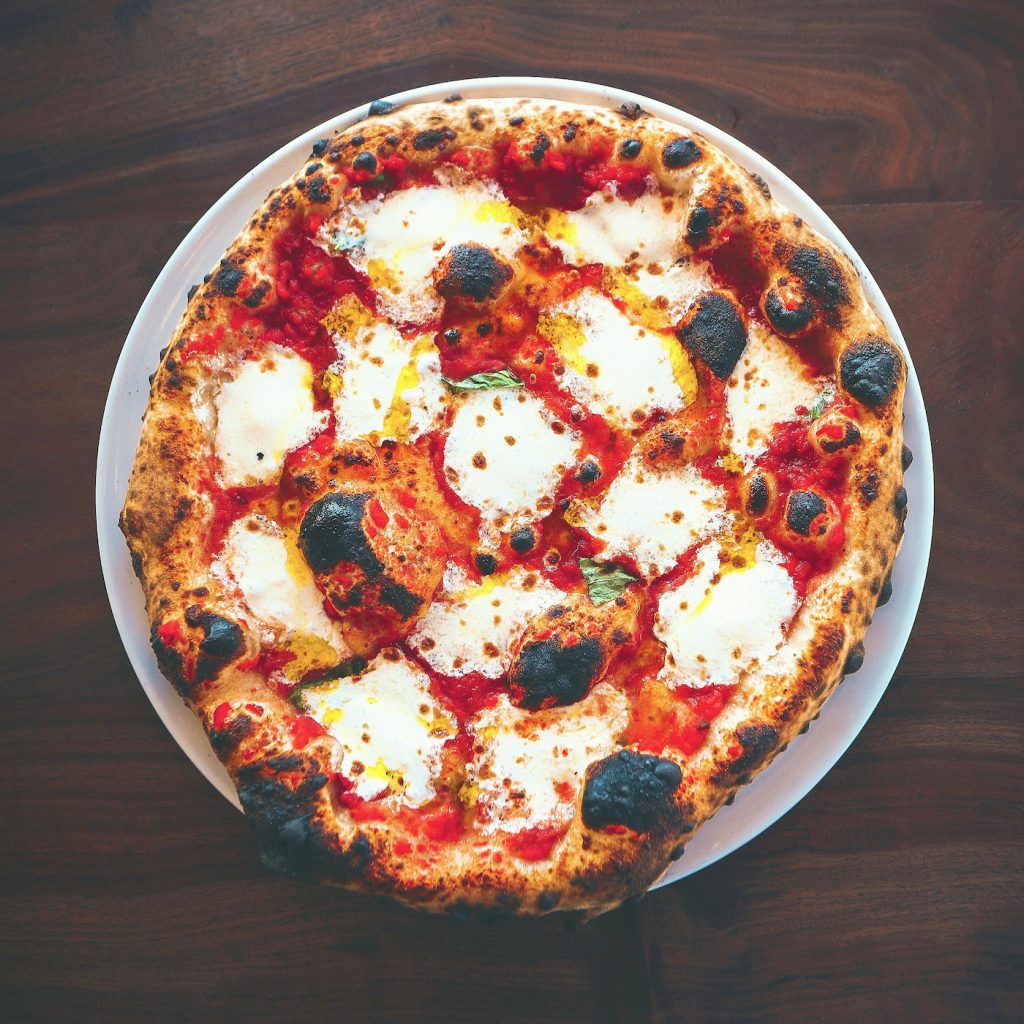 Bettina
Happy Hour: 4-5 pm, Mon-Thurs
Ambiance: Cozy and modern neighborhood pizzeria with seasonal and savory chef-driven plates and an intelligent beer, wine, and cocktail list
Standout item: The margherita pizza is made with 100% naturally leavened sourdough and hand-pulled mozzarella made in house daily. The tomato sauce is made with Bianco diNapoli San Marzano tomatoes grown in California.
Good to know: Get one complimentary margherita pizza (valued at $18) with the purchase of any bottle of wine from the list for dine-in service only. The bottle list starts at about $45. A full dinner menu will also be available. bettinapizzeria.com
Joe's Cafe
Happy Hour: 2:30-5:30 pm, Mon-Fri
Ambiance: Classic upscale diner with an easy-going, jovial staff
Standout plates: Two white fish tacos ($7.50), smashed angus beef burger topped with grilled onions on a brioche bun ($6 or two for $10), and a spicy fried chicken sandwich for $7.95.
Good to know: $4 domestic bottled beer; $4.50 draft beer; $6 wine by the glass; and $7 well drinks "with very generous pours," according to the bartender. You can pair any dish with a blue cheese olive martini or cosmopolitan ($9 each), featuring locally made Hendry's Vodka. Joescafesb.com
Alcazar Tapas Bar
Happy Hour: 5-7 pm, Tues-Sat
Ambiance: Cozy cafe with a European-feel in the Mesa neighborhood offering a chef-driven menu made from scratch using natural, locally-sourced ingredients
Standout Plates: Bacon-wrapped dates drizzled in wildflower honey and truffle crema chicken tacos with pasilla peppers, pickled onion, and habanero cream sauce, garnished with cilantro. Tapas are $10.
Good to Know: $9 for wines by the glass, classic sangrias, and classic margaritas alcazartapasbar.com
Flor de Maiz
Happy Hour: 2-5 pm, Mon-Thurs
Ambiance: Latin beachside eatery with views of Stearns Wharf serving Oaxacan delicacies and hand-crafted cocktails
Standout plates: A handmade corn tortilla with pork ribs and amarillito mole sauce, shrimp ceviche with coconut and serrano pepper; and a chimichanga made with shredded chicken, black beans, green rice, cheese, and avocado.
Good to know: Happy hour is served in the bar only. Plates are $8; specialty cocktails are $9 and $10; house wines are $5; draft and bottled beers are $4. flordemaizsb.com
Chuck's of Hawaii
Happy Hour: 5-6 pm, Sun-Thurs
Ambiance: Tiki-themed eatery with steaks, seafood, and tasty tropical drinks
Standout plates: Sweet and tangy teriyaki ribeye bites and peppery angus steak bites are delicious and satisfying. The Thai-style chicken skewers are served on a bed of rice. Priced from $9.99 to $11.99, the menu items are slightly smaller portions of regular entrees.
Good to know: $6.75 well drinks, $8-9 wines by the glass, and $11 Mai Tais chucksofhawaii.com
Shalhoob's Funk Zone Patio
Happy Hour: 3-11 pm on Tues-Thurs; 3-5 pm on Fri; "Power Hour" late night happy hour from 9-10 pm on Fri and Sat
Ambiance: Santa Maria-style barbecue served on an outdoor patio with a family-friendly/pet friendly atmosphere
Standout plates: The guajillo honey coated street wings with a squeeze of lime and "off the cob" grilled corn served in a heap of chipotle aioli, parmesan, and chili are lip-smackingly delicious. All snack items on the menu are half off. Prices range from $2.25 for fries to $6 for street wings.
Good to know: $4 house beer, $5 house wines and $10 cocktails  shalhoob.com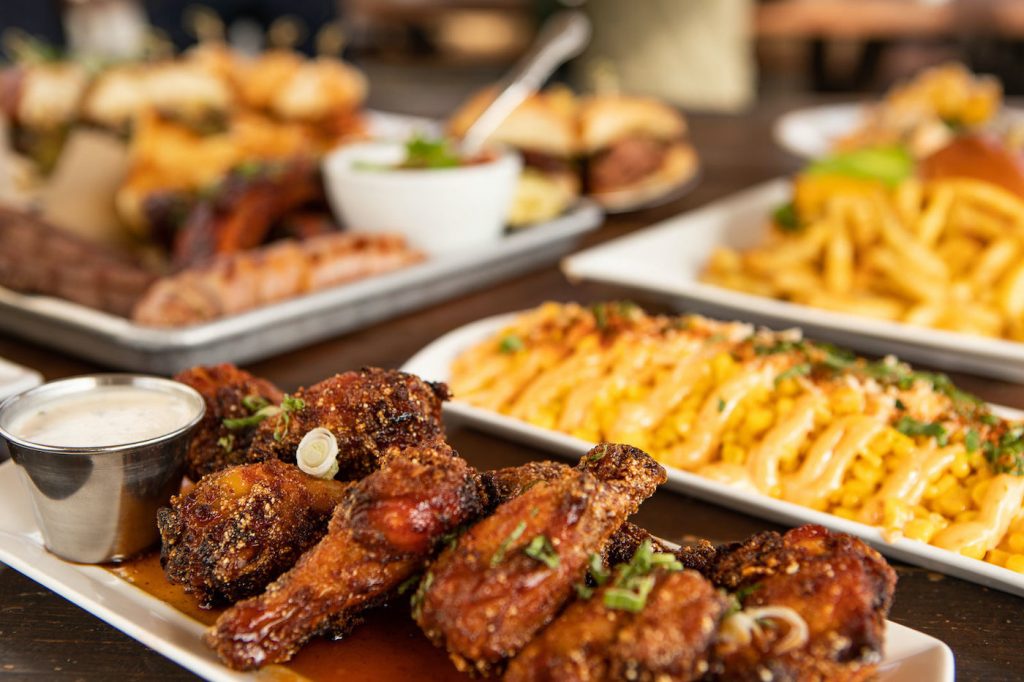 You might also be interested in...