The Building Blocks of Fire Prevention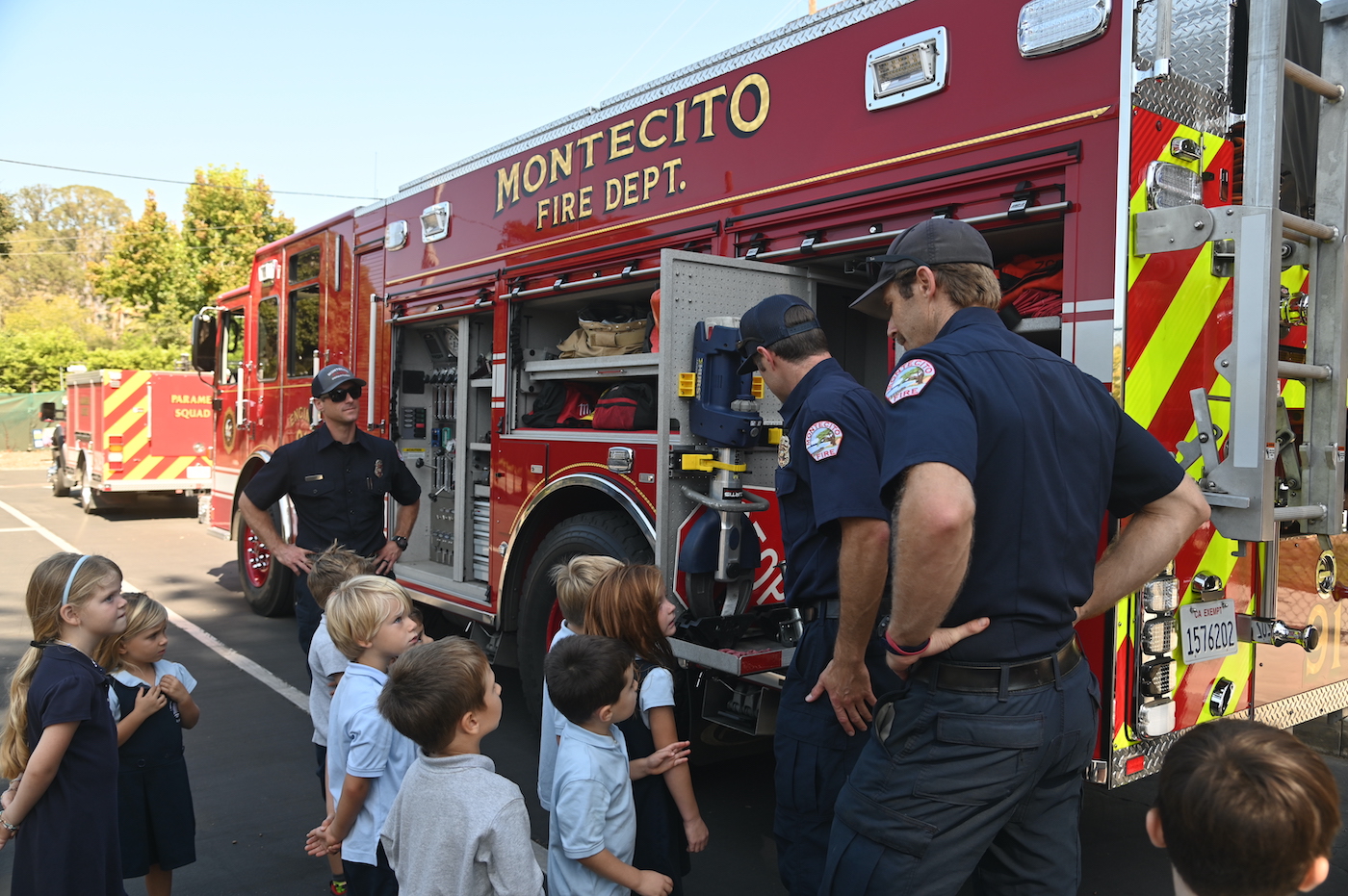 What comes to mind when you think of the month of October? 
Probably, the color orange. Perhaps, a pumpkin. However, for local firefighters, the arrival of fall conjures up something else orange – wildfire.
The spring and fall months on Santa Barbara's South Coast can be both the most spectacularly beautiful and the most treacherous.
"As we turn our calendars to October, we know that the sundowner wind pattern is likely to become a prevalent feature of our local weather once again," said Montecito Fire Chief Kevin Taylor.
A year ago on October 11, 2021, the Alisal Fire broke out along the Gaviota coast. Montecito firefighters quickly aided our local partners in the initial response. During those early hours of the fire fight, they experienced sustained winds of up to 45 miles per hour and gusts up to 75 miles per hour.
The powerful winds propelled the flames down steep canyons and the fire's footprint grew from 500 to 8,000 acres in just 48 hours.
In short, the Alisal Fire put on a clinic in autumn sundowner wind-driven wildfire.
Nic Elmquist is a Wildland Fire Specialist for Montecito Fire and qualified Fire Behavior Analyst.
"Fall fires can move very quickly," Elmquist said. "In the Alisal Fire, the combination of sundowners, steep topography, and critically dry fuels caused it to grow rapidly. It's a combination that we're very prone to in Montecito with our foothills and canyons, dry vegetation, and expected sundowner wind events this fall."
By this time of year, the vegetation is at its driest state and therefore, most receptive to burning, Elmquist explained.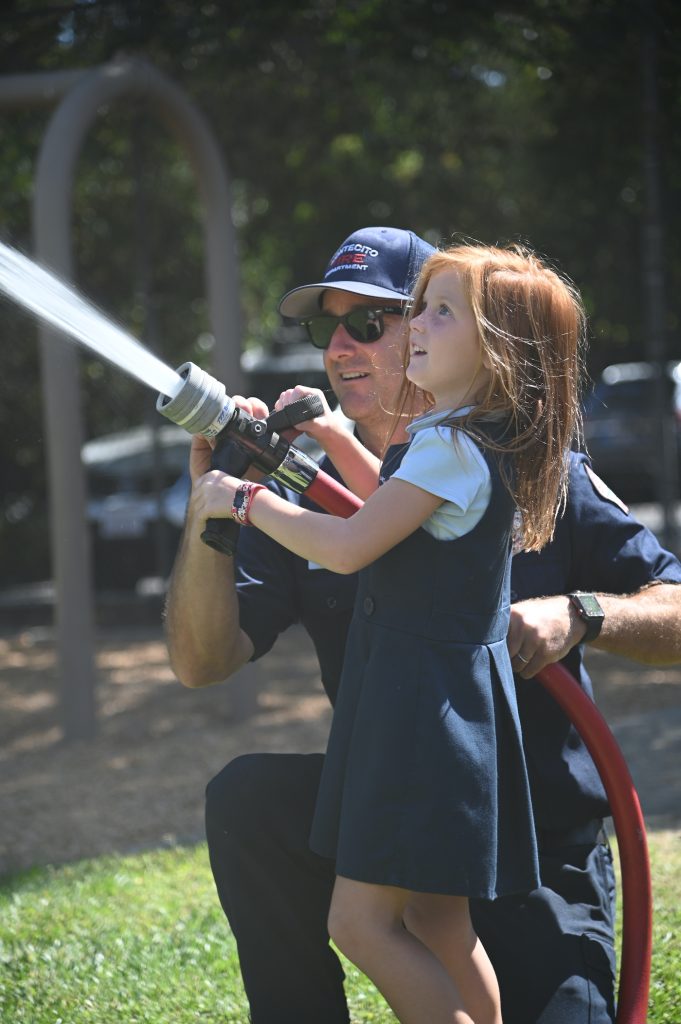 Across the country, October is designated as Fire Prevention Month. Fire departments nationwide visit local schools, host fire station open houses, and share important life safety messages.
This year's theme is "Fire Won't Wait. Plan Your Escape."
For the Montecito community, this theme has a layered meaning.
If your child attends one of our local schools, they will likely be visited by Montecito firefighters. The firefighters will teach students the basics of fire safety such as not to play with matches, "Stop, Drop, and Roll," and reminding parents to check the batteries in smoke detectors.
These are the building blocks of fire prevention. Educating our children about fire safety lays the foundation for a safe, fire-aware community.
Part of the presentation to students includes firefighters teaching the importance of knowing two ways out of your house in the event of a structure fire.
"In a wind-drive wildfire, fiery embers can travel for long distances and ignite homes," Elmquist said.
This means that today's wildfires have potential to start structure fires. The Camp Fire is a prime example. Burning homes created a domino effect, leveling entire neighborhoods.
It's important to know two ways out of your home and be able to enact your wildfire evacuation plan immediately to get out of the fire's path.
Three-word phrases seem to be hallmarks of fire safety education campaigns.
"Stop, Drop, and Roll," is engrained in our minds for burn prevention.
Our hope is that "Ready, Set, Go!" is equally cemented into our collective community mindset surrounding wildfire.
Montecito Fire's Prevention Bureau spent the spring and greener summer months "readying" our community for wildfire through the Neighborhood Chipping Program, Vent Retrofit Program, roadside weed abatement and various vegetation management projects.
While "High Fire Season" was declared for the South Coast in May, the arrival of fall sundowners and critically dry vegetation further elevates Montecito's fire risk.
Now is the time to be "Set" with your wildfire evacuation plan and consider what actions you would take if a wildfire occurred in Montecito.
With your loved ones, designate an emergency meeting place outside of the immediate Montecito community. During that process, also identify the best evacuation route(s) to get from your home to your emergency meeting place.
Spend 10 minutes with your family locating your home's gas, electric, and water main shut-off controls and practice how to turn them off and on.
Inventory your home, centralize important documents, and prepare a disaster kit to last your entire family at least three days.
Sign up for Santa Barbara County's emergency alerts at ReadySBC.org and/or verify that all your contact information is correct.
These preparatory actions are the building blocks to a systematic, calm, and successful wildfire evacuation process if and when it is time to "Go!"
Copies of the "Ready, Set, Go!" wildfire action plan are available at both Montecito Fire stations as well as online at montecitofire.com.
The Santa Barbara County Fire Safe Council will host its Wildfire Preparedness Exposition on Saturday, October 15 from 11 am to 5 pm at Direct Relief International, 6100 Wallace Becknell Road, Goleta.
We encourage you to attend to learn how you can prepare your home and family for wildfire. The event will include educational exhibits and activities for kids. Visit us at the Montecito Fire booth to learn about wildfire preparedness programs specific to our community.
For more information about the expo, visit sbfiresafecouncil.org. 
You might also be interested in...