Mystic Pirates Aboard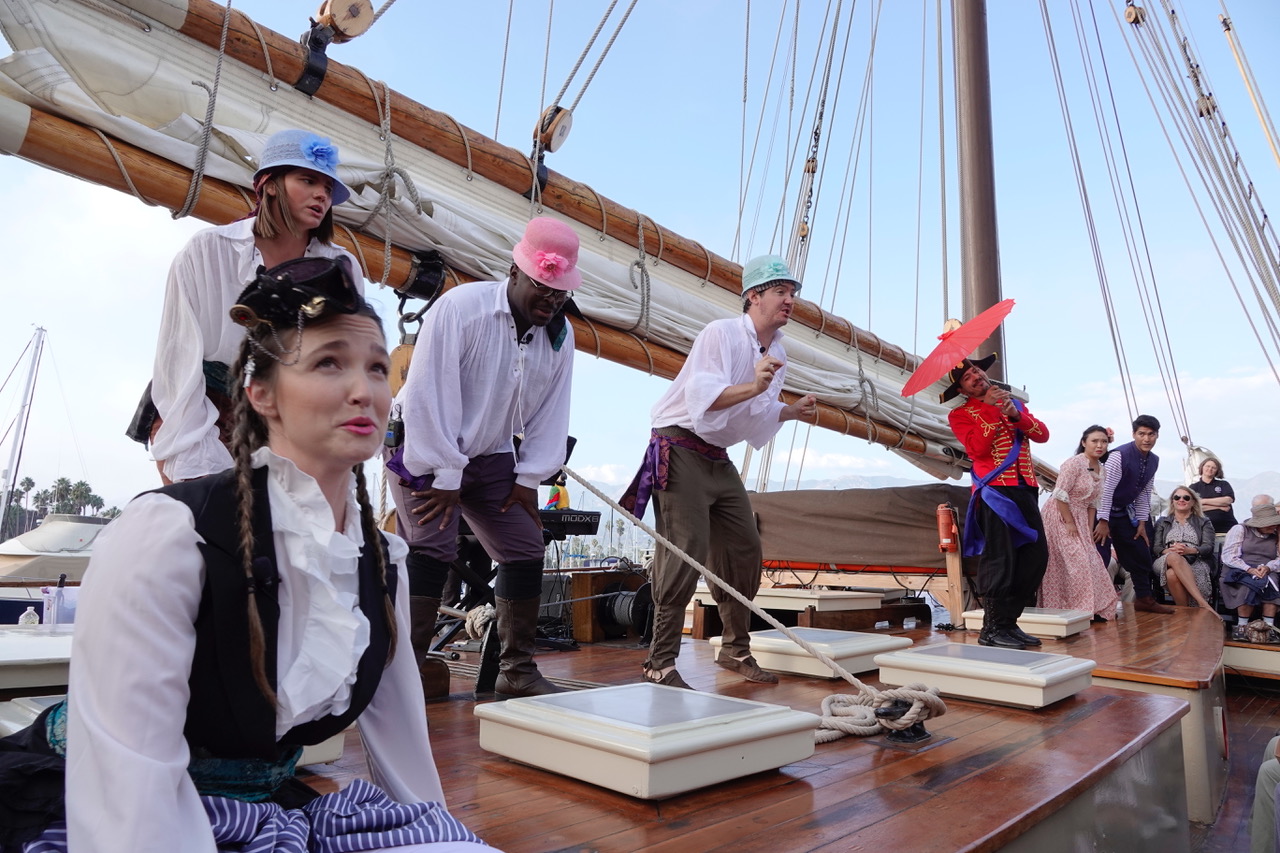 Former Santa Barbara Yacht Club commodore Roger Chrisman and his wife, Sarah, who recently bought the 83-foot steel-hulled schooner Mystic Whaler, which boasts 110-foot masts and 3,000 square feet of sail, sailed it up to our tony town's harbor from its Channel Islands base in Oxnard for a three-week stay, just a tiara's toss from the Maritime Museum.
To mark the occasion, seven opera singers – Christina Ramsey, mezzo soprano; Kyle Rudolf, tenor; Matthew Peterson, baritone; Ariana Horner-Sutherland, soprano; Sunwoo Park, soprano; Elijah Cineas, bass baritone; and Omar Rodriguez, baritone – all Chrisman Studio Artists sponsored by the dynamic duo, gave a costumed performance of the 1879 Gilbert and Sullivan two-act comic opera, The Pirates of Penzance, accompanied by pianist Tim Accurso, on board the impressive vessel built in Florida in 1967 and rebuilt in 1993 in Providence, Rhode Island.
It has been renamed Mystic Cruzar, carrying 50 passengers and ten crew, and will be operated by the Chrisman's nonprofit Central Coast Ocean Adventures under captain Christine Healy.
It was transported on an ocean freighter from Ft. Lauderdale, Florida, to Ensenada, Mexico, via the Panama Canal.
"It will be available to schools, corporate and other groups, and, of course, the Maritime Museum," says Roger. "Student sailors 5th through 12th grades, accompanied by teachers and parents, will experience voyages of nautical, scientific, and personal discovery."
Topping off the day was a fireworks display in honor of the 150th anniversary of nearby Stearns Wharf.
You might also be interested in...