Reveling in Equinox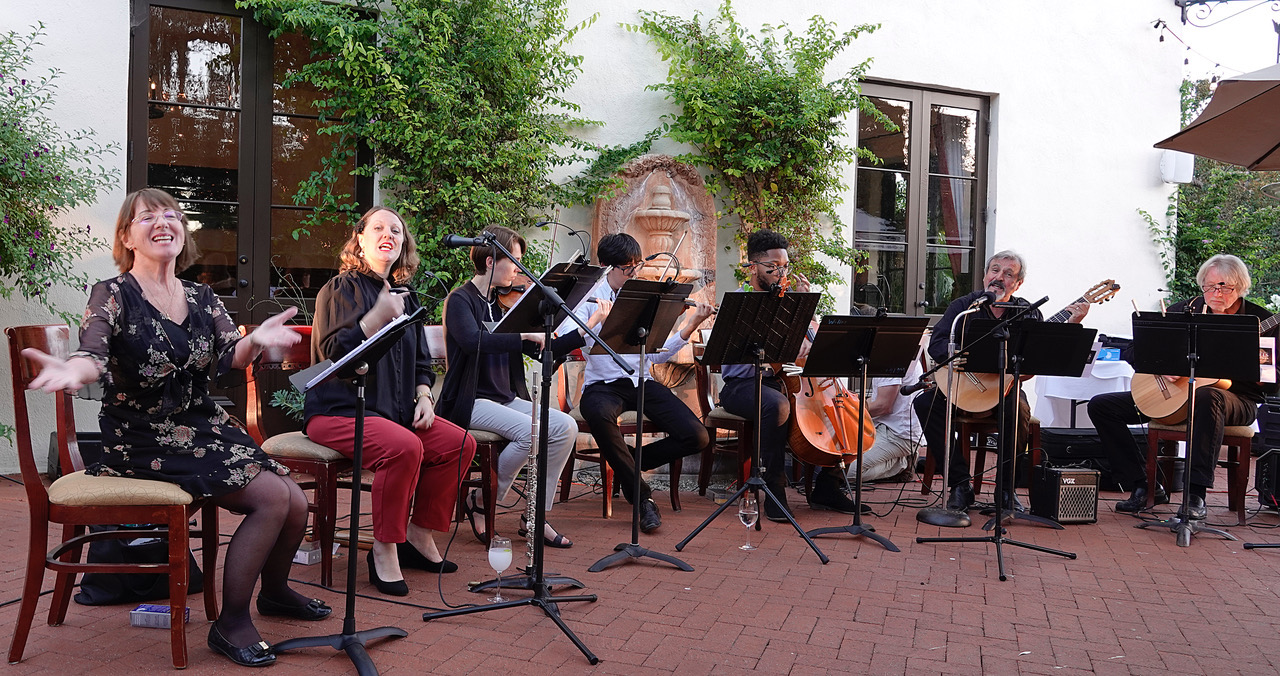 The Scottish bagpipes sounded loud and clear at the University Club when Susan Keller's Santa Barbara Revels celebrated its seventh annual Equinox concert celebrating the changing seasons.
The al fresco evening on the Sola Patio combined selections from three centuries of Spanish and Mexican music of the New World, in an echo of the Revels production last December of an early California show, with a preview of this year's production, The Christmas Revels: A Scottish Celebration of the Winter Solstice, which will be staged at the Lobero Theatre in December.
Susan Lansing-Weller, the new musical director, brought together a diverse ensemble of special musical artists, including Marie Herbert and Rafael Vasquez-Guevara on violin, Ivan Law on cello, Luis Moreno on guitar, Gary Solt on guitar and mandolin, and Erin McKibben on flute and vocals.
The bagpipers, bringing back memories of Queen Elizabeth's funeral at St. George's Chapel, Windsor, were Highland Bagpipers Moon Man and Clear Water Whitehead, and Caden Semenza.
Life is Precious
Montecito actor Jeff Bridges says everything in life became "hyper precious" to him amid his recent health struggles.
The Oscar winner, 72, was diagnosed with cancer of the lymphatic system in 2020 and was also hit hard by COVID-19, which he previously admitted left him at "death's door."
However, Jeff now believes his two-year-old "health adventure" has actually helped him look at life through a new lens.
"It wasn't all bad," he tells Sky News. "[There were] wonderful parts about being that sick that were kind of unexpected, feeling all that love coming towards me from my family and friends, and from people all over the world… Everything became hyper precious during that time."
Literary Opinions
I'm glad to see Tina Brown, former editor of Vanity Fair and the New Yorker, is in agreement with my thoughts on Prince Harry's forthcoming autobiography.
She feels that Harry and William's unity at Queen Elizabeth's funeral made it a good time to "build bridges" and become more involved with the Royal Family.
Brown says the Duke of Sussex needs to "ditch" his Penguin-Random House upcoming memoir to regain his father, King Charles' trust, on the U.K. TV show Lorraine.
"If Harry doesn't want to bin the book, then I can't see a way forward," she concluded.
An old friend, TV host Piers Morgan, who replaced Larry King on CNN, has also expressed the same opinion.
Monarchy Matters
Support for the British monarchy has soared following Queen Elizabeth's funeral and over half of people now believe King Charles III will do a good job, according to a new poll.
Almost half of those surveyed by Ipsos last week said it would be worse for Britain if the monarchy was abolished, while less than a quarter said the country would be improved as a republic.
The poll of 1,073 adults found 47 percent saying the U.K. would be worse without a monarch, up from 42 percent who shared the same thoughts at the Platinum Jubilee in June.
Birthday Thoughts
Ahead of celebrating her half-century this month, Montecito actress Gwyneth Paltrow is talking about setting boundaries and embracing her aging body.
The Oscar winner, who celebrates her birthday on September 27, has penned an essay about her past and hopes for the future published on the Goop founder's lifestyle website.
Paltrow reflects on the regrets and misgivings that still keep her up at night, saying she hopes she has "learned from them all."
"I have betrayed myself to keep the peace and have let people down by not being there when they needed me to be," she writes.
Emil Nazaretyan on Board
Investment manager Emil Nazaretyan has joined the board of directors of the Scholarship Foundation of Santa Barbara.
Over a career spanning 14 years, he has worked in portfolio management, trading, research, and investment management at firms in Santa Barbara and Los Angeles.
Nazaretyan currently serves as a portfolio manager at Mission Wealth in our Eden by the Beach.
Named to Pacific Coast Business Times "Top 40 Under 40" list for 2022, he previously worked as an associate trader at Mercer Advisors, held banking and accounting positions at Wells Fargo and Conference Direct, respectively, and co-founded the startup Green Logic Asset Management, among other positions.
Sightings
Oprah Winfrey at the L.A. premiere of Sidney, a movie on the late legendary Sidney Poitier… Katy Perry, English fiancé Orlando Bloom with his son Flynn, 11, and their daughter Daisy, 2, riding their electric bikes near East Beach… Actor Christopher Lloyd picking up his New York Times at Pierre Lafond.
Pip! Pip! Be safe, wear a mask when necessary, and get vaccinated.
You might also be interested in...