Silver Air Private Jet Opens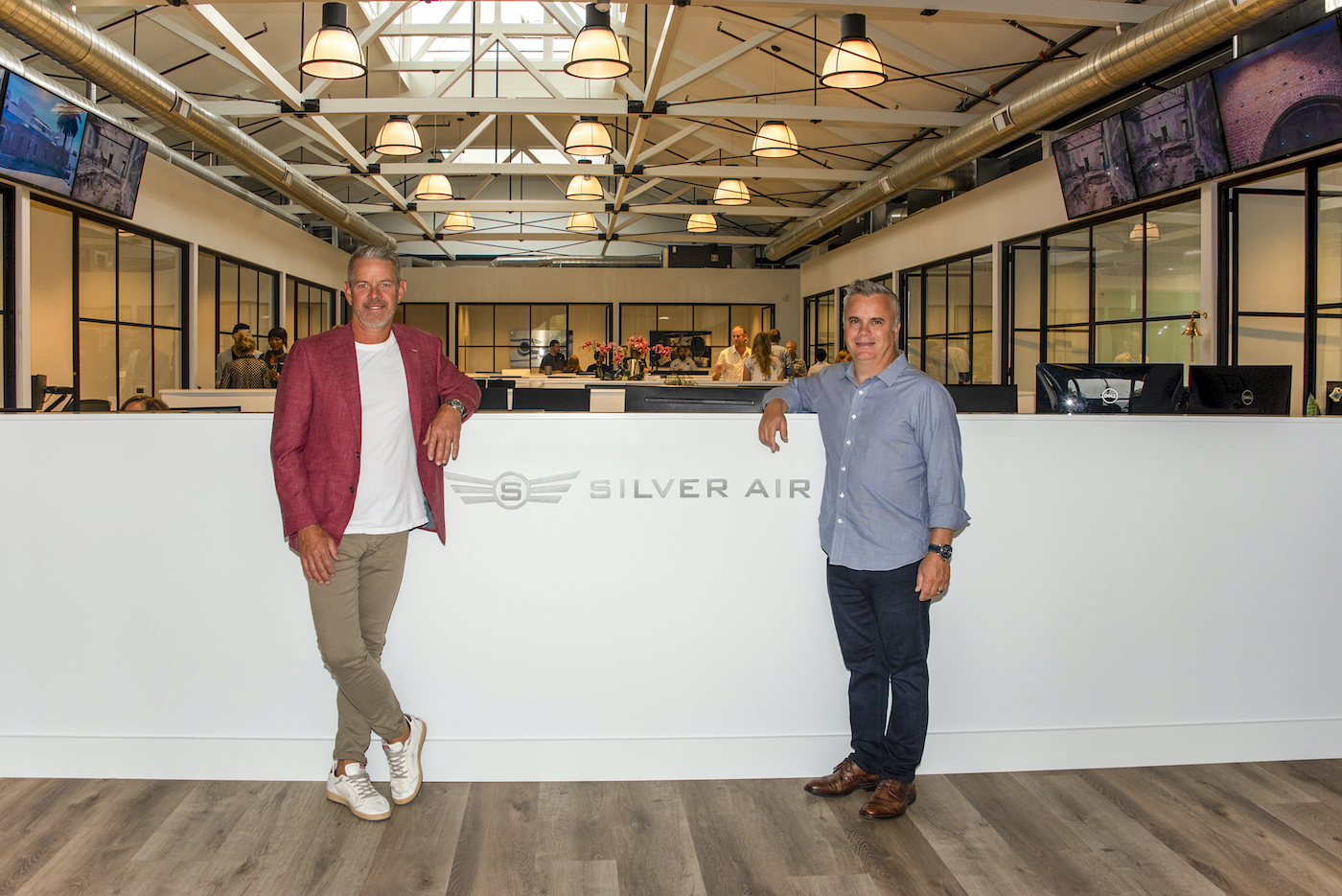 The newest buzz in the air is the grand opening of the World Headquarters of Silver Air (SA), at 225 State Street, celebrated with a soirée Friday, September 9. The announcement comes at prime time heading into the fourth quarter for global business and wealth management. 
On board at the event were its co-founders and pilots Jason Middleton, CEO, and James Maxwell, CFO, with Brandon Martin, President, and its team members of pilots, operations crew, and support staff.
SA's humble beginnings date to October 21, 2008, with Middleton and Maxwell, and one "tiny" jet at Santa Barbara Airport. Currently SA has a comprehensive fleet of luxury to long-range jets, operating globally 24/7. Their business model mirrors the strategic wealth management principle that advocates for partners versus selling services to clients at commission. They offer private jet management for jet owners and public jet charter operations.
At the opening, Middleton, who's been interviewed in Forbes, Business Journal, the Wall Street Journal, and The New York Times, took 15 for an interview:
Q. Let's talk about the success of your business strategy…
A. We really have a relation driven model. We look at customers as partners, and efficiently manage their craft for them. We manage and represent the owner for all the services needed to do that and we do that based on each client's unique needs and goals, complete concierge style. We made the decision to not have services like hangars and fuel to sell to our clients, as we feel that is a conflict of interest. We want a diverse base of clients through our management and charter divisions and are quite selective on the people we work with to make sure it's a good fit for both them and us.
Where is SA's service area?
All the aircraft we manage are in the U.S. and we operate the craft globally.
What is your current number of craft?
We manage roughly 25 aircraft, and some of those are chartable to the public, as listed on our website, as part of our custom charter division. We are an air carrier certified by the FAA and Department of Transportation to charge a fee for flying people. If one of our managed customers wants to supplement the use of their aircraft, they can put it in our charter fleet, and we will charter it to the public, charge a fee for that and the owner shares in that revenue. We can fly anywhere in the world and operate any size airplane, from a Boeing jet to the small CJ (Citation Jet) we started the company with.
How was it for SA during COVID lockdown?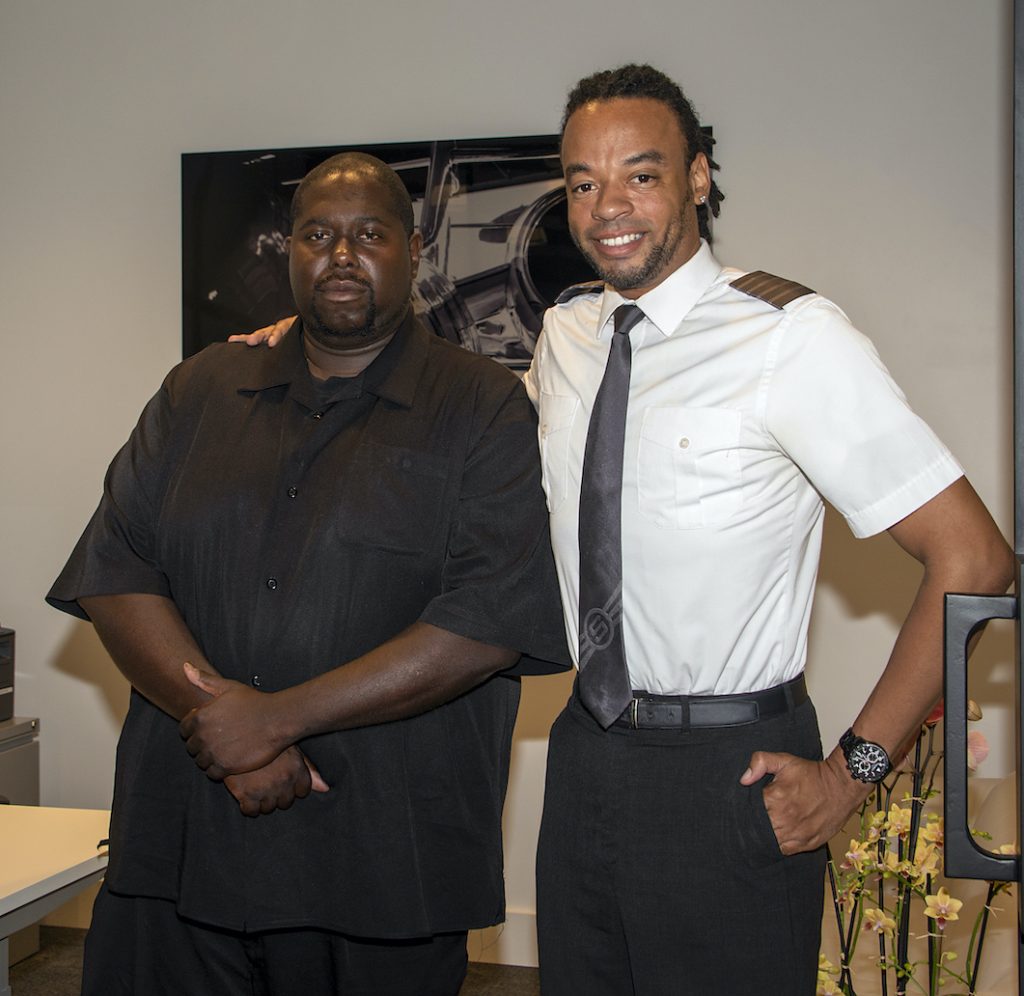 During COVID we were very active and sort of became a leader of the health and safety protocols for aircraft, which I am very proud of.
My team and I spent a lot of time on, "How can we make this as safe as possible to fly?" We developed a product called 'COVID-19 Cleared.' It is a door-to-door service, where we used extensive cleaning, sterilization, and sealing of all aircraft and ground transportation vehicles until the passenger and crew arrive, medical professionals conduct virtual health screenings of both crew and passengers, and only when all protocols have been confirmed will they clear the trip. Each step of the COVID-19 Cleared process exceeds recommendations from the Centers for Disease Control and Prevention (CDC) and Federal Aviation Administration (FAA).
We opened it up to the whole industry. I went with a leading safety company WYVERN to help us distribute it to the industry, and a ton of companies picked it up, and some even branded it as well.
When COVID-19 hit we stopped flying for two months. We retained all our employees with their full salaries and benefits, hired 30 more people, and spent the time wisely. We said, "It's going to turn on and come back quickly, but it's going to be different." We prepared for it, trained more pilots, and hired more operations people. We came out of it like a rock and have been going ever since.
What would you like to say that I haven't asked you?
The Montecito Journal is a local news organization, and even though we operate world-wide, we consider ourselves a local company. I'm very proud of what we built here. We have high-paid jobs and most of our employees can afford to live here. We care about this town. My partner James grew up here and knows this building, and I know its former owners. This is something we wanted to contribute to the community, to save this building that was literally falling down. We preserved the outside of it to look exactly as it did in 1927, even the logo on the smokestack is the exact same font, size, and placement as the Enterprise Laundry. We tried to honor the history of this building. I'm thankful we were able to do this; it was a very big project, we're stoked. We retrofitted and modernized it so the building will be here for at least another hundred years. 
Other SA news is its large support of the Fly Compton Aeronautical Education Foundation (FCAEF) founded in 2020 by one their captains, Brian Monette, and pilot Nicholas Hardy. Monette shared:
"I wanted to be a pilot in high school (2003), but 9/11 happened so I studied graphics. One of my teachers took us to Compton Airport to meet entrepreneur-activist-pilot Robin Petgrave, owner of Tomorrow's Aeronautical Museum. He had a STEM enrichment program for kids where, with a mentor, you can study, work, and earn points for flying lessons. After a helicopter ride with Petgrave, I joined the program, and got my pilot's license in two years without debt. Hardy went through it, along with a lot of our friends. When Petgrave retired, we decided to pass the torch, and to make it a better program than before. Currently we have 50 kids in the program, and our waitlist is so large we stopped taking requests, as we need more resources to accommodate all the kids. We are open to pilots who want to teach and funders to help us maintain the equipment we need to run the program."
Monette loves flying so much, he started his own YouTube Channel about it with videos of the work at FCAEF. SA also supports the Santa Barbara 100 bike ride and is a Title Sponsor of the Pacific Coast Open Polo Tournament.
You might also be interested in...