Evelyn Louise Duimovich – 1922 – 2022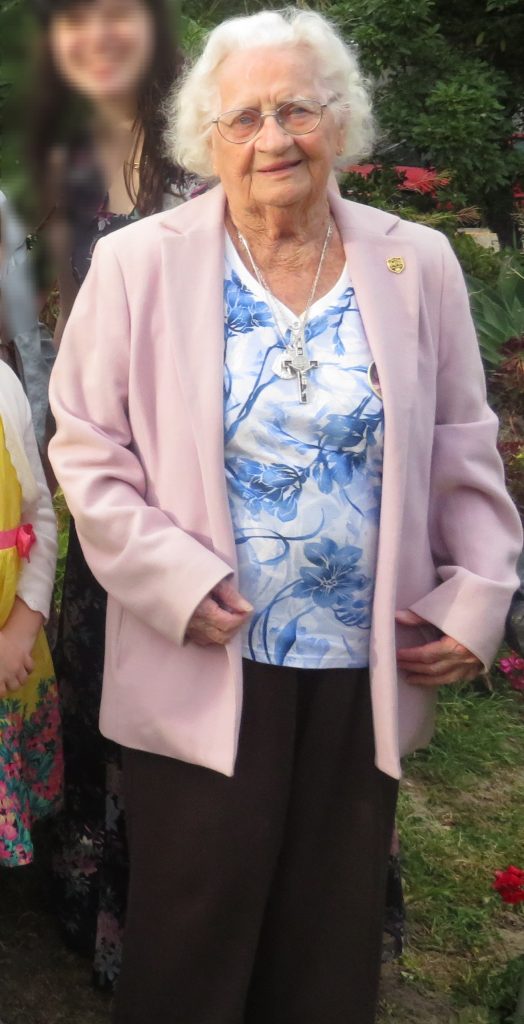 Evelyn Louise Duimovich, age 100, was born into Eternal Life on September 7, 2022. Surrounded by her children and beloved priest, she died peacefully at home. She was born on May 30, 1922, in Peoria, Illinois, to Walter and Frances Hickman, the fifth of seven children. 
The loss of her mother at the tender age of three, left her father with six young children (one baby girl having died). She was separated from Betty, her only sister, who was just a baby at the time. She and her youngest brother "Bud" were placed in a Catholic orphanage for a time, which was a very sad time for little Evelyn. She and her brothers learned to be self-sufficient at a very young age. As a teenager, she worked for Pepsodent.
In 1941, she married her true love, George, whom she met roller skating and soon started a family. With an infant son (Nicholas) and a baby on the way (Douglas), George was drafted into World War II. Evelyn moved in with her mother-in-law, Antoinette, and started working for Rheem Manufacturing in order to make ends meet. She was a real-life "Rosie the Riveter."
When George returned three and a half years later, the family grew with five more children.
After the death of her father, Walter, and her mother-in-law, Antoinette, the family moved to California and settled in Montecito. Evelyn and her family became life-long members of Our Lady of Mount Carmel Church and began friendships which have lasted to the present.
After the death of her husband, George, in 1992, she began to make rosaries. She also joined the Third Order Carmelites which deepened her Catholic spirituality. She loved the monthly Mass and spiritual direction and took her vows as a serious commitment to Jesus. A self-taught seamstress, she began to make the Brown Scapular of Our Lady of Mount Carmel. This became her ministry. She gave away thousands of scapulars to friends, any newcomers to the Church, or anyone she would meet when out and about. She became "mother" to many and dear friend to all. She was strong in her Catholic faith and was proud to share it with her family and any others she met.
Evelyn attended daily Mass and led the daily rosary. She could be found in her Church in the mornings and afternoons. She spent many hours in Eucharistic Adoration as Jesus was number one in her life.
She is preceded in death by her beloved husband of 50 years, George. Also preceding her in death are her two sons, Nicholas and Douglas, two grandsons, and two great-grandsons.
She is survived by five children: Darlene (Bob), Marcia, David (Dana), Donna, and Gregory. She is the loving grandmother of 16 grandchildren, 20 great grandchildren, and four great-great grandchildren. Evelyn and George overcame incredible odds to provide a good and faith-filled life for themselves and their family.
Funeral Services will be held on Thursday, September 22, 2022 at Our Lady of Mt. Carmel Church, with Rosary at 9:30 am and Holy Mass at 10:00 am. Arrangements by McDermott-Crockett Mortuary.
You might also be interested in...