Art for All: Painting in Portico
I am no artist. In school, art class was offered until eighth grade, a curriculum that didn't exactly develop my inner Frida Kahlo. I have always been interested in painting, but never really knew where to start. That is, however, until one morning, when I saw a sign advertising art classes in the window of Portico Gallery. I signed up on a whim, hoping this new skill might enhance my otherwise-mundane Tuesday afternoons. When I walked into the gallery's Monet Room for my first day of art class, I wasn't sure what to expect. I looked around and felt intimidated by the masterpieces showcased on the walls. Just inspiration, I convinced myself. But when I asked about them, I learned that they were the completed works of my classmates. I almost left. But before I could, Jordan Pope, my instructor and the owner of Portico, put brushes in my hand and sat me in front of an easel. She helped me choose my first piece from hundreds of printed paintings, steering me away from many she kindly deemed as "a bit too challenging, for now." I was expecting some sort of introduction to painting, a refresher on brush strokes and color matching. But instead, she gave me an orange watercolor and a Q-tip. I was told to sketch the piece I would be recreating, and then I was left to work. I looked around the room at my classmates, painting while simultaneously engaged in energetic conversation.
They were having so much fun, which made me have so much fun. The room was composed of students of all ages, yet somehow the group meshed nicely. I should be embarrassed by my lack of skill in a room so full of it. Instead, Tuesdays are my favorite day of the week. For two and a half hours, I am away from a screen and forced out of my own head. Instead of TikTok videos and Snapchat stories, I am entertained by colors and classmates. An essential part of the art class experience is Jordan, an accomplished artist in her own right, who spreads her passion with so much joy and enthusiasm I forget what a beginner I really am!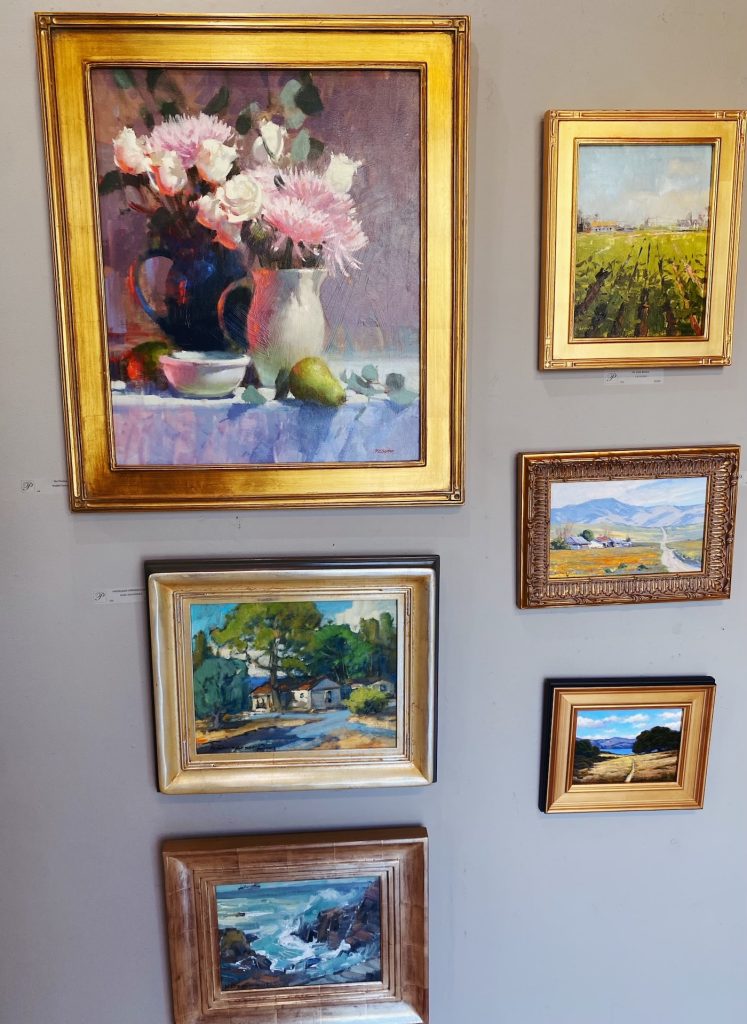 Jordan Pope opened Portico Gallery after moving to Santa Barbara in 2001, and has spent the last 18 years in the gallery's Coast Village Road location. She moved from Seattle, leaving behind an established gallery, and most significantly, a large following of dedicated art students. "It was so hard to leave my students," she told me, but she couldn't resist the south-facing beach and shoreline that is unique to Santa Barbara. In terms of plein air painting, this type of light is world class. Portico is primarily a landscape gallery and features the works of many notable artists, including Pope herself. Let me assure you, there is no better source of inspiration than a walk through Portico. In an instant you will find yourself enrolled in Jordan's six-week class plan. Classes are held in the Monet Room (just below the gallery) on Tuesdays and Wednesdays, and are open to students ages 16 and older of all skill levels. And by all levels, she quite literally means all levels. In my Tuesday afternoon class, my canvas looks out of place next to my classmates', many of whom have had their works featured in exhibitions and art showcases. Despite this massive difference in skill level, the group is supportive and kind, as much a learning environment as a social one. Jordan's teaching style is collaborative rather than authoritative, a balance of learning with individual discovery that maximizes improvement (and enjoyment). She welcomes mistakes as opportunities for growth, and small class sizes allow for individualized attention. "I really feel involved," she told me. "Then, when I am painting on my own, I expect someone to open up my paint and pull my palette out!"
Trying something new often feels like a daunting task, and amidst our busy lives, these opportunities are rare. This is exactly why I love Jordan's classes: they are accessible and approachable, and they take place just down the road. Beyond helping me hone a skill, they have transformed my Tuesday afternoons into a time of complete presence. "I have many of my students say it's the best part of their week," Jordan told me, and I couldn't agree more.
For more information and to join the fun, call (805) 695-8850 or visit the gallery at 1235 Coast Village Road.
Audrey Biles is a foodie on the hunt for flavor, a freshman at Georgetown University, and a fan of all things Santa Barbara
You might also be interested in...