Neighborhood Chipping Program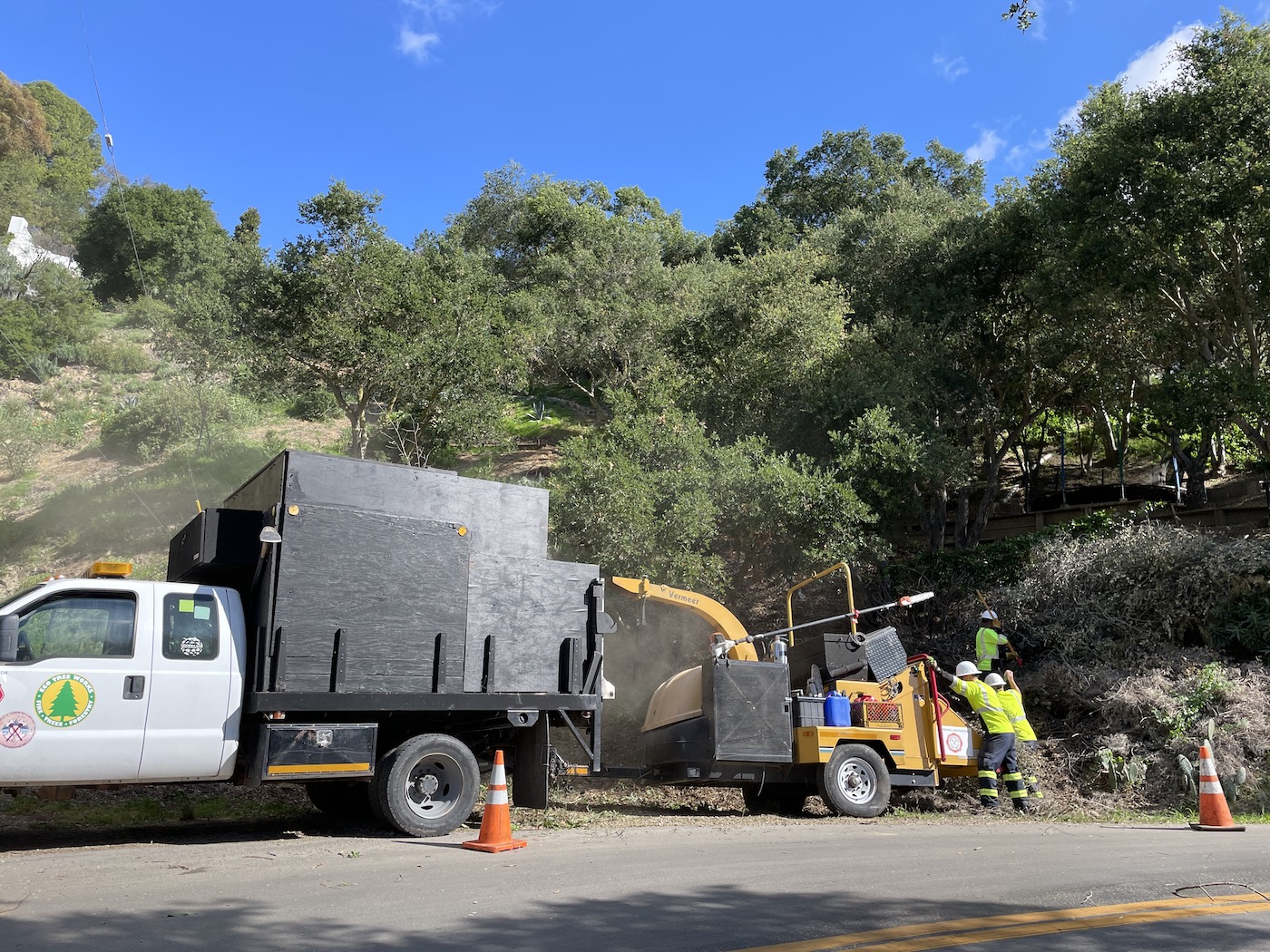 Resiliency is built over time, in small and large ways that collectively strengthen and prepare us for whatever challenges we might face. 
"In Montecito, we know that wildfire will inevitably challenge us," said Montecito Fire Chief Kevin Taylor. "That's why, our community has been building resiliency against wildfire threats on an ongoing basis for decades."
One of the ways we prepare for wildfire is through our Neighborhood Chipping Program. From February to June, tons of excess, fire-prone vegetation were removed from our community.
Now 13 years running, the Neighborhood Chipping Program asks residents to cut down overgrown vegetation within 100 feet of their home and stack it in piles on the curb. Then, our chipping contractor chips the vegetation on-site and hauls it away to a local recycling facility.
Thanks to the community's annual participation in this simple yet effective program, Montecito is helping to set the national standard for community wildfire preparedness.
This year, Montecito Fire offered the program to approximately 1,500 residences in 10 neighborhoods within the fire district boundary. These areas are identified as part of the Very High Fire Severity Zone and therefore, are prioritized for brush clearance.
A total of 225 properties participated in the Chipping Program this year.
Montecito Fire's Wildland Specialists Maeve Juarez and Nic Elmquist coordinate the program.
"Our goal is to assist community members in establishing defensible space around their home to decrease the odds of suffering property damage during a wildfire," Juarez said.
A buffer of defensible space also allows for safer evacuation routes for everyone in an emergency and allows better access for firefighting equipment to protect homes.
"We are so thankful to the community for once again participating and making this program a huge success," Elmquist said. "Even though we are in peak fire season, there's some comfort in knowing hundreds of community members have done their part to prepare and reduce our overall risk."
Montecito Fire contracted with Eco Tree Works to complete the chipping work. Their team devoted 50 days of hard work to chip 500 piles of vegetation and haul away 175 tons to a local green waste recycling center.
MarBorg partnered with Montecito Fire again this year and provided 17 roll-off dumpsters at designated locations throughout the community for residents to dispose of vegetation unsuited for the chipper such as palm fronds, succulents, vines, grasses, and leaves. A total of 60 tons of non-chippable vegetation was collected in the roll-off dumpsters.
The Chipping Program is a free service for residents, funded by the Montecito Fire Department's annual Wildland Fire Prevention budget and the California Climate Investments Greenhouse Reduction Fund.
In 2020, Montecito Fire was selected to receive three years of funding through the state grant, aimed at investing in projects that reduce risk of wildland fires to communities, while maximizing carbon sequestration in healthy wildland habitats. The Department was successful in receiving the grant funding due in large part to the strong community support of the Neighborhood Chipping Program.
Elmquist has been working on ensuring that this work can continue in Montecito year after year.
"We recently received notice that a similar grant was secured through the Santa Barbara County Fire Safe Council that will extend the state's funding of Montecito's Neighborhood Chipping program through 2025," Elmquist said.
With the 2022 Neighborhood Chipping Program in the rearview, Elmquist and Juarez now turn their attention to completing Defensible Space Surveys.
"During a Defensible Space Survey, we walk the property with the homeowner and make specific recommendations on what areas should be prioritized to improve defensible space, what the options are, and how we can help them," Juarez said.
The Wildland Specialists provide homeowners with a Defensible Space Survey report that documents any needed follow-up work to achieve 100 feet of proper defensible space around the home, as required by law. They also suggest small changes that can be made to the home itself to limit the potential damage from wildfire, known as home hardening.
For more information about defensible space and home hardening, visit the Wildland Fire Prevention page on montecitofire.com. To schedule a complimentary Defensible Space Survey, please call 805-969-7762 or email
preventionmail@montecitofire.com.
You might also be interested in...