Dr. Regina Ruiz Named Chief Development Officer of St. Vincent's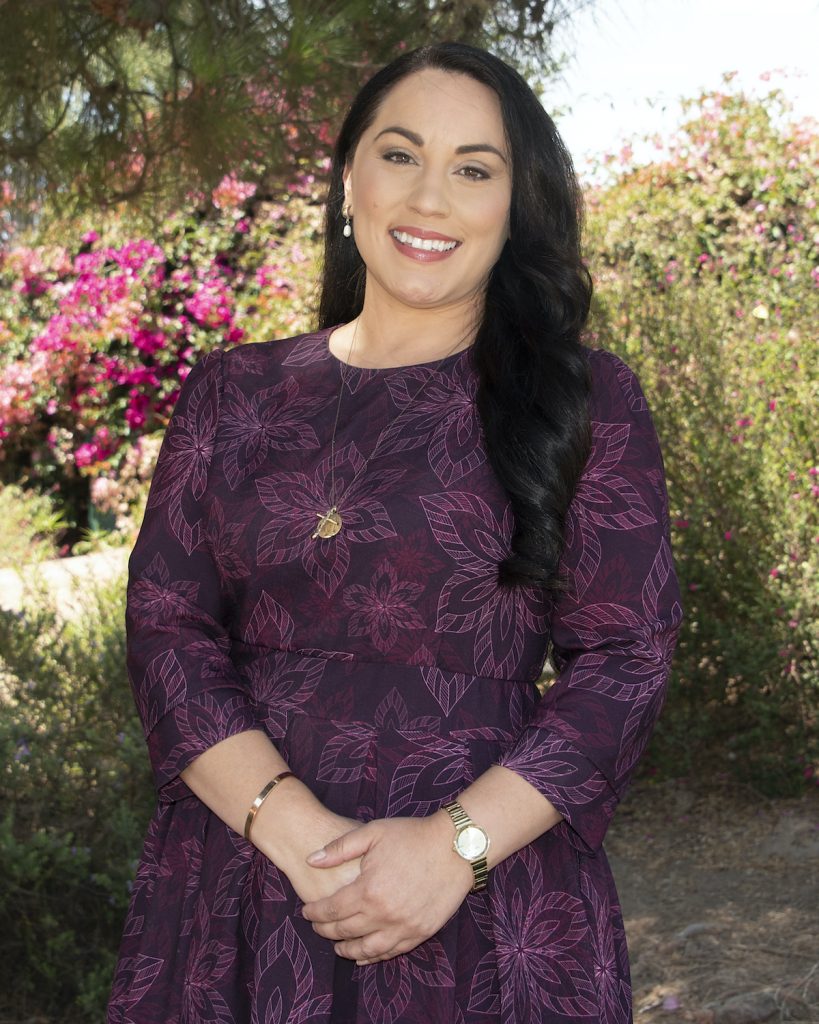 In its ever-expanding role to serve our town, St. Vincent's Santa Barbara has promoted Dr. Regina Ruiz from her 2019 role as the Vice President of Development and Marketing, to Chief Development Officer this month, a new position for the organization that President/CEO Rosa Paredes said, "The time has come and Regina is the perfect fit for it."
Having met this marketing magnet in November 2021 when I covered the organization's first ever off-site Annual Fashion Show Luncheon fundraiser at the Rosewood Miramar Beach Resort, it was clear that Ruiz brings serious talent to this grassroots organization. [See MJ Vol 27 Issue 48]
Ever smiling, supportive, and gracious, Ruiz, who prefers to uplift others, agreed to an interview to talk about her new role:
Q. What is the one value you bring to your job every day?
A. I am a servant leader and always focus on uplifting my team. I believe that in demonstrating servant leadership consistently, you develop servant leaders on your team. St. Vincent's Development Team is top notch and I give a lot of credit to my Grant Manager, Eric Massie, and Grant Writer/Archivist Sergey Salushchev. My boss, President/CEO Rosa Paredes, is a tremendous support. She trusts me when I come to her with innovative ideas or a new approach to fundraising.
Given the current economic status of our country and worldwide, what is the key fundraising strategy you are planning, and is it different than prior years?
It is more crucial than ever before to build relationships with current and new potential donors. You can pretend to care about your donors, but you can't pretend to show up for your donors. Meeting donors in person is critical. More and more we are seeing donors giving to people and not just causes. That personal relationship is key. Also, ensure your donors are consistently appreciated and updated on the impact their contributions make for those you serve.
Your new role incorporates a few hats – development, marketing, and communication strategy for all programs and overseeing all PR…
Yes, I indeed wear a lot of hats in my new role! My experience working as a television news reporter and anchor helps support my public relations outreach. I remember as a reporter receiving so many press releases daily and the editorial process that occurs to decide what makes the news. This valuable insight allows me to tailor our public relations and ensure we are garnering media coverage. Our programs are so inspiring; there are great human interest stories taking place right on our campus every single day. I want to get that good news out to broader audiences and increase awareness about St. Vincent's programs.
Coming into this role in July, how do you plan to finish 2022?
I am looking forward to achieving new goals in our fiscal year '23, which started July 1, 2022. This includes increased attendance and contributions at our annual Fashion Show on November 26 at the Rosewood Miramar. We are looking for more corporate sponsors this year to join us for this inspiring event. We are also reaching out to new foundations and private donors to gauge interest in upcoming major strategic plan expansion projects.
It is important for the community to understand our mission and who we serve. St. Vincent's is the longest running social services agency in Santa Barbara, dating back to 1858. That's quite a legacy and we are motivated to continue growing and serving even more people in the future.
Do you plan to start new programs?
St. Vincent's current Strategic plan includes significant expansion in the next several years of our current programs, and building on our vacant land in Santa Barbara.
Our current programs include the Family Strengthening Program to provide former homeless mothers and their children up to 27 months of transitional housing on our 21-acre campus and wrap-around support services for the whole family; the Fr. Virgil Cordano Center – the only day center for the unsheltered in our area providing food, supplies, laundry, haircut, referrals, and case management; St. Vincent's Early Childhood Education Center for FSP children and local families; and Villa Caridad, affordable housing for seniors and support services for seniors including gardening and art.
What was the determining factor for you to leave your TV anchor position in San Diego to join St. Vincent's in 2019? Do you miss being a TV anchor/news reporter?
My children and helping those in need motivated me to transition into the nonprofit sector. The television news schedule with late nights and pre-dawn mornings is hard on children, and especially challenging for a single mother. I wanted to be home and actively involved in my children's lives. I don't miss being a TV reporter or anchor; I am so glad that I had a great career, and it was a blast. I have amazing memories flying 9G's in an F16, going to the Olympics, and interviewing dignitaries, athletes, and movie stars.
When I transitioned out of the television news business, I also felt a calling to serve those in need in my work. Previously, I had volunteered at homeless shelters and did missionary trips to Honduras and Mexico. But I knew I wanted to do more, that I wanted to serve the disadvantaged every day. Working at St. Vincent's has been a blessing for me. I love what I do and the fact that I am directly helping the underprivileged every day. It is particularly important for me that we give shelter to formerly homeless mothers and children. As a single mother, this hits home for me. No child should be without a home. We can all chip in and do our part to ensure every child in Santa Barbara County is sheltered.
What inspired you to seek a PhD, who are your mentors, and what was your thesis?
I hold a Doctor of Education (EdD) in Organizational Change and Leadership (OCL). When I transitioned into nonprofit executive leadership in 2019, I wanted to ensure that I had the best education to help guide my leadership style, decisions, and strategies. USC's EdD in OCL was forward-thinking, innovative, and has a reputation for educating some of the top executives around the world in both the for-profit and nonprofit sector. My classmates included executives from Google, Amazon, Adidas, American Airlines, Nike, and nonprofits across the country. I was very deliberate that I wanted to gain high-level executive leadership skills in order to help our community members in need. I utilize knowledge gained through my education daily to enhance and improve our development strategies.
I wouldn't say I have a specific mentor, but I definitely have a deep-rooted inspiration and a support system in my three children, my parents, and my faith. As a single mother, I want to ensure that my children (ages 5, 11, and 13) understand that they can achieve anything they set their minds towards accomplishing. My degree took three years to complete, and my children were watching me every step of the way, at times helping me read through my homework and leaving me encouraging notes on my computer. My daughter Amalia said, "God never said it would be easy, but He said He would help carry the load."
My dissertation is titled, "A Strategy to Thrive During a Crisis for Nonprofit Organizations." The purpose of the qualitative study was to understand the best practices for nonprofits to thrive during a crisis. The participants were 12 nonprofit leaders from Santa Barbara. I specifically chose our area because we have experienced a series of significant crises in a five-year time frame including the Thomas Fire, the Montecito Debris Flow, and the COVID-19 pandemic. The findings show that our area has motivated leaders to respond to crises, collaborate, and successfully lead their organizations in challenging times. The recommendations for practice include: 1) cultivating human capital and institutional infrastructure focused on crisis preparation and response through training and protocol development; 2) Refine collaboration creation and participation prior to a crisis; and 3) Establish reliable funding sources before a crisis. The findings reveal an important need for future research, and for trainings and protocol related to nonprofits responding to crises. Nonprofits are a primary resource for lifesaving support during a time of crisis; the better they can prepare and respond to a crisis, the more lives are positively impacted.
Do you feel that having a PhD raised the bar for this position across the board in Santa Barbara County?
If my education and work experience has raised the bar for nonprofit executives in Santa Barbara County, that would be an incredible and humbling influence. The more we continue to learn and grow individually, the stronger we are as a community to best help those in need.
What words of advice can you offer others who want to get into marketing/PR?
My words of advice would be to always continue learning and developing your skills. Whether it is through advanced degrees, seminars, or workshops. Never stop learning and growing.
411: stvincents-sb.org
Dr. Ruiz has anchored and reported at top-market TV stations across the country for more than a decade including New York, New Mexico, Las Vegas, Santa Barbara, and most recently for NBC in San Diego. She has also worked at ESPN writing sports highlights and at the Olympics in Greece with NBC Sports. Along with her PhD, she holds a Master of Science in Broadcast Journalism from S.I. Newhouse School of Public Communications at Syracuse University.
You might also be interested in...