The Secret to Making Long Hikes Feel Better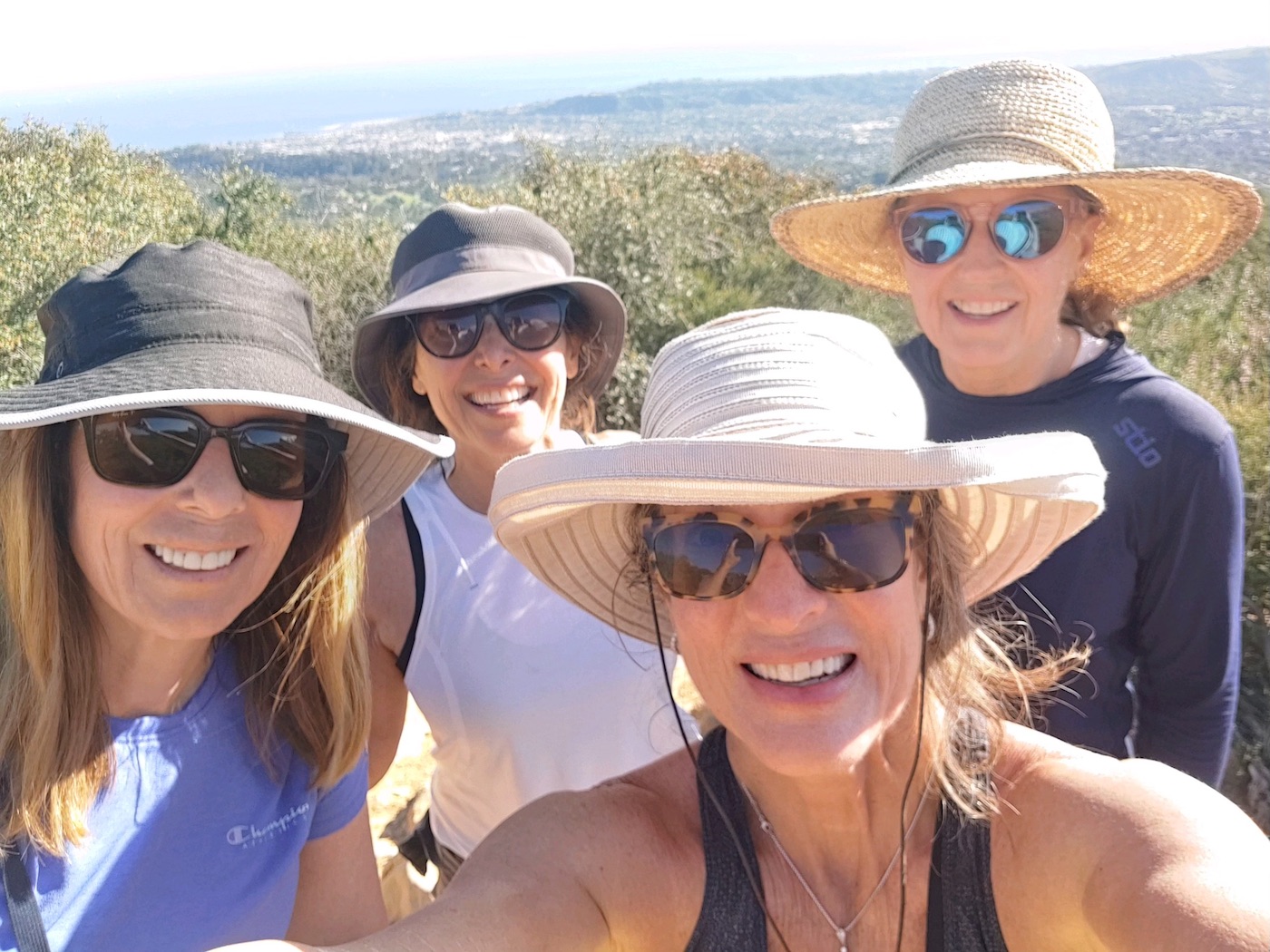 How would you describe the Santa Barbara Nine Trails Endurance Run? Challenging, grueling, fun? In early 2020, a few Montecito locals – retirees, moms, and full-time professionals – found their joy in this mega-trail.
The small group, comprised of about five women, met through the Montecito Trails Foundation (MTF). They banded together and set out to complete one pass of Nine Trails, roughly eighteen miles. It's a blend of single track, dirt road, and pavement with elevation gain and loss of over 5,000 feet. (The endurance race contenders trail run it through once and then double back, for a total of thirty-five miles.)
Beginning at Jesusita and ending at Romero Canyon, it's been described as "shockingly difficult" by the American Trail Running Association. This is no stroll in the park. So what was these women's secret to finding pleasure out on those steep, snaking trails?
Studies from the University of Virginia may have the answer. Researchers tested whether social support influences how people interpret physical challenges, such as hiking up a hill. Their data showed that students standing next to friends believed the hill looked easier to climb and gave lower estimates of its steepness than those without their friends.
The MTF group members began building friendships over their weekly training hikes. That might have been the end of the story. Then COVID struck and our Santa Ynez Mountain front country was one of the only safe places to meet up with others. The outdoors became our community's refuge, and people began using the trails in record numbers. That's when the MTF group's hikes took on a different meaning. No longer just a pastime, their regular hikes together became a lifeline. Soon, they weren't just friends, they'd become like family – a trail family.
"They trained for months together," said MTF president Ashlee Mayfield, "through COVID and injuries, to finally make the journey."
Together, they put in dozens of hiking hours, and it paid off. They hiked the infamously gnarly Nine Trails, a feat many of them would never have done alone.
Another significant finding from the UVA studies showed that the amount of time spent together matters, too. The longer the friends' relationship, the less steep the hill appeared to them. This result was true for people of varying ages and fitness levels.
On February 14, 2020, I hiked Romero Canyon Trail with the MTF group. I was impressed to find that on Valentine's Day, a holiday usually reserved for activities with significant others, these women showed up for each other. And then kept showing up.
"They hiked for two years straight," said Mayfield, "It's not the feat on one particular day, but the friendship that blooms during training day after day."
It's widely known how awful loneliness is for your health. A study by BYU psychology professor Julianne Holt-Lunstad found that social isolation can be as damaging to people's health as smoking 15 cigarettes a day. It's widely accepted that having a fitness pal increases your likelihood of sticking to a workout routine. And, sure, chatting with a friend can make the time subjectively pass more quickly. But, most people have no idea that hiking with a friend can literally make the uphills appear easier.
Making friends as an adult, two years into a pandemic, can be tough. Joining a community group is a great way to meet and get to know new people. Luckily for us, there are many local organizations that support connections, including SAGE Trail Alliance, the Bucket Brigade, and the Montecito Trails Foundation. The latter has been around since 1964, protecting easements, maintaining trails, and facilitating friendship. They invite community members to join for barbecues, volunteer days, and, of course, hiking.
"Connections take time, and aren't always magical, so give a group gathering a few chances," said Mayfield. "There's something special about the time spent sweating, walking in rhythm, connecting to the smells and sounds of nature that uniquely brings people together."
And don't worry, completing Nine Trails isn't a requirement.
You might also be interested in...