Sonya Harris's 101 Freeway Ramp Garden Relocated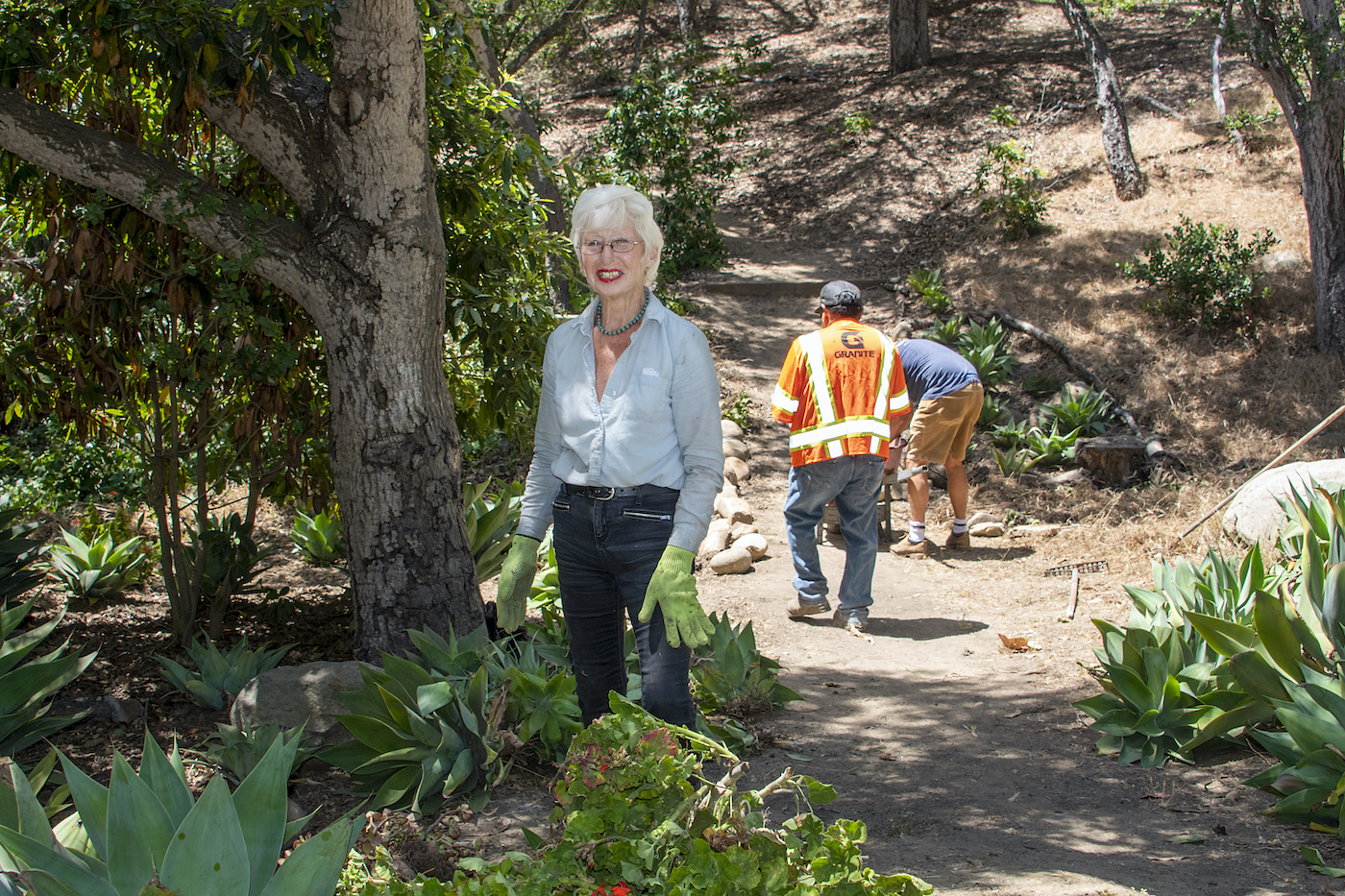 Summerland is blessed with the beautiful green thumb of Sonya Harris, who single-handedly created a garden scape with over 250 plants and stonework along Lillie Avenue's sidewalk through the northbound 101 onramp. 
Caltrans was ready to bulldoze through that garden were it not for a good deed message from Kirsten Ayars, PR for the Caltrans 101 widening, reaching out to the Summerland Citizens Association (SCA) President Phyllis Noble on June 23.
Noble asked Ayars for a bit more time so she could reach Harris and make a plan to salvage all the plants and stones. "When I called Sonya, she had changed her phone number. I spent almost a week emailing and calling everyone in Summerland – and fortunately, Jack and Rose Herschorn of Summerland's Sacred Space had it. I called Sonya June 31, leaving her a voicemail that I was able to get an extension from Caltrans until July 5 to remove any landscaping or hardscaping and the SCA would help her move it to where she wanted. Summerlanders and visitors alike are all grateful to Sonya for her many years of dedication to the beautification of Summerland along Lillie Avenue and Ortega Hill. One wheelbarrow and one stone at a time she has gifted our community a meaningful treasure for all people to enjoy."
And so, on the morning of July 1, it was roll-up-your-sleeves time with Harris directing the volunteer crew of Noble, Dan Sturt, and an anonymous angel citizen, along with three hired gardeners Jose Hernandez, Antonio De Hernandez,and Alberto De Jesus. A flatbed was used to remove all the agaves, geraniums, jade plants, and stones from the exit ramp area, and relocate them to the Ortega Hill Loop trailhead easement. Three SCA community volunteers and an SCA donor covered the expenses for the gardeners and flatbed.
At the new location, Harris, with her supermodel frame sporting skinny jeans, turquoise necklace, red lipstick, chartreuse gardening gloves, and wellies, placed the stones herself and designed the layout for the replanting by the gardeners. We all agreed: the barren trailhead really needed that nature upgrade and looks 100% healthier. As the transplanting is along an area maintained by the Montecito Trails Foundation, the SCA has reached out to MTF to insure there are no conflicts.
Harris, a costume and dress designer, was in the middle of finishing a bridesmaid gown when the call to save her work came in. This legitimately candid octogenarian was most appreciative of the help, as it would have taken her weeks to do by herself. All the gardening and beautification work she does is with found plants, stones, and guidance, she says affirmatively, "from nature." She also tends the Summerland Memorial Garden and areas by the Summerland Elementary School Tennis Court.
"You know it's done right when it looks like it's been there all along," said Sonya Harris.
You might also be interested in...