Raab Writing Fellows Showcase Returns to Campus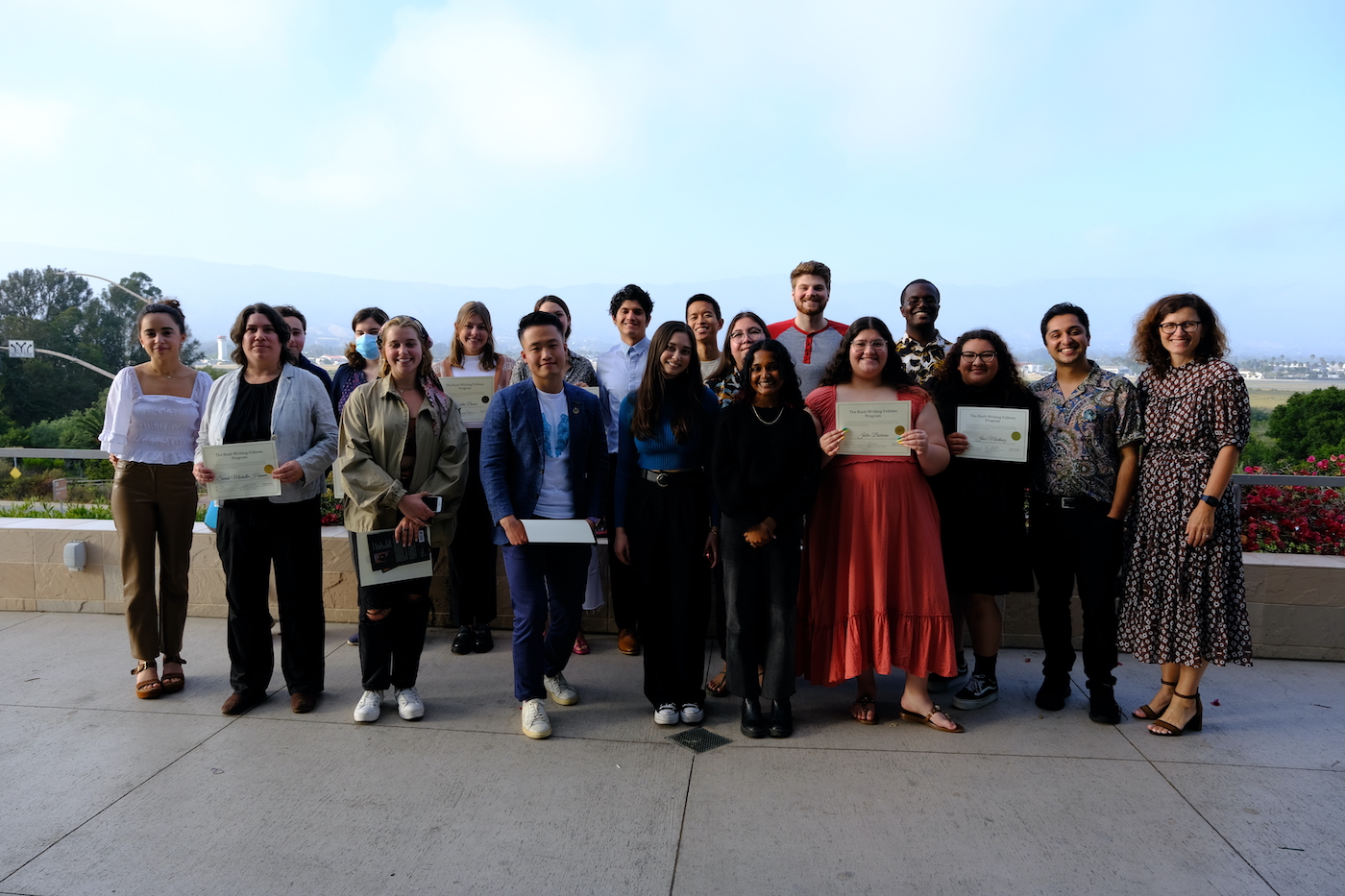 Writing is a process of exploration, discovery, and ultimately, learning. From the research required to study a subject, to the inspiration needed to find the words to describe it, writing is an active experience that guides the author through themselves and the surrounding world. And each year, the Raab Writing Fellows Program guides about 20 students through this entire journey. 
Established in 2017, the Raab Writing Fellows Program was funded by Dr. Diana Raab, UCSB Trustee, writer, philanthropist, and lifelong scholar of human potential and transpersonal psychology. In the spirit of Dr. Raab, the program was designed to help students reach their creative potential, providing the fellows with a yearlong opportunity to receive support, encouragement, and inspiration while they complete an original piece of work. The students' hard work culminated in a showcase, which – for the first time in two years – took place at the Mosher Alumni House as the spring quarter came to a close.
The evening began with a welcome by Raab Writing Fellows Program Director, Ljiljana Coklin, followed by Writing Studies professor, Karen Lunsford, and Mary Hancock, Dean of Humanities and Fine Arts. 
The 21 fellows this year were arranged into four groups, in addition to being paired with a faculty mentor that could offer their own experience and guidance. The grouping of fellows, an idea introduced last year, allows the students to have peer support and camaraderie as they pursue their own individual projects. In 2021, the groups were categorized by the writing style/medium, but for this year these groups were arranged more by subject matter, which included Health and Healing, Innovative Reading and Writing, Memoir Writing, and Exploring Gender and Sexuality.
During the showcase, the fellows came up in their respective groups to present their individual projects. As each group spoke, it was clear the bonding that took place within them, the group presentations wrapping up with what each group had learned and appreciated about the process. During the individual presentations, students discussed their work while sharing the personal experiences that inspired them to pursue the subject matter.
Attendees at this year's program experienced the 21 different projects that spanned the creative arts, from novellas and curated interview collections to a choreographed dance number. With explored topics as diverse as the media employed, this year's cohort have dedicated their time in the Raab Writing Program to investigating themes of identity, community, legacy, trauma, and connection.
The Fellows' Journeys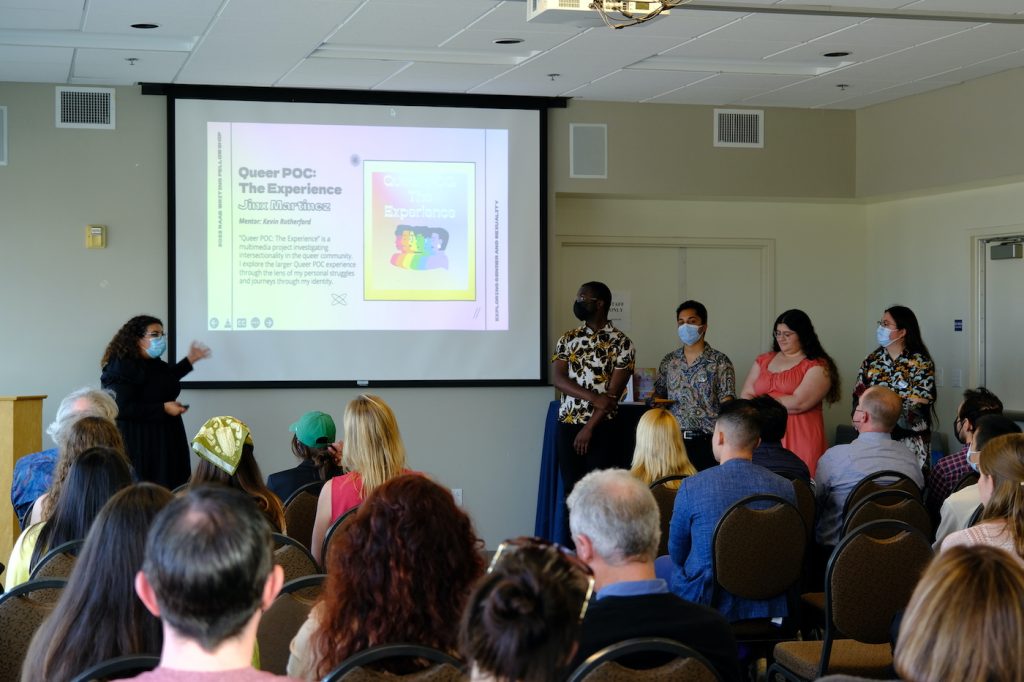 Many of this year's fellows were inspired by the role of these themes in current events. In his project, released as an Instagram survival guide, Luis Garcia explored the consequences of social fracture during the COVID-19 pandemic. Through a series of interviews and oral histories, Luis proposed strategies for coping with pandemic life that emphasize the community, rather than the individual.
Likewise, in her project Sarah Hamm reflected on the consequences of isolation during the pandemic and what this meant for those such as herself who were trapped in abusive households. Moving forward, Hamm proposes that public schools include mindfulness programs as a measure to mitigate the trauma of domestic abuse and promote healing.
Healing itself was an important player in many of this year's projects. Grace Leach began her project "Finding Grace" as a therapeutic journey through which to understand the pain of her early-life experiences. But while Leach's work provided a space for her to grow and heal, Luc Le's project investigated the way in which popular media is a barrier to healing. By examining pieces of popular fiction that discuss depression and anxiety, such as The Perks of Being a Wallflower and Dear Evan Hansen, Le provides a critical analysis of these stories' contributions to our understanding of mental illness.
In a continued investigation of well-being, Joshen Mantai spent the last year creating a multimedia zine that combines research, anecdotal experiences, and guidance to mental health treatment on college campuses. Mantai's work signals an increasing interest in medical and mental health support for undergraduate students, an interest shared by peer-fellow Maddie Bacon. Bacon produced an inquiry into unprescribed amphetamine use on college campuses. As part of the investigation, Bacon synthesizes existing research and professional advice on the issue.
A desire to explore complex social pressures was a mainstay of this cohort's body of work. While Aurora Paget's project "Lost in Translation" deconstructed the influence of multilingualism on personal identity, Kiyan Atrian contemplated the role of religiosity as a feature of drag performance, examining the space of religion as both a sanctuary and a source of persecution in the lives of queer and trans people.
Kenny Moody was also interested in the importance of performance and performance spaces. In "The Sound of Queerness in Tap Dance," Moody explores the presence of sexuality and normative gender roles in tap dance, including a recorded tap performance presented to the joy of the audience.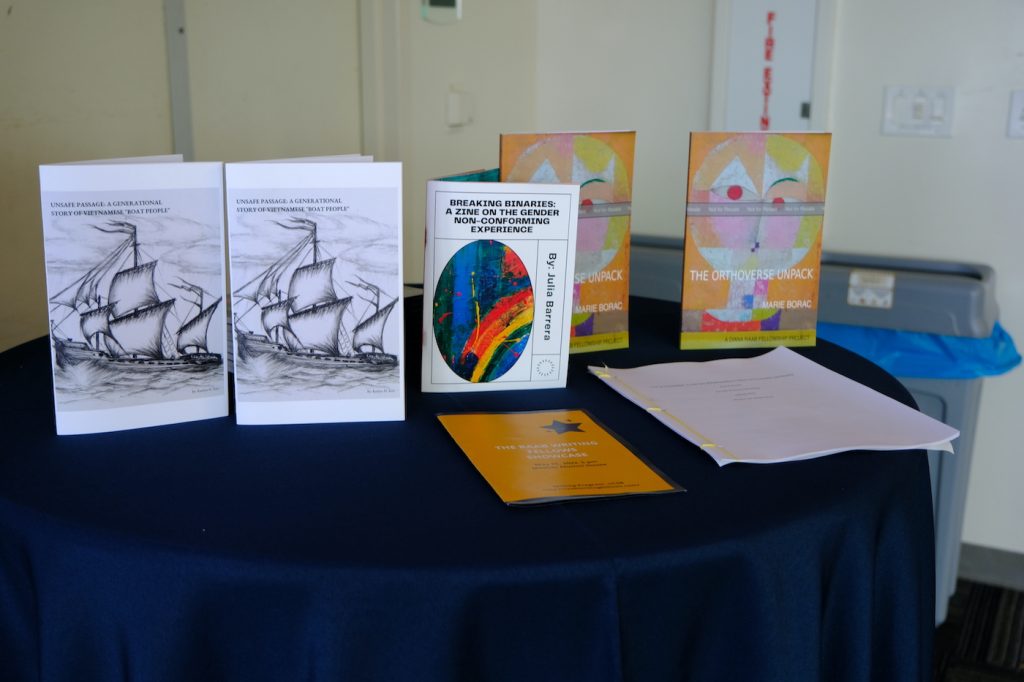 Like Moody, Grace Wilken's project culminated in a video performance, an adaptation of Chekhov's The Seagull. Wilken's work was inspired by the reductive depictions of women written for the stage and aims to produce more thoughtful, nuanced characters while fellow Julia Barrera also explores the multi-faceted space of gender in "Breaking Binaries," a zine compiling oral histories from non-binary, genderfluid, and genderqueer students.
This year's writing fellows demonstrated a special appreciation for anecdotal accounts from underserved and underrepresented groups. In her project "Unsafe Passage: A Generational Story of Vietnamese 'Boat People,'" Kaitlyn Soto tells the story of her mother's escape from the Vietnam War, weaving it with her grandparents' story and her own.
Jinx Martinez launched a multimedia project to capture the intersection of racial and sexual identities in the LGBTQ+ community. Like all work in the Raab Writing Fellows Program, these projects prioritize a sensitive, faithful representation of diverse experiences and stories. Resh Grewal's "Frozen Sunflowers and Tangled Vines" stays true to this mission, peeling away the glamor that usually accompanies fiction on family trauma and addiction, focusing on the experience of transracial adversity.
The subjects of individual and collective identity, fracture and healing, invisibility and representation are present throughout the work of this year's fellows from the deeply personal – such as Eric Wu's "Where Oceans Meet," a thoughtful investigation on the topic of sacrifice through his mother's journey as an immigrant – to the more cerebral, where Jason Shevach considered the purpose and mechanics of rhyming and Marie-Fleur Borac ruminated on the legacy of democracy.
Exploring the legacy of cultural pillars, authors such as Brandon Sanderson and Stephen King, Charlie Prindle wrote The Eidolons, the first novel in a young adult science fiction trilogy. Kat Yuen also wanted to use his project to build for the next generation, using the space of the Raab Writing Program to develop a syllabus, available online, for a chronically underexplored sector of feminist and queer academia: asexual studies. While Nicholas Cerofeci set out to study and alleviate the increasingly short attention space associated with an increased consumption of short form media.
In the novella "Scar Siblings," Connor (Zishi) Ding explored the role of gender and racial bias and the challenges of reconciling parental expectations through the eyes of Chinese international students Holden and Phoebe. Centering the themes of legacy, individual identity, and optimism present throughout the 2022 Raab Writing Fellow Program, Ding examines his guiding questions through comparisons to J.D. Salinger's The Catcher in the Rye.
From novellas and zines to video and websites, the fellows explored the range of forms that "writing" can take, producing a diverse collection of topics that spanned family histories and personal stories to original research and analysis. To see the fellows' hard work and engaging stories, visit raabwritingfellows.com.  
You might also be interested in...