Our Town's 20th Annual Graduation Issue: Part 2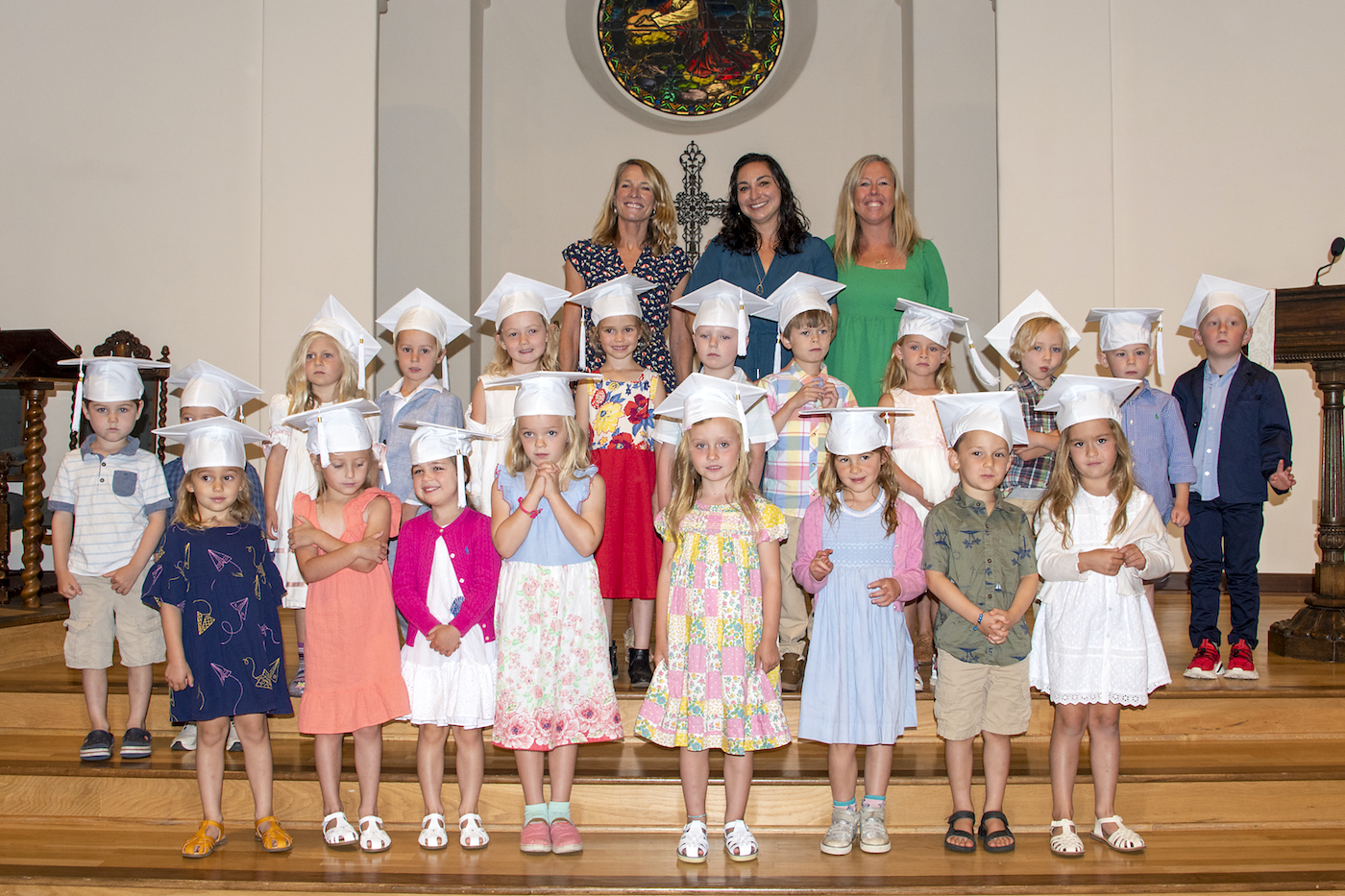 Our town's schools held their 2022 graduation ceremonies from May 29 through June 10. The eight school graduations are covered in order of occurrence with part one in the previous issue (Vol. 28, Iss. 23, June 9) and this issue including El Montecito Early School with 20 grads, Our Lady of Mt. Carmel School with 20 grads, Laguna Blanca Lower School with 19 grads, and Crane Country Day School with 33 grads. TheMontecito Journal wishes much success and congratulations to our graduates, their faculty, and parents!
El Montecito Early School 2022 Graduation
The El Montecito Early School 2022 graduation was held on Friday, June 3, at 10 am in the El Montecito Church. The children processed in wearing their white caps and big smiles. Interim School Director Meika McCrindle welcomed the families to their children's graduation: "Good morning ELMO family, we are honored that you have chosen us. This graduation is a huge milestone. Your children have grown and thrived under us. Preschool is a lot of work and graduation is serious fun. Your children will go forward with confidence and love. Let us pray that God be there wherever these children go, and we thank you for the blessing."
McCrindle presented the diplomas and their teachers read a brief description about the meaning of each student's name, a statement about their attributes, and what each student wants to be when they grow up. Next the children sang three songs, "Your Love Never Fails," "The Blessing," "God You're So Good," and recited a Proverb. Guitar accompaniment was by Beth Ruiz. The ceremony closed with a reception in the courtyard where the graduates received a Children's Bible, a personal artboard, and a developmental portfolio that the teachers compiled into a binder from the start of when the student attended the school.
Preschool teachers are Miss Kari, Miss Perla, Miss Lisa, Miss Bayli, Miss Melanie,and Miss Christine,and assistant teachers Miss Melissa, Miss Beth,and Miss Yasmine.
The El Montecito Early School 2022 Pre-K graduates are:
Vivienne Elle Burtness, Sawyer Mitchell Carlson, Cooper Hayes Clark, Georgia Grace Garber, Mazzy Lee Gore, Michael James Grover, August John Haines, Cash Matyas Hodosy, Grace Adeleine Huff, Charlotte Helen Jenkins, Daniela Belen McNamara, Olivia Ava Mitten, Maasden Ashe Parton, Albert Andrew Patterson, Elle Scotlyn Prather, Maisy Rose Smith, Gillian Tahouri, Isla McCall Throop, Theodore Aksel Voog,and Maverick Benedict Yonker.
Our Lady of Mount Carmel 2022 Graduation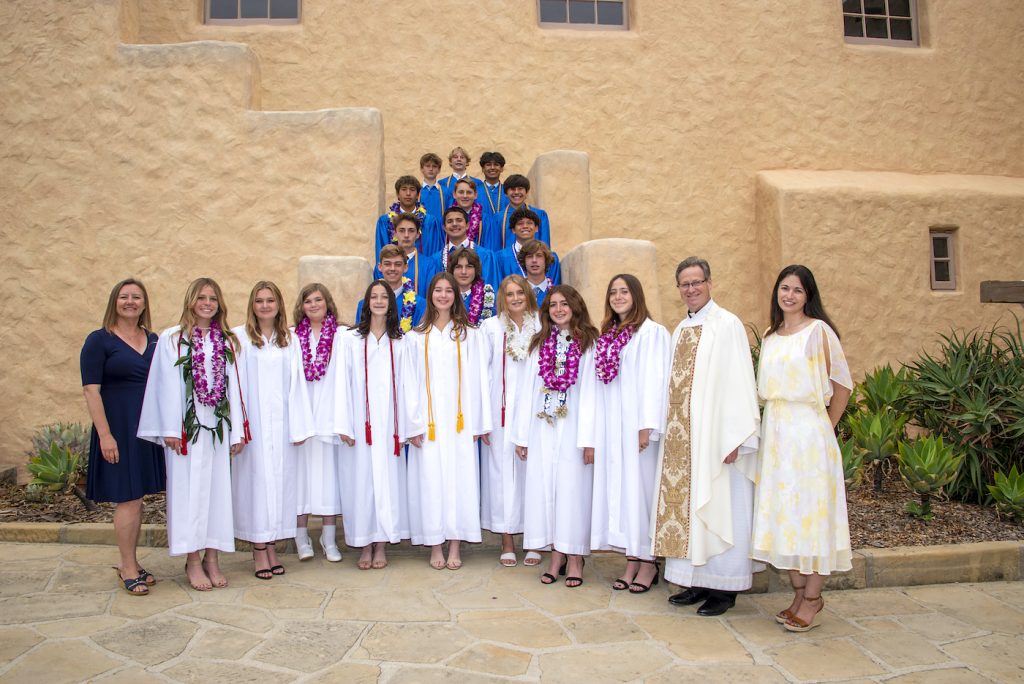 Our Lady of Mount Carmel (OLMC) 2022 Eight Grade Graduation ("Go Lancers!") was held on Friday, June 3, at 2 pm on the school's outdoor recreation field, for the grads and their families only, in their respective bubbles, socially distanced.
Pastor Fr. Lawrence Seyer led the Mass accompanied by student readers. Graduates gifted their families with a flower and biography blessed by Seyer. Principal Tracie Simolon and 8th grade teacher Mrs. Lauren Bergesen presented awards to each graduate, followed by the conferring of diplomas.
Simolon addressed the graduates: "I was thinking about what to say, and recalled a speaker I had heard at the Religious Education Congress. He said that before going to college, his mom told him to remember who he came from. This got me thinking about our school as more than just a place where you come from, but a collection of people who you are from: teachers, staff, classmates, and schoolmates who have supported you and touched your lives over the years. You all have so many talents and skills that you will take with you to high school. You worked hard to hone them and to share them. Ultimately these are gifts from God, so remember who you came from and continue to make us proud." The ceremony concluded with a blessing from Fr. Seyer. Music was provided by Bridgette Snyder.
The OLMC Eighth Grade 2022 graduates are:
David Acquistapace, Aidan Conlan, Kamran Dadvar, Lindsay Doyle, Justin Duran Jr, John Michael Flint, Abidal Garcia, Brody Green, Haley Hubbs, Lauren Hubbs, Damien Krautmann, Joline Linder-Pulliam, Elisha McCullough, Sean Monaghan, Natalie Meyers-Johansing, Charlotte Raisin, Devon Robinson, Joseph Simolon, Gabriel Villa, and Benjamin Zoltoski.
Laguna Blanca Lower School 2022 Graduation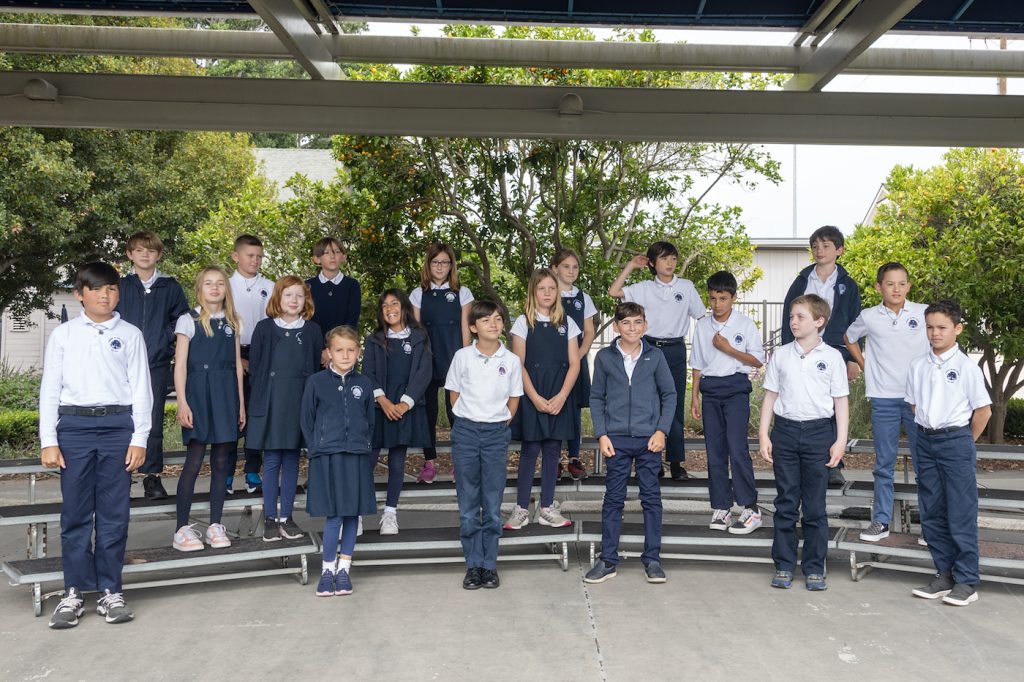 The Laguna Blanca Lower School 2022 Graduation ("Go Owls!") was held on Thursday, June 9, at 10 am, outside at the school.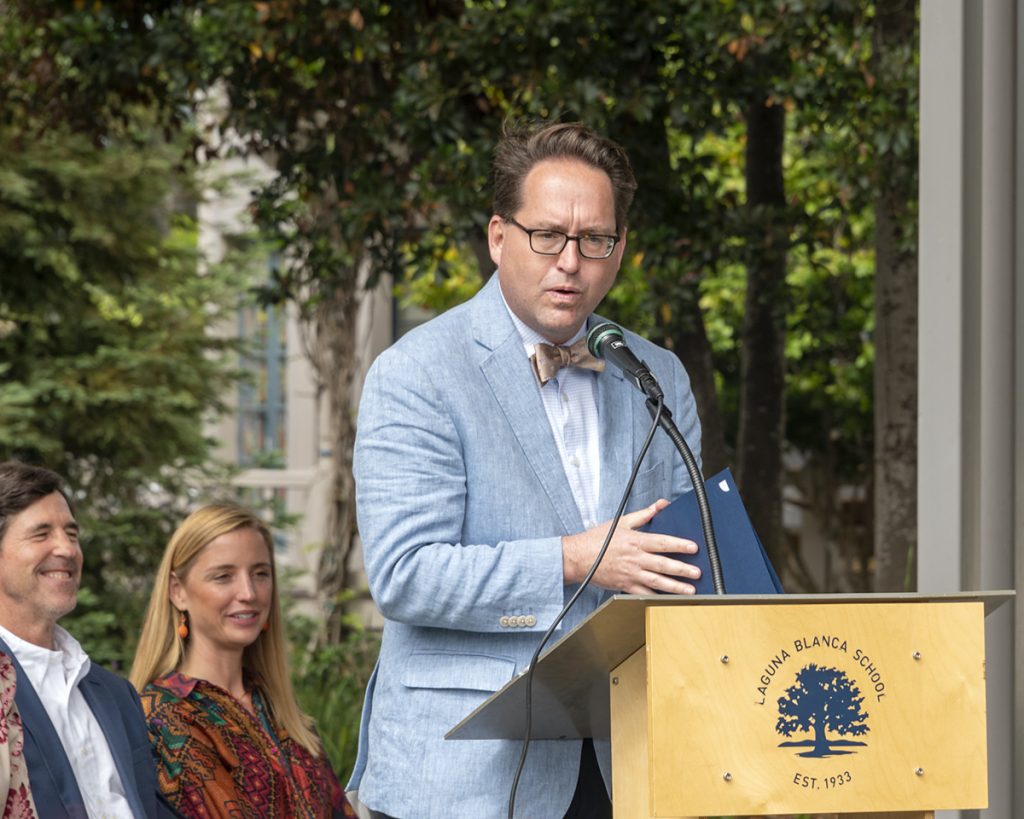 Welcome and remarks were given by Assistant Head of School/Head of the Lower School, Dr. Andy Surber, and the new Interim Head of the Lower School Anna Alldredge, as Surber is moving on. Head of the Laguna Blanca Middle School Shane Lopes also spoke.
Surber said, "It has been an amazing year of learning and growth at Laguna Blanca Lower School. The 19 students who graduated today exemplify what it means to be a Laguna Blanca Owl. They are bright, caring, talented, and ready to make an impact as they move to fifth grade. I speak on behalf of the entire faculty that we are grateful for their contributions to our community and the leadership they showed serving on our student council. I am so proud of this class and look forward to seeing their future successes!"
The grads sang their class song, "Memories." Fourth-grade teacher Mrs. Susan Richter read a narrative about each student's attributes. With Surber, Richter, Alldredge, and Lopes presiding, the grads received their certificate of promotion, owl necklace, and a gerbera daisy flower to present to their parents. In closing, the grads performed the traditional parachute dance to the "Waka Waka" song.
The Laguna Blanca Fourth Grade 2022 graduates are:
Enzo Acosta, Catherine Blabey, Colin Bradley, Aurora DeAngelis, Blake Downing, Charlie Eades, Caroline Foscue-Boyd, Lindsay Green, Dallas Knothe, JP Lopez, Michael McDermott, Kanu Nayak, Katharina Probstel, Alexander Russell, Brady Terzian, Morgan Terzian, Lisl Thorsen, Carl Wagner,and Blakeley Young.
Crane Country Day School 2022 Graduation
The Crane Country Day School 2022 Eight Grade Graduation ("Go Coyotes!") was held on Friday, June 10, at 10 am, outside at the school, with a coffee and cake reception as guests entered and sat at their individual family tables, later joined by their graduating student.
The ceremony started with a welcome from Headmaster Joel Weiss at the front podium:"These are amazing times in our country with world challenges, our financial markets, and on a planetary level. Challenging times are growth times. We have seen that it takes a tremendous amount of love and support. We value our families, friends, and community. In these extraordinary times, we are graduating extraordinary students. They are mature and sophisticated and chose to move forward through all the challenges they faced. Although everyone focuses on the COVID years, let us remember the successes of the years before and many more to come. All of us at the Crane School are immensely proud of our 8th grade graduates. They are a phenomenal group and they are ready to go out into the world and share their many talents. Congratulations Crane class of 2022!"
Weiss presented the following five awards: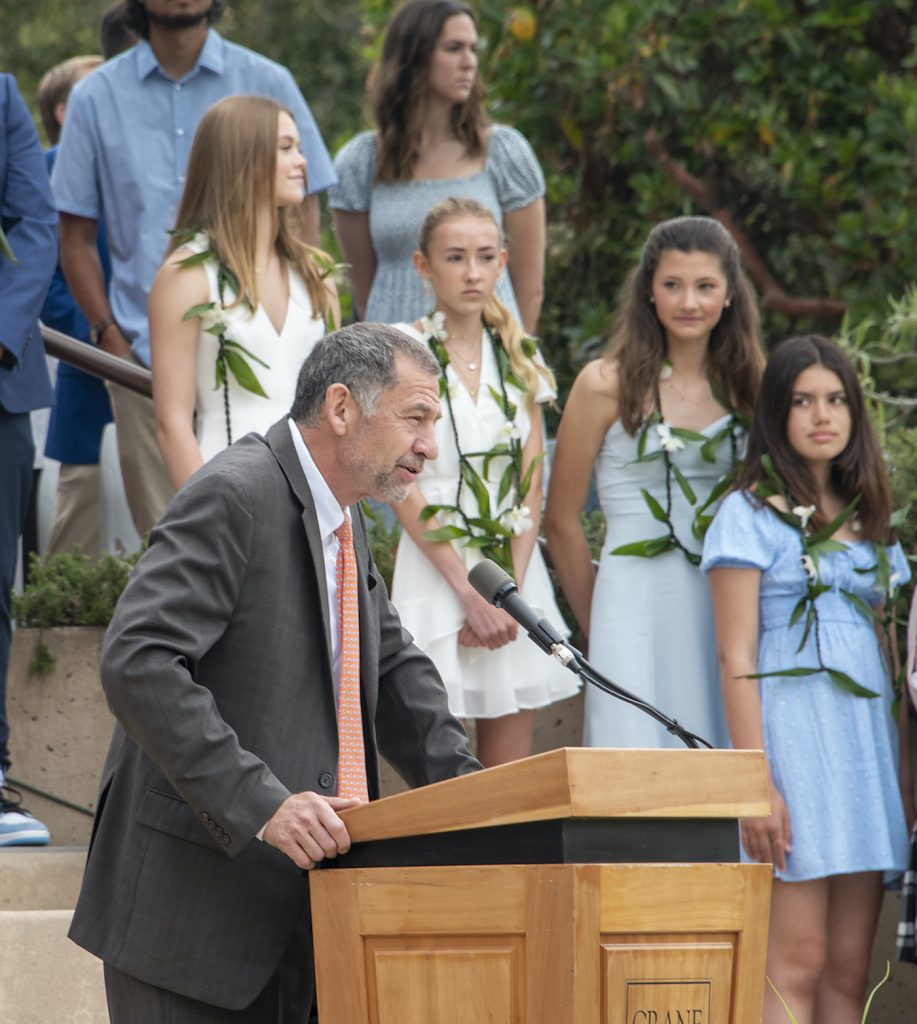 Headmaster's Prize: Ian Sheshunoff; Amiability Award: Beckett Arthurs; Tower Achievement Award: Luke Eliassen; Rose Bowl: Daisy Pidduck;and Talia S. Klein Award: Rosita Power and Madeline Rick.
Awards given prior to graduation include: Art Cup: Gweneth McTigue; Dan McCaslin History Cup: Daisy Pidduck;David Echols Math Cup: Aidan Free and Rosita Power; Design & Engineering Award: Ian Sheshunoff; Drama Cup: Beckett Arthurs and Phoebe Siegel; Julia Brown English Cup: Peyton Gimbel; Lejeune Language Award (Spanish Cup): Rosita Power;Lejeune Teaching Fellowship:Upper School math teacher Izabela Santos;Library Award: Addie Pidduck; Music Cup: Sebastian Brine; Science Cup: Ian Sheshunoff;Sheila Davidson Cup: Beckett Arthurs; Sports Cup: Lila Foster and William Scribner;and Technical Theater Award: Ian Sheshunoff.
Vignettes about each graduate were read by their teachers, Louis Caron, Anne Fierberg, Alexis Fischer, Alexa Hughes, Olivia Hughes, Olivia Jones, Matt Martino, Peggy Smith, Elizabeth Teare, and Andres Wood, with Weiss presenting their diplomas and the traditional Crane school pins. The graduates sang "The Crane Song" by Norman Gimbel, with Music Teacher Konrad Kono on electric piano. Weiss presented the class to the attendees, and a reception followed.
The Crane Country Day School 2022 graduates are:
Meena Abtahi, Jack Alzina, Beckett Arthurs, Massimo Bonilla-Zabosek, Charlie Brand, Sebastian Brine, Adrian Caleel, Mason Copus, Chloe Doherty, Jack Eliasson, Luke Eliasson, Lila Foster, Aidan Free, Peyton Gimbel, Simeon Kuria, Tristan Maigret, Elle McMahon, Gweneth McTigue, Addie Pidduck, Daisy Pidduck, Rosita Power, Stella Purdy, Kira Rameson, Madeline Rick, AJ Scarborough, William Scribner, Vitoria Seidler, Ian Sheshunoff, Phoebe Siegel, Emrys Smith, Lila Westmacott, Zoe Wolf,and Sindy Zavala.
You might also be interested in...