Netflix's The Andy Warhol Diaries Provides Inspiration for a Foodie's Diary
Saturday
Dear Diary,
This pandemic was so inconvenient, and awful, just awful. I've never felt so lonely and depressed in my entire life. Thank you for helping me get through the pandemic! I've kept sane with tantalizing home cooked meals and entertaining TV series like Pam and Tommy. Last night I finished the last episode of The Andy Warhol Diaries on Netflix. It was an homage to the artist, and his work, his monogamous relationships and camaraderie with other artists (including his collaboration with Jean-Michel Basquiat). The excerpts from Warhol's diaries make it clear that the man fed on art. For me, on the other hand, my days are often filled with wonder at just how often food is art. So this is what my diary looks like.
Andy had a lifelong fascination with religion, which culminated with his final series of works, The Last Supper. Speaking of supper, I better get started. Tonight's menu: salmon with leeks and lentils and a delectable mustard-herb butter. I love the meatiness of the salmon balanced with the tenderness and oniony flavor of the leeks and lentils. If I had to choose a last supper, it would be this savory and decadent one!
Sunday
I started my day with French-pressed coffee, grapefruit, and "Sunday Morning Breakfast with The Beatles" on KLOS-FM. After breakfast, I met chef Frederic Castan at Hilton Santa Barbara Beachfront Resort. Chef recently retired after a distinguished career in hotels and notable eateries such as Stephen F. Austin Hotel, Sofitel Chicago, and L.A.'s Ma Maison and Le Dôme. I'm helping him with the final edit of his biography, which he hopes to send to publishers this fall. One of his chapters describes L.A.'s food scene during the 1970s, when restaurants were more noteworthy for the glamor of their clientele than for the expertise of their kitchens. It was a time when restaurant critics like L.A. Times' S. Irene Virbila could simply raise an eyebrow and you'd lose half of your clientele. And kitchen staff were always on high alert, with images of food critics pinned to their menu boards. Social media changed all that, Castan said. Nowadays everyone is a food critic. While we were working on the manuscript, a restaurant manager recognized him from his time working at Hilton and asked to take a photo with him. This confirmed my belief that chefs are like rock stars.
Monday
I drove to the Santa Barbara Rescue Mission (SBRM) and met with their culinary team to talk about fundraising for their new culinary program. Administrators Rebecca Weber, Leo Rios, and David Fletcher are spearheading the program, which prepares "clients" in SBRM's 12-month alcohol and substance recovery program to be cooks and sous-chefs. Leo said the funds raised from the University Club lecture I hosted a few months ago featuring Rose Thomas of Lotusland and Alison Bruesehoff of Rancho Los Cerritos were used to pay for kitchen certifications, which is required for employment in local restaurants and hotels. SBRM's culinary team prepared sautéed salmon and lemony asparagus with seasoned pan-fried potatoes. Most of the ingredients are donated to the kitchen by local farmers and restaurants. The meal was delicious and resilient, just like the culinary team.
Tuesday
Sometimes the best tacos are the simple kind: seasoned and pan-fried tilapia served street-style in warm corn tortillas, topped with sliced avocado and spicy pineapple salsa.
Wednesday
Went to Padaro Beach Grill with my friend Mitch, a closeted foodie who always seems to know when restaurants are opening, weeks before others do. Before most other people even know a place exists, he'll have dined there with friends night after night until he's had everything on the menu except the ink. He's recommended a few fine ones to me, including Fieldside Grill, which I absolutely adore along with its talented chef Philip Stein.
Padaro Grill has such a laid back and welcoming vibe. Mitch and I sat at an outdoor table feasting on Padaro-style clam fritters served with herby, citrus tartar sauce, beer-battered fish tacos, fries, and deep golden sweet onion rings – pretty much a list of all the things I shouldn't be eating at my age. But it was so delicious! Mitch lives just down the road in this magical enclave. He casually mentioned that sometimes he sees sharks breaching water from his living room window. Then he took a sip of his wine. I was doubtful I could finish dessert (a fudgy brownie), but I did.
Thursday
I drove to Beans BBQ on State Street to meet with founder Kristi Bean – who is joined in this business by her daughter Jen and son Joe. We sat around a giant spool wooden table and talked about all things barbecue, and the importance of making sure people are well-fed with comfort food. Ms. Bean got her start eight years ago with a smokey, tangy, fruity barbecue sauce she entered into the Independent's Sizzling Summer BBQ Contest. It won 1st Prize, not a bad way to earn recognition for her catering business, which took off. I asked Ms. Bean, who previously worked in the cannabis industry, if she was a fan of smoking meat. She said she believes smoking can sometimes overpower the meat's natural flavor, which is why she prefers an open grill. After consuming numerous plates of BBQ for lunch, dinner was the last thing on my mind. But when a longtime journalist friend made a stop at our place during his birthday road trip, I brought out the turkey meatballs from Gelson's.
Friday
Tonight I made buttermilk chicken and mac 'n cheese dinner for my teenage picky eater. I got the recipe from the Lemonade cookbook. The result is super creamy, cheesy, soulful baked mac and cheese. The secret ingredients are blue cheese crumbles and smoky paprika. Afterward I baked a batch of salted chocolate chip cookies (sourced from The New York Times) for my son's high school tennis banquet. The rich chocolate flavor of these super thick and chewy cookies is accentuated by a few sprinkles of sea salt. I'll never know how many cookies the team might have eaten, because I ate most of the cookie batter.
Saturday
Drove to Knowlwood Tennis Club for my son's tennis banquet. At the picnic area, I situated my salted chocolate chip cookie batch on a silver platter on a picnic table next to the taco station. I had plenty of room to arrange what I brought, because I'd eaten half the cookie batter before it ever reached the oven. No one went hungry, though. One of the moms brought an artful sheet cake that was decorated to look like a tennis court. Most of the parents congregated around the cake, engaging in conversation and helping themselves to heaping portions of green and white frosted cake. I wondered: if I had made a cake instead of the irresistible chocolate chip cookies, could I have fit into the mini dress ensemble I was planning to wear to the banquet? That's the trouble with this foodie town: there's no shortage of creativity.
Salmon with Lentils and Mustard-Herb Butter
Serves 4
Ingredients: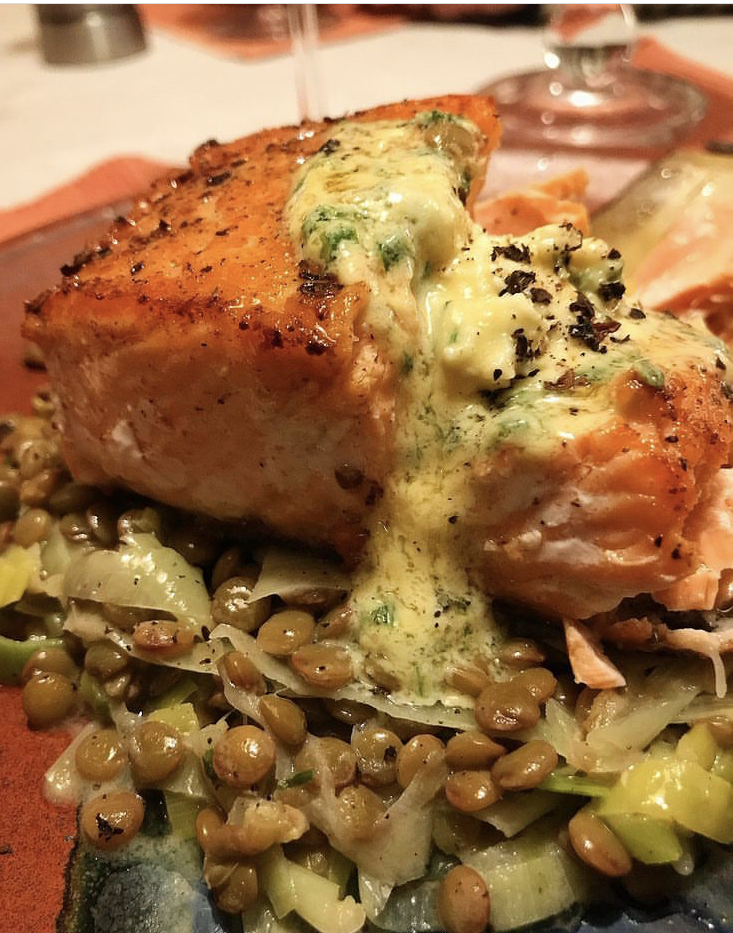 For Mustard-herb Butter
5 tablespoons unsalted butter, softened
1 tablespoon chopped chives
1 teaspoon chopped tarragon
2 teaspoons grainy mustard
2 teaspoons fresh lemon juice
For Lentils
1 cup French green lentils
4 cups water
2 medium leeks (white and pale green parts only)
1 tablespoon unsalted butter
1/2 to 1 tablespoon fresh lemon juice
For Salmon
4 (6-ounce) pieces skinless salmon filet
2 tablespoons unsalted butter
Directions:
Step 1: Make mustard-herb butter – Stir together all ingredients with 1/4 teaspoon each of salt and pepper.
Step 2: Cook lentils – Bring lentils, water, and 3/4 teaspoon salt to a boil in a heavy medium saucepan, then reduce heat and simmer, uncovered, until lentils are just tender, 20 to 25 minutes. Remove from heat and let stand 5 minutes. Reserve 1/2 cup cooking liquid, then drain lentils.
Step 3: While lentils cook, chop leeks, then wash. Cook leeks in butter in a heavy medium skillet over medium-low heat, stirring occasionally, until softened, 6 to 8 minutes.
Step 4: Add lentils with reserved cooking liquid to leeks along with 3 tablespoons mustard-herb butter and cook, stirring until lentils are heated through and butter is melted. Add lemon juice and salt and pepper to taste. Remove from heat and keep warm, covered.
Step 5: Sauté salmon while leeks cook – Pat salmon dry and sprinkle with 1/2 teaspoon salt and 1/4 teaspoon pepper (total).
Step 6: Heat butter in a large nonstick skillet over medium-high heat until foam subsides, then sauté salmon, turning once, until golden and just cooked through, 6 to 8 minutes total.
Step 7: Serve salmon, topped with remaining mustard-herb butter, over lentils.
Helpful notes: Mustard-herb butter can be made 1 day ahead and chilled, covered. Soften at room temperature before using (1 hour). Lentils can be cooked (but not drained) 1 day ahead and chilled in cooking liquid, covered (once cool).
Lemonade's Mac 'n Cheese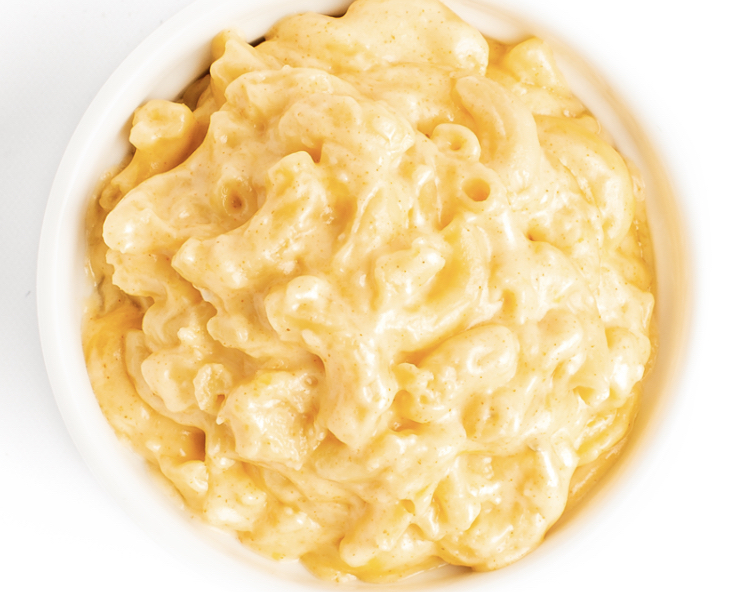 Serves 4
Ingredients:
1 pound elbow macaroni
4 tablespoons unsalted butter
4 tablespoons all-purpose flour
1 quart milk
4 cups shredded sharp cheddar cheese
1/2 cup crumbled blue cheese
1 cup grated parmesan cheese
1/2 teaspoon coarse salt
1/2 teaspoon freshly ground black pepper
1/2 teaspoon paprika
Directions:
Bring a large pot of salted water to a boil, add 1 pound elbow macaroni, and cook for about 10 minutes, until tender but still firm. Drain well and set aside.
In a deep skillet or pot, melt 4 tbsp unsalted butter over medium heat. Sprinkle in 4 tbsp all-purpose flour to make a roux and cook, stirring constantly, to break up any lumps. Once the roux is smooth, pour in the milk and cook until the mixture is thick, still stirring all the while. Stir in 3 cups of shredded cheddar cheese one handful at a time; continue to cook and stir until the cheese melts. Stir in 1/2 cup crumbled blue and 1 cup grated Parmesan cheese; season with 1/2 tsp salt, 1/2 tsp ground black pepper, and 1/2 tsp paprika. Add the cooked macaroni and fold to incorporate.
Salted Chocolate Chip Cookies 
Servings depend on how much batter is consumed prior to baking
Ingredients: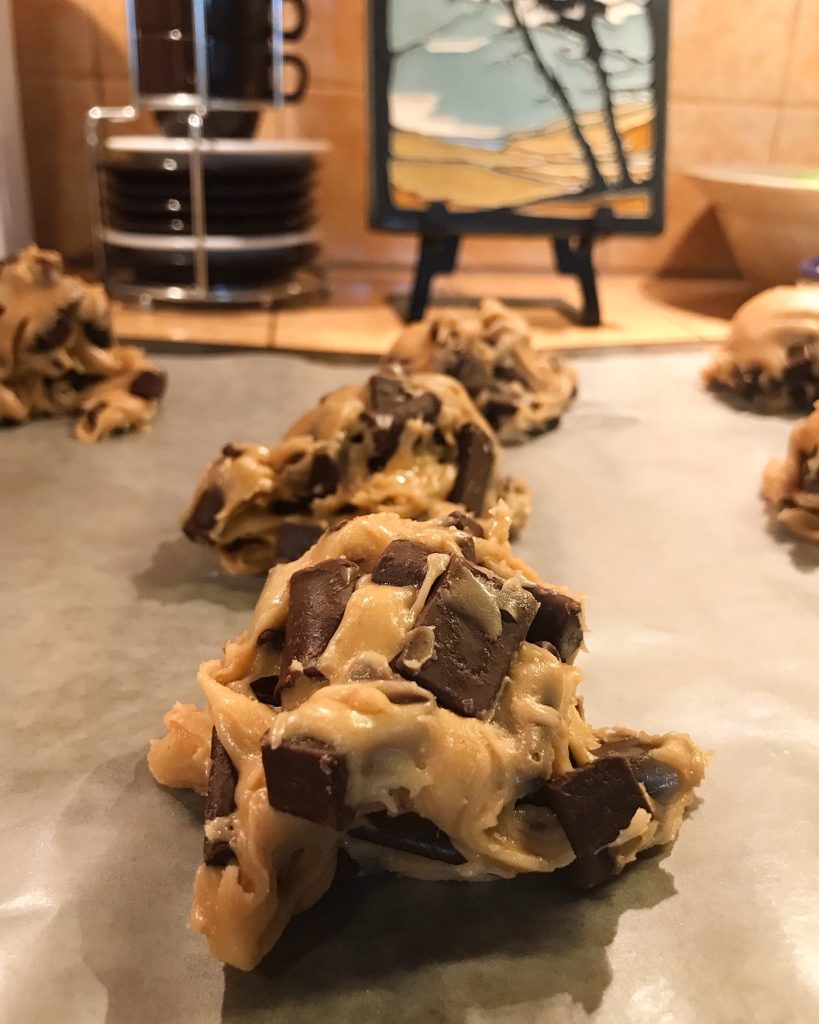 2 cups minus 2 tablespoons cake flour
1 2/3 cups bread flour
1 1/4 teaspoons baking soda
1 1/2 teaspoons baking powder
1 1/2 teaspoons kosher salt
1 1/4 cups unsalted butter, at room temperature
1 1/4 cups light brown sugar
1 cup plus 2 tablespoons granulated sugar
2 eggs
2 teaspoons vanilla extract
3 1/3 cups dark chocolate chips chunks, at least 60% cacao content 
Sea salt, for sprinkling
Directions:
Step 1: Sift together the cake flour, bread flour, baking soda, baking powder, and salt into a large bowl and set aside.
Step 2: Cream together the butter and sugars on medium speed until very light, about 5 minutes. Add the eggs one at a time, mixing well after each addition, then add the vanilla. Reduce the mixer speed to low, gradually add the dry ingredients and mix until just combined, 5 to 10 seconds. Using a rubber spatula, fold in the chocolate chips.
Press plastic wrap against the dough and refrigerate for at least 24 hours, up to 72 hours.
Step 3: When ready to bake, preheat oven to 350 degrees F. Line a baking sheet with parchment paper or a nonstick baking mat.
Step 4: Scoop 3 1/2-ounces of dough, roll into a rough ball (it should be the size of a large golf ball) and place on the baking sheet. Repeat until you have six mounds of dough on the cookie sheet. Bake until golden brown but still soft, 18 to 20 minutes. Remove cookies from the oven and sprinkle lightly with sea salt and let cool.
You might also be interested in...