Dignity Moves Opens 32 "Tiny Homes" in Santa Barbara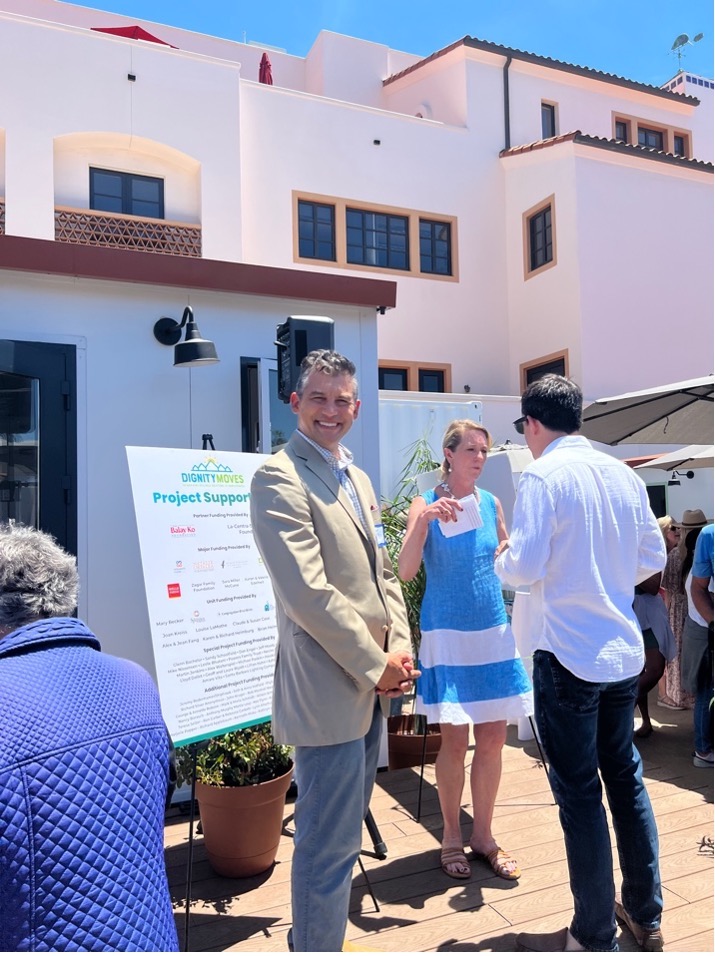 Hands Across Montecito co-founder Kathryn Washburn got a call from Dignity Moves a couple of weeks ago, asking if she'd support the new tiny homes in downtown Santa Barbara. As a strong member on the Hands Across Montecito team that has achieved great results in helping people leave homelessness, Kath wasn't sure about this. She wanted to see it. 
So she asked for a tour, and after seeing it, immediately went to work to provide supplies for one of the units to make it a home.
Then she called the Hands team, and Andrea Eltinge and I went with her to the ribbon-cutting last weekend. It was impressive.
A small, narrow parking lot owned by the county in the 1000 block of Santa Barbara Street had been turned into a village of 32 tiny homes, with a central kitchen area, bathrooms, decking, and thoughtfully placed potted plants. Here's some of the story on how that happened:
Elizabeth Funk, the founder and CEO of Dignity Moves, said they ordered the units October 1. Now, they're about to move 60 people into these 32 units. Matt Riley, a Montecito resident on the Dignity Moves board, was credited for tireless 'Do-ism' in making this happen so quickly.
Funk said there were many similar stories: Many people made newly homeless are not addicted to substances, but 30 days after being on street, your chances of developing a lifetime addiction skyrocket. Then climbing out of homelessness becomes even more difficult.
Something we've experienced on the Hands Across Montecito project: no one wants to go into a shelter. It's not hard to see why. It's bunk beds. It's crowded, in a pandemic. You have to be in early at night. Your stuff often gets stolen while you sleep. You have to be out at 5 or 6 am in the morning, with nowhere to go. It's 'near jail' conditions, and dehumanizing.
Dignity Moves offers what we've long needed: bridge housing – a temporary indoor bridge from homelessness to permanent housing. These units are meant to provide security, via four walls, 64 square feet of space, a roof, and a locking door. Hands Across Montecito leverages hotel rooms as bridge housing. It's far easier for CityNet case managers to help people move forward when they're in a stable situation versus trying to find them in camps, where they're often forced to move around. 
Supervisor Williams said, "This is an example of what community can do. We should not stop here. Some say certain people will never come inside. That may be true, but we've never yet run out of the people who do want to come in off the street."
Supervisor Hart noted the "enthusiasm that this is a different tipping point in dealing with the problem of homelessness. When you see these tiny homes, you realize this is what we need to do. It is shelter with dignity, that restores people's humanity."
The site will have onsite management, and services that help people transition out of homelessness provided by Good Samaritan, a huge nonprofit from Santa Maria. I've had a lot of experience with them as a member of the Behavioral Wellness Commission. Sylvia Barnard does a fine job overseeing projects like this that move people out of homelessness. The construction costs of $1.4 million were covered by a combination of county funding and philanthropy.
Councilmember Jordan thanked partners ACT and CityNet, who have also been our partners in Hands Across Montecito.
On my way out, I ran into Frog, who I'd met before at group feedings for the homeless in Santa Barbara. She's been without a home since 2004. She will be moving to unit 13, as it's lucky for her.
There's a commitment to do a similar project in North County, but at least one more tiny home village is needed in the South County. The ideal site is a parking lot that's not being used, or is under-used, and somewhat centrally located. If you know of one, let us know! Email info@montecitoassociation.org.
Sharon Byrne is the Executive Director of the Montecito Association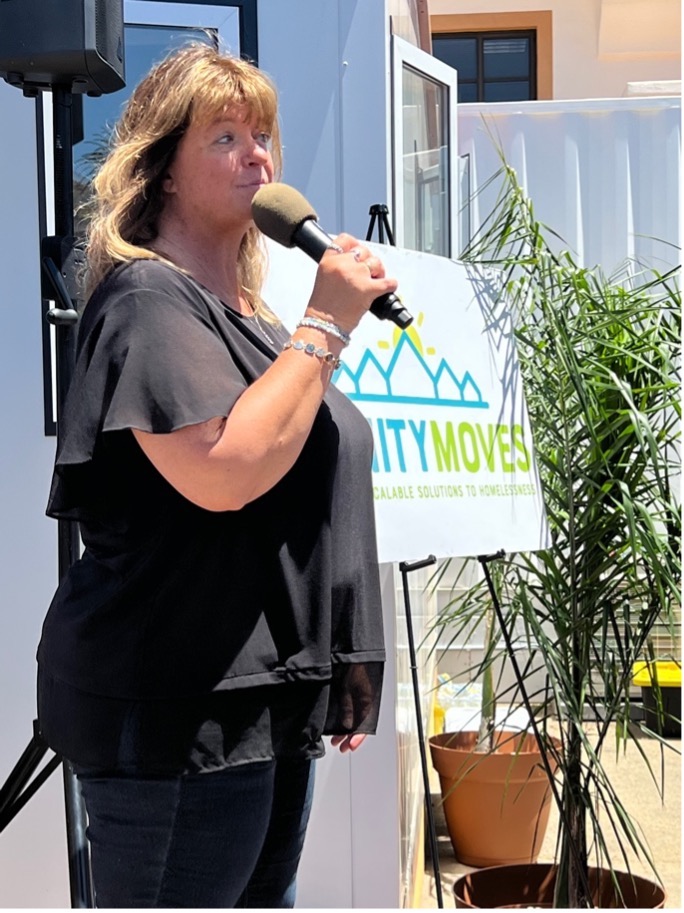 You might also be interested in...