A&L Leads Into Its Future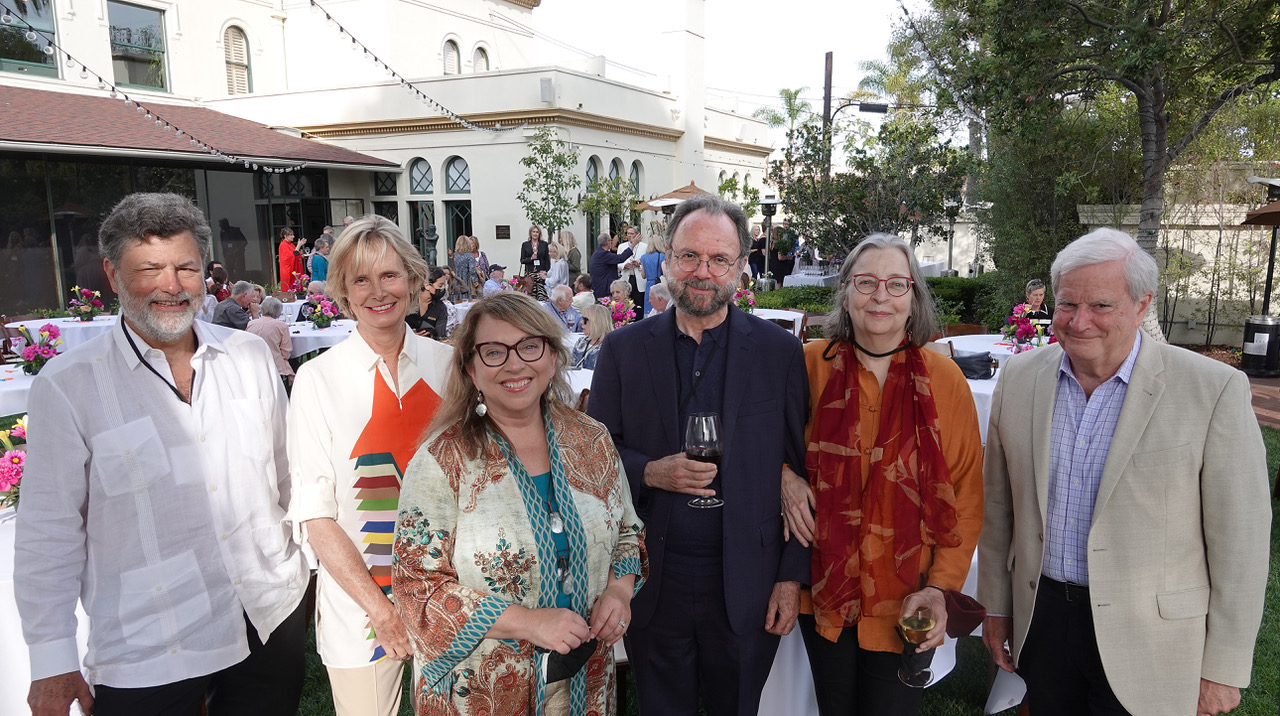 Cultural gridlock reigned at the Santa Barbara Club when UCSB Arts & Lectures held its new 63rd season reveal party with 150 guests.
"It has all been very challenging," said Miller McCune Executive Director Celesta Billeci. "There have been many unknown hurdles during the pandemic. But we are now standing on the other side. We did it!"
The '22-23 season has 45 engaging new events, including 12 Santa Barbara debuts, three new series, and four commissioned performances. "We are going to be the headlights, not the taillights," added Celesta. "We want to lead, not follow."
The colorful and eclectic season kicks off in October with the Ukrainian quartet DakhaBrakha from Kyiv, an homage to the anguished nation, with the French company Ballet Preljocaj performing the beloved Swan Lake in February at the Granada, along with shows from the Mark Morris Dance Group based on the music of Burt Bacharach, and the Ballet Hispánico.
Legendary cellist Yo-Yo Ma is returning in January along with Chinese piano legend Lang Lang in February. The Grammy-winning Soweto Gospel Choir is also on the menu, along with Japanese taiko drummers Kodo, as well as the ever-popular Danish String Quartet, and Jean Rondeau on harpsichord.
The lecture season is just as eclectic with surf pioneer Laird Hamilton, The World According to Garp author John Irving, and British chef Nigella Lawson, author of 12 culinary bestsellers.
And February sees perennial favorite Pink Martini back in our tony town, sure to leave us shaken and stirred.
Among the culture vultures at the bounteous bash, with entertainment from L.A. quartet Las Colibri, were Sara Miller McCune, Robert Weinman, Gretchen Lieff and Miles Hartfeld, Mark Whitehurst and Kerry Methner, Todd and Allyson Aldrich, Linda Hedgepeth, UCSB chancellor Henry and Dilling Yang, and Mayor Randy Rowse.
Extra Security?
Could a Montecito private school soon be by royal appointment?
Archie, the three-year-old son of Prince Harry and Meghan Markle, is reportedly enrolling at a private school in Montecito.
With Montecito private schools ranging in tuition from as little as $6,725 to $35,500, and student to faculty ratios between 7:1 to 13:1 (national average of 17:1), these would certainly be suitable establishments for Queen Elizabeth's great-grandson to start off his education, given their close vicinity to his Riven Rock home.
One private school recently had perimeter fencing being reinforced and regulars who exercise on the grounds of the school being told they can no longer do so. When asked, an administrator for the private school says: "I'm sure you understand the school's position that we never share any information about any of our applicants."
He tells me the new perimeter fencing, as well as "enforcing a more closed campus," were both measures the school instituted during the pandemic for "safety reasons." Stay tuned…
You might also be interested in...