Our Town's 20th Annual Graduation Issue: Part 1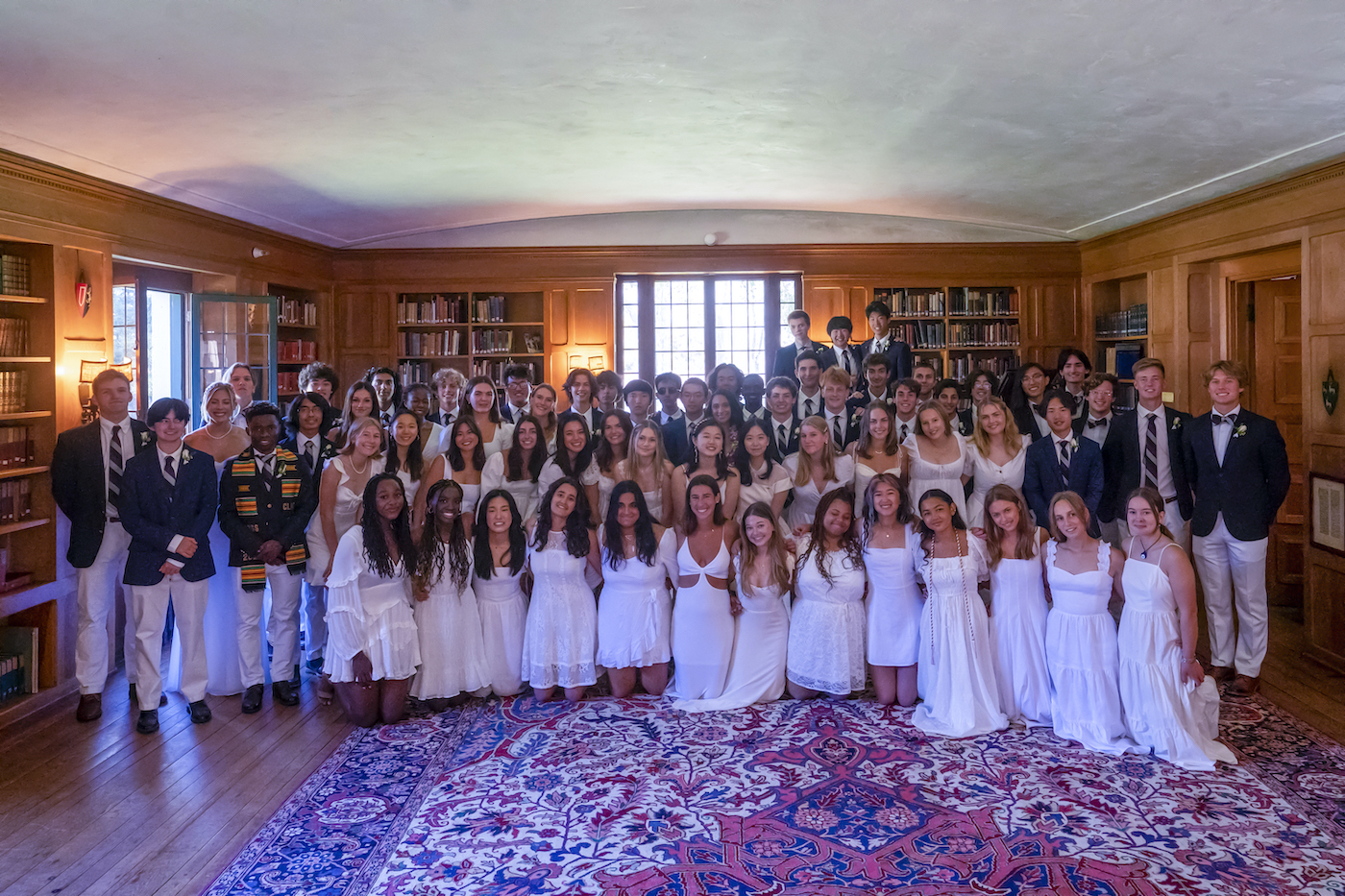 Our town's schools held their 2022 graduation ceremonies from May 29 through June 10. The eight local school graduations are covered in order of occurrence, in two news reports, part one today and part two on June 16. This issue has Cate School with 66 grads, Montecito YMCA Preschool with 14 grads, Cold Spring School with 29 grads, and Montecito Union School with 53 grads. The Montecito Journal wishes much success and congratulations to our graduates, their faculty, and parents!
Cate School Graduation 2022
The Cate School's 109th graduation ("Go Rams!") was held on Sunday, May 29, at 10 am, outside on the school campus for faculty, family, and students, with a live stream available. The three-and-a-half-hour ceremony started with the graduates processing to their grandstand in Cate School regulated dress whites holding a flower representing the school's colors. At the podium was Headmaster Ben D. Williams IV with his faculty and board members. Gary Pierce gave the Invocation. Williams' Commencement Speech highlighted the course of the graduates at Cate, citing Winston Churchill and the Apollo 13 team who both said, "This was our finest hour. This is a celebration of what you have done here, you have brought joy, energy, humor, and solace when we needed it the most."
Graduating student John Endres did the Student Address: "I've been so enlightened by the people sitting next to me. Bringing light and joy to the world. How unlucky Cate is going through one of its greatest controversies of its time. This class saved Cate. We reminded everyone what Cate is supposed to be, our class was tasked at rebuilding everything. You best believe we left this damn place better than we found it. We pass the torch to the next class. The best moments you only get to live once and then in your memories. May we enjoy the last few minutes we have to spend together."
Williams presented the Senior Awards:
Jeffrey Sumner Pallette '99 Award: Imani Oseso; Santa Barbara Scholarship Cup: Jinming Wang; Ellis Cup: John Endres; Morgan Gwynne Temby '69 Award: Olivia Dorion; The Miramar Award: Thomas Naem and Kennedy Simpson;DOHRMAN PISCHEL '14 Medal (Bronze): Alekha Rao and Charlie Schofield; Nelson Jones '48 (Silver): Daniel Boateng and Chidera Chukwumerije;Santa Barbara School Medal (Gold): Juliette Calderon; Head of School Award: Benjamin Meyer and Ashi Kamra
William Shepard Biddle '18 Cup: Diamond Head
The presentation of diplomas by Williams and his team included a brief statement of the students' attributes and contributions. Following a collective congratulations of the class, the grads processed out to a receiving line and reception with their family and guests. The Cate School 2022 graduates are:
Daanish Ahmad, June Han Bae, Daniel Boateng, Willem Bouma, Andrew Busse, Juliette Calderon, Aidan Carlander, Francesca Castellarin, Chidera Chukwumerije, Yejin Chung, Sophie Conviser, Anna DiSorbo, Olivia Dorion, Lesley Drucker, John Endres, Julianna Forry, Dawson Fuss, Daniil Garbuzov, Elise Guerrand-Hermes, Sean Harbison, Minghao He, Diamond Head, Lukas Hendriks, Aminah Hill, Matthew Holmes, Ginger Hunter, Aliana Istanbullu, Ella Jones, Ashima Kamra, Sylvia Larkin, Caroline Le Roy, Ethan Ligon, Kalia Lopez, Jacob Ludviksen, Rachel Ma, Gabriel Madan, Emily May, Benjamin Meyer, Jackson Molin, Alexander Murray Osborn, Thomas Naem, Mason Oetgen, Imani Oseso, Asen Ou, Anna-Sung Park, Nicholas Patrick, Alekha Rao, Paige Rawiszer, Claudia Schmidt, Charles Schofield, Daisy Scott, Filip Sentypal, Kelsey Sha, Zhengli Sieh, Kennedy Simpson, Sidney Suh, Naruepan Thongthai, Tyler Tom, Victoria Trimble, Richard Valente, Jinming Wang, Charlotte Weis, Peter Wood, Chuanjie Yan, Jonathan Yoo,and Timothy Zhang.
YMCA Preschool 2022 Graduation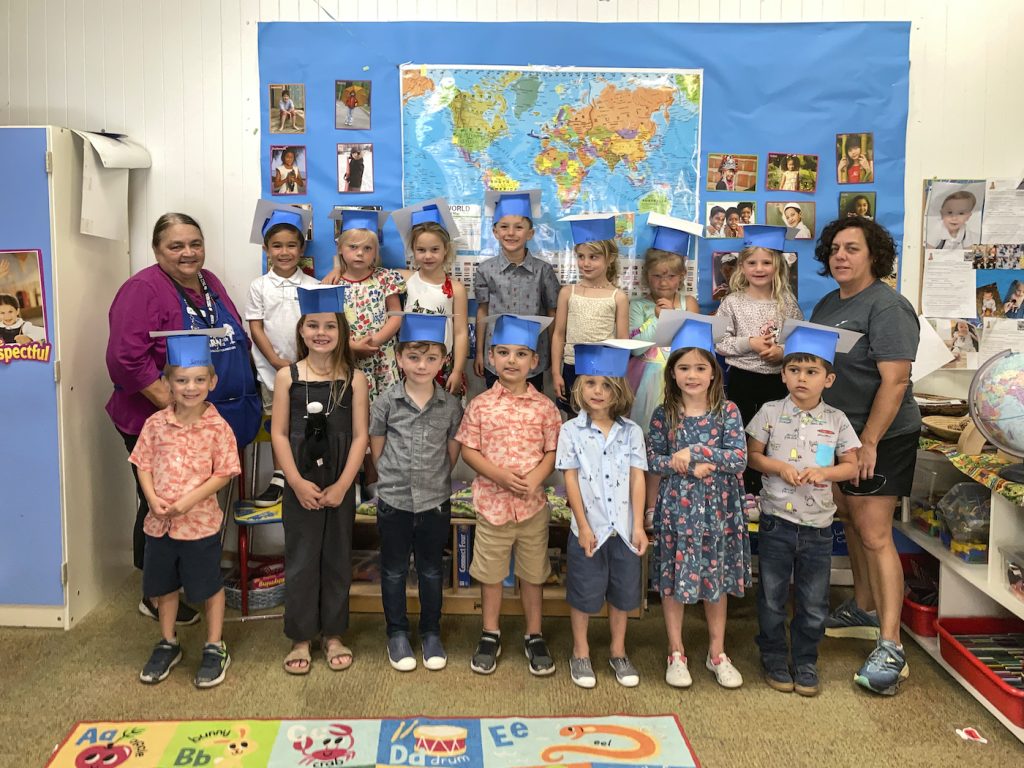 The Montecito Family YMCA Preschool 2022 Graduation was held outside at the YMCA on Tuesday, May 31 at 4:30 pm. The ceremony started with the students' processional to "Pomp and Circumstance Marches Op. 39" and parents taking video and photos. Following a warm welcome from 30-plus-years director Mrs. Annie Fischer, the graduates recited and acted out nursey rhymes and songs that included "Jack Be Nimble," "Jack and Jill," "Hey Diddle Diddle," "Oh I Wanna Be a Dog," and "All I Really Need." As per tradition, the students made their paper caps and presented a gift to their parents. Fischer presented the diplomas and said, "The children learned so much throughout the year from writing their names, traveling around the world, and learning about other cultures. Our Core Values were woven through the fabric of their little lives: Caring, Honesty, Respect, and Responsibility. We now have our future scientists, Broadway stars, and keepers of the planet!" Afterwards there were photo-ops and a reception.
The YMCA Preschool 2022 graduates are:
Amelie De Lowe, Emerson Kallenbach, Birdie Karsenty, Sienna Martinez, Kaiden Mather, Harper McCay, Jameson Noe, Wyatt Noe, Weston Ruiz, Laine Saunders, Nolan Brandow Toth, Sebastian Tate Wittenberg, Paula Van Rest and London Whitworth.
Cold Spring School 2022 Graduation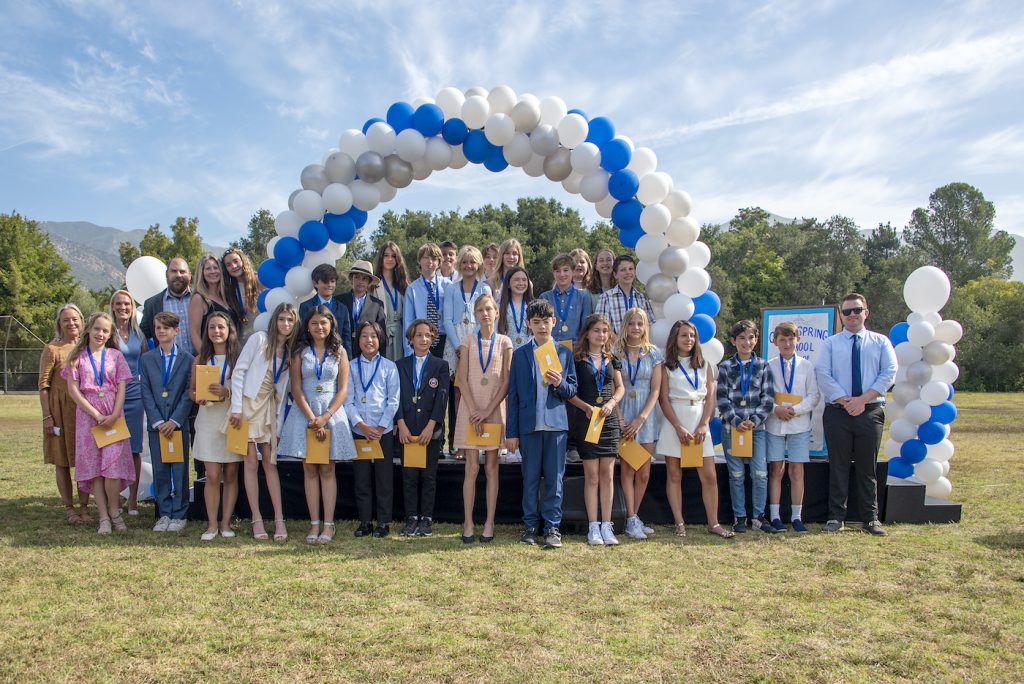 The Cold Spring School (CSS) Sixth Grade 2022 Graduation ("Go Dolphins!") was held outside on Thursday, June 2, at 8:30 am at the school's upper field for the graduates and their families. Students processed onto the field to the front of the stage and sang, "Together Forever" by George Noriega and Joel Someillan.
CSS Superintendent and Principal Amy Alzina,Ed.D,opened the ceremonies with a brief speech praising the attributes and contributions of the graduating class, and listed highlights including the building of the community garden center, new Kindergarten sandbox, placing 2nd in the Math Super Bowl, qualifying for the All Santa Barbara Schools track meet, the school play, and raising funds for Ukraine. Student Council Presidents Naomi Rowan and Nicholas Song gave their speech recapping the successes of their class and fondest memories, from designing and coding robots in STEAM to the school play, Madagascar. The CSS 6th Grade Promotion Special Awards were presented as follows:
Alyssa Smelley Citizenship: Nathan Daughters and Emilie Joulie-Mares;Principal's Award: Emilie Joulie-Mares and Aude Joulie-Mares;Outstanding Athletes: Maleah Jensen, Kate Krautmann, Makai Jacobs, and Eddie Pena;Math: Abraham Chapman, Julien Joulie-Mares, Luke D'Amour, Maxwell Marino, Shaia Bijan,and Ami Dysart;Drama: Naomi Rowan; Visual & Performing Arts: Indi Drost; Art: Gia Haas and Madeline Kneafsey;Writing: Ella Grube, Isabella Ramirez, Selah Wheeler, Laine Howell, and Geoffrey Jansen;Music: Eli Song and Lilyanna Poley;STEAM: Aude Joulie-Mares, Nate Daughters,and Emilie Joulie-Mares;History: Charles Contakes;andSocial Justice: James Tosh, Ceci Duarte, Livvie Zampelli,and Sterling Fisher.
Diplomas were presented by Alzina and CSS Board Members, while each student's future goal statements were read by their teachers Linda Edwards and Ryan Francisco. The 2022 CSS graduates are:
Shaia Bijan, Abraham Chapman, Charles Contakes, Luke D'Amour, Nathan Daughters, Indira Drost, Cecilia Duarte, Amelia Dysart, Sterling Fisher, Eleanor Grube, Gianna Haas, Laine Howell, Makai Jacobs, Geoffrey Jansen, Maleah Jensen, Aude Joulie-Mares, Emilie Joulie-Mares, Julien Joulie-Mares, Madeline Kneafsey, Kate Krautmann, Maxwell Marino, Eduardo Pena, Lilyanna Poley, Isabella Ramirez, Naomi Rowan, Nicholas Song, James Tosh, Selah Wheeler,and Olivia Zampelli
Montecito Union School 2022 Graduation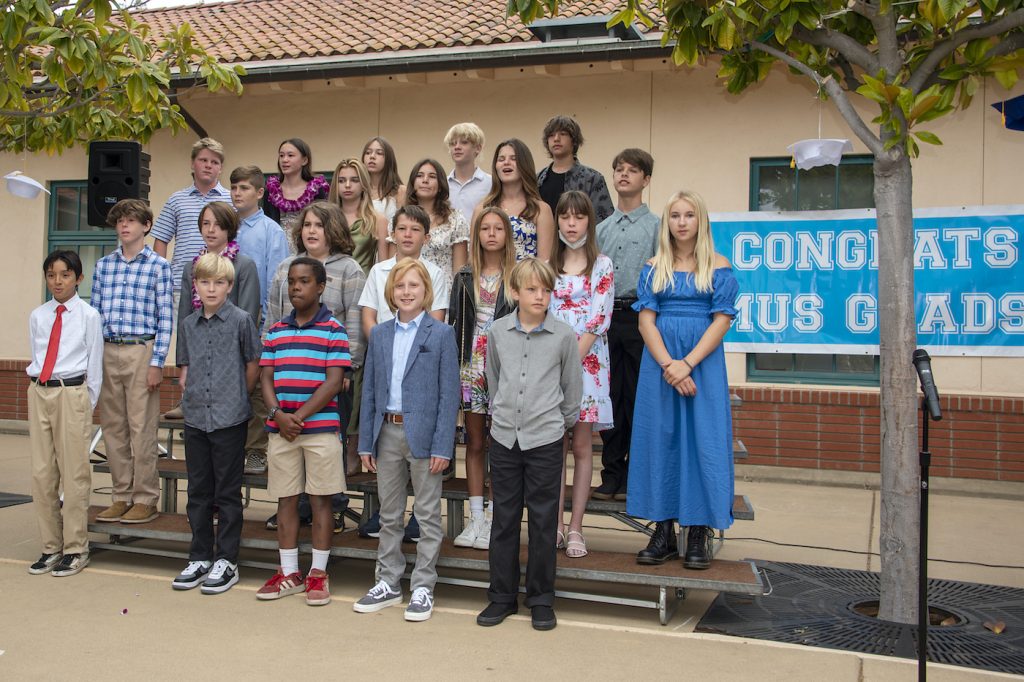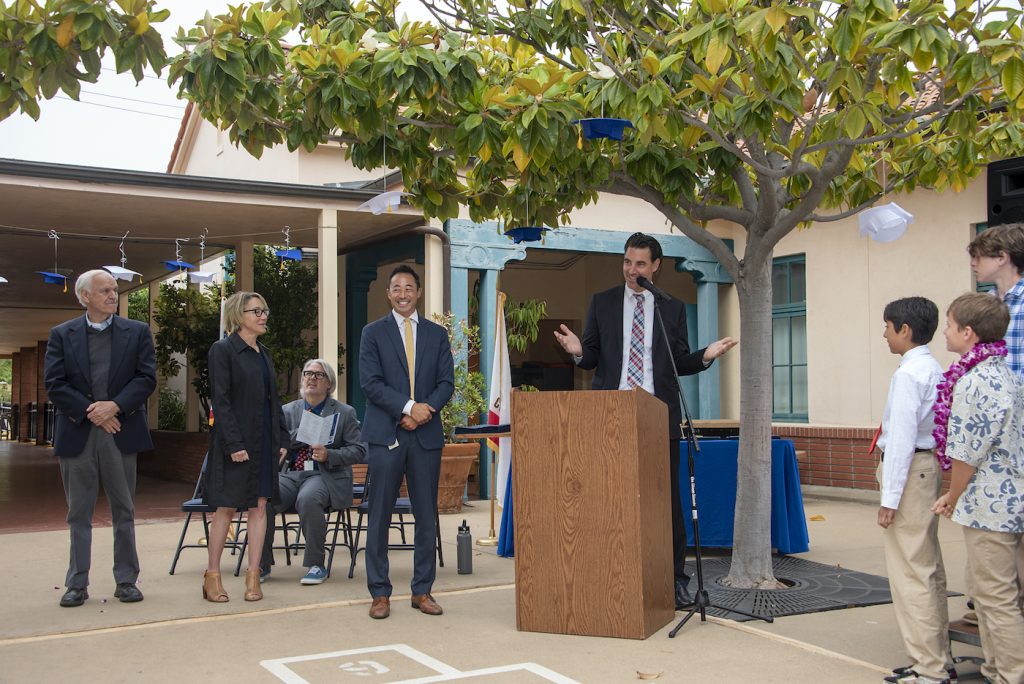 The Montecito Union School (MUS) Sixth Grade 2022 Graduation ("Go Mustangs!") was held on Friday, June 3, at 8:45 am. The ceremony started with the traditional slideshow of the students in the auditorium, and the processional into the adjacent courtyard for the ceremony. The welcome and Pledge of Allegiance were led by students Sasha Dessouky and Benjamin Blakeslee, and everyone sang "America the Beautiful."
Student addresses by Lauren Faletti, Ethan Maday, and Lila Kia-Keating talked about their favorite memories at MUS and mostly of their class being the changemakers, the ones who will get up, make a difference, and be a powerful force of good in the world, stamping that with the entire class singing, "Count On Me" by Bruno Mars.
Assistant Principal Rusty Ito gave the Commencement Message: "You are resilient, kind, and compassionate, you work hard and play hard. We've seen you grow as scholars, citizens, and friends. And I quote from Dr. Suess's book, Oh The Places You'll Go, 'Congratulations! Today is your day. You're off to great places! You're off and away!'"
The Presentation of Diplomas were by Superintendent Anthony Ranii, Principal Nick Bruski, MUS Board President Susannah Osley,and Vice President Peter van Duinwyk. The ceremony concluded with the students singing the "MUS Graduation Song" by Kenny and Eva Loggins, and a reception. Their 6th grade teachers are Mrs. Berman, Mrs. Alker,andMrs. Weill. Songs and the string ensemble were led byMusic Specialist Pam Herzog and Ron Zecher. The 2022 MUS graduates are:
Sawyer James Anderson, Benjamin Blakeslee, Joseph Charles Bow, Karlie Broeren, Lex William Burns, Lulu Christina Burns, Henry Porter Calcagno, Kevin Castillo, Penelope Elise Conway, Gus Cooper, Alexander Damery, Makaio John DeAlba, Gianna Nicole DeMarco, Sasha Dessouky, Elijah Dracht, Katherine Olivia Duran, Elly Edwards, Arman Entezari, Nika Tavana Entezari, Helushka Espinoza, Willa Eyer-Delevett, Lauren Faletti, Connor Reece Funk, Laurel Eve Hermann, Madelyn Miyuki Ito, Adam Frano Joenck, Hayden Jones, Lola Keech, Lila Kia-Keating, Gustaf Orin Larson, Ashton Lustfield, Ethan Robert Maday, Gioia Martins, Mila Martins, Ewan Joseph McCorkell, Kate Mckittrick-Monroe, Asher Ronan McWilliams, Lily Palmer, Luke Charles Popovich, Reid Michael Powers, Fletcher Theron Prince, Coco Rautiola, Harry Ryan, Sloan Schmoller, Elsa Armour Simon, Alice Olivia, Kaulalani Sweeney, George Taylor, Luke Richard Tomson, Melody Daniella Toye, Taj Trautman, Gabriel van Rest, Jordan Paris Volz, and Luc Vulliez.
Joanne A. Calitri is a professional international photographer and journalist.
Contact her at: artraks@yahoo.com
You might also be interested in...