A Season of Change
The seasons are changing, and so is the Real Estate market… at least that's the way the numbers are rolling out here, nearly halfway through 2022, with most months being down in sales volume from the month before. Now I know, many will say it's because of low inventory, and that's true, or partly true. After all, sales prices are still very strong, homes are closing at all-time highs – and then some – and there are still hungry buyers out there.
However, we are starting to see more price reductions, more homes falling out of escrow, more homes sitting on the market while more are coming to market, hoping to get a top price then not selling, all of which has resulted in Montecito having more homes on the market than in recent months.
In terms of sales, in 2021, we saw an average of 30+/- homes selling each month in Montecito in the Multiple Listing Service (MLS) and in 2022 we are seeing only 20 or so homes close escrow each month. Now since April, we are seeing fewer than 20 homes close escrow each month in the MLS, with May delivering only 12 closed escrows. This is a 50%+ drop in sales volume from the end of 2021, and the few off market sales that continue to show top prices are not making up for this recent shift in the market movement.
Yet I say, "All that said…" the fewer homes that are closing are fetching the highest prices, and there still are no "deals" to be had. So, with falling sales volume and highest prices ever still being paid overall home by home, many of our new buyers seem to be those who can, and will, pay top price for the home they want, right when it hits the market, as they are already looking and ready to pounce.
To summarize on the statistics side of things, the existing inventory of homes for sale is up 40%+/- in just three months. From 25 or so homes for sale, on average, in past recent months, to 36 homes on the market as I type. Also, we are seeing more price reductions in the past month or two which is not ideal for sellers. And we are seeing fewer homes in escrow month after month. From a normal of 25+/- homes in escrow (under contract) at any given time in the MLS in Montecito, to our current stats showing only 13 listings pending in escrow. Only 13 homes under contract in all of Montecito is an all-time low.
Sales in May in Montecito ranged from our lowest priced sale, a Coast Village Road condo that changed hands for $1.735 million to a high of just under $13,000,000 paid for a larger home on two acres on Lilac Drive.
The homes featured here today are a mix of new to market (thus may be gone by the time you read this) homes that have been on the market a week or more, and/or have been reduced in price. Happy House Hunting!
2347 East Valley Road – $5,995,000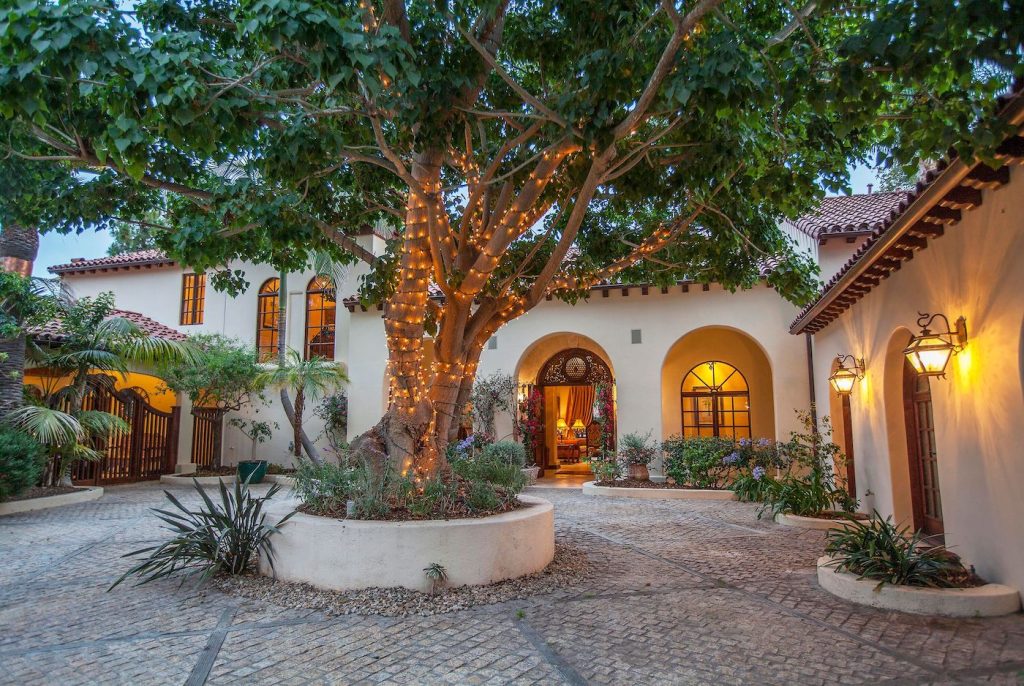 Tucked behind gates awaits an impressive estate built with craftsmanship and design details throughout. This home is gracious in size and scale and topped with voluminous ceilings showing extraordinary carved wood detail. With over 7,000 square feet of living area, you will find 6 spacious bedrooms, 7.5 bathrooms, a chef's kitchen, formal dining, entertainer's living room, library, media room, and office.
Outside, enjoy two fireplaces, an inviting oversized pool, and multiple areas to lounge and entertain. Located in the desirable Montecito Union School District and a short distance to Montecito's Upper Village, beaches, mountain trails, Miramar Hotel, shopping and dining on Coast Village Road, and the fun new "it" town of Summerland.
1209 Cima Linda Lane – $7,950,000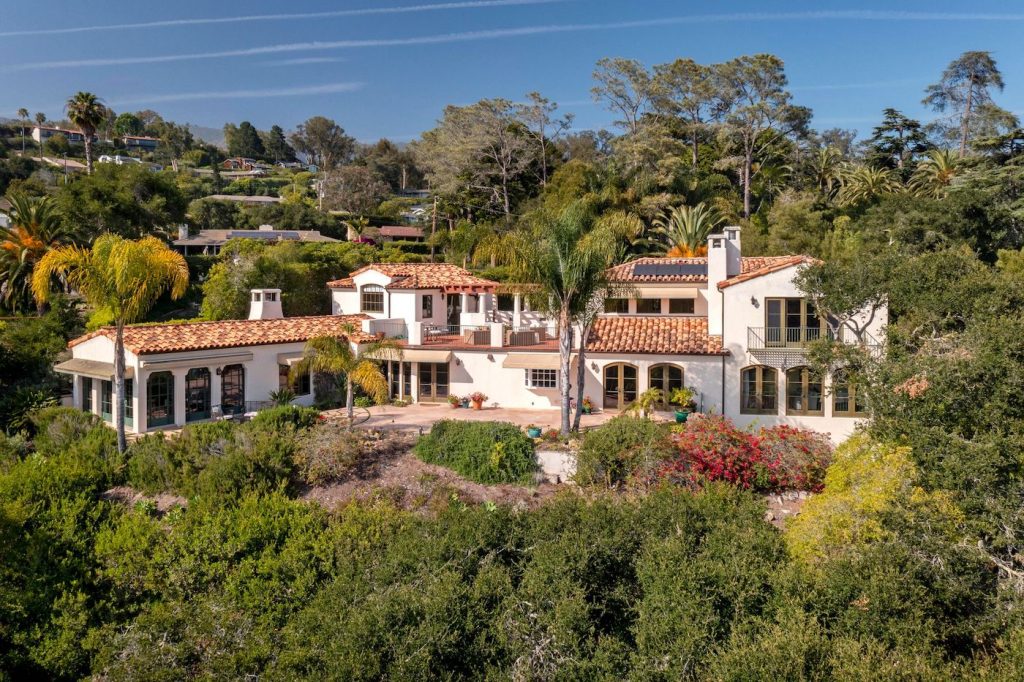 Designed and re-envisioned by noted local architect Don Nulty and showcasing a bright and spacious ambiance, this very private, Spanish-style Montecito residence features two bedrooms, two full and one half baths, a gorgeous living room featuring a vaulted ceiling and anchored by a handsome fireplace, chef's kitchen with top-of-the-line appliances, sitting room, dining area, and a garden area with an expansive patio, multiple dining, and entertaining areas that complement the setting and views of the ocean.
An attached yet separate studio, possible 3rd bedroom and bath, is accessed via an exterior staircase or via a breezeway, which also serves as an additional upper-level patio area. This versatile space can serve as an office or additional bedroom space or playroom. Homes on Cima Linda Lane are located close to the Montecito Club and are convenient to the Upper and Lower villages and beaches in Montecito as well as being just over the hill to Santa Barbara.
502 Picacho Lane – $7,995,000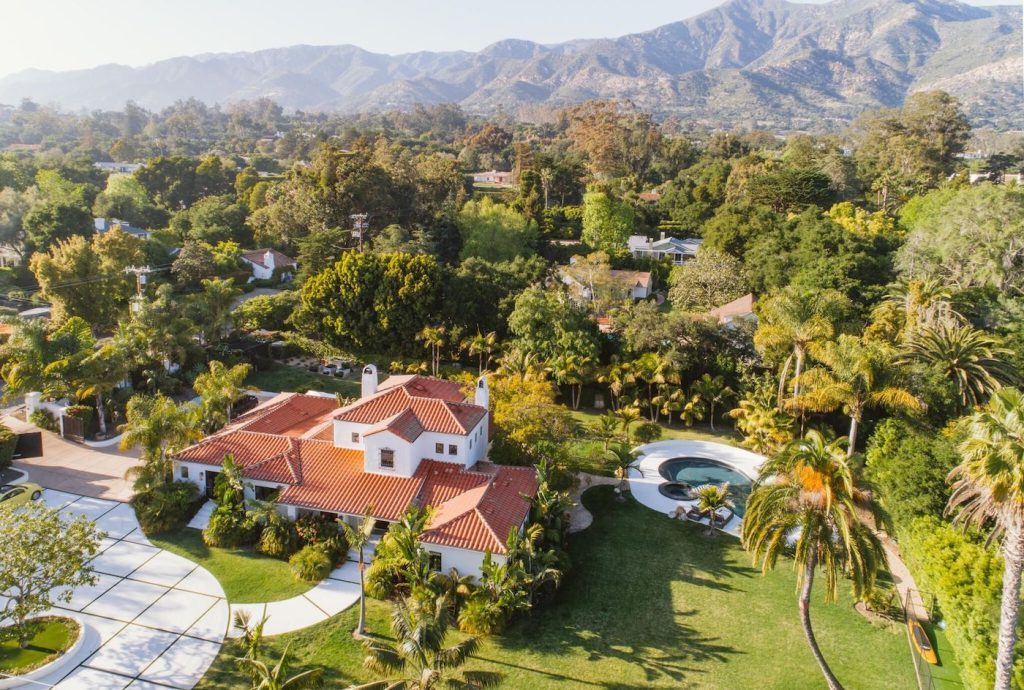 Style, comfort, and location define this villa, tucked within one of Montecito's most coveted neighborhoods on desirable Picacho Lane. Designer renovated, this chic oasis offers elevated interiors and wonderful indoor-outdoor living, with wide plank oak floors and numerous doors leading to the entertaining terraces. There are four bedrooms, an office, and four and a half bathrooms. The spacious primary suite occupies the entire second floor and offers a marble bathroom with walk-in closet.
Private, gated, and hedged on one usable acre, this home is just a couple of blocks from Montecito Union School and even closer to Montecito's Upper Village and Upper Manning Park. The lush grounds enjoy a pool, spa, expert designed landscaping, sprawling lawns, outdoor fireplace, vegetable beds, chicken coop, dog run, and additional on-site parking. This property is also available for lease.
770 Hot Springs Road – $19,995,000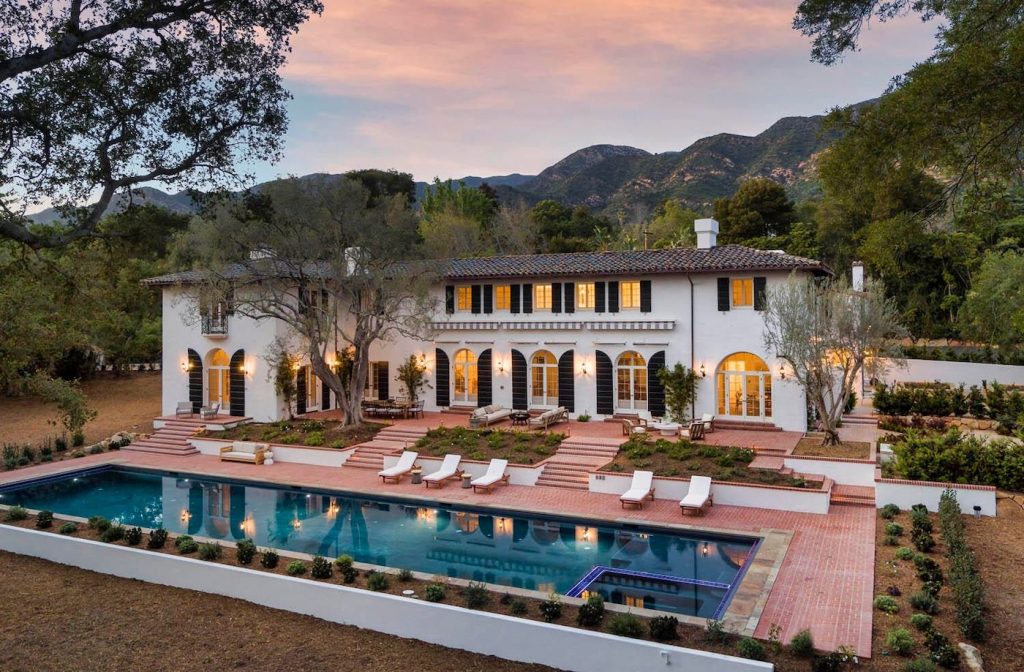 This is an opportunity to purchase an iconic piece of area history in an A+ location on nearly two acres, surrounded by many equally and even more expensive estates. This George Washington Smith and Lutah Riggs architectural gem has been blessed with an extensive and respectful restoration by Marc Appleton and Martin Logé.
Luxe modern finishes and design along with a history of Hollywood royalty coalesce at Las Armas – a beautiful 1929 Spanish colonial revival estate in the heart of Montecito's Golden Quadrangle and within the Montecito Union School District. Southern light fills the spacious living room that doubles as a state-of-the-art theater, also offering a secret wine cellar.
The dining room is ideal for entertaining with a bar/lounge tucked away for cocktail hour. Upstairs, a gracious master suite features a private office with a fireplace. Outside, a dramatic 88' pool is perfect for lounging, splashing, or napping beside. The effortless flow between the residence and gardens defines Montecito's graceful, indoor/outdoor lifestyle.
You might also be interested in...