Adam's Angels Spreads Its Wings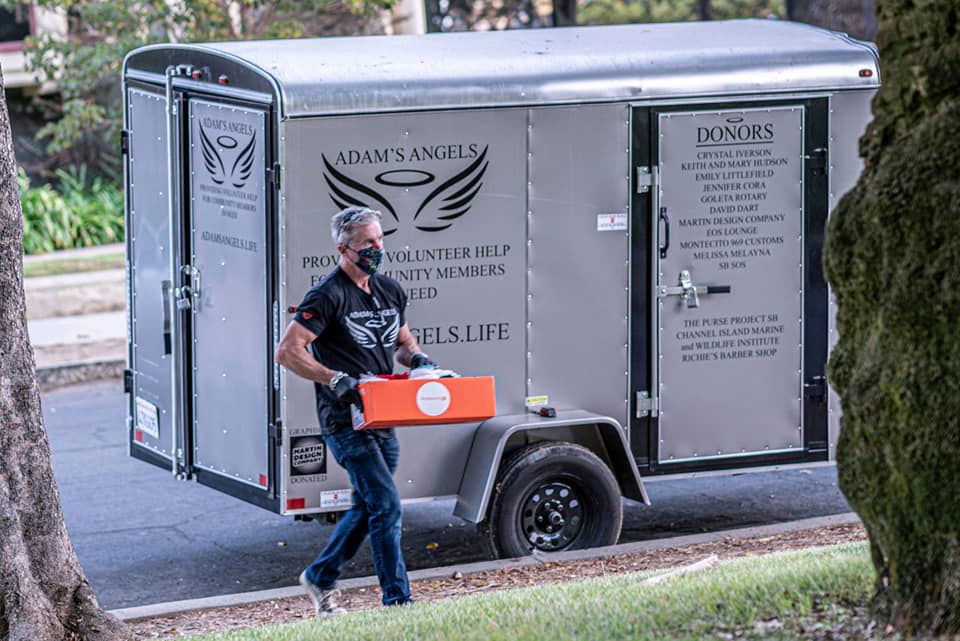 In the height of the COVID-19 pandemic, Santa Barbara native, realtor, and local volunteer Adam McKaig dedicated himself to building a team and creating solutions for the lack of support for the community of people experiencing homelessness. What started as a spontaneous movement of people wanting to make a positive impact during the pandemic has grown over two years into an entirely volunteer run and operated nonprofit with compassion as its core driving principle. 
Since gaining 501(c)(3) status two years after its beginning and becoming an established public charity, Adam's Angels has been on a mission to answer the needs of the community in whatever capacity and area that entails. And as the charity grows, so does the support and importance of its core volunteers.
"We want people with compassion to serve from their heart. And that's what we have. We have hundreds of volunteers who do just that; they volunteer their own money, and help raise money within our organization," said McKaig, the charity's Co-Founder and President.
Many of the charity's leaders and board members found their way to the charity spontaneously. Vice President Elisabeth Baum-Jones said she "took the wrong exit off the freeway one Thursday afternoon," and stumbled onto the organization's table at Alameda Park. After learning more, she decided to drop off some donations herself and "never left."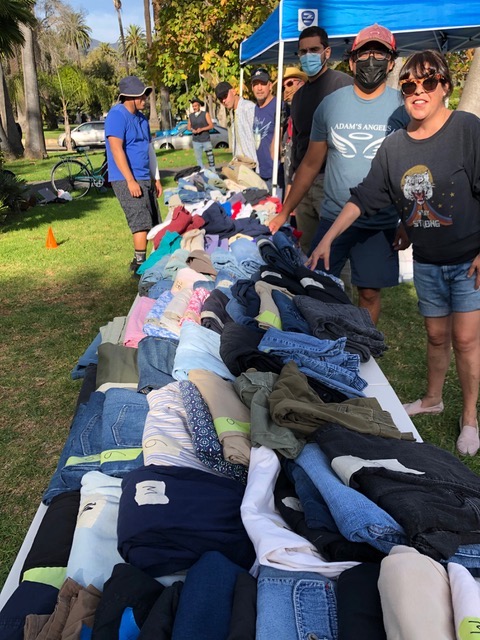 Baum-Jones said that since then "I joke that when I got there it was a volunteer disorganization, and my role has been to turn it into an organization."
As our community slowly starts to enter a post-COVID world, Adam's Angels has refocused its mission and steps into action for whatever program, initiative, or movement needs some extra sets of hands. "Our role is to continue to provide those bare essentials that everyone should have easy access to: hygiene, clothing, and food. But we are evolving. Specifically now, we are in a moment of revisiting what we do and how we can do it better. We are always looking for ways we can expand what we do in the community, be it providing hygiene products to school children or shopping and delivering groceries to homebound seniors," said Baum-Jones.
Through almost daily events, the Adam's Angels team is not only able to help with the needs of the houseless community, but have an active part in understanding what needs must be met as well. Throughout the week, Adam's Angels gives out non-perishable foods in various parts of the Santa Barbara area, and once weekly distributes clothing and hygiene products. In addition, volunteers are continuously preparing kits and bags to be handed out at these events.
Adam's Angels is also able to expand its impact and services through a variety of partnerships with other organizations including Alpha Resource Center, Showers of Blessing, Doctors Without Walls, and C.A.R.E.4Paws. All of these different charities come together in an offer to serve the current, growing, and ever-evolving needs of people experiencing homelessness.
More recently, the Santa Barbara Education Foundation reached out in need of personal hygiene products. "We learned that 15% of the students in Santa Barbara, from elementary to high school, are in the category of homeless. When we were asked, we went into motion immediately and put together 200 bags. This is an ongoing initiative that we are going to do so that our students don't have to worry about the basic necessities to keep clean," said McKaig.
The Adam's Angels team created 200 Kits4Kids bags and delivered them to the Santa Barbara School District on May 11. Transportation to make the delivery possible was provided by Bunnin Chevrolet. "We created these kits that have the bare minimum products like shampoo, body wash, toothbrushes, and hairbrushes. The School District office is creating closets in each of the 18 schools that will house these items and other items that children of disadvantaged economic situations might need, like grocery cards and bus passes," said Baum-Jones.
Adam's Angels is the selfless, behind-the-scenes force that is driving a volunteer movement to bring together the community to make a true positive impact. Created in a time of complete uncertainty, the willingness to adapt and act quickly is precisely what makes this group not only a united front, but the angels our community needs.
To learn more or donate visit adamsan
gels-sb.org. For more information on the Kits4Kids initiative, visit adamsangels-sb.org/kits4kids.
Madeleine Nicks is a senior at Laguna Blanca High School. She is the Editor-in-Chief of her school's magazine and Assistant Director for the theater department. She will be attending Vassar College in the fall where she hopes to study English, art history, and film.
You might also be interested in...