Mission Possible: I Madonnari Returns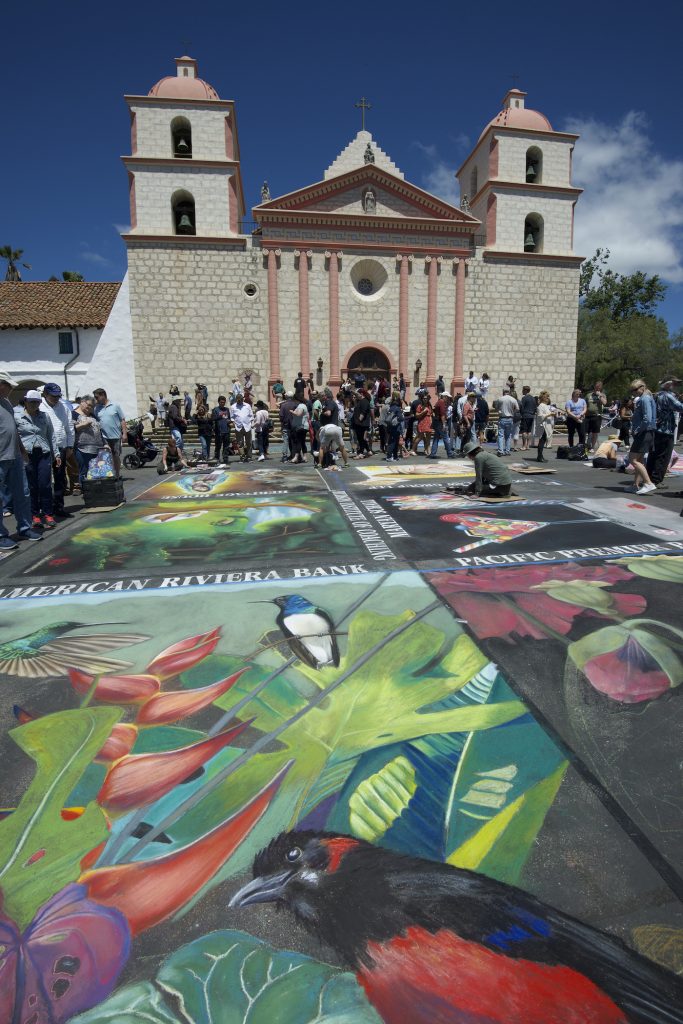 Art intended to be much more ephemeral makes its heralded return this Memorial Day weekend as the I Madonnari Festival Street Painting event resumes its annual three-day takeover of the plaza in front of the Santa Barbara Mission after two years as a virtual event. It's also the first festival since the retirement of Kathy Koury, who founded I Madonnari 44 years ago, after observing one in Italy, as the first such public chalk-on-pavement gathering in the U.S.
Over the course of the three-day weekend, more than 125 "squares" will be filled with exquisitely detailed chalk drawings created by artists, both professional and amateur. The chalk-filled fun will also feature nonstop music from a stage on the Mission's lawn and a food festival this year largely populated by food trucks.
"It's been quite a scramble getting it together in just three months," said Kai Tepper, who took over for Koury as executive director of Children's Creative Project, the festival's producer and beneficiary, following stints as Santa Barbara Bowl's first full-time outreach manager and, previously, ED at the Arts Fund. "But it's been amazing how the community is coming together to help make it happen. That's part of what makes this festival so magical, everybody creating this little ecosystem that's like a mini village for four days because they care about our mission and love celebrating the arts."
All proceeds from the event go to further CCP's mission of supporting arts education in the schools. Thousands are expected to visit the festival over the weekend, viewing the chalk paintings' progress and chatting with the artists who come from near and far and soaking in the festival atmosphere.
It's that interaction that makes the festival a unique event, Tepper said, something that wasn't available in the virtual version. "The collaboration between younger and experienced artists, asking questions, and engaging with everyone – that only happens in person." 
Rise and 'Shine' for Solstice
Also making its big return to live action this season is Santa Barbara's Summer Solstice parade and festival. Postponed twice by the COVID pandemic, the Solstice parade has had to make some accommodations for the pandemic-induced (and possibly permanent?) parklet phenomenon along State Street, moving the marchers' route two blocks northeast to, appropriately, Santa Barbara Street. But while the usual storefront shops shielding spectators might be sorely missed in favor of office buildings, courthouses, homes, and more that line Santa Barbara Street, the ingredients of the parade itself will be unchanged, as the people-powered parade still has its artsy-creative charm intact, with no signs, motor vehicles, or animals allowed.
VIP seating will still be made available at two corners of De La Guerra and Santa Barbara streets, with the shaded section including water and a snack in the ticket price, proceeds going to support the parade and festival.
Those desiring a more hands-on approach to participating in the parade can head on down to the Solstice Workshop, where the organization's artists-in-residence, mask-makers, costume designers, and other artisans can help you dream up or fulfill your creative vision for the area's most artistic annual event, which this year has the upbeat double-entendre theme of "Shine." Both expertise and materials are supplied at the space at the Community Arts Workshop (CAW) at 631 Garden Street, which opens to the public as we hit newsstands on May 26 and continues right on through the eve of the parade on June 24. Also welcome are those looking to join a float ensemble, or just learn how to create the stuff that wows folks lining the street each year.
The festival still opens with an evening of music and more on Friday night, June 24, in Alameda Park, which is also where the parade ends on Saturday (except now the sharp turn on Micheltorena goes left instead of right!) Musical acts already announced include Rey Fresco, Traveler, and Paper Idol, plus local favorites Uncle Uncle, Grooveshine, and Glenn Annie. Get all the details, including parade route, festival details, and workshop registration forms online at solsticeparade.com.  
You might also be interested in...