Fiesta Kicks off With Poster Unveiling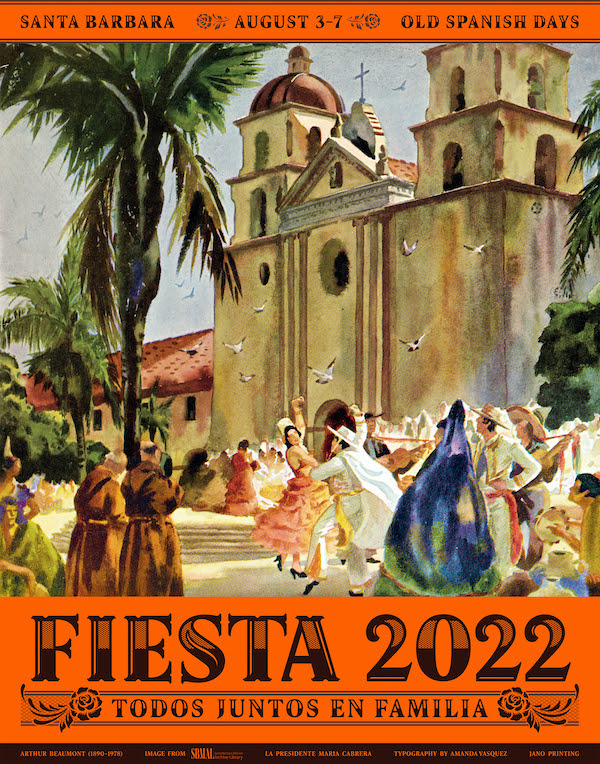 On Saturday May 21, 2022, Fiesta La Presidente Maria Cabrera unveiled this year's Old Spanish Days poster and pin. The pin is a 3D silver fan that serves as a common symbol during Fiesta performances and in the crowds to fight off heat. The poster features an archived watercolor by Arthur Beaumont with printing by Patty Driskel and a custom typeface by Amanda Vasquez. The poster perfectly encapsulates this year's theme, "Todos Juntos en Familia," which translates to "All Together as a Family," as the watercolor picture joyfully showcases the community's many different demographics that will come together to celebrate Fiesta returning for the first time in three years. The 2022 Fiesta poster and pin are available to order online at sbfiesta.org.
Each night of Fiesta rings in a new and exciting event including Mercados, the El Desfile Histórico parade, traditional dance performances, the Fiesta Arts and Crafts Show, and the rodeo. In addition to the festivities, the 121-year-old Reina Del Mar No.126 of Native Daughters of the Golden West has selected member Lynn Kirst to portray Saint Barbara, a tradition that dates back to 1926. Kirst is a longtime Santa Barbara local and former member of the Santa Barbara Trust for Historic Preservation board of directors, the Community Arts Music Association, and the executive committee of the Sierra Club's Santa Barbara group. Fiesta runs from August 3 to 7. Visit sbfiesta.org for more information on the times and locations of specific events throughout the week.
You might also be interested in...