Montecito Asks City, County to Collaborate on Homelessness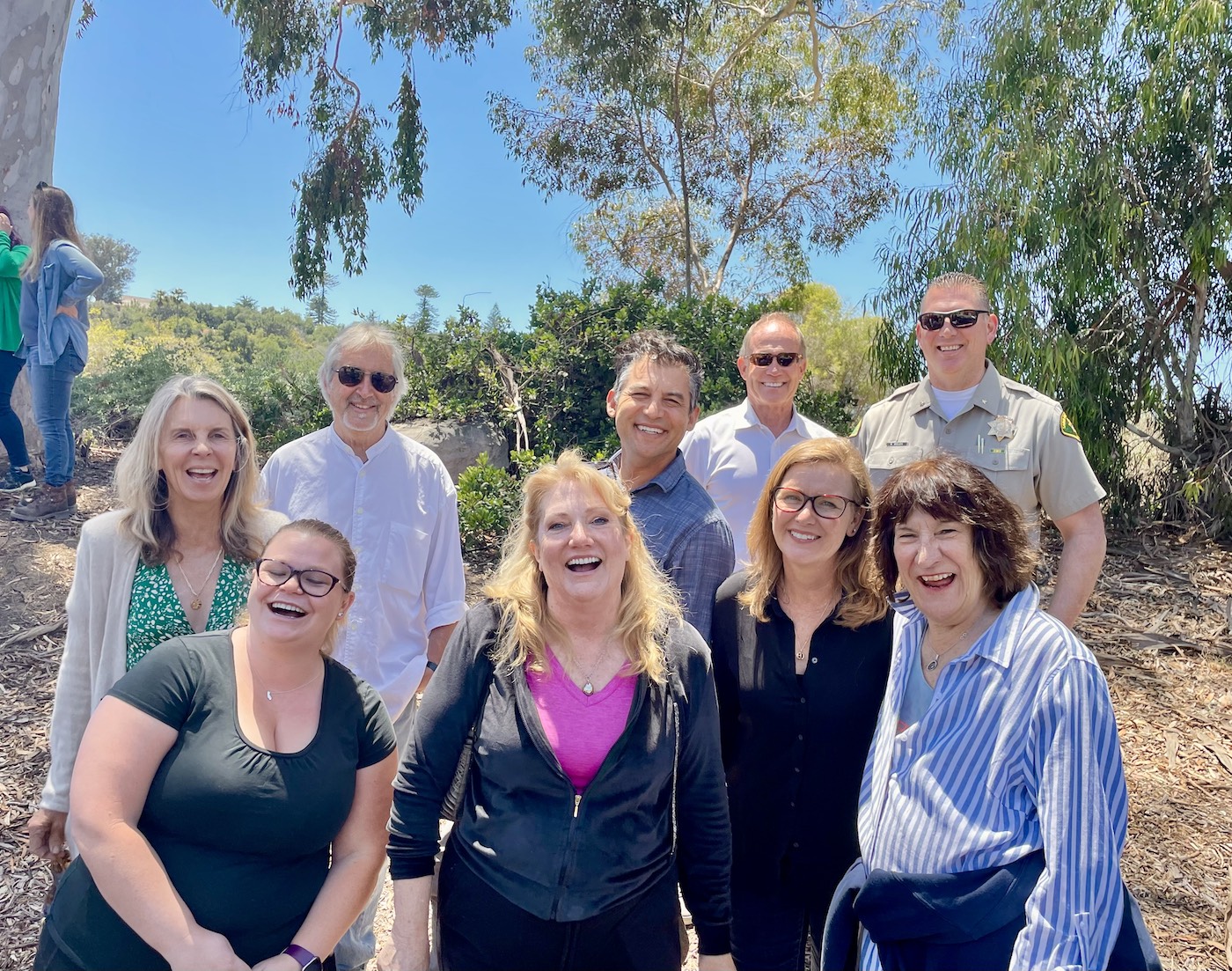 It's noon, about five hours later than Hands Across Montecito's (HAM) usual monthly hike to locate and aid our village's hidden population of unhoused individuals. We generally arrive just after dawn to find folks barely awake in their bivouacs around freeway entrances, in gullies near the railroad tracks and cemetery, along creek beds, and on the beach. As I park on Los Patos Way near the bird refuge on the Montecito-Santa Barbara border, I also notice a huge increase in our outreach team, with Sharon Byrne, Montecito Association Executive Director, standing at the center of about two dozen people, including local dignitaries: Santa Barbara city council members Kristen Sneddon and Oscar Gutierrez and Fire Chief Chris Mailes (deep in conversation with Montecito Fire Chief Kevin Taylor); and S.B. County District One Supervisor Das Williams and his Chief of Staff, Darcel Elliott. I notice colleagues from the Montecito Association's partner nonprofits, including Harry Rabin and Hillary Hauser from the environmental group Heal the Ocean; social workers from the homeless-outreach organization City Net; and Andrew Velikanje from Earthcomb, a newly-created nonprofit that cleans camps' debris. Rounding out the numbers are three county sheriff's deputies, volunteers including Montecito residents Jennifer Perry and Ron Sickafoose, and MA Vice President Doug Black.
"Let's see why we need to work together," Byrne tells the group as we set off. "We want you to see that homeless people move around and might be in Goleta one day, and Carpinteria the next. They and their problems don't stop at jurisdictional borders. They migrate, sometimes along the railroad tracks. "It becomes a process of continually clearing out camps that then recur," she yells as we snake up a narrow path sandwiched between the roaring freeway and the restaurants adjacent to the bird refuge – perilously close to the Union Pacific tracks. There's detritus everywhere, from shopping carts to tents. We find only one individual in residence, a skeletal middle-aged woman who we learn is known to outreach workers throughout South County, but has never been successfully persuaded to accept treatment and shelter.
This reminds Byrne of another homeless woman whom several jurisdictions unwittingly were trying to help at the same time. "We found her in Montecito in February and started a case file to get her on a waiting list for housing. It wasn't until she suddenly got an apartment just two months later – an unheard-of speed – that we learned Goleta had put her on the wait list for housing several months prior to February. We were duplicating efforts. It's happening a lot, with outreach workers run ragged, and one agency that doesn't know what the other is doing. And whose nickel pays for what?"
Despite the freeway noise, Byrne's remarks stimulate a lot of discussion about the public's false perception that agencies handling homelessness already are cooperating regularly across jurisdictions, much as local fire departments do in dealing with dozens of fires in homeless encampments annually. "All the time, constantly, we have to work together, and with the police," says Chief Taylor, with Chief Mailes nodding in agreement. Yet even the efficiency of our fire departments couldn't stop a homeless, drug addicted individual from allegedly setting the Loma Alta fire last May – although it undoubtedly kept the fire from spreading further. In the aftermath, handling homelessness became an emergency, and the county offered dozens of housing vouchers through a grant from the federal Housing and Urban Development agency, while the city housed many formerly homeless people at the 40-room Rose Garden Inn on upper State Street for six months. The project was plagued by residents' arguments requiring police intervention, including one incident in which a formerly homeless individual pulled a gun on a terrified City Net social worker, according to Byrne. (The individual, a recent arrival from Orlando, Florida, was put on a bus headed back.) The temporary housing solution might have helped skew last winter's homelessness count, which was inexplicably down in several places in South County, including Montecito. The motel project seemed like a viable, though at $2.8 million, an expensive, solution for a while, including several homeless individuals who had been camping in Montecito – though all residents were suddenly evicted when funding ran out. 
The Rose Garden Inn is a major topic on our hike, with many wondering, should the goal be to house the unhoused in motels again? While Elliott from the county first district says "closure of the hotel was devastating to me because we don't have enough supportive housing units," Byrne derides the project as "warehousing" because it brought together too many formerly homeless individuals without life skills or adequate supervision. Councilmember Gutierrez says he wants to get more churches involved in providing beds and volunteers. Supervisor Williams, describing the absence of affordable housing as "the elephant in the room," says he's looking forward to seeing 33 individuals find places in the Dignity Moves "tiny house" project underway on Santa Barbara Street, and to expanding the city's partnership with the nonprofit New Beginnings to support people forced to live in their cars because of eviction or other financial problems.
The bright, and to the officials present, surprising spot in our walkaround, is the progress being made by Montecito's HAM project in addressing homelessness – what Byrne calls the "Montecito model." What's different, she explains to the fascinated group, is the multi-disciplinary team approach emphasizing that "outreach comes first, not enforcement. Outreach first, and the agencies follow." Meaning, the team visits individuals living outdoors and handles them on a case-by-case basis, with City Net funneling information to the county's Behavioral Wellness agency via a shared spreadsheet, enabling the agency to follow people making their way through various stages of assistance: drug and alcohol programs, veterans' services, moving into shelters, returning to their families in other parts of the country, or in some cases, incarceration. Byrne's 'model' includes convening monthly meetings with the entire team, including volunteers, to share information confidentially, and to brainstorm possible solutions. And on a daily basis, everyone involved keeps an eye out for panhandlers, campers, and other signs of unhoused folks in Montecito, and texts information to Byrne, who routes it to the right person or agency. This approach is similar to those used successfully in small cities throughout California, notably in Santa Monica and Pasadena. However, both of those localities have an advantage that is missing in Santa Barbara; they can enforce anti-camping/anti-tent laws because they have available enough shelter beds to offer anyone living on the streets a place to sleep indoors.
Yet Byrne too puts her advantages to good use. She sits on the county's Behavioral Wellness Commission, formerly as its chair, where she's acquired a deep understanding of how the current homeless-services system works, as well as its limits. She also has a keen interest in the dual goals of helping homeless people work through their problems, while serving the Montecito community by ushering unhoused people away from our village, and continually cleaning up camps. She's been gratified to learn that "Montecitans are sophisticated about the limits of government" and therefore don't expect success without three extra-governmental elements: collaboration with nonprofits, solicitation of funds from private and institutional donors, and personal involvement. This understanding and willingness to roll up our sleeves, she says, "might make Montecito the most unique place for handling homelessness. The community is willing to donate flexible dollars for things like temporary housing, food, and clean-up, and some of those same villagers have been willing to come out and see for themselves what our homeless problem looks like."
Of course there are limits to what Montecito can accomplish, as anyone can attest who has encountered people on Coast Village Road determined to remain outdoors – such as the elderly woman who appears to reside on a bench in front of the Point Market, and the couple perennially panhandling at Starbucks. (And by the way, Byrne implores residents not to give money to panhandlers.) Yet as word of Montecito's progress has spread, Byrne has been invited to the County Supervisors' Forum for Elected Leaders on July 8 to present the nearly two-year-old history of Hands Across Montecito, and to delineate her vision for how its approach might be scaled throughout the county. She plans to tell them about a private-public breakthrough that occurred during our hike: Currently when the folks at Earthcomb clean up a camp, they have to pay waste hauler MarBorg Industries to rent dumpsters and to cart away debris, using donated private funds. But during our hike, Byrne persuaded both Councilmember Sneddon from the city, and Supervisor Williams from the county, to add these clean-up costs to their jurisdictions' contracts with MarBorg – freeing Montecito donor funds for more creative purposes. She says, "It's a win-win."
Master Gardener and environmental advocate Eileen White Read, a former Wall Street Journal reporter and retired nonprofit CEO, has spent 27 years in Santa Barbara County, the past decade at the beach at Montecito's Bonnymede with her husband, Charles, an energy lawyer. She co-chairs its Landscaping Committee, which is spearheading a renaissance of the condo community's environmentally fragile 11 acres.
You might also be interested in...