Hitting the Mother Lode: A Road Trip to Historic Gold Country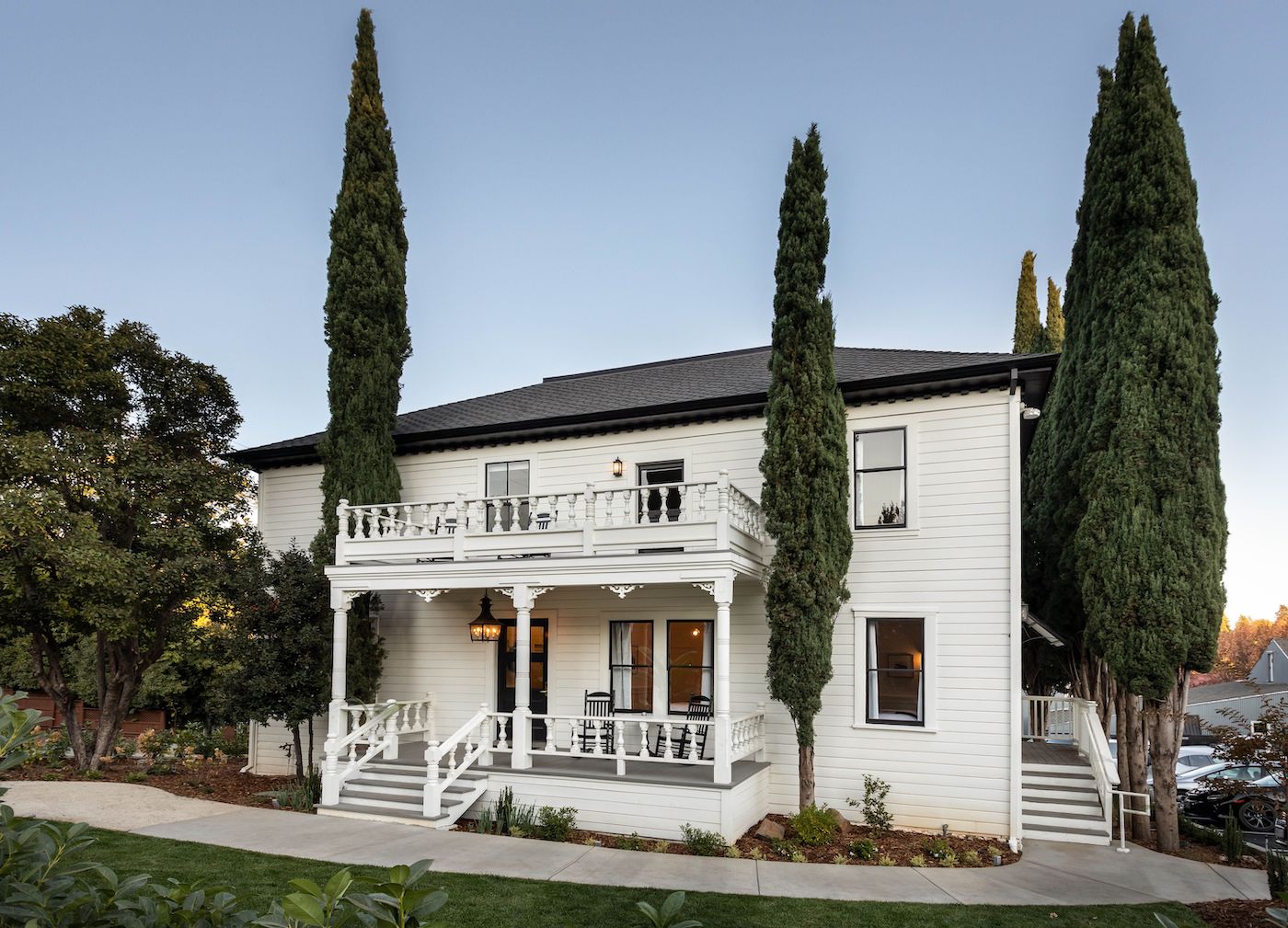 It took me a while to get there. My destination? Grass Valley and Nevada City. I'd never been to either one and I was not only curious about the two towns, but also two historic hotels. One of Santa Barbara's well-known restauranteurs, Sherry Villanueva, of Acme Hospitality Group (Santa Barbara's The Lark, La Paloma, Helena Avenue Bakery, and more), recently bought and refurbished the Holbrooke Hotel in Grass Valley and the National Exchange Hotel in Nevada City. I wondered, what in the world was she thinking?
Yes, Mark Twain Slept Here
First stop: the Holbrooke, a 28-room hotel on the main drag with rooms on the second floor of the two-story lodging and saloon. Yes, Madge, there is a two-person vintage elevator, as well as the original, old, wide wooden staircase. My king bedded room (#2) is also where Mark Twain once stayed. But the hotel has had other famous visitors, and possibly some ghosts. The notorious Black Bart (poet and thief) had a favorite room where he could spy on the Wells Fargo stagecoach carriage house; and Lola Montez, a courtesan who lived in the area and was famous not only for her bewitching "spider dance," but for horse whipping a reporter across the face who wrote things about her she didn't like. Now that's scary!
My room décor was a mix of modern furnishings and Western flair: think tufted leather sofa, huge cowskin rug, and period-style globe chandelier, set against exposed brick and bright white walls, with a comfy king-sized bed dressed in crisp, white linens. There was traffic noise from the street on my street-facing room, but with the door closed it was quiet. Other rooms in the back of the main building, like Black Bart's fave perch, as well as the carriage house, may be quieter. Also, there's no television or full-length mirrors and you'll have to climb in and out of old-fashioned claw foot tubs – but there's a step stool and the tubs do have showers and a shower curtain around them.
Grub at the Golden Gate Saloon
The Holbrooke's restaurant, Golden Gate Saloon, established in 1852, is mighty fine. I preferred the ambiance and cuisine there to that at Lola, at Acme Hospitality's sister hotel in nearby Nevada City (more on that in my next column).
"Those are not my mother's overcooked Brussels sprouts!" my dinner companion Mark, who lives in the area and joined me, commented about our shared fried Brussels sprouts with mole rojo aioli, queso fresco, cilantro and lime, while digging in and raving about his birria entrée: beef short ribs, with the best achiote rice ever (I plan to make this at home), and homemade tortillas with house-made hot pepper sauce, rumored to be for sale soon.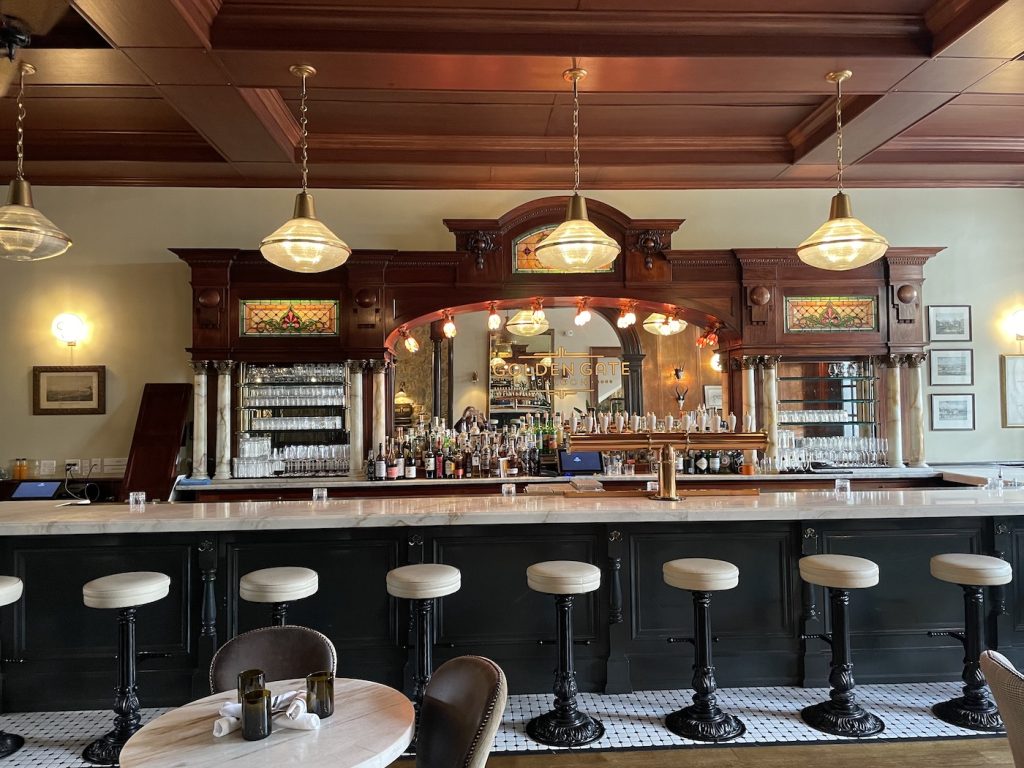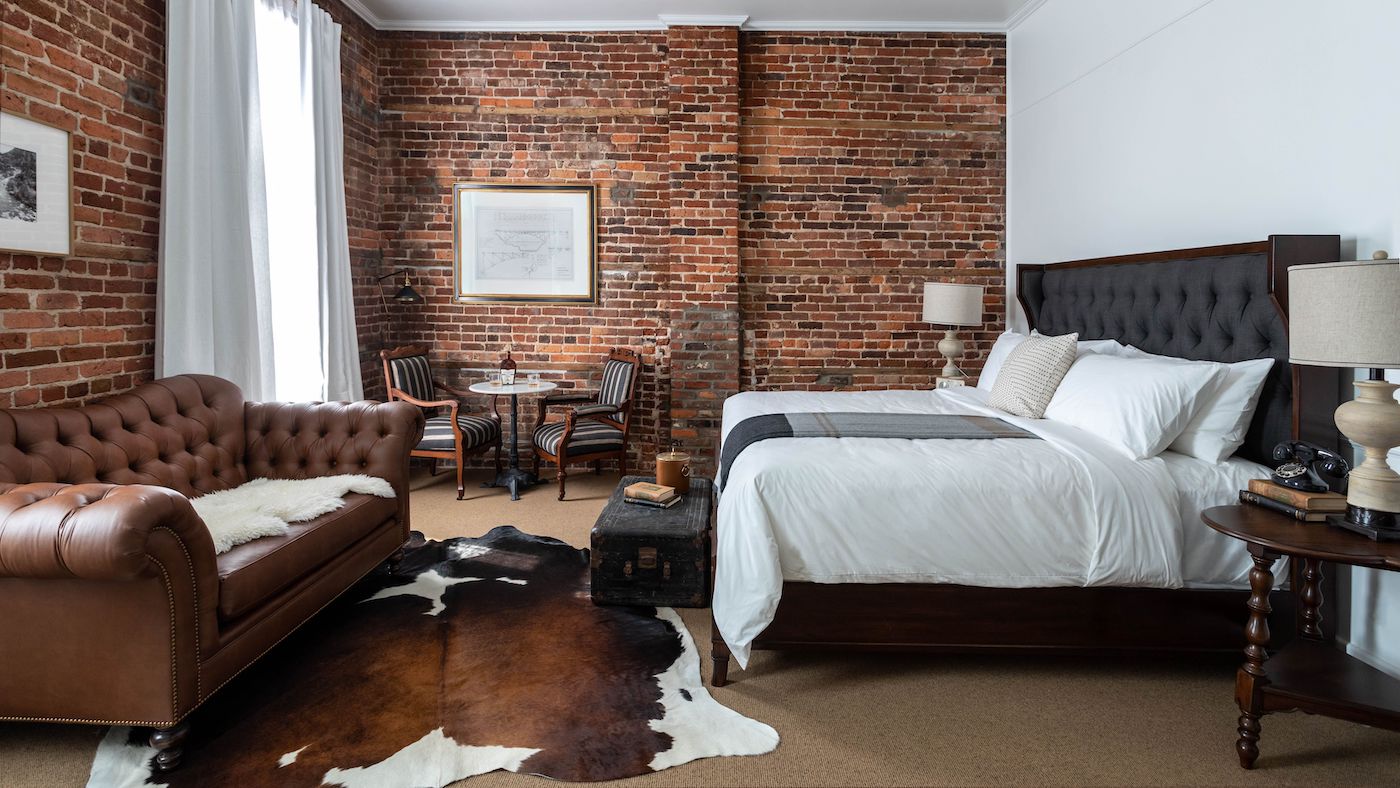 I just missed the last order of branzino, but salmon with roasted veggies (carrots, turnips, and radish) with side purées of shallots and arugula, and salsa macha filled the bill. The pièce de résistance was the molten lava cake with Mexican-spiced chocolate, pecan praline cacao nibs, and malted whipped cream, with a side of excellent vanilla ice cream. Our fine waiter walked us through the wine list – an interesting one with almost 30 wines offered by the glass, including many California varietals. I had a Sonoma cab/merlot; Mark sipped a Portuguese sauvignon blanc.
After dinner, we took a stroll around the town before returning for some dusk/sunset porch sitting from Mark Twain's balcony and watched bats cruise above Main Street. My dear friend Shellee Sepko, formerly of Summerland (once an oil mother lode), who moved to Grass Valley/gold mother lode some 20 years ago, steered me to a local spot called Pine Street for breakfast (avocado toast with egg was so-so). But after reading the menu at the Holbrooke/Golden Gate Saloon, I wished I'd eaten breakfast back at the hotel. I suggested she try it out and report back. I asked about the native So Cal's move north.
"Living in Grass Valley versus Summerland?" she said, "I miss the ocean like crazy, but the beautiful Yuba River is a gem – and the amazing community here means the world to me. Country folk!"
Although I didn't experience ghosts, a very cool thing did happen while checking out of the hotel. I spotted an interesting looking fella sitting in the lobby.
"Ah, a fellow reporter," I said. (Those who know me, know I talk to everybody.)
"How did you know?" he asked.
I told him I saw his Reporter's Notebook on the table — one of the few tools of our trade — and that I had one of my own in my purse.
Turns out that fella was not just any old scribe, but a Pulitzer Prize-winning Washington Post reporter on assignment, who not only grew up in Montecito, but lives in Santa Barbara with his family. If you don't subscribe to the WaPo, you should, just to read "Our Town's" finest reporter. His name is Scott Wilson and the Washington Post's Senior National Correspondent who covers the Western U.S. (environment, politics, environment, homelessness, and more) is a thoughtful gentleman who kindly and quickly replied to my email, where we discovered we both know and admire his longtime mentor, former WaPo reporter, and Summerlandian, Lou Cannon.
Scott's recent reporting on San Francisco's Tenderloin District is phenomenal and I can't wait to read his mother lode story. (I even correctly guessed his subject matter.) Just one night, I had soaked, slumbered, was sated and satisfied, met a cool reporter, and ready to roll my luggage and check out Sherry Villanueva's other property, just five minutes north in Nevada City.
Getting There:
It's a helluva haul from Santa Barbara. The good news is that Southwest Airlines is launching new inexpensive direct flights from Santa Barbara to Sacramento starting on June 7 ($89 one way as of this writing), so if you don't want to make the eight-hour driving trek, it's just an hour drive to Grass Valley from our state capital. Or break up a road trip, as I did, with a couple of nights in San Francisco or another stop of your choice – you could even fly to SFO and rent a car to explore the San Francisco Bay Area and beyond.
Where to Stay:
Holbrooke Hotel, Grass Valley: If these walls could talk, they'd keep you entertained for a week and then some. I love everything (well except for climbing in and out of clawfoot tubs) about this charmingly refurbished historic hotel – especially the saloon, restaurant, and rich history. The carriage house was once a Wells Fargo stagecoach stop.
Holbrooke Hotel
212 West Main Street
Grass Valley, CA 95945
(530) 460-4078
holbrooke.com
NEXT Travel Buzz: Acme Hospitality's other hotel, the National Exchange, just up the road a piece in Nevada City
You might also be interested in...