Helena Mason Art Gallery Opens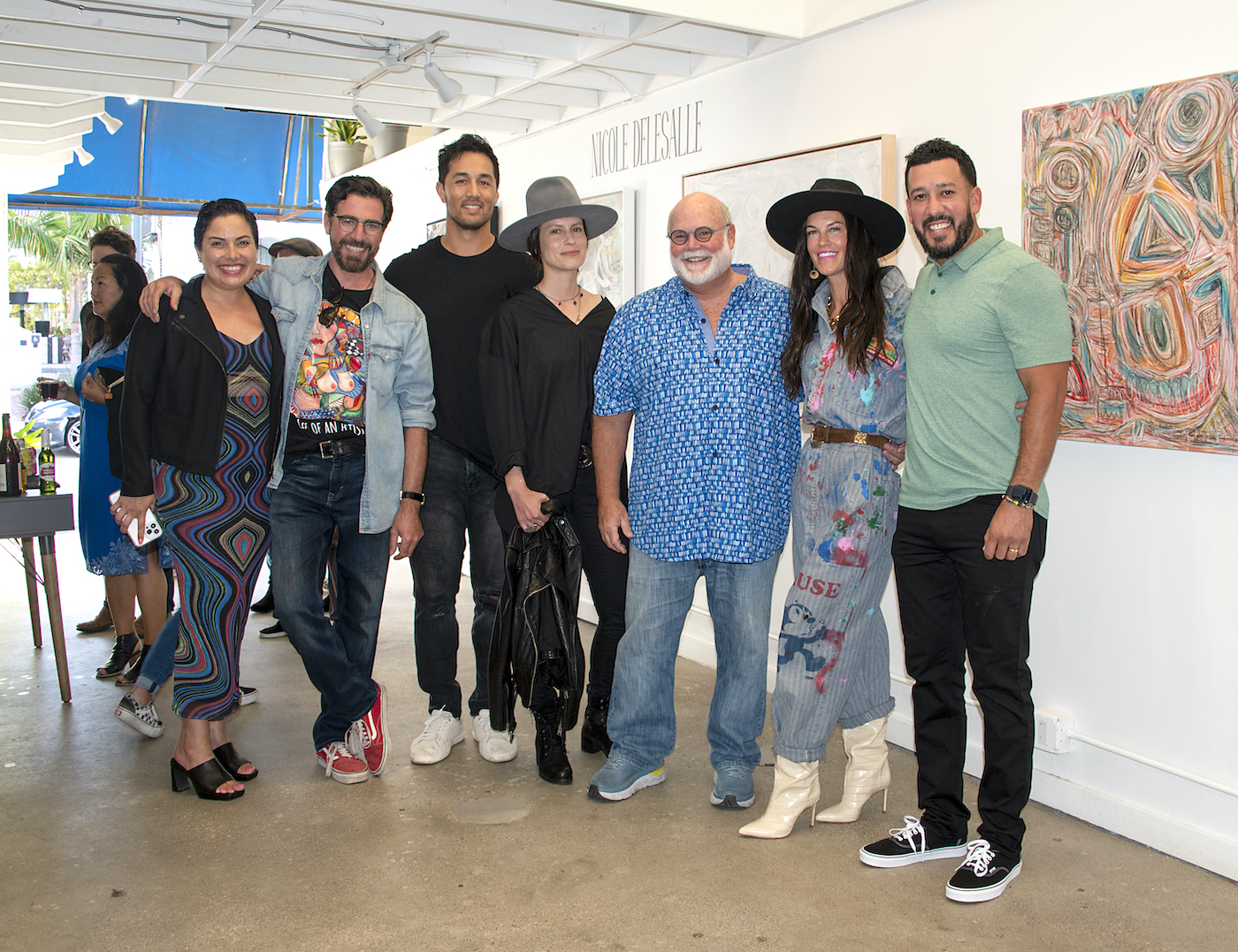 I was invited to attend the May 6th opening of the Helena Mason Art Gallery. The address – 48 Helena Avenue – brought me back to a 2005 world where, in that exact location, magic happened by underground artists and scientists, who spun their current creations late on Wednesday nights. If you know… you know. Yes, indeed, I was there by invite only via materials engineer guru and Burner Kelly Johnson, who took me under wing. The two-story apartment loft was the home of Clay Bodine and his girlfriend, now wife, Laura Inks. They and Dominique Reboul, Alan Macy, and Tracy Beeler gave birth to the incredible Fishbon and all its incarnations, leading the pack at every Burning Man, Lightning in a Bottle, Lucidity, Santacon, public art murals, fire performances, and more. Lest we not forget it was across from the historic 24/7 coffee joint Hot Spots,which had best hot coco, sigh… if its phonebooth could talk! 
Could the Helena Mason Art Gallery bring on the vibe after the building had been vacant for over 10 years? I went to find out.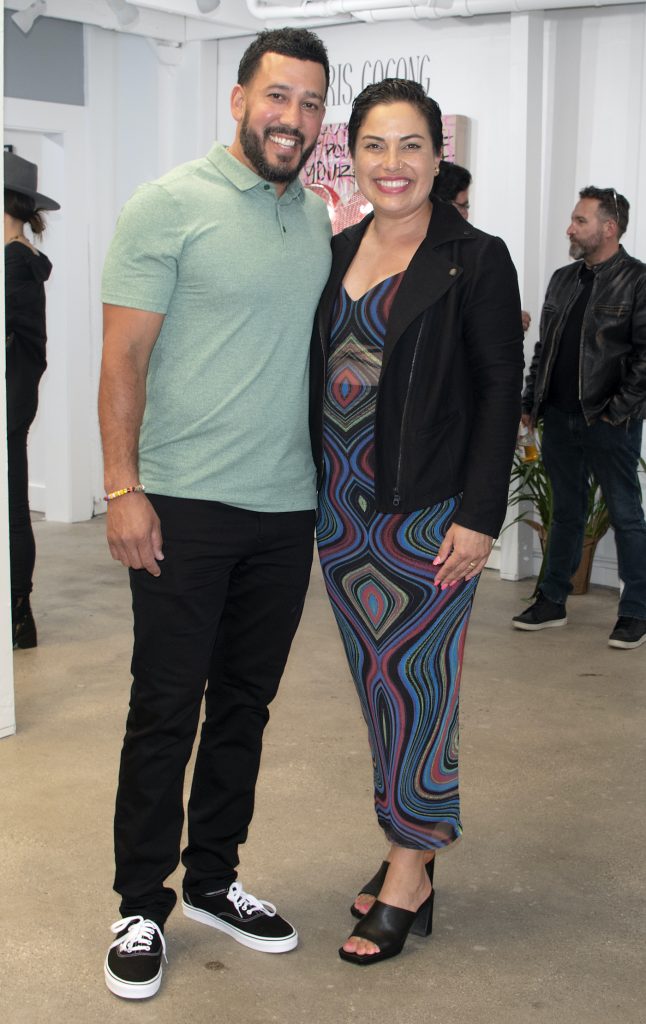 Usually a good sign, the line was a tad down the street as the doors opened, and guests gushed straight away to owners Natalie Olivas and Jamie Sanchez. Turns out, it was Olivas' birthday as well. I found not only an upbeat, modern vibe, but the architecture of the interior was the same. There is an open floor plan with a two-room layout, the upstairs loft and the faux entrance at 48 Helena with its long hallway housing a floor to ceiling mural. The open back area has a bar and patio. Heading upstairs to what used to be a bedroom for Bodine is a cozy couch, mod chairs, and a view of the gallery.
Familiar faces abounded, starting with the six artists displaying their wares: Nicole Delesalle, Gigi Crisa, Rod Lathim, Chris Gocong, and Inga Guzyte. Delesalle's six abstract expressionist works open the gallery. She mixes acrylics, oil, pastel, pencil, and marker on canvas, mostly 36" x 48", with a broad brush and fine lines in consistent tonal color ranges – stand back and find a message interlaced in it.
En face to the door is the oversized bright colors of a summer painting titled, Siren with Three Breasts, in oils and epoxied on canvas by Crisa, an Italian artist that just moved to Santa Barbara. His other six smaller dream persona works take the right-side wall of the second room, again in his signature color range. In the front and second gallery rooms are neon mixed media works by Lathim, paintings by Gocong, and their collaborative works including Bowie and Pour Your Heart Out. By the stairs are two round assemblage works of skateboard pieces by Guzyte.
As I was musing over the days of Fishbon there, the Bodines walk into the gallery! Call it Fishbon magic, but there we were, back in the "zone" standing in what was their living room, like it was, of course, yesterday, talking art. They had stopped by earlier on a walk about, much surprised to find their old apartment had become an art space. They currently live in Ecuador and are visiting town as their daughter just had a baby. The Bodines are thrilled their once-center-of-the-underground-art-world is by happy chance continuing in art, and the tradition of what made the Funk Zone so popular in the first place.
Be assured Bodines and art lovers, the new gallery owners are the original owners of the building and are not letting that go, rather they are here to bring it all back. Here is my interview with Olivas and Sanchez:
Q. How did you choose this building for your gallery?
A. It comes with a lot of history. Jamie, born and raised in Santa Barbara, owns the building with his sister, Teddi. The building has been in the Sanchez Family for decades. It is one of the last standing historical buildings in the Funk Zone. Jamie's family has a rich history in the area, as his dad Ted Sanchez previously had an auto body shop Car Color Craft just a few doors down from the gallery.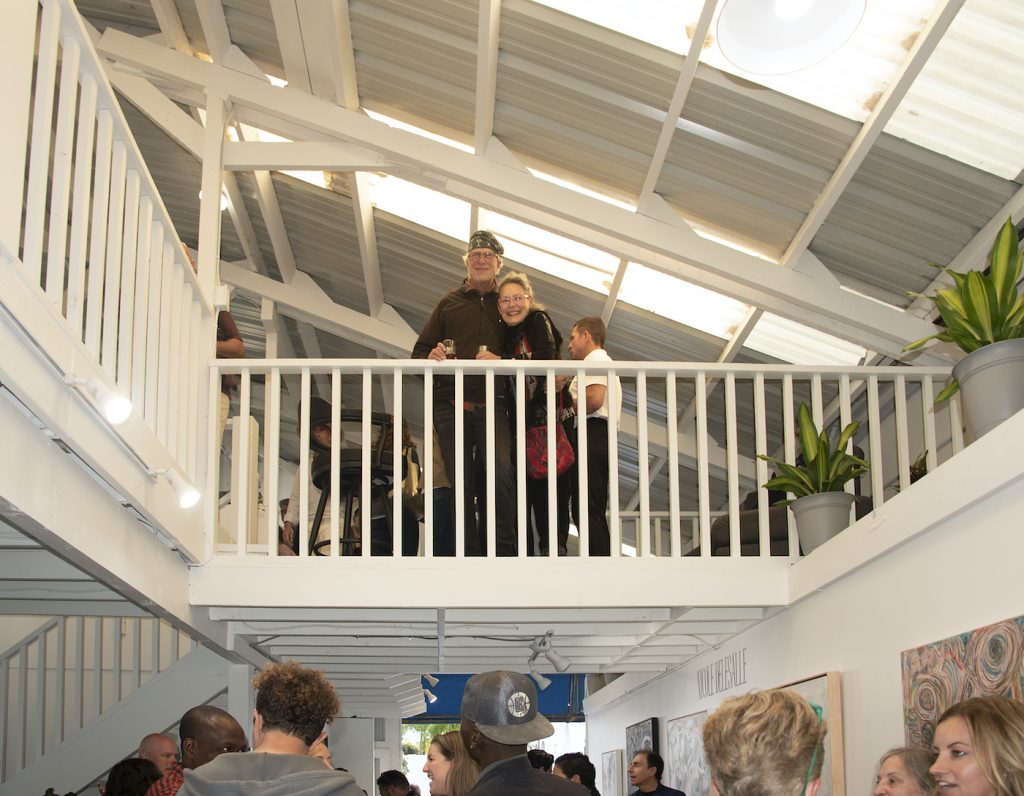 During the pandemic, we took over the building and started bringing it back to life after sitting for 10 years. It became a safe place for us during the pandemic and during my treatment for breast cancer. It started as a space for Jamie to run his real estate business. We would come down here to work and would end our days reminiscing on the way we remember the Funk Zone prior to recent development.
Our intention for the building was to honor the Sanchez Family Legacy, to do our part to keep the old Santa Barbara/Funk Zone alive, and to create a dynamic environment for people to gather and celebrate life while enjoying the artworks of our local and emerging artists. We expanded the space from Jamie's real estate office and created the Helena Mason Art Gallery.
Are you artists as well?
No, we are not but we love art. Natalie went to UCSB studying Biochemistry in 2004 and stayed here. Jamie went to Cal State San Bernardino to study Business.
What genres of art will you be showing?
Personally, we are attracted to pop art, street art, and Chicano art. We love color and vibrance and getting mesmerized by a piece. We are excited to open the space to all types of genres, and are open to all mediums and craftsmanship of art.
Get ready for future shows that may include fashion, cars, music, digital art, food, wine, poetry… our options are endless. All things that encompass the beautiful lifestyle of Santa Barbara.
Yes, thanks to Olivas and Sanchez, the vibe will thrive here. Do stop by and support locally owned!
411: Helena Mason Art Gallery
hello@helenamasonartgallery.com
@helenamasonartgallery
You might also be interested in...