The Sleuths Return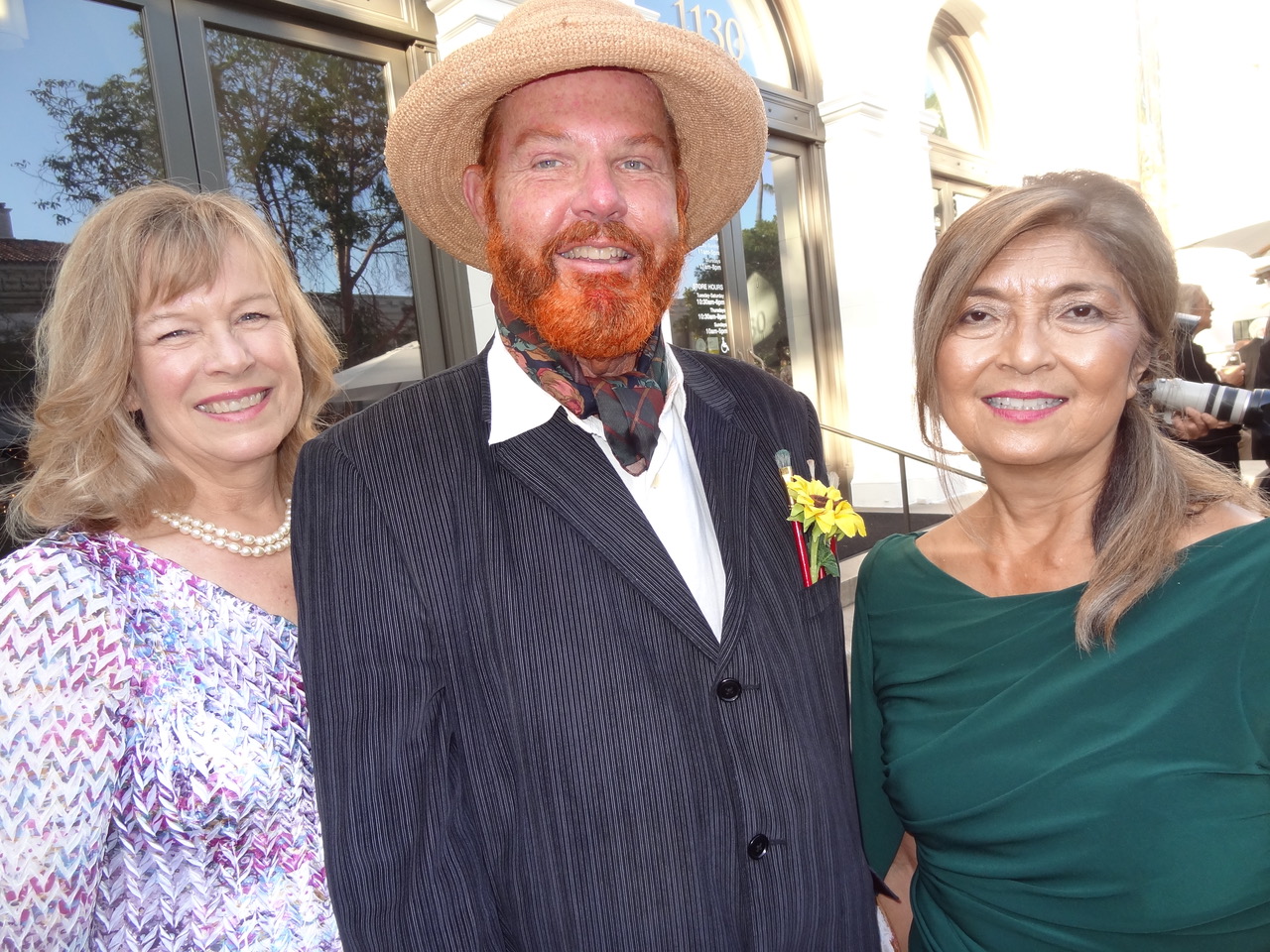 After several years, Mystery in Masterpieces returned to the Santa Barbara Museum of Art (SBMA). The event sold out in two days. President of the SBMA Women's Board Julie Blair said this: "Excitement is in the air as Mystery in Masterpieces returns, bringing us together to celebrate a stunning exhibit of art from the Museum's own collection and the special exhibition Through Vincent's Eyes: Van Gogh and His Sources in our beautifully renovated SBMA. We are looking forward to a fabulous evening working together to outwit each other and our clever Clue Master while hunting for clues among the masterpieces."
The black-tie optional evening began on the steps of the Museum on State Street with cocktails and hors d'oeuvres. Opera Santa Barbara's Matthew Peterson entertained with an Italian song from La Traviata and "Vincent van Gogh" walked through the crowd. Well, it looked like him! Larry J. Feinberg, Robert and Mercedes EichholzDirector and CEO, greeted everyone in Ludington Court introducing the mystery hunt.
Julie and SBMA Women's Board Vice President of Development Isabel Wendt had been working on the event for a year and led a toast to the soirée. The key to all the clue business was Clue Master Jamie Fleming returning for his 11th hunt here at SBMA. He spent most of his career with Disney, Universal Studios, and Universal Studios Florida. He devotes time to various museums including Los Angeles Museum of Art, the Huntington Library, and many more.
Fleming and his former Disney collaborator Gary Krueger have teamed up since 1989 to create engaging mystery hunts for art enthusiasts, raising millions of dollars for museums while supporting cultural awareness of the area. Gary is a world-renowned photographer whose work is represented in galleries and museum collections across the country.
To play the mystery game, you could have a team of two or a team of four. The first prize for great detective work for a team of two went to Gretchen and Marshall Milligan, who received an original oil painting by Thomas Van Stein and a Chef-Coco LaForge-prepared dinner for two, delivered to their home. A second prize was an original oil painting by Ralph Waterhouse and tickets for two to La Traviata won by Melanie and James Brewer. Third place was won by Denise El–Effendi and Diane Adam, who received a watercolor by Ray Hunter and two bottles of wine. For teams of four, winners for first place were Nick Camblin, Doug Major, and Catherine and David Major with dinner for all four at Caruso's Rosewood Miramar Beach. Second place was Kathy and Peter Hartz and Jan and Andy Goldman with four tickets to Lotusland and lunch at Alessia Patisserie + Café. All funds raised go to various needs of our Art Museum.
"Art evokes the mystery without which the world would not exist." – René Magritte. Have a look!
You might also be interested in...