Honoring Hope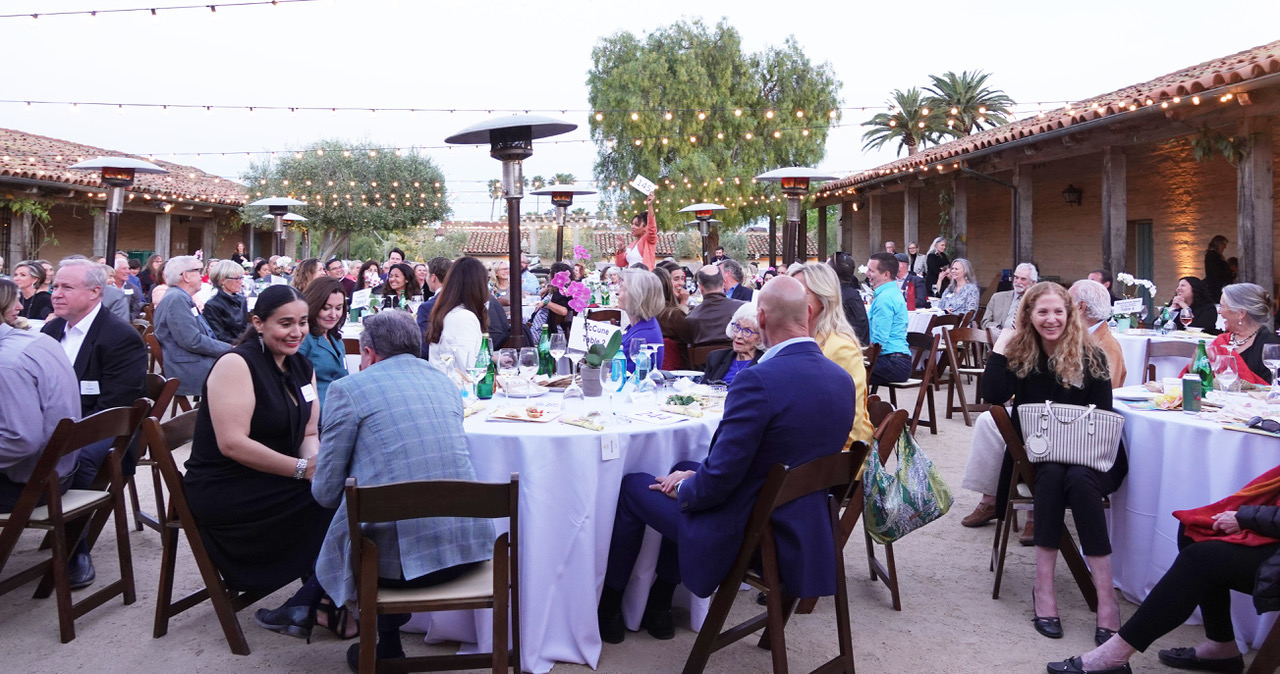 Munificence reigned supreme when the Santa Barbara Education Foundation held its annual Hope Awards at the Santa Barbara Historical Museum honoring Montecito uber philanthropist Sara Miller McCune and Frank Stevens, who has been involved with the organization for its entire 37-year history.
Tributes were paid to the dynamic duo by Barbara Keyani, former executive director of the organization, and Laura Capps, a Santa Barbara Unified School board member. It had been hoped the sunset soirée would raise around $40,000, but with the expert help of Los Angeles auctioneer Chuck Dukas more than $66,000 was raised from the 200 guests who noshed on food from Ca'Dario, La Paloma Cafe, Los Arroyos, Nimita's Cuisine, Jersey Mike's, and the culinary arts programs of Dos Pueblos, San Marcos, and Santa Barbara high schools.
The Santa Barbara Junior High jazz band under director Brett Larsen entertained while San Marcos students Devin Ross and Isabella Valentine, both members of the school's Mock Trial team, welcomed supporters, including executive director Margie Yahyavi, Lois Capps, Marilyn Gilbert, Harry and Judi Weisbart, Ellen Goodstein, Judith Hopkinson, David Selberg, Anne Towbes, Geoff Green, and Riley and Dacia Harwood.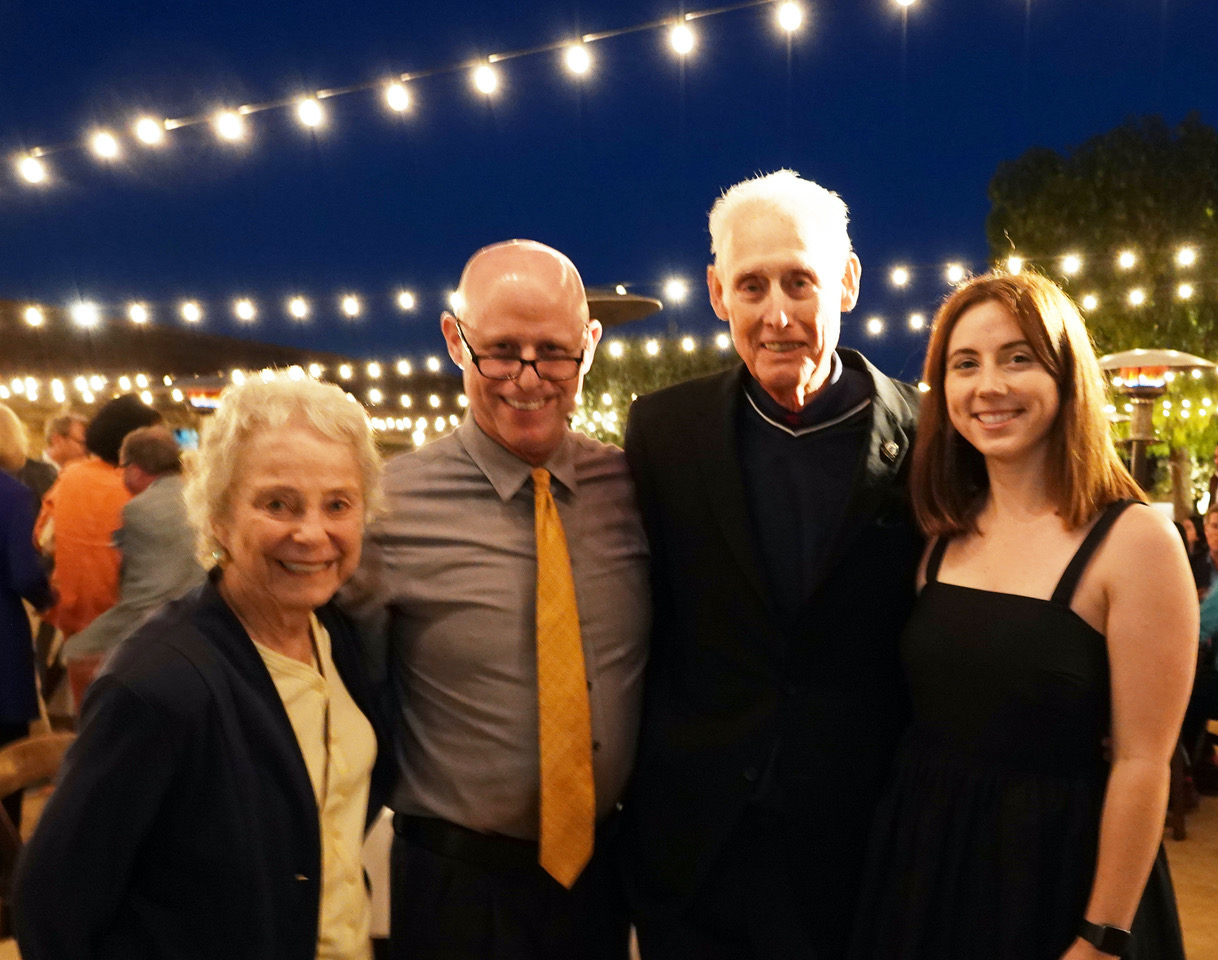 A Fox Doc
A full-length documentary about Montecito actor Michael J. Fox is being produced by Apple Original Films. The 60-year-old Canadian rose to fame in the 1980s NBC sitcom Family Ties and also starred in the Back to the Future film trilogy. The project will be directed by Oscar winner Davis Guggenheim, according to the Hollywood Reporter. It is already in production with shooting in New York, Vancouver, and Los Angeles. Fox was just 29 when he was diagnosed with Parkinson's disease…
Lone Star Stars
Rob Lowe, 58, is being joined by his brother Chad, 54, playing his sibling in an episode of the Fox TV show 9-1-1: Lone Star. It is not the first time they have worked together. Chad first appeared opposite Rob in the 1988 movie Oxford Blues. He played a computer hacker with Rob in the starring role as an American student in the rowing crew at the world famous British university. And Chad also took a part in Rob's TV series Brothers & Sisters in 2006. He also directed Rob on The Grinder.
Soon on Spotify
Former actress Meghan Markle is trying to trademark the historic word "archetypes" after announcing her first series of podcasts for streaming giant Spotify, which will be called Archetypes. The Duchess of Sussex has made the application to the U.S. Patent and Trademark Office for the use of archetypes, a word which derives from Ancient Greek and first entered English usage around the 1540s. The application was made by Archewell Audio, one of the couple's web of companies established by the Sussexi and based in the opaque tax haven of Delaware.
Ellen Says Farewell
Montecito TV talk show host Ellen DeGeneres has just recorded the last episode of her 19-year-old eponymous Burbank-based show. Ellen, 62, took to Twitter after filming wrapped, sharing a photo of her looking pensive on the show's Warner Bros. stage. The program will air May 26. "When we started in 2003 iPhones didn't exist, social media didn't exist. Gay marriages weren't legal. We watched the world change, sometimes for the better, sometimes not." During its time, with 3,200 episodes and an impressive 64 daytime Emmy Awards, the show had 4,000 guests with 3,000 hours on air, 1.5 million audience members and a hefty $450 million given away. An extraordinary run by any standards…
A-MAW-Zing Performers
The Performing Arts Scholarship Foundation had some of the most impressive candidates in its history according to Board President Deborah Bertling when it held its annual competition for music scholarships at Lehmann Hall at the Music Academy of the West. Outstanding performers, ranging from 16 to 29, competed for scholarships amounting to more than $27,000 with judges including Paul Berkowitz, Armen Guzelimian and Emily Sommermann. Winners included pianists Buyun Li, Zeyn Schweyk, Rhyan Schweyk, and Nathanael Nimms, flutists Sarah Bortz and Dillon Halpin, soprano Naomi Merer, violinist Zephan Bornfreund, and cellist Aidan Woodruff. Music to everyone's ears…
Sightings
Prince Harry honing his equestrian skills at the Santa Barbara Polo Club… Comedy legend Carol Burnett celebrating her birthday with husband Brian Miller at the Rosewood Miramar… Actress Joanna Kerns checking out Local…
Pip! Pip! Be safe, wear a mask when required, and get vaccinated.
You might also be interested in...