Joe Donnelly's SoCal is a Strange and Stirring Cornucopia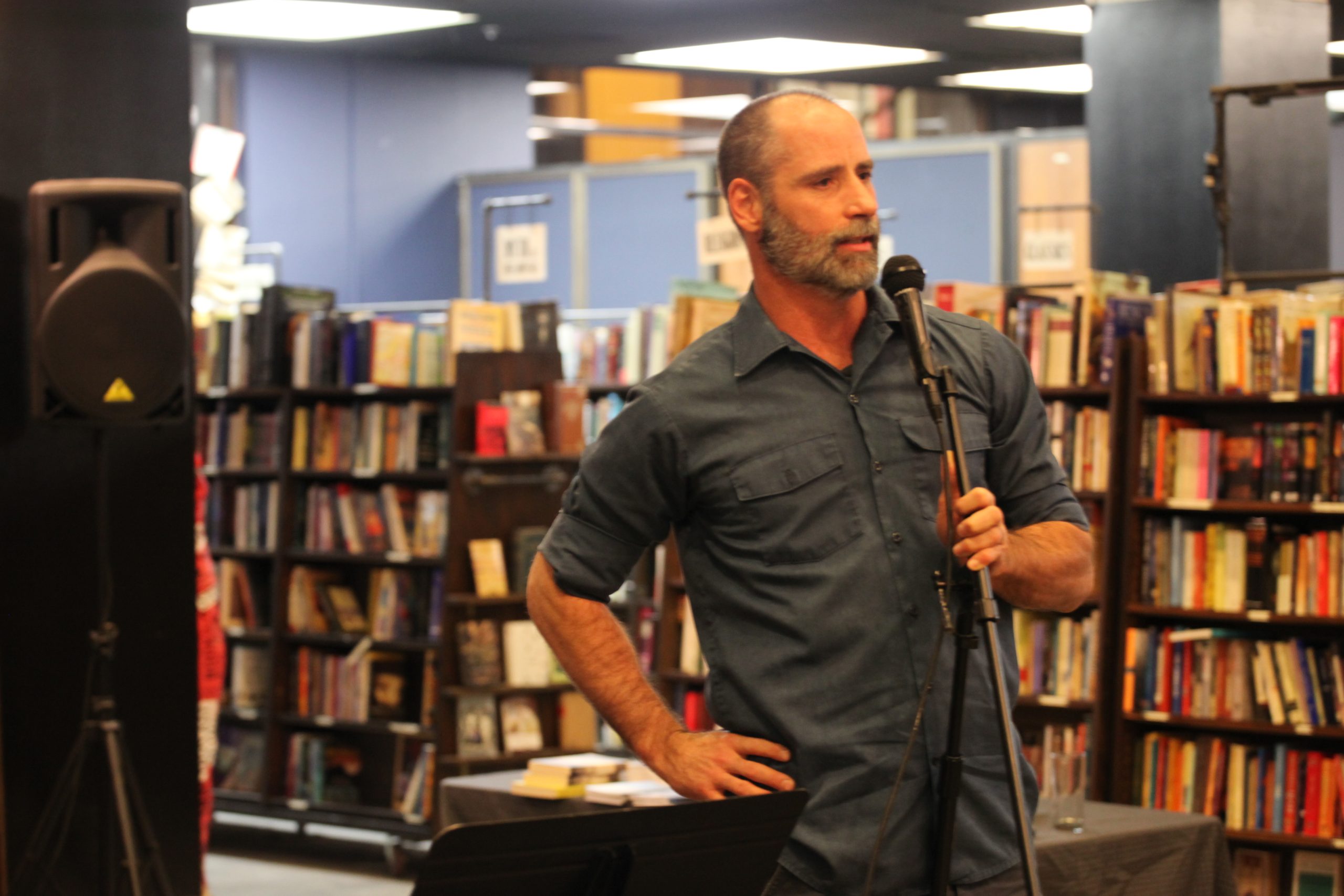 The pantheon of male American writers is a grab bag. Terkel, Mailer, Hamill, Hemingway — these tough guys and their generally hormonal prose are almost a literary brand. Plimpton — with his willowy erudition, patrician accent, and Paris Review creds — runs with another herd. Our Joe Donnelly is a third species, as evidenced by his new book So Cal: Dispatches from the End of the World. 
Donnelly is one of those tallish guys whose vertical attenuation is not at the expense of a certain bunched muscularity. He'll walk into a reading with his battering ram dome, deep-set brooding eyes, and a nose whose tasteful asymmetry suggests "knuckle magnet." The guy could be a prizefighter or a stevedore. But then he flips open his most recent work and starts in. The penetrating delicacy of Donnelly's prose illuminates the subject — even when the tenderized reader might rather a gauzier read. Donnelly's refusal to pull a punch can give his pieces a wrenching glory. It's really something, honestly.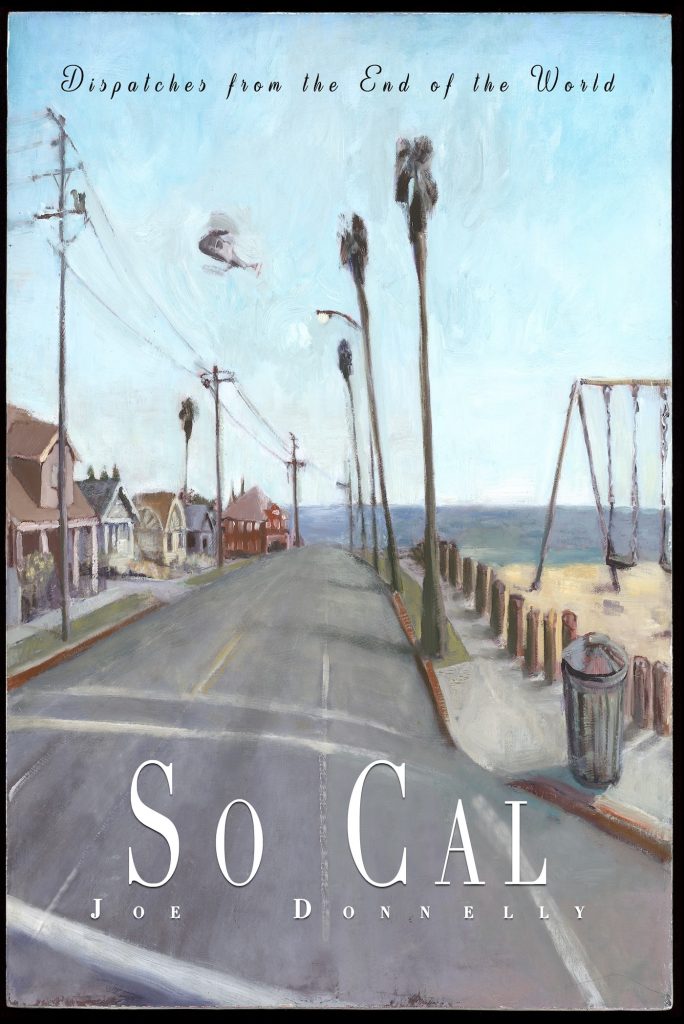 Former L.A. Weekly editor, onetime foot soldier for the L.A. Times, and founder with Laurie Ochoa of Los Angeles' storied, implosive literary supernova Slake, Donnelly is a known quantity in the Southern California literary salon whose portraiture daubs Bel-Air and the Bowery in the same palette of mild, sun-drenched nausea. In Donnelly's hands, the Golden State's darkling weirdness exalts. L.A. has been Donnelly's stomping ground and muse for long enough to embrace him as one of its own — but like many Angeleno minstrels, Joe is a besotted adoptive son. You wouldn't know it to read his many-gabled new book of nonfiction. From the tragic saga of GPS-haunted lone wolf OR-7 to lithe surf legend Danny Kwock's transfiguration into self-loathing magnate, So Cal: Dispatches from the End of the Worldgives us the twilit California goods. Donnelly is not here for the sunshine.
"Like Johnny Cash, I've been everywhere, man — and for a long time Los Angeles had the best ace up its sleeve of any city I'd lived or spent time in over my many, many formative years. That ace being that L.A. was affordable and interesting. My on-again off-again time in New York from about '86 to '90 roughly coincided with the tail end of that city being either of those things."
Donnelly's youthful knocking about gave him a taste of the country's coastal bipolarity. "In New York, the people I traveled with were interested in making money and being upwardly mobile. In the Bay Area, where I lived in the early '90s, sanctimony seemed to be the cultural currency. D.C. was a company town with a pretty singular fixation." The West Coast's manic lack of focus was a late discovery, and a plus. "In L.A. it was about everything — there was no unifying theme, which of course may be the unifying theme of the region's literature. But it was exhilarating to be around cinephiles, foodies, surfers, skateboarders, hustlers, performance artists, musicians, writers, journalists, labor organizers, environmentalists — all at the same time. At the same party. In the same backyard. Sometimes in the same person. Making sense of this place provided endless fuel for writing."
The California Dream was on young Donnelly's radar early on but was supplanted by daily life. "We moved to Ireland when I was a kid, so I didn't get the steady 'swimming pools and movies stars' TV diet many did growing up. Still, there was always something that beckoned." L.A. may have first imprinted on its future minstrel through the movie Repo Man, arguably a sort of punk Day of the Locust.
"I went to college in a frozen tundra in the real upstate of New York. During senior year my housemates and I would stop whatever we were doing — especially going to class — if Repo Man came on. The movie imprinted me with a vision of some psychological and geographic terrain that needed to be experienced. My freshman year, that first Go-Go's album (Beauty and the Beat) was constantly playing in the apartment of this older girl I used to go see. In my naivete, the place that inspired the songs on that first record felt magical. I mean, the songs were explicitly about that magic!"
But like many preincarnate writers, when he got out of college Donnelly had his sights set on NYC. Then came Colorado, the Bay Area, L.A., D.C., Colorado again… and then Homecoming. There was no fanfare. "I arrived in L.A. at 31. Too old to be young and too young to know that. It is the city I chose. My adult life took root, and I grew into myself in Los Angeles and I'm grateful for that."
The Writer
Donnelly the writer is … what's that racy term for someone whose unbridled artistic passions are manifold and all-consuming, their pursuit ultimately a sort of romantic self-immolation? Oh, yeah. "Generalist." Donnelly's oeuvre is like a dropped milkshake, but in a good way. "I've really been all over the place. I started a long time ago writing about arts and culture for a small weekly paper in Vail, Colorado. I happened to make friends with the arts editor there, Trish Kieswetter, because the whole crew would come into a bar I tended after their shifts were done. One thing led to another. I'm pretty sure a review of Thelma & Louise was the first thing I had published." By the by (as they say, or used to say), Donnelly made his way home. So Cal: Dispatches from the End of the Worldis aglow with the variously charmed and damned spirit of the place. A more personalized and revealing SoCal primer is hard to imagine.
Donnelly's writing — in terms of recognition — is also a many-splendor thing. His short story "Bonus Baby" appeared in the 2016 O. Henry Prize Stories, he was the 2014 Pen Center USA Literary Awards Finalist for Journalism, and 2013 longform.com editor's pick for "Lone Wolf," published by Orion Magazine, and his work in Slake earned three Los Angeles Press Club awards. His other book of nonfiction, L.A. Man: Profiles from a Big City and a Small World, was published April 2018 by Rare Bird Books. The list goes on — but good taste and propriety preclude our heaping more praise onto the man. (Full disclosure: Donnelly's and my paths crossed when he was editor of a short-lived, but wildly impactful investigative/narrative journalism project in Santa Barbara called Mission and State, where I was a writer.)
"So much of what's in this book, at least implicitly, is about people — or animals — striving to attain, express, or maintain their own agency. I think it all works together as a pretty compelling reflection of an era, and how a place works on a writer and a writer works on a place." Donnelly pauses. "I wanted to get as far away from where I came from as possible — in almost every way. It wasn't easy, but Los Angeles eventually provided me the space to be myself. Or at least a version I could live with."
You might also be interested in...