A May Book Buffet
Imagine yourself, a newly married woman who wakes in Lisbon to find your husband has vanished, the police don't believe you are innocent, and suddenly danger lurks around every corner. That is the opening of Chris Pavone's Two Nights in Lisbon. What follows is an unpredictable, twisty story that will have you guessing to the very end.
Bloomsbury Girls
Apparently, even in the 1950s bookstores were having a hard time staying afloat. In Bloomsbury Girls by author Natalie Jenner, we travel to London, where three ambitious women working at Bloomsbury Bookstore have unrealized dreams for their future and the bookstore, a place run by men who are old fashioned and as musty as the rare books they sell. Jenner expertly weaves her characters who yearn for so much more, with appearances by Daphne Du Maurier, Samuel Beckett, and Peggy Guggenheim. This is a love note to literature and those keepers of stories, while trying to re-write their own unforeseen endings.
Our Last Days in Barcelona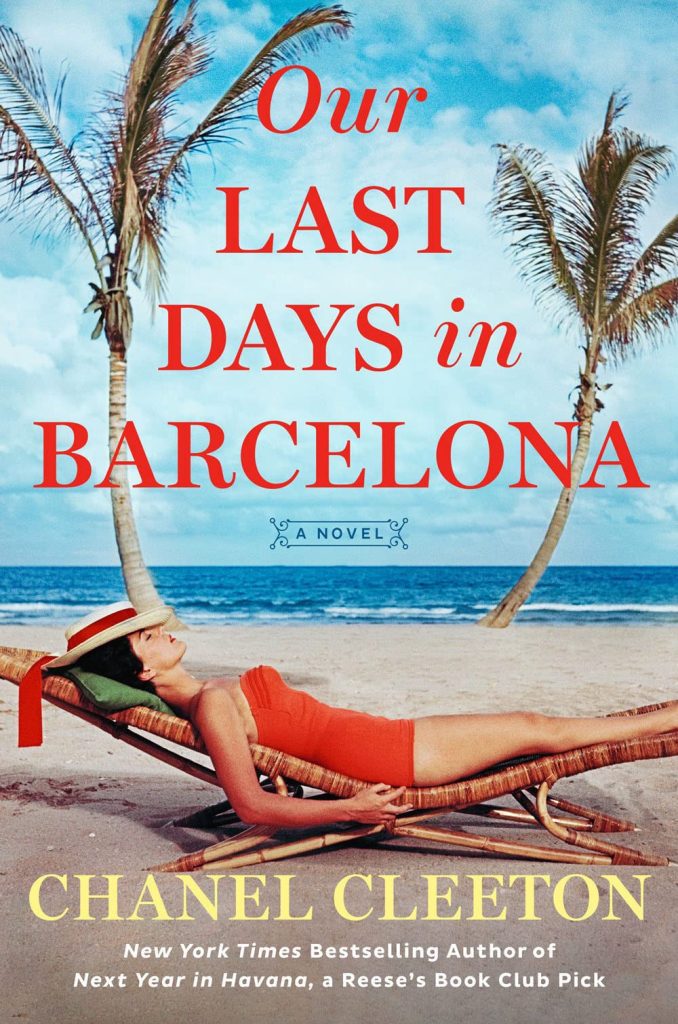 Chanel Cleeton continues her saga of the Perez sisters in Our Last Days in Barcelona, moving the majority of the action from Cuba to Spain. It is 1964 and Isabel, the oldest of five sisters, travels to Barcelona after sister Beatriz has seemingly vanished. Isabel determines her younger sister is most likely involved with the CIA, but the discovery of a picture of herself as a baby, taken in Barcelona, is the most disturbing discovery, especially after her mother Alicia denies Isabel ever having been in Spain. The story moves backwards to 1936 with Alicia traveling to Spain and falling in love with a handsome doctor. This is a story rooted in traditions, and loyalty to family, love, loss, and sacrifice with a family of strong women helming the narration.
Neruda on the Park
Neruda on the Park by Cleyvis Natera is an exquisite story of a Dominican family in New York. Luz Guerrero, recently fired from her law job, and mother Eusebia dominate the story of their changing neighborhood that is being gentrified. Eusebia takes matters into her own hands to stop nearby construction that would lead to devastating consequences. This one is lyrical and emotional.
Never Coming Home
Lovers of thrillers will delight in Hannah Mary McKinnon's Never Coming Home. Lucas has been plotting the demise of his beautiful, wealthy wife for a while. Now that the deed is done, he slips into the role of grieving widower when photos of his dead wife unexpectedly appear on his doorstep. Who knows what he has done? What follows is a breathtaking read with delectable plot turns along the way.
Half-Blown Rose
Leesa Cross-Smith's Half-Blown Rose is haunting and joyful, filled with a woman's passion and desire. After her husband betrays her, Vincent (named after Van Gogh) travels to Paris to work searching for who she is and what she wants. She begins a passionate affair with a younger man, even as her husband begins wooing her back. Cross-Smith beautifully paints both Paris and Vincent's appetites and awakening. There is poetry and beauty in evenings listening to music, walking along the Seine, and smoking too many cigarettes. And the book ends as only it can end.
You might also be interested in...