Clapping to the Sound of Four Hands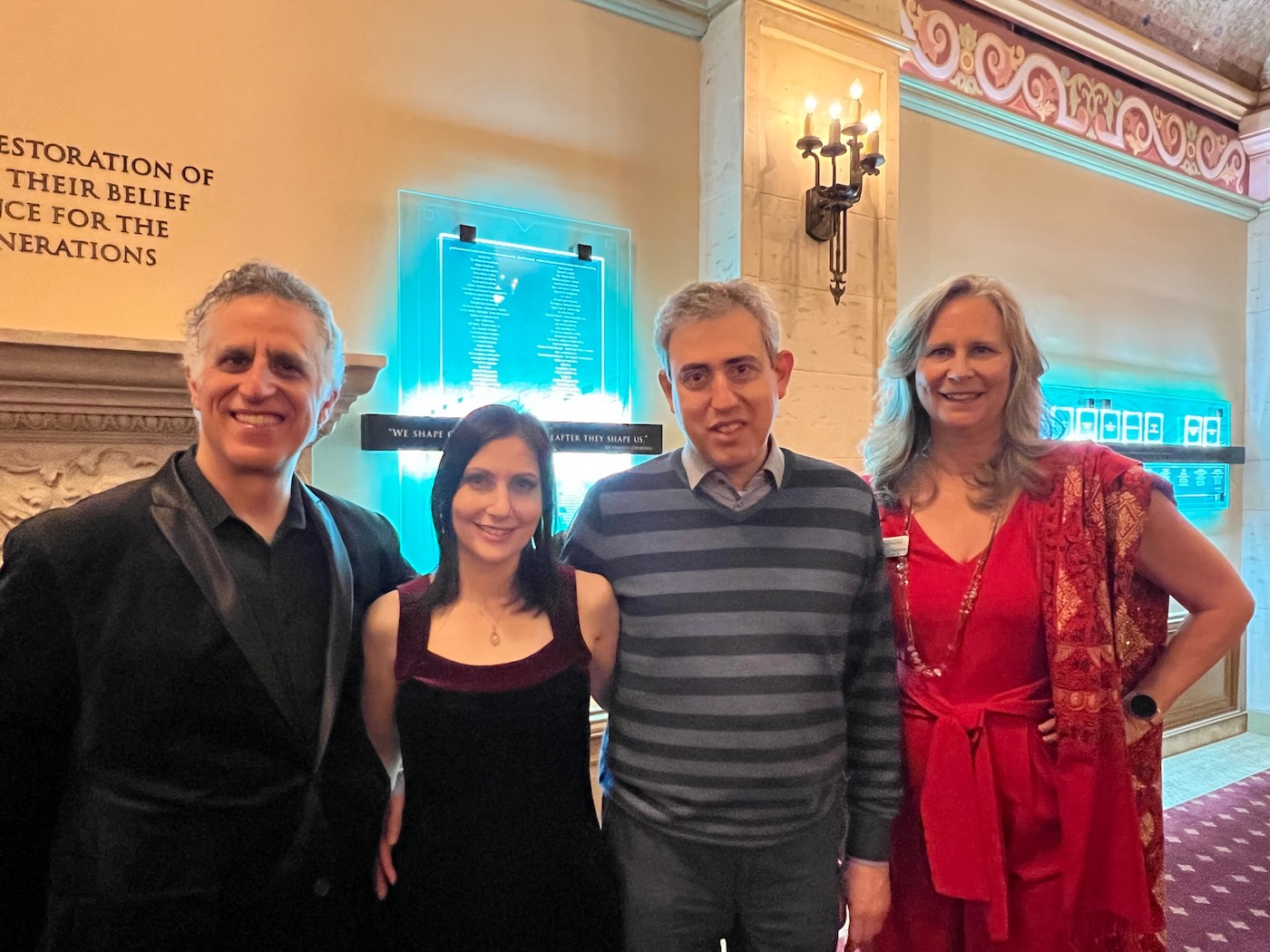 It was certainly a hands-on performance when Berlin-based piano twosome Sivan Silver and Gil Garburg sharing the keyboard performed the world premiere of 62-year-old Austrian Richard Dunser's composition derived from the work of Robert Schumann and Johannes Brahms with the Santa Barbara Symphony for Romance in a New Key at the Granada. Dunser dedicated his composition to the Israeli keyboard duo and the symphony's veteran maestro Nir Kabaretti.
Accompanying the four hands work "Interpretation of Schumann's 'Piano Quartet in E flat major,'" the orchestra performed Mendelssohn's "Scottish Symphony No.3 in A minor," another classic of the romantic repertoire. An enchanting afternoon….
On the Market
Philanthropic billionaire Sue Gross, who bought a Los Angeles contemporary home from Montecito TV talk show host Ellen DeGeneres four years ago for $35 million, has re-listed the 0.72-acre estate, which was originally put on the market for $38 million. The 1966-built four-bedroom, six-bath house near Coldwater Canyon, is now up for grabs for $32 million. Gross' worth is $1.6 billion, according to Forbes.
Brooklyn Bridge for Sale: Contact Richard
Despite erroneous stories in the U.K. about the Sussexi planning to move from their $14 million Riven Rock estate, Prince Harry says he feels very much at peace in our rarefied enclave after nearly two years here. Harry, 37, speaking with Hoda Kotb on NBC's Today show, said he had been welcomed "with open arms" by the "great community" of Montecito. Needless to say, after the "moving" story appeared in London I was deluged with phone calls. My response? "Can I also sell you the Brooklyn Bridge!"
One-Love Equals Three
Summerland racketeer Maria Sharapova is expecting her first child with British businessman fiancé Alexander Gilkes. The retired tennis champion, who bought her $8.6 million five-acre ranch property in October 2020, made the announcement on her 35th birthday in a post shared with her 4.2 million followers.
"Precious beginnings!!!," she declared. "Eating birthday cake for two has always been my specialty." Sharapova began dating Gilkes, 42, in 2018 and they made their red carpet debut at New York's 2019 Met Gala. He proposed to the five-time Grand Slam champion in December 2020, presenting her with a dazzling $400,000 diamond engagement ring.
Bon Voyage!
Oscar winner Gwyneth Paltrow is at sea! The Montecito actress' lifestyle brand goop has partnered with Celebrity Cruises for a nine-day $5,000 sail around the Mediterranean, hitting the French and Italian rivieras, departing September 24. The all-around wellness cruise, including workshops and fitness sessions, is on board the one-year-old, 1,073-foot, 21-deck Celebrity Beyond. Paltrow, 49, serves as Celebrity's well-being advisor, curating exclusive holistic wellness programs and products for passengers.
Sightings
Oscar winner Ben Affleck at CVS on CVR… Actor Taylor Lautner checking out the Rosewood Miramar… Former Charlie's Angel Jaclyn Smith shopping at Pierre Lafond…
Pip! Pip! Be safe, wear a mask when required, and get vaccinated.
You might also be interested in...