Kirsten Marie Donnelly August 21, 1969 – February 22, 2022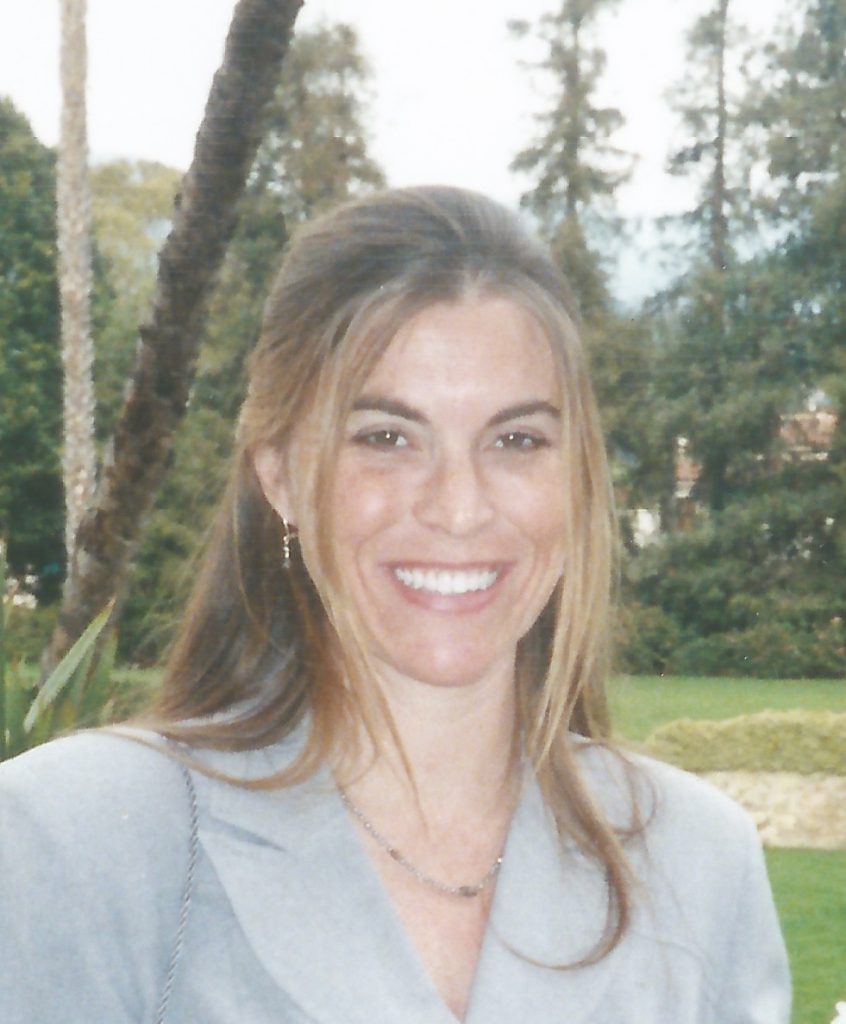 Kirsten Marie Donnelly (née van Duinwyk) passed away at home on February 22, 2022 after an incredibly brave battle with cancer. She leaves behind her husband Tom, son Dembelo, parents Susanne and Peter van Duinwyk, sisters Anne-Marie Tucker (Clark) and Lisa Aviani (James), and nieces and nephew, Alison and Chris Tucker, and Clara and Juliana Aviani. Kirsten was a Montecito native and there is no doubt that many members of our community have been touched in some way by her generosity, her humor, her sense of loyalty, and bold spirit.
Born at Cottage Hospital, Kirsten attended El Montecito Presbyterian preschool and Montecito Union School where she left an impression on both teachers and students with her wry sense of humor and athletic skills (as champion of the handball court and the bars). There she also made lifelong friends.
Young Kirsten loved Snoopy and costumes, her pets (cats, chickens, and geese) and playing outside. She spent her summer days roller skating and riding the family horse Bahada into the hills with her parents, sisters, and friends.
She attended Santa Barbara Junior High where she developed her love of creative writing and was a prolific author of poetry and short stories, as evidenced by the piles of compositions written for her friends in typing class.
At Santa Barbara High School, she swam varsity for the Dons, enduring long bus rides and freezing morning workouts. She loved Duran Duran and enjoyed the freedom of driving her beloved green VW bug, Bert.
When she left for college at UC Santa Cruz, she discovered her second favorite place on earth among the redwood trees. She continued her passion for reading and writing by majoring in Literature. During her four years at college, she accumulated many happy memories and lifelong friends.
During her professional career, first as a paralegal and then an accountant, Kirsten was well-respected by her bosses and peers and moved up the ranks quickly wherever she was. Above all, her work ethic became almost mythical; in fact, she worked right up until the day she went into hospice.
Along the way, she met the love of her life, Tom. They created a beautiful home together in Goleta, California, where they opened their doors to friends and family with elaborate birthday parties and BBQs. During this time, Kirsten and Tom welcomed their baby boy Dembelo from Ethiopia, and this became the happiest chapter in their lives together. She relished her role as a mother, and in true Kirsten style, dove into motherhood with passion, humor, and many strong opinions.
Kirsten loved music, NFL football, Diet Coke, Royal Copenhagen porcelain, her Basset Hounds, treasure hunting in second-hand stores, decorating, and gift giving. She had a card for every occasion.
Kirsten hated pretense and snobbery of any kind and had absolutely no patience for any of it! From a very young age, she was concerned with issues of social justice and inclusion, and this remained a focus throughout her life.
We miss her every minute of every day but feel incredibly grateful to have known and loved her. As a childhood friend recently said, "She was warmth and humor and love and courage. She was a loyal and generous friend, and I was so lucky to have her in my life."
Family and friends will host a private reception in May. If you are interested in more information, please contact Lisa Aviani at lisa_aviani@yahoo.com. In lieu of flowers, please donate to Planned Parenthood in her name, Kirsten Donnelly.
You might also be interested in...