A Winn-ing Needlepoint Gallery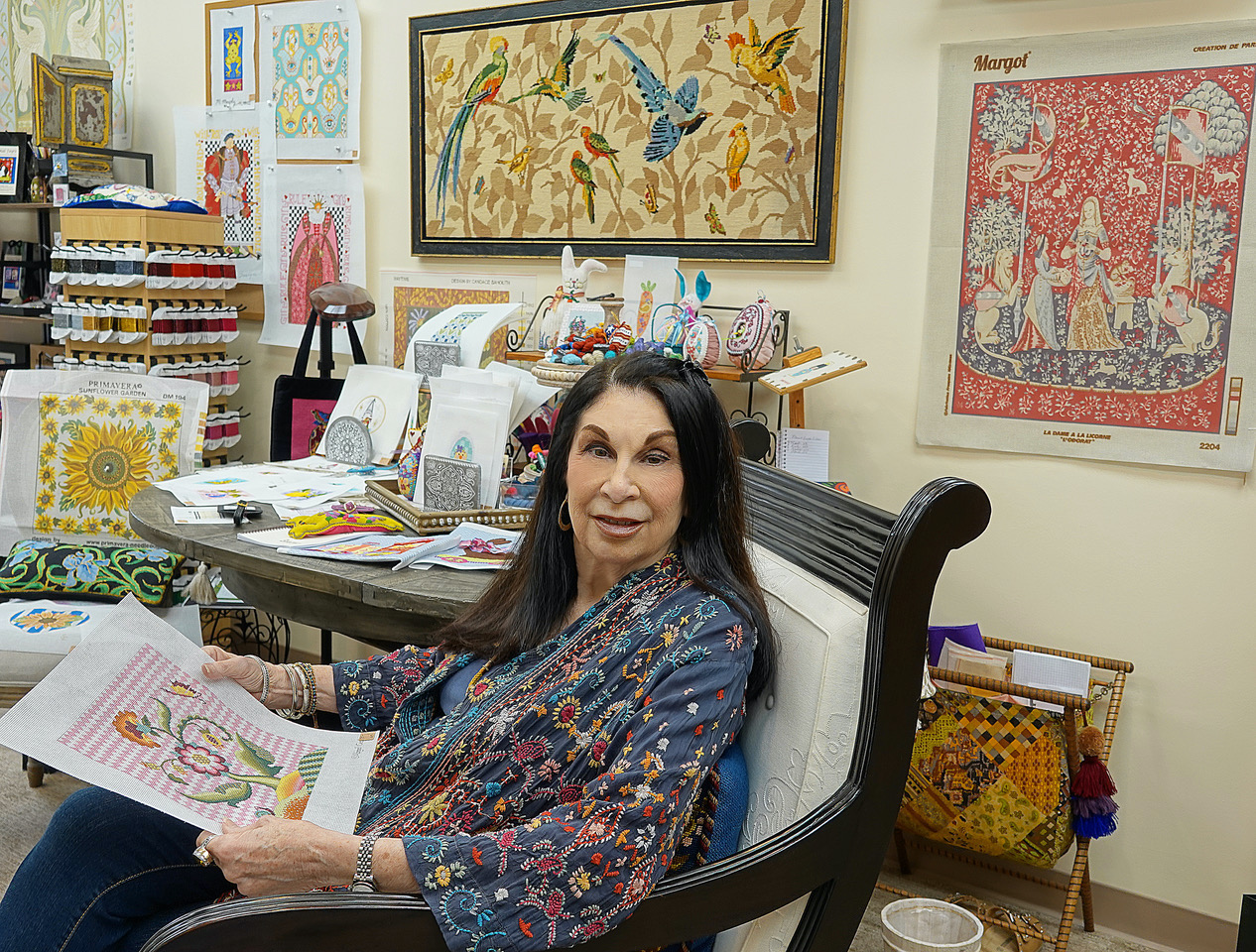 Montecito entrepreneur Ann Winn, who with her husband, Alastair, recently bought Santa Barbara's Public Market with partners for $7.65 million, has opened Village Needlepoint in the former premises of bling king Bob Bryant, just a tiara's toss from Tecolote. Her love for the art started in her early 20s and she started building her influential professional career as a canvas designer in 1992.
Ann, whose work has been recognized with two Needlepoint Now covers and numerous feature articles, was chosen to provide an ornament for the White House Christmas Tree in 1998. Four years earlier she opened Needlepoint Galley in the Lower Village, after decades of teaching, hoping to inspire the next generation of artists, as well as continuing enthusiasts from beginners to experts.
"The new shop features a great selection of more than 1,000 thread colors made from cotton, wool and silk, metallics, plus handprinted canvasses and needlepoint kits from France and England," says Ann. "When fully stitched, needlepoint canvases can be converted into lasting wall art, ornaments, pillows, jewelry, purses, and wallets by expert finishers." Her website is MontecitoNeedlepoint.com.
Coral Casino Renovations
Plans for major improvements at Beanie Baby billionaire Ty Warner's Coral Casino are going apace. Members have received letters confirming Los Angeles company Shawmut Design and Construction has been hired as the general contractor for the work, with plans to start demolition last December. But due to supply chain issues given the pandemic, there have been delays in delivery, as well as shortages in both materials and subcontractors to complete the "enhancement project."
"These delays are affecting the major construction portion of the enhancement project," says the missive. "We are making every effort to bring you a brand-new children's wading pool, debut a newly enlarged, pristine beachfront whirlpool, develop a new and relaxing member rooftop lounge, expand FINS juice bar and equipment, enhance the Coral Cafe and Bar, create a distinct member dining room, and renovate Tydes bar along with upgraded Hope's windows and doors."
Despite the delays, the club's ownership continues to progress with renovations as time, materials, and labor permit, with the Hope's windows and doors delivery on schedule for June. "For now," adds the letter, "we will focus on the renovation and enhancement of the locker rooms, wood decks, cabanas, Tydes, Seagull Room, fitness room, members living room, and the installation of the controlled LED lighting features… We anticipate the completion of the construction will be sometime in the fourth quarter of 2022." Good news, indeed…
Letterman Work Tips
Montecito TV talk show host Ellen DeGeneres, who ends her eponymous Burbank-based show in May after 19 seasons, has received sage advice from five-time Emmy winner David Letterman. "When the show is over, I'm not kidding, take some time off. Take a week, ten days," the 74-year-old CBS talk show legend told Ellen. "Travel, visit family and friends, then immediately get another show because it just doesn't work. I wouldn't go two weeks. Two weeks would be dangerous. A week, ten days, you're right back at it!"
Letterman recalled how he felt when the CBS Late Show with David Letterman wrapped in 2015 after 23 seasons. Ellen, 64, a 32-time Daytime Emmy winner, clarified, "So get another job?" Laughing, Letterman replied, "Yeah, you'll thank me for this." Stay tuned…
Bringing Sole
Singing superstar Katy Perry is sole searching! The California Gurls hitmaker has re-launched her shoe line with a new spring collection. She first debuted the Katy Perry Collectibles brand in 2017, with the intention of offering unique styles at affordable prices.
"I had the opportunity of either letting the brand slowly fade away into worthlessness, or take on the challenge and bet on myself, as I do most of the time, and just up my game and really mean what I say when I say I want to be the boss a** b****," she tells Women's Wear Daily. The new line, with Global Brands Group, features 19 styles that are floral and beach themed.
Podcast Forecast
Meghan Markle will finally debut her Spotify podcast this summer – 18 months after inking a $25 million deal with husband, Prince Harry. The Sussexi's Archewell Foundation confirmed the project, the former actress appeared in a holiday podcast shortly after signing the deal in December, 2020. Little is known about the Duchess of Sussex's upcoming podcast, although she has spoken out on multiple social justice issues, including racism and misogyny. It will be produced by Archewell Audio, an offshoot of the foundation set up by the dynamic duo, who live in Riven Rock.
On the Move
Santa Barbara warbler Katy Perry has bidden adieu to her sprawling Beverly Hills mansion, located in the Hidden Valley neighborhood next to the homes of fellow singer Adele and actress Nicole Kidman, which she purchased in 2017. The 37-year-old former Dos Pueblos High student has been spending more and more time with her British actor fiancé Orlando Bloom and their one-year-old daughter Daisy Dove, at their $14.2 million nine-acre Park Lane estate in Montecito. Katy bought the five-bedroom, six-bathroom 5,427 square foot home for just under $19 million, according to TMZ, and is selling it for $19.5 million. The two-story property, built in 1959, is on 1.13 acres of grounds and has a quarter of a mile tree-lined drive.
Back in Town
Maroon Five frontman Adam Levine, 43, and his Namibian model wife Behati Prinsloo have splashed out $52 million on the former home of actor Rob Lowe. The tony twosome are no strangers to our rarefied enclave having sold their Park Lane estate, near Katy Perry and Orlando Bloom, for $28.5 million last year, $5.8 million more than they paid for it just three months earlier. The duo listed their compound in Pacific Palisades for $57.5 million just last month.
Rob and wife, makeup artist and jewelry designer Sheryl, purchased the land on Picacho Lane in 2005 and constructed their 10,000 square foot mansion. They sold it in 2020 for $44.5 million. The most recent owners of the 3.4-acre property, Oakview, were Jack McGinley, a healthcare private equity executive, and his wife Julie, who sold the property to the rocker. It has six bedrooms and eight full bathrooms, with three powder rooms. There is also a two-bedroom guest house, and a pool house that has another bedroom.
Say Hello to my Little Paradise
El Fureidis, the famous 10-acre Montecito estate used by director Brian De Palma for his film Scarface, is up for grabs again for $39.995 million. The four-bedroom property, just a tiara's toss from Maison Mineards Montecito, was completed in 1966 and is notable for being one of a handful of homes designed by architect Bertram Grosvenor Goodhue, and for hosting a litany of bold-faced names, including JFK and Einstein.
The 10,000-square-foot home has Spanish and Middle Eastern influences, as well as two guest cottages with another three bedrooms. The last time El Fureidis, which also boasts a dining room with a barreled ceiling with 24-carat gold leaf, changed hands was in 2015, when it fetched just $12.3 million. Paging Ellen DeGeneres…
You might also be interested in...