Little Book Brings Big Crowd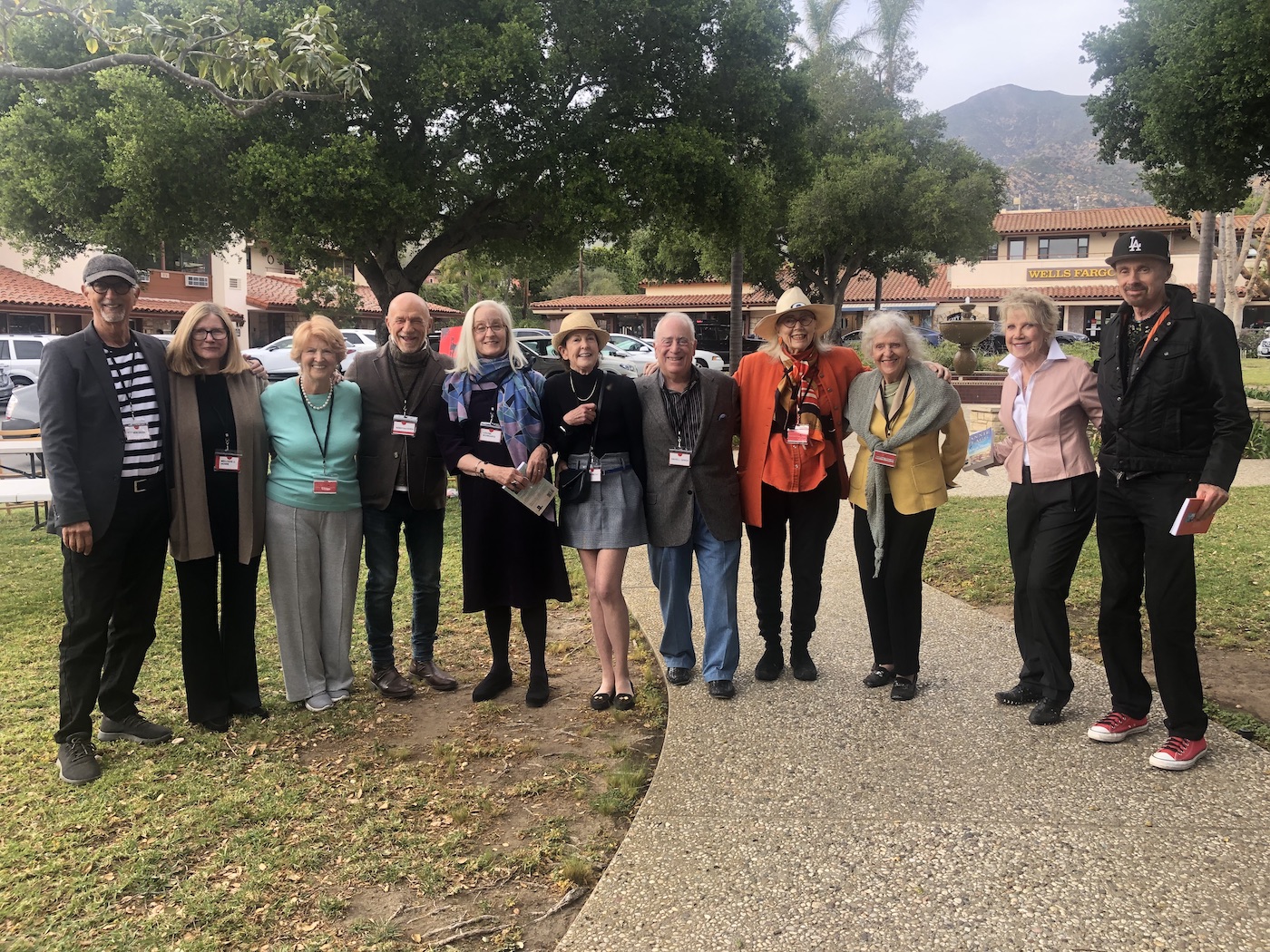 A boffo bunch of bibliophiles descended on Tecolote in the Upper Village to mark the publication of Steven Gilbar's Little Book of Montecito Writers, a 160-page paperback including more than 60 authors, which derived from a talk he gave at the village library last summer.
The book signing, which benefitted the Montecito Library, also featured many of the authors mentioned in Gilbar's work, including T.C. Boyle, Fannie Flagg, David and Anne Gersh, Willard Thompson, Leslie Zemeckis, Anne Cooper Ready, David Debin, Betty Fussell, Melodie Johnson Howe, Kia McInerny, Diana Raab, and Louise Schwartz.
It was also nice to bump into New York author Christopher Buckley, 69, whose socialite mother, Pat, wife of political pundit Bill Buckley, was a good friend of mine in Manhattan. Guests noshed on fare from local purveyors Pierre Lafond, Jeannine's, and Montecito Gourmet by Village Cheese & Wine. After two years of being totally event-free given the pandemic restrictions, owner Mary Sheldon exclaimed, "It's great to be back!" I couldn't agree more…
Sonic Carpenter
It was literally an absolute blast when accomplished international organist Cameron Carpenter brought his talents to the stage at the Granada for a third time when he performed with the Santa Barbara Symphony for its Sonic Boom concert under maestro Nir Kabaretti. Berlin-based, Juilliard-trained Carpenter, 40, who was the first organist in 2009 to be nominated for a Grammy for his solo album Revolutionary, was in flamboyant fine form with Bach's "Prelude and Fugue in E-flat major (St. Anne)," Poulenc's "Concerto for Organ, Timpani and Strings in G minor," and Saint-Saëns' "Symphony No.3 in C minor."
He first hit our Eden by the Beach six years ago and returned in 2018 for a performance under UCSB's popular Arts & Lectures program with his touring organ, that took ten years to build at a cost of $2 million, both of which I attended. For his latest concert, Carpenter debuted his Rodgers Infinity 3 manual organ, with him sitting at a console and manipulating controls that signaled to a computer to turn notes on and off, using sampling data from actual pipe recordings.
The sounds were translated into an audio stream that traveled through amplifiers and broadcast through a tower of 28 speakers, located at the back of the cavernous stage. The thoroughly innovative show was presented in collaboration with the Santa Barbara Museum of Art's exhibition Through Vincent's Eyes: Van Gogh and His Sources, with the Saint-Saëns work dating back to Paris when the Dutch artist lived in the French capital.
Given the ongoing hostilities with Russia in Ukraine, Nir added a work "Melody" by Ukrainian composer Myroslav Skoryk to the program. The pianist who played during the Saint-Saëns work, Myroslava Kisilevich, studied with Skoryk at Lviv State Music Academy, as did her father Stepan. Both her parents, Stepan and Tetiana Kisilevich, were in the audience, just two weeks after they were able to escape Ukraine.
Ellen Ends
Montecito TV talk show host Ellen DeGeneres is spreading her largesse. She is giving more than $2 million in bonuses to her production staff as she prepares for the final episode of her Warner Bros. Burbank-based show. The curtain closes on the eponymous program's 19th season on May 26 and the final celebrity guest is former First Lady Michelle Obama.
According to Deadline, staffers on the show for one to four years will receive two weeks' pay, employees with four to eight years under their belt will receive three weeks' pay, and so on – capped at six weeks' pay for the show's longest serving employees. Some 30 percent of staff have been on the Emmy-winning show for more than a decade and some of the senior executives have been on for all 19 years, according to Deadline. During its history, Ellen has featured 4,000 guests, 3,000 hours on TV, 1,500,000 audience members, and a hefty $450,000,000 in cash prizes to worthy guests. The end of a reign!
Flight Delay
Montecito businessman Marty Allen will not have Saturday Night Live regular Pete Davidson, 23, to keep him entertained when he blasts off into space in an upcoming Blue Origin mission, as I exclusively revealed here. The flight was due to launch in west Texas on Wednesday (March 23), but the New Shepard mission has been delayed until March 29. It is thought the scheduling conflict caused Davidson to withdraw from the heavenly trip.
Sir Parsons
Santa Barbara rocker Alan Parsons, 73, who was awarded an OBE – Order of the British Empire – in Queen Elizabeth's birthday honors list last year, is about to pick up the accolade after the pandemic delays. He and his wife, Lisa, wing to London to receive the honor at an investiture at Windsor Castle on May 17. "The timing is perfect because I have to be in Munich for a convention two days later," says Alan. "But Germany is not doing well with the virus, I hear."
Memorial Missed
Prince Harry, 37, has attracted more criticism with his decision not to return to London for the first anniversary memorial service for his grandfather Prince Philip at Westminster Abbey on Tuesday. But the Duke of Sussex will fly to Europe for a visit to the Netherlands in mid-April for the Invictus Games, a sporting event for military veterans founded by Queen Elizabeth's grandson in 2014.
Shunning the memorial event will undoubtedly add further tension to the already extremely strained relationship with the Royal Family. Harry did attend last year's funeral for the Duke of Edinburgh at St. George's Chapel, Windsor, a muted occasion for only 30 guests, amid COVID restrictions. The guest list originally had 800 guests.
No Invite Needed
Dakota Johnson, daughter of Montecito actor Don Johnson and Melanie Griffith, is a bona fide wedding crasher! The 32-year-old actress has admitted to being an uninvited guest at other people's nuptials numerous times – including one memorable moment at a Jewish ceremony.
"I feel like I've done that a lot. It's one of my number one hobbies." Recalling one particular incident at a Jewish ceremony, she said, "There I was, holding up the bride and groom in a chair. And they were just like 'Who? What are you doing?'" Dakota added, "It was good. Weddings are fun, especially when you're not the groom."
Raising Support
Carpinteria dynamic duo Ashton Kutcher, 44, and his Ukrainian wife Mila Kunis, 38, have raised more than $30 million for causes in Ukraine in a most impressive fundraising mission. The tony twosome have been married since 2015 and have two children, son Wyatt, 7, and daughter, Dimitri, 5.
They launched a GoFundMe fundraiser to support the "proud and brave" Ukrainians on the ground in the besieged country, with plans to match donations up to $3 million. Kunis, who was born in Chernivtsi, Ukraine, and whose family moved to the U.S. in 1991, deplored Russia's "unjust attack" on the European nation and "humanity at large." She said their philanthropic work is meant to make "an immediate impact on refugee and humanitarian efforts."
They have partnered with global logistics experts flexport.org to organize shipments of relief supplies to refugee sites in Ukraine's neighboring countries – Romania, Poland, Hungary, Slovakia, and Moldova. They also tapped vacation rental company Airbnb, in which Kutcher was an early investor, to provide free short-term housing for Ukrainian refugees.
Back to the Clocks
Back to the Future star Christopher Lloyd is looking ahead. The Montecito actor joined fellow thespians Ryan Reynolds and Mark Ruffalo in a public service announcement about daylight saving time. Reynolds and Ruffalo made the PSA to promote their new movie The Adam Project, which came out on Netflix.
In the clip they stand side by side to let people know they should set their clocks ahead as they would lose an hour last week. The camera then whips over to Lloyd, who starred as zany doctor Emmett Brown in the Robert Zemeckis travel trilogy.
"I'm 83 years old," says Christopher. "To me, the years seem like minutes. Yet I do not dwell on memories because it is about moving forward. Not just into the future, into the unknown… This weekend, we will lose an hour, but maybe we will gain some perspective. So as we leap ahead to whatever life holds, let us grab hands and be brave because, despite what movies have taught us, we can't go back."
Lost Friends Remembered
On a personal note, I remember Oscar-winning actor William Hurt, who has died aged 71 at his home in Portland, Oregon. Hurt rose to fame as a hapless lawyer in Body Heat in 1981 and won his Academy Award for the 1985 film Kiss of the Spider Woman. Other memorable films include The Big Chill in 1983, Children of a Lesser God in 1986, Broadcast News in 1987, and The Accidental Tourist in 1988.
We first met at historic St. James Church on Manhattan's Madison Avenue for the funeral of a friend Bryan Cassaday, the stepson of Henry Luce III, publisher of Time and Fortune magazines, by his third wife Nancy. Hurt was Luce's stepson by his marriage to his mother Claire in 1960. Luce died in 2005 aged 80.
I also remember Tova Borgnine, the glamorous widow of actor Ernest Borgnine, who built a multimillion-dollar cosmetics empire on the home shopping channel, QVC. Tova, who has died aged 80 in Chester County, Pennsylvania, found massive success selling cosmetics, skincare, and fragrances – at one time having the top-selling perfume, Tova Signature.
She was married to Borgnine, her third husband, for 39 years. Tova would often invite me to the exclusive eatery 21 for product parties when I worked on the gossip column of New York Magazine in the '80s. A most charming and fashionable presence…
Sightings
Quarterback Aaron Rodgers, who just signed a $150 million record-breaking deal for a three-year contract extension with the Green Bay Packers, enjoying himself with teammates at Lucky's… Former actress Tuesday Weld noshing at Zookers in Carpinteria… Talk show host Ellen DeGeneres at a Restoration Hardware VIP bash in San Francisco.
Pip! Pip! Be safe, wear a mask when required, and get vaccinated.
You might also be interested in...