A Wine Guy Goes to Ireland: The Drink Industries Leading the Way on the Emerald Isle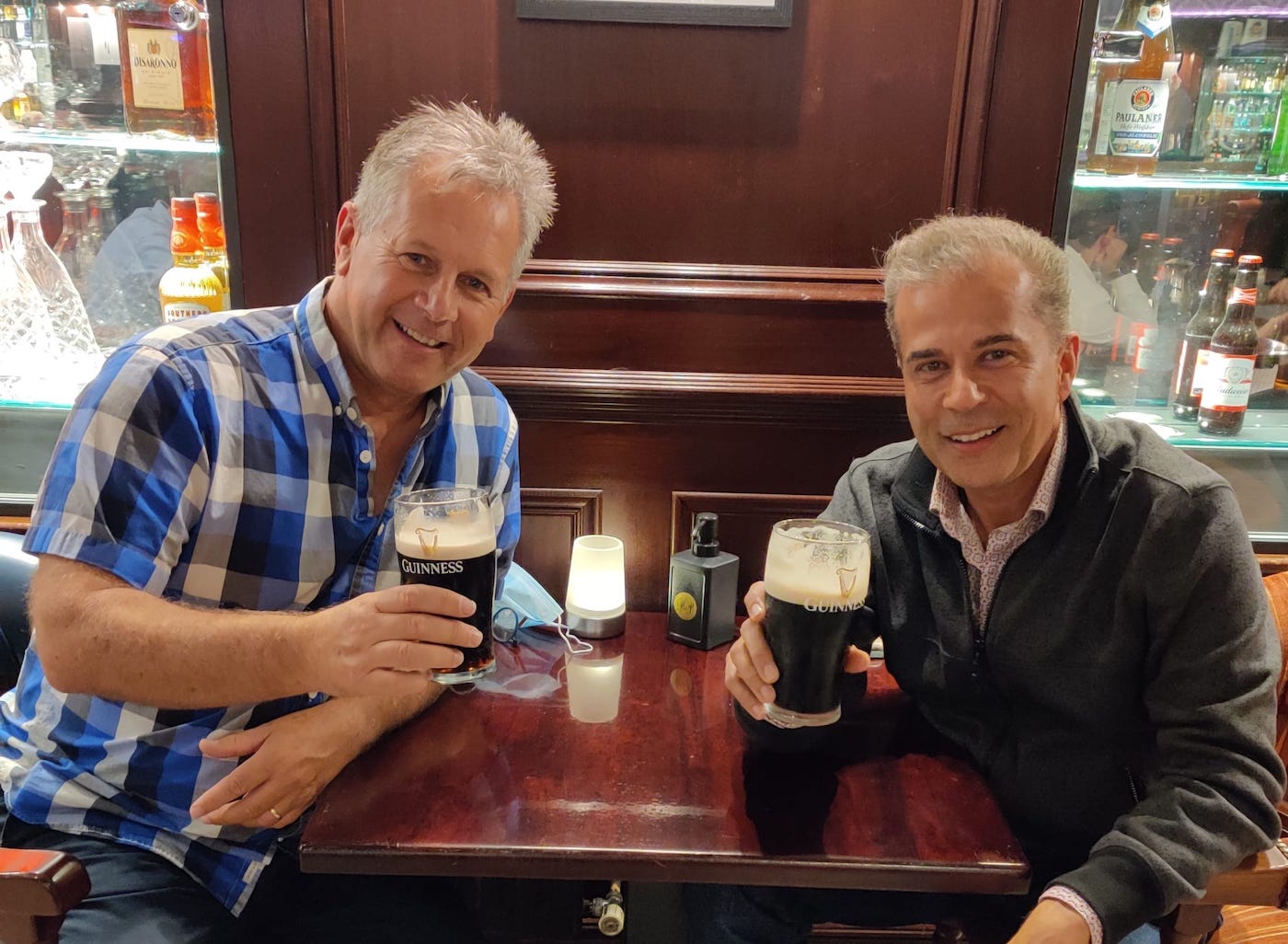 This month marks a major milestone for travel to Ireland: one of the most popular European destinations for American travelers dropped all entry restrictions on March 7th and, last week, celebrated St. Patrick's Day publicly for the first time since 2019. For a famously gregarious people, a momentous occasion indeed. I was there to cover this landmark moment for various TV stations in the U.S. (including Fox 11 here in Santa Barbara and KTLA in Los Angeles). And, as with so many of my previous visits to Ireland, I also took several days to travel the country by car to explore what's new, especially in the world of spirits.
As wine lovers, it's easy to let our palates lead the way – Ireland, after all, is in the throes of a culinary renaissance, a movement that's quickly rebounding post-pandemic. There are no less than 15 Michelin-starred restaurants across the country, with menus that hinge almost exclusively on what's local and seasonal, and wine lists that offer up more exciting and unique European options than we'll ever find in California.
Mother Nature makes traditional wine production a proverbial challenge here, to be sure. But wine enthusiasts are also valiant explorers of all things liquid, and in this arena, Ireland does not disappoint. Even the most traditional of industries are getting a fresh new spin. Here's a snapshot of the three spirited ventures worth exploring on your own return visit to the Emerald Isle.
Whiskey
Amazingly, just a dozen years ago or so, there were just four main whiskey distilleries in Ireland. Today, that number stands near 60, a testament to a young generation of Irish entrepreneurs who, rather than leaving to find professional fortune beyond their own shores, is staying home and exploring new ways of distilling Ireland's most famous quaff. In Dublin, the Jameson visitor center is a wonderful way to dive into this longstanding industry – John Jameson started distilling his namesake whiskey here back in 1780. Today, the experience includes a comparative tasting that puts the Irish version of whiskey against Scotch and bourbon. After diligent analysis, I found that the clean, aromatic effects of the traditional triple-distillation approach of the Irish suits me best.
In a gorgeous, historic area known as Ireland's Ancient East, two standout stops. Powerscourt Distillery, 40 minutes from Dublin, is set on a sprawling 9th century estate. Their state-of-the-art distillery, which opened just a few years ago, is set in the meticulously restored Old Mill House, once the hub of farming activity on this property. Legendary master distiller Noel Sweeney is behind Powerscourt's Fercullen label. And the behind-the-scenes visitor experience here, which can include food pairings, is world-class. "We think that people are very culturally curious in terms of knowing where the product is coming from," says marketing manager Caroline Gardiner, "and in really understanding the heritage… and the people behind it."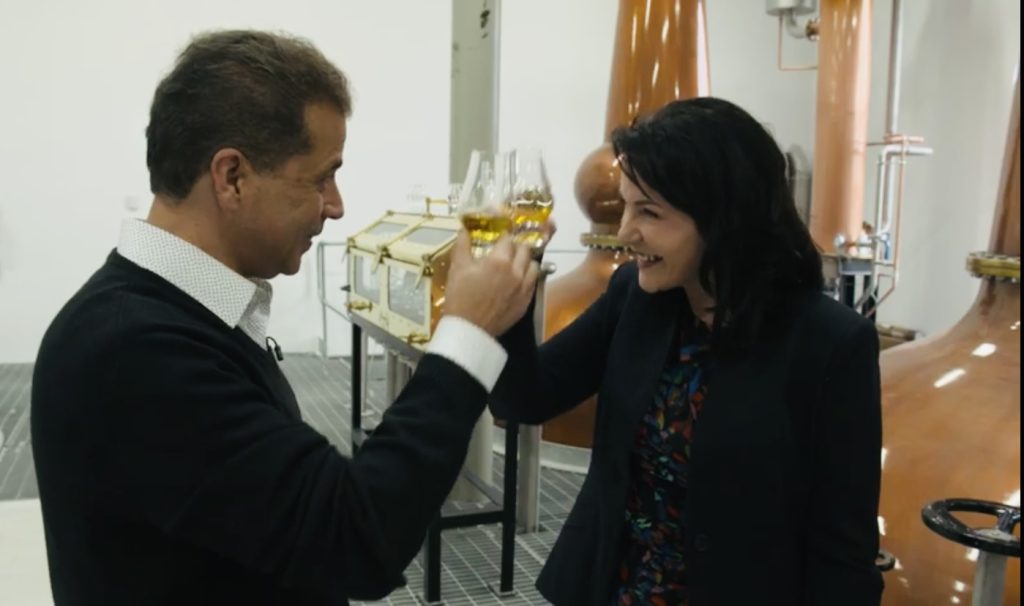 Nearby, in the heart of the beautiful Boyne Valley, historic Slane Castle is now home to a modern distillery that uses a signature triple-cask aging process to produce a smooth, complex drink. "It's a blend of molten grain whiskeys that have been blended separately into three barrels at the same time," proprietor Alex Conyngham told me when we sipped together a few years ago, "to build a very distinct flavor profile." Guests can order up innovative whiskey cocktails here, not to mention traverse a magnificent property that dates back to the 18th century.
For the true whiskey buff, Tourism Ireland (ireland.com) has devised a countrywide whiskey trail that suggests diverse itineraries over four days and covers regions like Northern Ireland, home to distilleries like Bushmills, and Ireland's west coast, known as the Wild Atlantic Way, which includes stops in Dingle, a Santa Barbara sister city. Hiring private guides is the best way to do a truly immersive whiskey journey here – Whiskey Island (whiskeyisland.ie) comes highly recommended.
Gin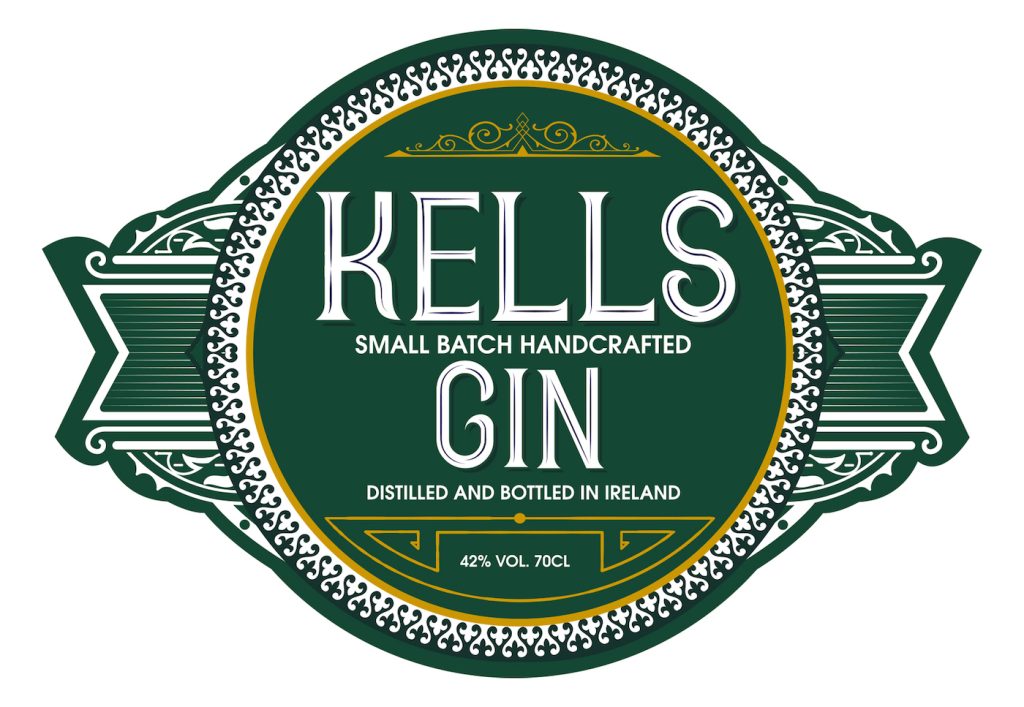 Suddenly, the trendiest sipper in bars across Ireland is the gin and tonic – just ask, "G&T, please!" The production of gin here is fairly new, an entrepreneurial endeavor driven by the recent resurgence in gin's flavor on a global scale. The newness of the Irish gin industry means that rules are looser – distillers are winning marks for creativity, for playing with new recipes, for using unique botanicals, and for pushing the envelope wherever they can. The lower threshold to entry helps, too: it can take seven years to make a batch of whiskey, while a batch of gin can be procured in six weeks.
Exploring gin in Ireland is, again, an exercise in wanderlust. Traveling the island shows that the regionality behind crafting gin, just like with whiskey or beer, is a product of pride in provenance. When I visited Kilkenny last week, perhaps Ireland's best preserved medieval city, home to 800-plus years of history and located 90 minutes southwest of Dublin, I was introduced to Ballykeefe, producer of various spirits. Their gin, though, is a standout, made with 12 specially curated botanicals that are vapor-infused in an Italian copper still to produce one of the most aromatic gins I've ever had – flowers, citrus, spices, juniper berries – and a silky finish that goes on forever.
In Kells, in the Boyne Valley, about an hour northwest of Dublin, a brand-new product from the Duff family, who've been in the hospitality business in this historic town for generations: their Headfort Arms Hotel and their Vanilla Pod Restaurant, with its uber-local menus, are highly rated places to stay and eat. They released their Kells Gin earlier this year, a tribute to the history of handcrafted manufacturing in this area, and to regional ingredients. A distinct fusion of 12 botanicals, including elderflower and sumac, are blended with various grains to create a clean, bright, citrusy gin. Other gin brands I've sipped and loved along the way include Gunpowder and Weavers.
Craft Beer
No doubt, the craft beer scene in Ireland remains in the shadows of Guinness, a legacy brand that remains synonymous with Ireland – they call it, The Black Stuff, and it's still what you have to assume an Irish person is referring to when they ask you to slow down and sit down for "a pint." The Guinness Storehouse remains Dublin's top attraction, and for good reason – seven stories of immersive experiences, history, food, and two top-floor bars that offer the best views of the city. This is where you get introduced to a line of various other Guinness products – their IPA is delicious – and where you learn to pour the perfect pint (spoiler alert: it involves six steps and takes 119.5 seconds).
In the last decade, though, dozens of craft and microbreweries have sprung up all over Ireland. Many are small, scrappy operations, and all are fueled by creativity and innovation. They are easy to discover at any of the thousands of regional pubs across the island. Treaty City Brewery, set in the medieval quarter of the historic city of Limerick, just down the street from King John's Castle, is one of the best examples of this percolating movement. I met owner Steve Cunneen right before he opened a few years ago, and I stepped up to the bar again last week to catch up. The brewery itself is whimsical – think suspended pianos and floating fireplaces above the stainless-steel tanks. And the lineup of creative brews has garnered a solid following, thanks to an approach Steve describes as "left of center," and his passion.
"That's what Limerick's all about – it's that ethos of chancing and trying and seeing how we get on," he told me as we sipped. "We've been doing this for 10,000 years – sitting around, having a couple of pints, telling stories, having some fun. This is genetic, this is in our blood. We wanted to take that and keep it, with our minds on the past and who we are and where we're from, but we're also looking forward."
Treaty City's Harris Pale Ale and Invasion IPA are delicious, and their Stout does indeed, and with respect, rival Guinness, with chocolate and coffee notes and a refreshing, lip-smacking finish.
Now, go discover Ireland's liquid treasures for yourself! Cheers!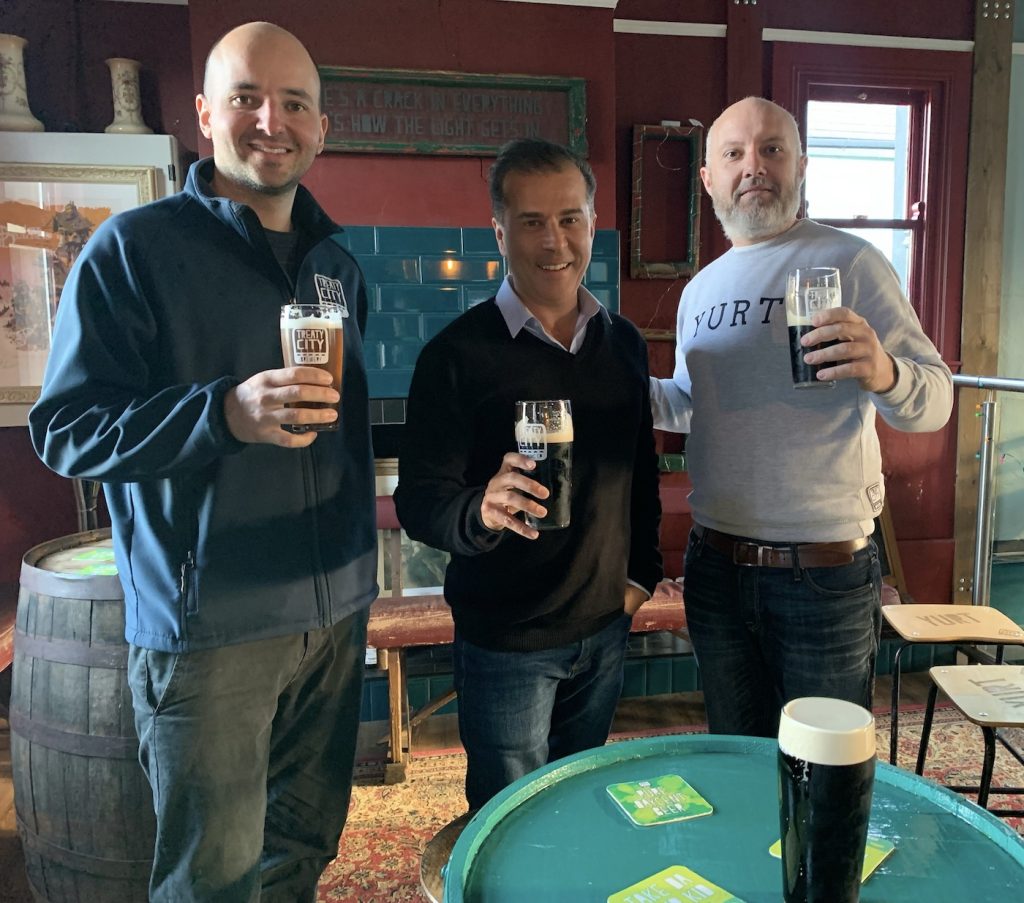 You might also be interested in...