The Lone Ranger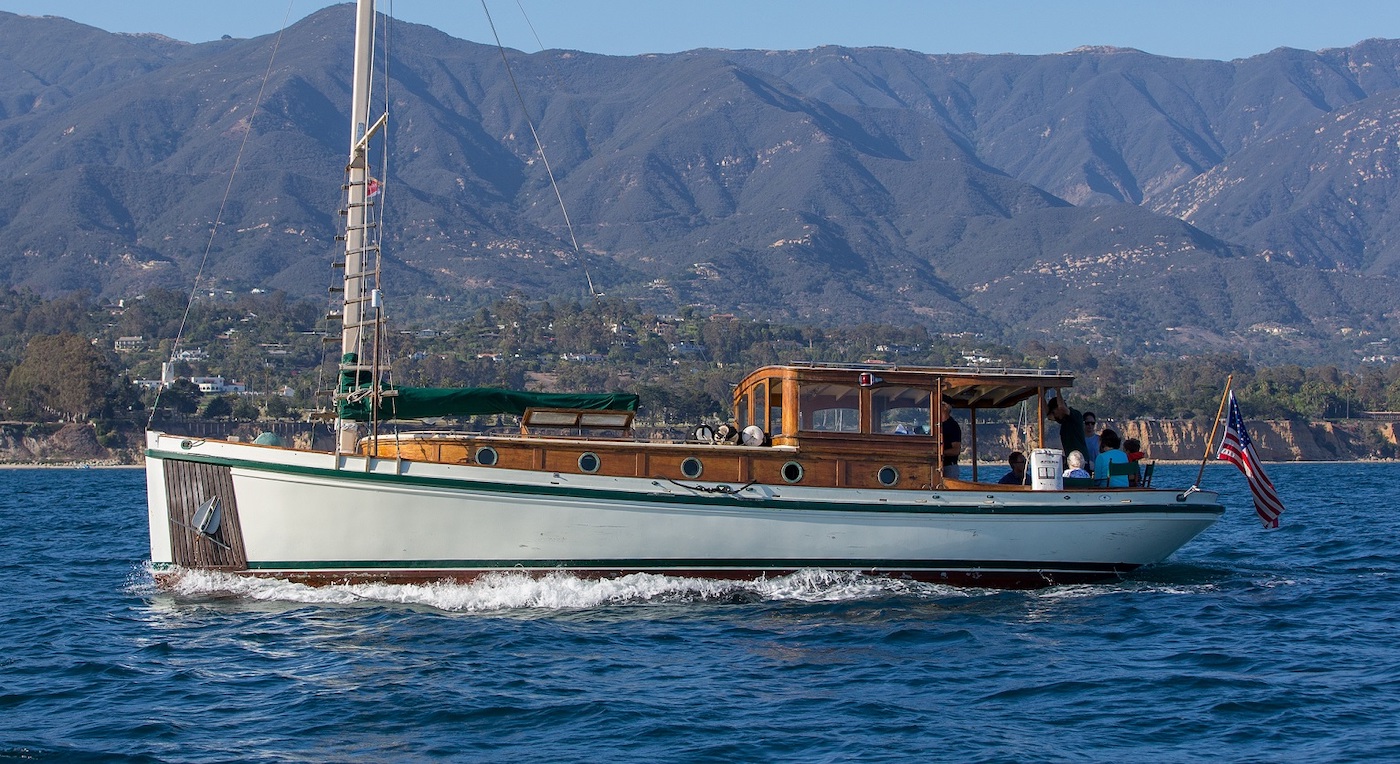 The flagship Ranger, which is familiar to many for leading the annual Parade of Lights at Yuletide, has rejoined the Classic Yacht Association's Southern California fleet. Originally the vessel was readmitted to the association in 2020, in time for the 20th anniversary of the Santa Barbara Maritime Museum, but the pandemic delayed her rededication ceremony.
Now Ranger will finally be welcomed back to our Eden by the Beach with a dockside champagne reception on April 10. Built in 1917 by Fellows and Stewart in Wilmington, California, she was the first private fishing yacht built on the Left Coast and has had a long and exciting life with Humphrey Bogart, Zane Grey, John Wayne, and Errol Flynn, among her passengers.
Ranger has also been the flagship of the Catalina Island Tuna Club, the Los Angeles Motor Boat Club, the Catalina Island Yacht Club, the Long Beach Yacht Club, and now the museum. It was donated to the harbor side institution by Jack Morehart in 1997. The vessel has also been the setting for many photoshoots including Lands' End, Oscar-winning actor Kevin Costner, mermaids, and many brides and grooms.
Flame and Fireworks
Santa Barbara warbler Katy Perry has had very good news! The 9th U.S. Circuit Court of Appeals, in a 3-0 decision, has decided the former Dos Pueblos High student and her team are not liable to hip hop artist Flame, who claimed they copied her number one hit, "Dark Horse," from his rap song, "Joyful Noise."
The Pasadena court said the eight-note pattern, known as ostinato, consisted "entirely of commonplace musical elements" that lacked the "quantum of originality" need for copyright protection. An L.A. jury in July 2019, awarded Flame, whose given name is Marcus Gray, and two other plaintiffs $2.79 million, including $550,000 from Perry and $1.29 million from her label, Capitol Records, part of the Universal Music Group. "Dark Horse" appeared on Perry's 2013 album Prism and spent four weeks atop the Billboard Hot 100 in 2014.
Calling All Royals
Could Prince Harry and Meghan Markle be making a rare joint appearance in our Eden by the Beach next month? British cellist Sheku Kanneh-Mason, 22, who played at the tony twosome's wedding at St. George's Chapel, Windsor, in 2018, is set to perform with his equally talented pianist sister, Isata, at UCSB's Campbell Hall as part of the institution's popular Arts & Lectures series.
I'm told the Sussexi have been informed of the dynamic duo's show and may well attend. Sheku, who plays a 1700 Matteo Goffriller instrument, won the BBC's Young Musician of the Year award in 2016 and was awarded an MBE – Member of the British Empire – accolade in 2020 for services to music. Stay tuned…
Dressed to Impress
The black dress worn by former actress Meghan Markle during her incendiary interview a year ago with Oprah Winfrey has been named Dress of the Year by a British institution. The Fashion Museum in historic Bath is set to display the black triple silk georgette dress with a deep front, lotus flower embroidery, and matching belt, from Italian designer Giorgio Armani's cruise collection. It will be part of a History of Fashion's 100 Objects exhibit in the city beloved by regency author Jane Austen.
Cann it Be?
Montecito actress Gwyneth Paltrow is going to pot! She has invested in a marijuana drink company owned by Luke Anderson after being his babysitter when he was just two years old. The Oscar winner, 49, is backing cannabis-infused Cann, which cannot be sold in the co-founder's state of New York, where recreational weed is illegal under federal law.
Paltrow helped raise initial capital through a $15 million seed round, becoming the biggest celebrity investor. The beverage, which Anderson founded in 2019 with business partner Jake Bullock, can only be bought by residents in six U.S. states – Arizona, California, Illinois, Massachusetts, Rhode Island, and Nevada.
In the Bag
Oscar nominees may not all get the coveted gold statuette, but the luxury gifts they all receive, worth six figures, aren't too shabby. From beauty products to luxury vacations, the "Everyone Wins" swag bag lavishes stars with an incredible range of goodies.
Provided by L.A.-based marketing company Distinctive Assets, the elaborate gifts are worth more than $100,000 and include presents such as gold-infused olive oil and crystal-topped bath bombs. Also on offer are gold topped pretzels, liposuction treatments, and even property management by an L.A.-based construction company for their next project. There's even a plot of land in Scotland from Highland Titles, making recipients Lords and Ladies of Glencoe, and $10,000 worth of plastic surgery by New York doctor Konstantin Vasyukevich.
Royal Moves
Queen Elizabeth, who celebrates her 96th birthday next month, is making her favorite weekend retreat, 1,000-room Windsor Castle, her permanent home. Her Majesty is quitting 775-room Buckingham Palace and its 39-acre garden, built in 1702 for the Duke of Buckingham and then acquired by King George III in 1761 before becoming the residence of the monarch in 1837 when Queen Victoria moved in, and moving 26 miles down the M4 highway to the 1,000 year-old castle built by William the Conqueror in 1070, on 13 acres by the River Thames and a tiara's toss from Eton College, where princes William and Harry were schooled.
The Queen has called the palace near Hyde Park home for most of her record breaking 70-year reign, but describes Windsor as the place she loves and where she spent her last days with Prince Philip before his death a year ago. Her decision means the heir to the British throne, Prince Charles, will likely be the next Buckingham Palace resident when he becomes king, although he is known to prefer his current home, Clarence House, at the other end of the Mall, the former home of Queen Elizabeth the Queen Mother, who died in 2002.
On Mission
Santa Barbara-based nonprofit California Missions Foundation (CMF), established in 1998, has found a way to fill the void of in-person field trips by offering fourth-grade students throughout the state a one-hour missions experience – virtually – using high-definition video, expert interviews, and stories of the California Native Americans.
Since 2006, CMF has provided the funding for youngsters to visit their local mission via its "All Aboard the Bus" field trip program. But two years ago, as the recent pandemic restrictions began, school field trips were quickly cancelled and slow to return. The new virtual world is allowing the foundation to expand its program reach and connect with students in every corner of California. The virtual program is hosted at Old Mission Santa Barbara.
"We have private, public, and home schools signed up," says CMF executive director David Bolton. "The response has been tremendous. The missions and native California history are included in the curriculum for every fourth-grade student. Keeping alive mission history and sharing the diverse stories that were part of the California missions is very important." Mission not impossible!
Sightings
British director-actor Kenneth Branagh noshing at Opal… Michael Douglas and Catherine Zeta-Jones checking out Sakana Sushi Bar on CVR… Prince Harry at the Stockyards Rodeo in Fort Worth, Texas.
Pip! Pip! Be safe, wear a mask when required, and get vaccinated.
You might also be interested in...