February Stats and My 10th Anniversary with the Montecito Journal
This spring marks my 10th anniversary writing about Real Estate for the Montecito Journal and I just want to say how appreciative I am, to the publication and to the local Real Estate agents, who have allowed me this forum to share my insights on the market and the Montecito area during this past decade. From the lows of 2012 and 2013 to the up markets a few years ago, to the Thomas Fire and debris flow and the COVID-19 property sales surge, it's been a ride for sure.
Growing up in Ventura and other Southern California areas, I would often visit my grandparents who lived in Santa Barbara, and even go to their open houses (yes, they were local realtors from the 1960s through the '80s). I had always dreamed of living here. Then, 20 years later and 20 years ago, along with my wife Sheela and our daughter Sareena, we made that move to Montecito. Here we have been able to be around family, make great friends, adventure out and about town day and night, and contribute the best we can to this incredible community we are so fortunate to live in.
This past month in Montecito, we saw 23 closed escrows in the Multiple Listing Service (MLS). To compare that, 23 reported sales is a solid number for any month in a normal Montecito sales market (average 15-20 sales per month), but especially significant in a winter month where we usually see fewer closed escrows. Also, February boasted two MLS reported sales over $10 million (one at $18 million and another just under $21 million). These big-ticket sales offer continuing proof that our highest end (over $10 million) market is still going strong. Statistics for February sales in the MLS included:
– 2 sales over $10,000,000
– 5 sales in the $5's 
– 4 in the $4's 
– 6 in the $3's 
– And just 6 sales under $3 million (smaller homes, fixers, condos)
In years prior to 2020, it was common for the under $3 million market in Montecito to make up 50% of all sales. Since 2020 we are only seeing approximately 25% of all sales falling into this market. Translation? The entry level for a 2,500 to 4,000 square foot average home on an acre or so in Montecito has clicked up a couple of million since 2019 from say $2.5 – $4 million on average, to between $4 to $6 million now for those same homes, perhaps higher in some cases.
But still, many say that compared to L.A.'s top priced neighborhoods, Montecito is still looking like a good deal. A 5,000 square foot home on an acre with some views in prime Beverly Hills or Pacific Palisades may be $10 to $20,000,000, while here in Montecito it's only $9 to $12 million. Still a huge number, but using this lens, one can more easily see how when jumping from one top market to another, price is seemingly less important. As long as the new place is less than what you are leaving, or if you get more house/land for the same money (which buyers often do get in Montecito), how can one go wrong?
The properties featured today have been on the market anywhere from a few weeks to a few months or more and thus may offer a buyer the chance to avoid the multiple offer scenario that is most often associated with brand new listings. There are only a small handful of homes available in any price range on the market at this point and here are a few that might still be available by the time you read this, but don't wait if you see something you like. Until soon – Keep Montecito Friendly.
1274 Eleven Oaks Lane – $2,975,000
Location, location, location! Just two short blocks to Butterfly Beach and a few more to the Rosewood Miramar. Situated on nearly a third of an acre at the end of a private lane, near the Lower Village, this beachy cottage includes four bedrooms, two bathrooms and sunny outdoor areas, perfect for indoor/outdoor living, complete with fire pit and an upper patio with ocean views.
Convenience is a plus with this listing, living just around the corner from the restaurants and shops on Coast Village Road, on a no-traffic lane with guest parking and privacy. This listing has been reduced from the original asking price and is within the Montecito Union School District.
320 East Mountain Drive – $4,549,000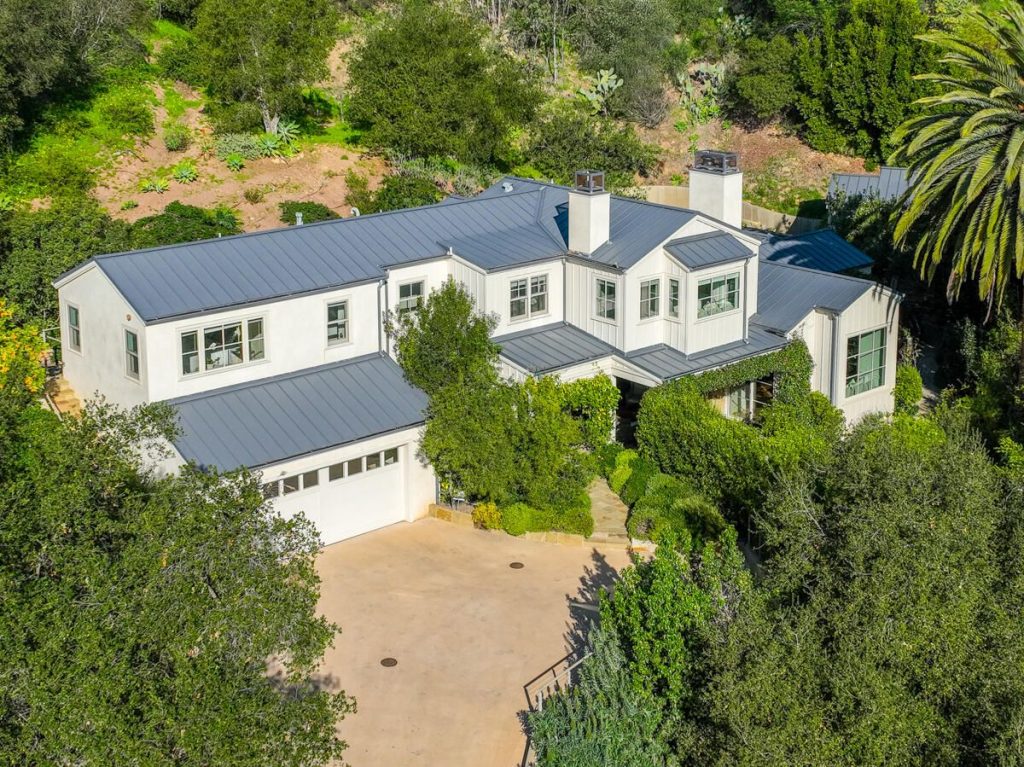 This East Mountain Drive home was designed by NMA Architects and built in 2011 by DD Ford Construction. Enjoy the four bedrooms, three and a half baths with a detached studio and the privacy that often accompanies an East Mountain Drive address. The chef's kitchen is the heart of the household, with a center island, state-of-the-art kitchen appliances, and honed granite countertops.
The living room offers cathedral ceilings, wainscoting, a stone fireplace, and large picture windows. The primary bedroom suite, under a vaulted ceiling, features a fireplace, cozy window seat, walk-in closet, and ocean views. The covered stone patio with fireplace encourages year-round entertaining. This listing has been on the market just over a month and is within the Cold Spring School District.
796 Hot Springs Road – $9,995,000
Experience bold style in this refined, ocean view, single level, architectural property just below East Mountain Drive and surrounded by many other significant and historic Montecito estates. Located down a quiet lane and not visible from the street, the home rests on a very private, gated acre in the heart of Montecito's "Golden Quadrangle."
The residence has been extensively upgraded and features a nearly 4,200 square foot floor plan that unfolds around a dramatic living room, chef's kitchen, dining room, den, and two bedroom suites, all accentuated with high ceilings and expansive windows and doors creating a dramatic connection between the interiors and the exterior landscape and views. Designed with versatility in mind, two additional bedrooms function as an office and gym with views of oaks, lush gardens, verdant native grasses and rampant colors. 796 Hot Springs Road has been reduced from the original asking price and is within the Montecito Union School District.
2285 Bella Vista Drive – $12,950,000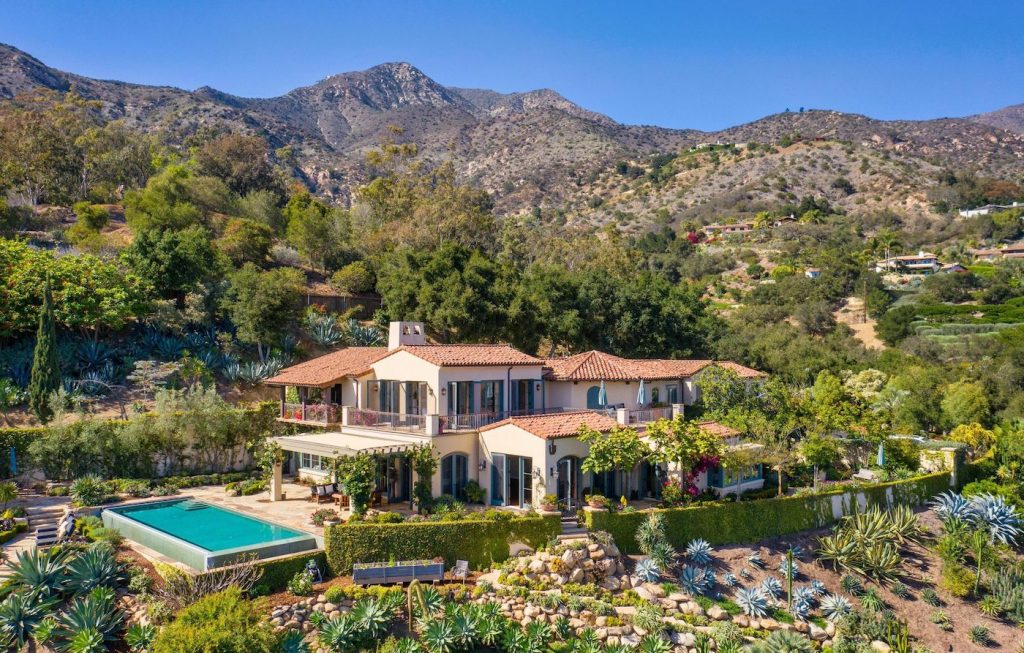 This estate listing offers an inspiring view as the backdrop to your life in every direction. From ocean, island, mountain, and coastline views to the more intimate spaces and perspectives offered around the property, this home is very welcoming yet grand in scale. Resting proudly on 3.62 private, gently sloping acres, the home is located on the ccean side of Bella Vista, overlooking the Lilac Drive area and adjacent to many significant and even higher priced estates on Mariposa Lane, Lilac, and Knollwood Drive.
The four-bedroom, six-bathroom home is filled with natural light and surrounded by abundant fruit trees, vivacious gardens, and sprawling grounds. Enjoy a grand entry, romantic fountain, numerous French doors and views from every room. Additional features include an expansive great room plus billiard room with grand fireplaces and large office, a formal dining room surrounded by walls of glass offering big views, a 1,000 bottle wine vault and more. This property has been reduced from the original asking price and is within the Montecito Union School District.
You might also be interested in...