Montecito Fire's Annual Neighborhood Chipping Program Now Underway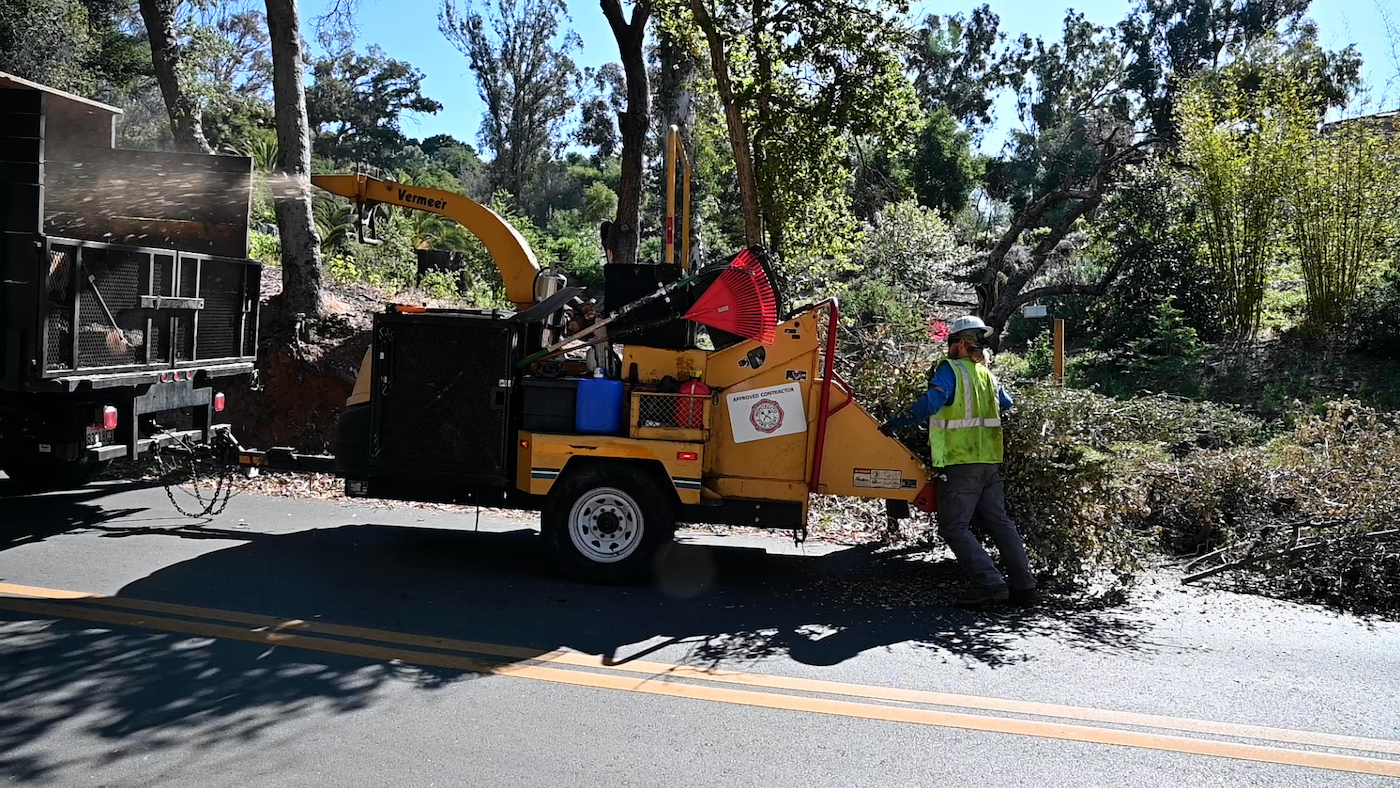 Springtime in Montecito – the hills are green, the weather is beginning to warm, and there's a new buzz in town. It's the buzz of a chipping machine shredding cut branches and brush into a million tiny bits. 
Montecito Fire's Neighborhood Chipping Program is back for its 13th year. It kicked off on Valentine's Day and the 10-week program will run every other week through late June.
Over the coming weeks, you will notice roll-off containers in designated locations, piles of brush at the end of driveways, and our chipping crew turning those piles into chips.
Montecito Fire offers the Neighborhood Chipping Program to approximately 1,300 residents within the Very High Fire Severity Zone of the community. Reducing the volume of flammable vegetation creates more defensible and survivable space around a property and increases the entire community's resiliency to wildfires.
The program is simple: We ask homeowners to cut down overgrown vegetation within 100 feet of their home and stack it on the curb. Then, our chipping contractor will chip the vegetation on-site and haul it away to a local recycling facility.
Montecito Fire Chief Kevin Taylor says the community's participation in the program has made Montecito a leader nationwide in wildfire preparedness.
"When one property has good defensible space, that home has a greater chance of survival in a wildfire," Chief Taylor said. "Those chances multiply exponentially when every property in a neighborhood, or better yet, the whole community, takes steps to clear dry, dead, and excess vegetation."
Additionally, a buffer of defensible space facilitates safer evacuation routes for everyone in an emergency and allows efficient access for firefighters to protect homes.
The Chipping Program is a labor love in Montecito Fire's Prevention Bureau. Our Wildland Fire Specialists, Maeve Juarez and Nic Elmquist, spend months preparing for this critical fire prevention project. Together, they organize, facilitate, and oversee the program.
"The Neighborhood Chipping Program is my favorite time of the year! We spend each week on foot walking the neighborhoods, chatting with folks as they walk their dogs, and we get the opportunity to educate our community on what really makes a difference in protecting homes and what we call the "home ignition zone," Juarez said.
The home ignition zone is the 100+ feet around a structure. Often, that zone is the most important factor in determining a residence's vulnerability and survivability to an approaching wildfire.
"We will never be able to prevent all fires that threaten homes and property. Instead, we must find ways to be prepared for wildfire. The Chipping Program is one great way to prepare." Elmquist said. "Maeve and I travel the United States responding to major wildfires every summer and it never fails that one of us comes back home saying how well-prepared Montecito is compared to other communities."
The Chipping Program is a free service for residents, funded by the Montecito Fire Department's annual Wildland Fire Prevention budget and the California Climate Investments Fire Prevention Grant Program.
In 2020, Montecito Fire was selected to receive three years of funding through the state grant, aimed at investing in projects that reduce risk of wildland fires to communities, while maximizing carbon sequestration in healthy wildland habitats. The Department was successful in receiving the grant funding due in large part to the strong community support of the Neighborhood Chipping Program.
"In my five years with Montecito Fire, I have yet to meet a property owner in Montecito who isn't ready and willing to do their part to protect our community as a whole," Juarez said. "That's what makes Montecito unique – everyone is committed to preparing for wildfire, together."
What to Know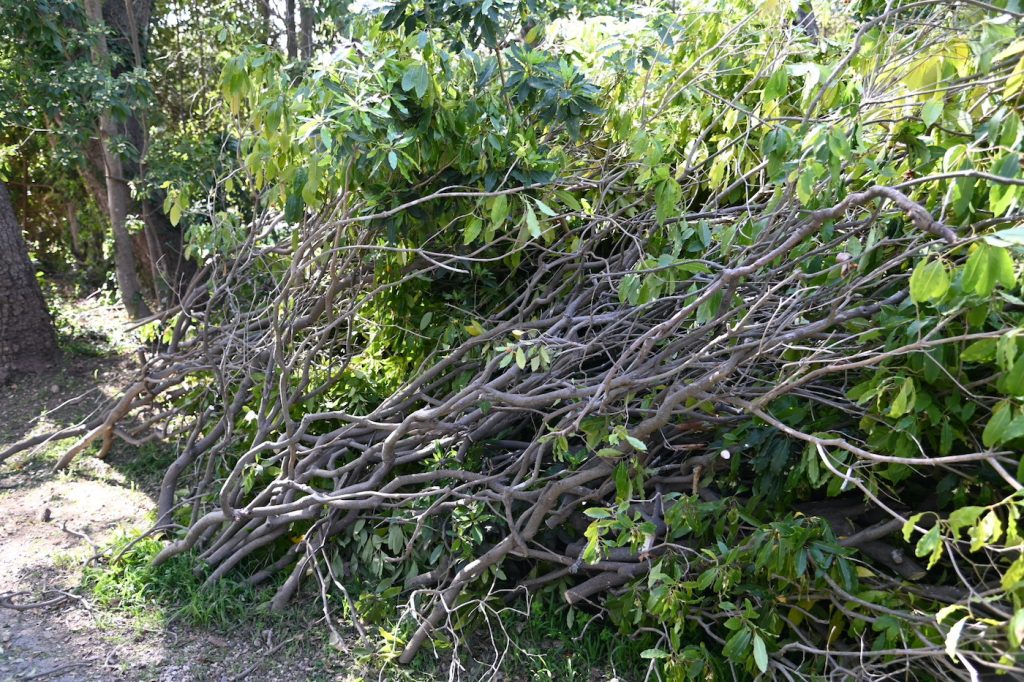 A few weeks prior to your neighborhood's chipping week, you will receive a postcard from Montecito Fire outlining the program and directions to participate. Alternatively, you can find all the information online at montecitofire.com by clicking on the Neighborhood Chipping Program tab.
We have a new resource on our website that's bringing our more-than-decade-old-program into the digital age.
"The program is evolving as the community continues to increase participation," Juarez said. "This year we have added an interactive map that allows property owners to type in their address and the map will show them if their neighborhood is within the program and if so, the dates we will be chipping in their neighborhood."
A few best practices to participate in the program:
– Stack cuttings at the edge of a passable road with all the cut ends facing the roadway. This helps our chipping crew to process the piles safely and efficiently.
– Not all vegetation can be chipped! Roll-off containers are strategically placed in neighborhoods to dispose of vines, leaves, grass, succulents, palm fronds, firewood, and small trimmings that cannot go through the chipping machine. You can find the roll-off locations on the Interactive Neighborhood Chipping Map. These containers are only for Montecito residents to dispose of non-chippable materials.
For new community members in Montecito who may be unfamiliar with the Chipping Program, Elmquist encourages residents to contact the fire department to schedule a complimentary Defensible Space Survey.
"Defensible Space Surveys allow us to walk the property with the homeowner and make specific recommendations on what areas should be prioritized to improve defensible space, what the options are, and how we can help them," Elmquist said.
Building on the Neighborhood Chipping Program, Montecito Fire will offer our Home Hardening Assistance Program for the second year. It provides funding for eligible applications to harden their homes by upgrading to ember-resistant vents.
"Defensible space is a holistic approach that requires several efforts. The Chipping Program is one piece of the equation. Hardening your home is another," Juarez said. "We were very successful last year with the program to retrofit vents at local homes and we're excited to offer it to our residents again."
We are currently accepting vent retrofit applications on montecitofire.com.
"It's a team effort to make keep Montecito resilient," Juarez said. "We are thankful to be part of a team of community members who are always willing to do their part to be prepared for wildfire."
If you have questions about the Neighborhood Chipping Program, Home Hardening Assistance Program, or would like to schedule a Defensible Space Survey, please visit montecitofire.com, call 805-969-7762 or email preventionmail@montecito fire.com.
You might also be interested in...