Flying High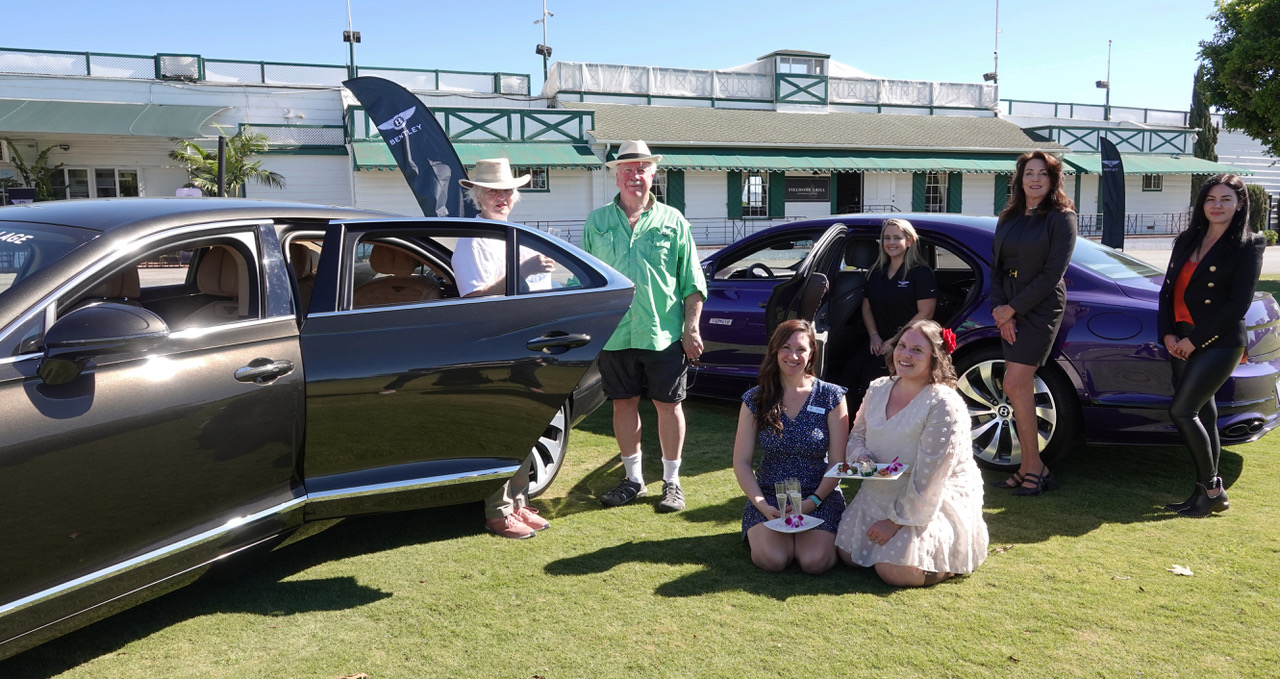 Horsepower of a very different kind was on display at the Santa Barbara Polo Club when four newly imported Bentley Flying Spur hybrid cars were trucked up from the O'Gara Coach Company in Westlake for three days for members to test drive.
The 536 horsepower cars, which have a top speed of 177 mph, run on both electricity and gas, retailing from between $200,000 and the low $300,000s.
The historic company, based in Crewe, U.K. was founded in 1919 and bought by the German auto giant Volkswagen in 1998.
"Both 2020 and 2021 were record years for sales," says Kelly Snyder, event manager for Bentley USA. "I think, given the pandemic restrictions, people needed to get out and clearly wanted to spend their money."
As well as boasting headlights based on Swarovski crystals, a 20-speaker sound system, and wings on the B-winged retractable hood mascot that light up at night, the cars also come with cans of polish that come from beehives kept at the English factory since 2019, which house 120,000 honeybees.
Now that's something you don't get from Honda!
Through the Ape-Vine
Montecito TV talk show host Ellen DeGeneres' gorilla compound in Rwanda is now open for business.
The 64-year-old comedienne's section at the Fossey Gorilla Fund, dedicated to the protection of the great apes, was a present to Ellen from her actress wife, Portia de Rossi, for her 60th birthday four years ago.
The fund helps protect gorillas from poachers and deforestation that puts the entire species at risk. The campus covers several acres of East African land which houses state-of-the-art lab facilities.
"To know I'm doing my part protecting endangered gorillas and continuing Dian Fossey's legacy is simply amazing," says Ellen.
New Partnership for Paltrow
Montecito actress Gwyneth Paltrow is expanding her empire.
The Oscar-winner has signed a multi-year contract with Monogram, a luxury appliance brand synonymous with impeccable craftsmanship and historic design.
Appliances from the company, which manufactures in Selmer, Tennessee; Decatur, Alabama; Lafayette, Georgia; and Camden, South Carolina, have been in her homes in Los Angeles and our rarefied enclave.
As a spokesperson and ambassador, Paltrow will represent the General Electric brand at premier industry events, brand activities, and with featured content and social channels.
Earlier this month Paltrow, 49, appeared on the main stage at the 2022 Kitchen and Bath Industry Show in Las Vegas, North America's largest trade sow.
You might also be interested in...